Every week after the EIA releases their Weekly Petroleum Status Report, I download their updated files, consolidate them, and ultimately link them to a simple Excel dashboard file which you can download for free at Excel-Data-Junkies.com. Open it up and follow along below, then let's discuss it in the comments section below. For a methodology review, take a look the intro "Data Download."
EIA Methodology Change
First and foremost, the EIA implemented a previously announced change that they would be dropping "Crude Oil Lease Stocks" from the reported weekly crude inventories. What this means is that current and historical values have all been updated, and on average, are now about 30 million bbls lower than previously reported. For example, last week, the reported ending total petroleum stocks was 2.075 billion bbls, but it is now being reported 31 million bbls lower at 2.044 billion bbls. I wouldn't read too much into this; it was a fairly stable series, and I doubt it was being accurately reported in the first place. I say that because about 15 years ago, my first accounting gig out of college was as a production accountant, where essentially all I did was count barrels of Permian Basin oil and MCF of gas. Good times for sure, but here's the key takeaway. As the operator, we didn't have any mechanism to track weekly movements in our hundreds of lease oil tanks. Monthly, yes, but even that wasn't reported until about a month after the close. A lot has changed in 15 years, but my guess is that whatever the EIA has been reporting weekly was little more than a wild guess.
Headline: Total Petroleum Stocks Down 5.1 Million Barrels
Despite crude oil stocks increasing 4.9 million bbls driven by lower refinery utilization, product stocks were down 10 million bbls, pulling total petroleum stocks down 5.1 million bbls to 2,039 million. This drawdown should not come as a surprise. In the early part of last week, track forecasts for Hurricane Matthew had it sideswiping the entire east coast of the US, so it stands to reason millions of people went out and did exactly what they were instructed to do - top off their fuel tanks. Over a few weeks, the net effect is likely negligible, so demand could appear down over the next few weeks as all of those topped-off tanks are drawn back down.
Inflows Vs. Outflows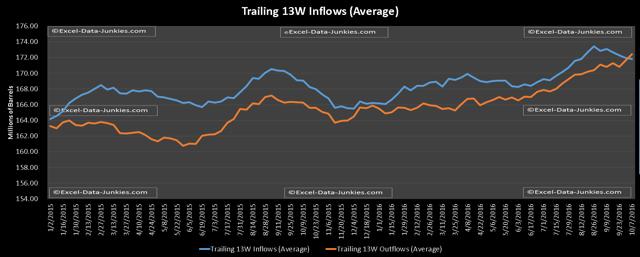 It took 2 hurricanes, surging exports and a broken pipeline, but for the first time since December 2014, the trailing 13-week average outflows has surpassed inflows. Could this be the beginning of the end of the glut, or is it another pump fake?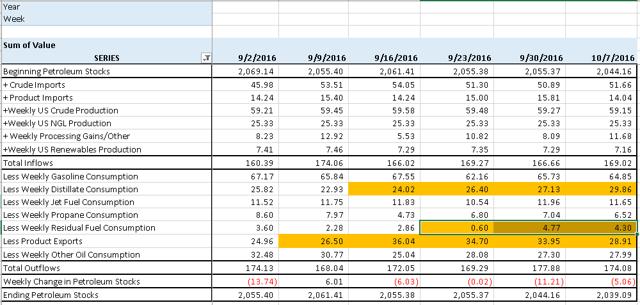 Our reconciliation gives us some clues. After three weeks of abnormally strong exports, exports for the week fell 5 million bbls to 29 million - still high, but not nearly as bullish. The second thing that sticks out for me is the 3 million bbl spike in distillates, which I would chalk up to hurricane Matthew and the spike in residual fuel consumption.
For The Bulls
We've had 6 weeks of bullish reports and shed 30 million bbls of crude out of let's just say a 250 million bbl glut. If you are an oil bull, this is what you have been waiting for. We don't need to actually burn through the entire glut to get a full price recovery - you just need a solid trend line that shows you are headed in the right direction, and the 5 million bbl a week rate we've seen over the last six weeks is the most solid we've seen in the last 2 years.
For The Bears
Inventories may be down 30 million bbls, but it has taken 2 hurricanes and 3 weeks of abnormally high exports to make that happen. It still feels a bit like an anomaly and unlikely to continue. If we burn down another 30 million bbls in the next six weeks again, I'll start to sweat. Until then, let's sit back and watch the OPEC "deal" fall apart.
Gut Feeling
As I write this, oil (NYSEARCA:USO) is a little over $50.35, which looks fairly valued to me. As a Houstonian, I am cautiously optimistic that this might be the beginning of the end of a rough couple of years. However, in the back of my mind, I know that I've been fooled before. My gut feeling is that we see some moderately bearish fundamentals in the next few weekly reports, and that oil drifts down from here in the short term. That said, the day-to-day trading is influenced more by the news cycle than by fundamentals at this time.
**Excel File Update
For those following along at home with the Excel file, you will notice that it has been updated. I had a lot of requests to add daily data, so I added a second dashboard with all of the series from EIA tables 01, 04, and 08, while renaming the original dashboard "Scott's Picks" because it contains all of the series I follow closely.
Disclosure: I/we have no positions in any stocks mentioned, and no plans to initiate any positions within the next 72 hours.
I wrote this article myself, and it expresses my own opinions. I am not receiving compensation for it (other than from Seeking Alpha). I have no business relationship with any company whose stock is mentioned in this article.