Quick Take
Microphase Corporation is a provider of military microwave and RF (Radio Frequency) technology and wants to raise up to $12.25

million in its IPO.
The company is making a push into the Test & Measurement market for the transition to 5G wireless systems.
We don't know proposed IPO valuation, but Microphase is an interesting ultra-small-cap potential opportunity and play on 5G rollout.
Company
Microphase manufactures a diverse family of electronic components for communications, electronic warfare and radar systems.
The company's components are used in a variety of military systems and sub-systems, including, "the Polaris submarine, the F-16 aircraft, the F-35 aircraft and the Predator Drone."
The company was founded in 1955 and is currently headed by CEO and founder Necdet Ergul. Chief Technology Officer is Michael Ghadaksaz and he has been with the company since April 2014.
A majority of the company's shareholders are individuals, however a number of management members and significant shareholders are also shareholders of mPhase Technologies (OTCPK:XDSL), which CEO Ergul had been Chairman of the Board from 1997 to 1999.
Technology
Microphase designs and manufactures a number of electronic components:
Microwave filters
Solid state amplifiers
Radar detectors and limiters
Detector log video amplifiers
Integrated assemblies
Electronic test and measurement probes
Universal test platforms and fixtures
Utility probes and antenna probes
(Source: Microphase S-1 Filing)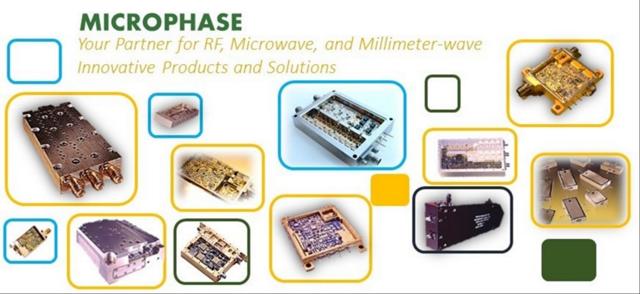 The company's products are used in both military, commercial and aerospace systems in the U.S. and its allies, and are sold either as off-the-shelf systems or customized.
Recently, Microphase entered the Test & Measurement market by acquiring certain assets of Dynamac, Inc. The company is developing technologies designed to sell into the burgeoning 5G markets and says it will be filing up to 30 patents for intellectual property rights.
Markets
According to a 2010 U.S. Navy report, the combined markets of electronic Test & Measuring and RF test equipment were expected to reach $3.8 billion by 2013.
Microphase cites a Frost and Sullivan report indicating a $4.2 billion market in 2016, and this is just one of the markets that the company operates in.
The company operates in a number of other markets which are highly specialized, niche areas of design and manufacture for military sub-systems.
Competition
The RF Test & Measurement market is primarily composed of the following companies:
Anritsu
Rohde & Schwarz
Keysight Technologies (NYSE:KEYS)
Tektronix
National Instruments (NASDAQ:NATI)
The company says that its T&M products will begin production in Q3 2017 and it believes the applications will include the emerging 5G cellular and automotive markets.
Financials
Microphase's recent financials can be best summarized as:
Increasing topline revenues Slightly lower gross margin Consistent cash use from operations Consistent net losses
Below are the company's operational results for the past 2 years (Audited GAAP):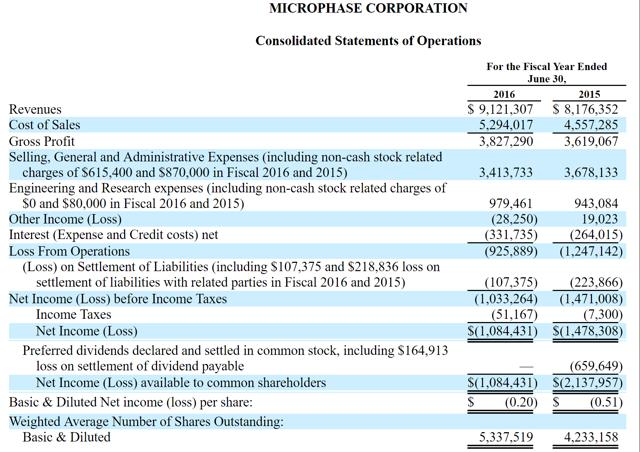 (Source: Microphase S-1 Filing)
Revenue
2016: $9.1 million, 11% increase over prior
2015: $8.2 million
Gross Margin
Cash Flow from Operations
2016: $156,000 cash used
2015: $87,000 cash used
As of June 30, 2016, Microphase has cash of $81,000, current assets of $2.1 million and current liabilities of $4.4 million
IPO Details
Microphase intends to raise up to $12.25 million in its IPO, but has not provided an expected share price range or proposed valuation.
Net proceeds from the IPO are expected to be used for the following:
Complete the payments for the acquisition of the T&M product line in the approximate amount of $2 million

fund the rollout of the initial T&M products, including for inventory, advertising and tradeshow expenses, in the approximate amount of $950,000

continue subsequent product development of additional companion T&M products, including expenses for the intellectual property filings, in the approximate amount of $750,000

repay bridge financing obligations in the approximate amount of $1 million

fund potential strategic joint ventures and/or acquisitions

general corporate purposes
The company has issued 15,382 shares of Series A Convertible Preferred Stock, which ranks senior to its common stock in terms of dividends, if and when issued. Those shares may be converted into 1,025,467 common shares at $1.50 per share.
Microphase has a total of 6.2 million common shares outstanding.
Commentary
Microphase is an interesting combination of opportunities.
On the one hand it has been operating as a tiny player in the defense communications markets since its founding 60 years ago by its current CEO, who by now must be quite advanced in age.
The CEO's advanced age, assuming he is older than 80, is a question mark for the future, since the company appears to be embarking on a significant, multi-year initiative related to the IPO.
Recently, it has identified opportunities in the Test & Measurement markets, especially for 5G cellular and automotive applications. It has acquired IP and is developing T&M products for those markets.
With the rise of wireless needs by automobiles such as for self-driving vehicles, it appears the company is positioning itself to take advantage of these new markets when 5G solutions come online.
Most of the IPO proceeds are being earmarked for this new product direction - a focus on the T&M market for 5G applications.
We don't yet know the proposed valuation of the company's IPO.
However, a look at much larger publicly-held T&W competitors National Instruments and Keysight shows an average Price/Sales multiple of 2.37x on lower growth.
Assigning Microphase a generous Price/Sales multiple of 3x would indicate a market cap of $27 million post-IPO.
While there is much to recommend in the company's changed focus on promising new 5G opportunities, my final opinion on the IPO will have to wait until we learn more details about its proposed IPO valuation.
---
I write about IPOs and tech 'unicorns'. If you want to receive future articles automatically, click the +Follow link next to my name at the top of this article.
Disclosure: I/we have no positions in any stocks mentioned, and no plans to initiate any positions within the next 72 hours.
I wrote this article myself, and it expresses my own opinions. I am not receiving compensation for it (other than from Seeking Alpha). I have no business relationship with any company whose stock is mentioned in this article.
Editor's Note: This article covers one or more stocks trading at less than $1 per share and/or with less than a $100 million market cap. Please be aware of the risks associated with these stocks.