Yesterday, I was on CNN discussing Donald Trump and the upcoming presidential election.
Although I was somewhat anxious to appear on the show alongside other well-known journalists, I welcomed the opportunity to discuss my new book, The Trump Factor - Unlocking The Secret of the Trump Empire.
To be perfectly clear, I did not write (the book) to either slam or brag about Trump, my book is unique in that it provides a granular analysis of all of Trump's real estate holdings. In the words of Ben Graham,
You are neither right nor wrong because the crowd disagrees with you. You are right because the data and reasoning are right.
Better said, I don't consider myself a typical media outlet, I am merely a value investor who loves to write on business. It just so happens that my sector (real estate) and Trump's business are one and the same.
In my new book, I provide a very granular look at Trump's real estate holdings aimed to educate readers and to unlock the many secrets behind the billionaire investor. I began writing the book over three years ago - and I never imagined the relevance of the subject matter now.
I am not writing on politics today, instead, I am writing on a REIT that Donald Trump owns (as per FEC filings). Much like my book on Trump, my goal with this article is to take a deeper dive into this particular REIT and determine whether or not I would invest in the company. Let's get started…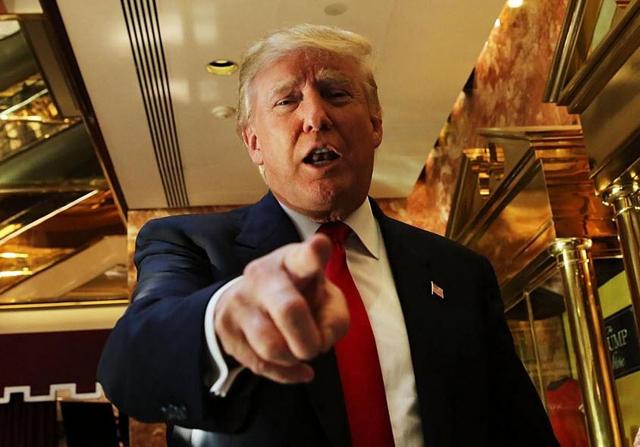 Crown Castle: US-Focused Cell Tower REIT
Crown Castle (NYSE:CCI) is a wireless infrastructure landlord, and the company commenced operations in 1994. On January 12, 2007, it completed the acquisition of Global Signal Inc., a rival U.S. tower operator based in Sarasota.
Then, in 2011, CCI purchased NextG Networks for around $1 billion. In September 2012, the company entered into a lease agreement with T-Mobile USA (NASDAQ: TMUS) and another deal with AT&T (NYSE: T) in 2013.
CCI completed the $1.6 billion sale of its Australian assets in May 28, 2015, and at the time of the sale, the Australian portfolio was 77.6% owned by CCI, and the REIT generated net proceeds of around $1.3 billion.
CCI now owns, operates and leases shared wireless infrastructure, including: (1) towers and other structures, such as rooftop towers, and (2) small cell networks supported by fibers. The cell towers have a significant presence in each of the top 100 US markets, and as of Q2-16, the company owns, operates, and manages approximately 40,100 towers in the United States.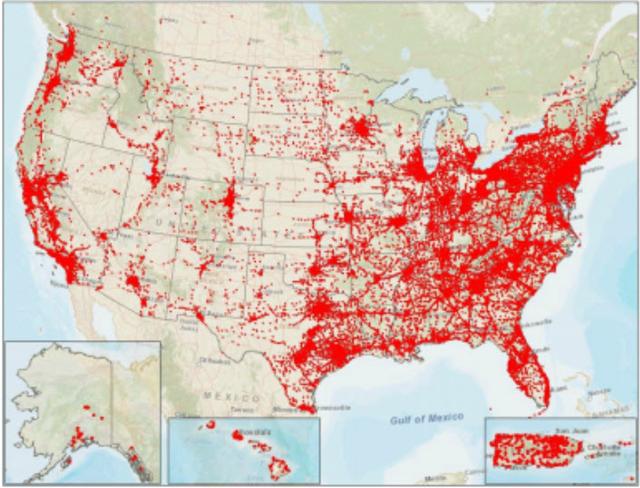 CCI is the only Cell Tower REIT that focuses exclusively on U.S. assets. Here's a snapshot of CCI and American Tower (NYSE:AMT) based on Total Enterprise Value: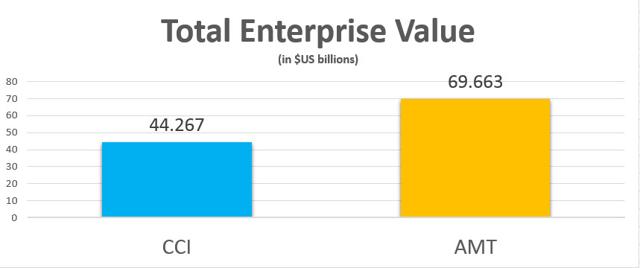 Source: S&P Global Market Intelligence
CCI's core business is providing access, including space or capacity, to wireless infrastructure via long-term contracts in various forms, including license, sublease and lease agreements. The company seeks to increase site rental revenues by adding more tenants onto wireless infrastructure, which is expected to result in significant incremental cash flows due to relatively fixed operating costs. Here's a snapshot of its top customers:

During the first quarter of 2016, CCI changed its operating segments to consist of (1) towers and (2) small cells. The company has recast its prior period presentation to conform to its current reporting presentation - see latest portfolio summary as of Q2-16:

Why Invest in a Cell Tower REIT?
What is a cell tower? A vertical structure built on a parcel of land, designed to accommodate multiple tenants. Cell tower tenants utilize many different technologies, including telephony, paging, mobile data, broadcast television and radio. Tenants lease vertical space on the tower and portions of the land underneath for their equipment.
What is found at the tower site?
The cell tower company typically owns or leases under a long-term contract: (a) Tower structure and (b) Ground interest (fee simple or lease). The tenant typically owns and operates: Equipment, including antenna arrays, antennas, coaxial cables and base stations and equipment shelters.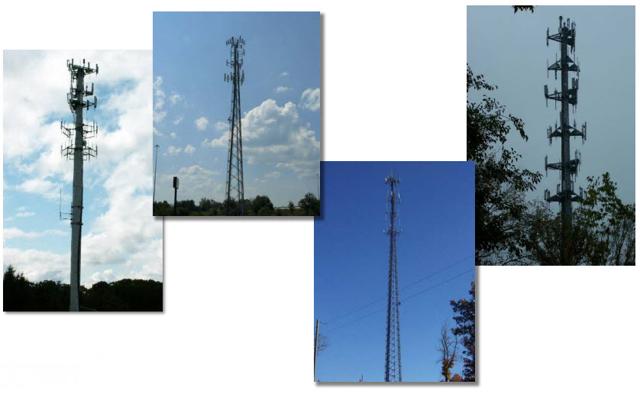 Multiple tenants lease vertical space on the tower for their communications equipment. Rental charges are typically based on: Property location, leased vertical square footage on the tower, weight placed on tower from transmission equipment and backhaul solutions.
This snapshot below provides an illustration of Tower Economics: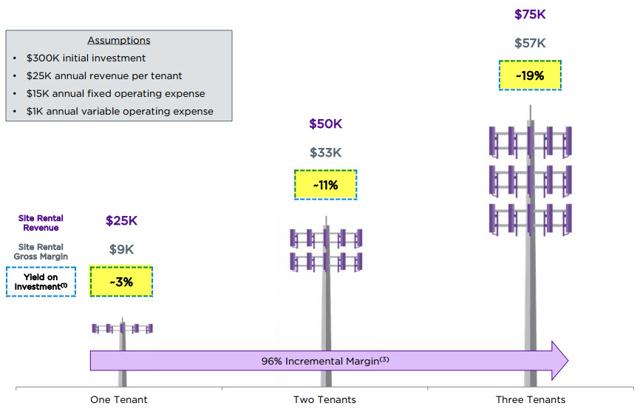 Long-term customer lease contracts are typically non-cancellable and the typical contract terms include an initial term of 10 years with multiple five-year renewal terms. Most contracts have annual lease escalators in the U.S. of approximately 3%, and escalations in international markets are typically based on local inflation rates. There are low historical annual churn rates of approximately 1-2%.
Network deployments will consist of multiple layers - traditional macro cell towers provide a blanket of coverage, while underneath this umbrella, a combination of other technologies are deployed to increase network capacity, particularly in dense urban areas. Increasing data consumption is driving the need for denser networks.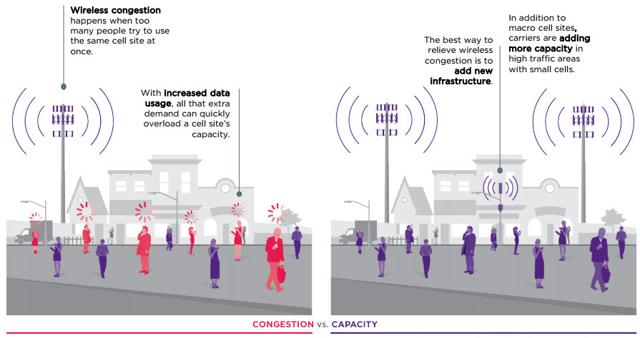 Mobile Data Growth Expected to Continue: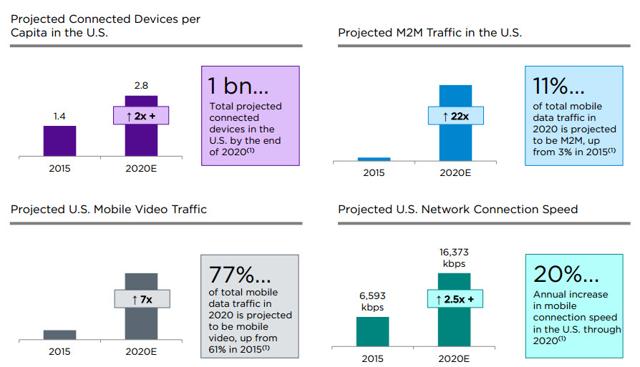 Growth in Mobile Data Expected to Drive Continued Network Investment:

CCI provides wireless carriers with the most cost-effective and efficient access to shared wireless infrastructure. The company assists the wireless carriers in upgrading and enhancing their network coverage and quality to meet increasing consumer demand by providing the wireless carriers with:
• Access to hard-to-replicate wireless infrastructure given significant zoning restrictions.
• Comprehensive solutions, in scale, across both macro towers and small cell architecture.
• Resources, both people and capital, to deploy their networks quickly and cost effectively.
By collocating on shared wireless infrastructure, wireless carriers pay only for their proportional usage of the infrastructure - an attractive cost of occupancy relative to their cost of capital.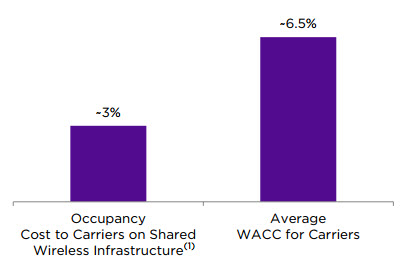 Last year I wrote a detailed article on Cell Tower investing. See my article HERE.
The Balance Sheet
As part of prudent balance sheet management, CCI issued (in April) $1 billion of unsecured notes to refinance debt maturities coming due in 2017 to borrowings under its credit facilities. This offering represented the culmination of CCI's long-standing goal of reaching an investment grade credit rating at each of three major rating agencies.
A few days ago, Fitch affirmed CCI's long-term issuer default and senior unsecured debt ratings at BBB- and maintained the company's stable ratings outlook.
Among other things, Fitch credited the affirmation to CCI's strong recurring cash flows from its tower portfolio, leasing business and robust EBITDA margins; its deleveraging progress thanks to EBITDA growth; and its recent $461 million acquisition of Tower Development Corp., which the rating agency believes is relatively leverage-neutral and is likely to inject up to $27 million into CCI's site-rental gross margin.
Fitch also affirmed CC Holdings GS V LLC's BBB- long-term issuer default and BBB senior secured note ratings. Crown Castle Operating Co.'s BBB- long-term issuer default rating was withdrawn, as the subsidiary repaid its debt.
This credit profile underscores the stability and quality of CCI's long-term cash flows, and it lowers the company's overall cost of capital, which is an advantage in CCI's business of providing shared wireless infrastructure. Following the $1 billion offering, the only debt maturity that CCI has prior to 2020 is a $500 million tranche of notes due at the end of 2017.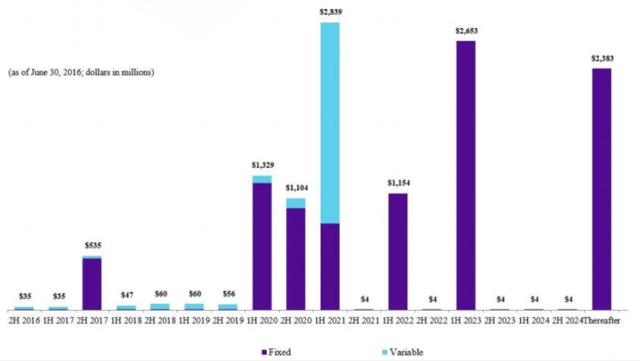 As noted above, CCI's revenues are primarily derived from long-term leases that deliver a stable, growing and high quality cash flow strength, which is the underpinning of dividends to shareholders.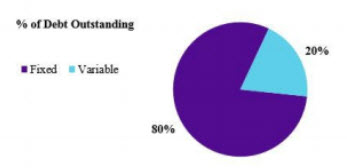 CCI's goal is to match the quality of the business with a strong balance sheet, and because of the investment grade balance sheet, the company has access to deep, stable and low cost of capital. In addition, it provides CCI with financial flexibility to pursue potential investment opportunities. Here's a snapshot of CCI's liquidity:

The Latest Quarter
In Q2-16, CCI's site rental revenues grew 9% year over year from $737 million to $805 million, inclusive of approximately 7% growth derived from organic contribution to site rental revenues. The 7% (or $49 million) growth from organic contribution to site rental revenues consisted of approximately 9.5% growth from new leasing activity and cash escalations, net of approximately 2.5% from tenant non-renewals.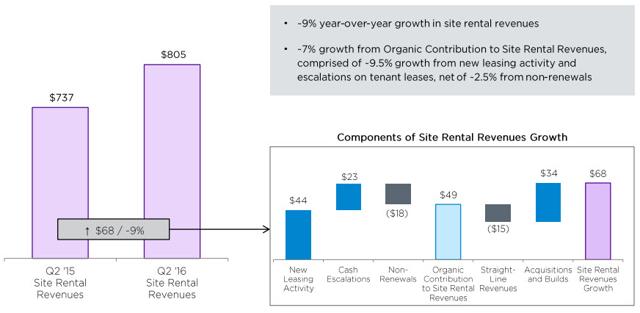 CCI's second quarter results for site rental gross margin, adjusted EBITDA, AFFO and AFFO per share, each met or exceeded the midpoint of the previously provided Q2-16 outlook, reflecting the overall healthy leasing environment.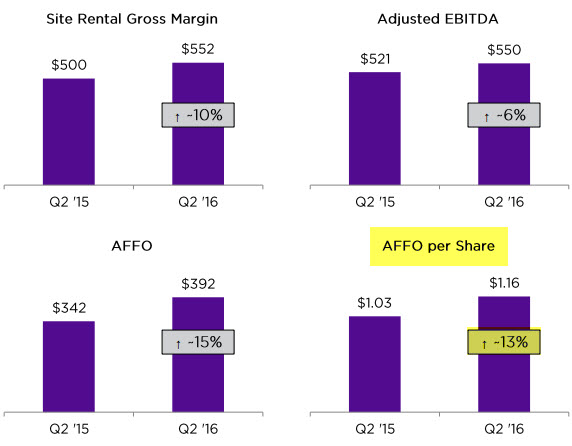 During the second quarter, CCI invested approximately $200 million in capital expenditures, of which $19 million were sustaining capital expenditures and $180 million were discretionary investments. Included in these discretionary investments is approximately $19 million of land purchases completed to further strengthen control of the ground beneath the leased towers.
Around 80% of CCI's site rental gross margin is generated from towers on land (that CCI) controls for more than 20 years. Additionally, the average term remaining on the ground leases is over 30 years.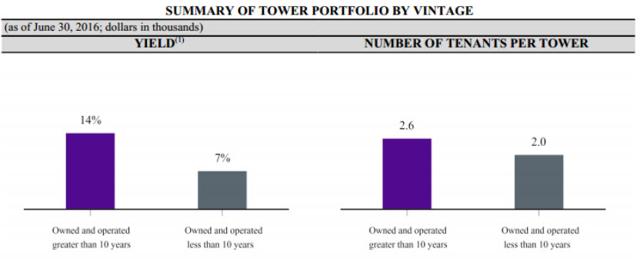 CCI increased the midpoint of guidance by $3 million for site rental revenues, $3 million for site rental gross margin, $9 million for adjusted EBITDA and $7 million for AFFO. On an AFFO per share basis compared to 2015, the updated midpoint for full year 2016 outlook of $4.71 represents an increase of approximately 10%.
The increase in full year outlook reflects the strong results from the first half of the year and expectations that the level of leasing activity from CCI's carrier customers will remain steady, an increase in expected contribution from network services gross margin for the remainder of the year, and the timing benefit related to tenant non-renewals occurring later than previously expected.
Given this backdrop, CCI is well-positioned to achieve its stated long-term goal of delivering compound annual growth of 6% to 7% in AFFO and dividends per share. Here's a snapshot of historic AFFO per share (including 2016 guidance):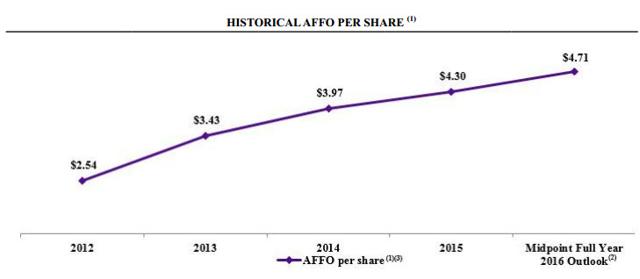 Buy, Sell, or Hold?
Since we initiated a BUY on CCI (October 21, 2015), shares have returned over 15%: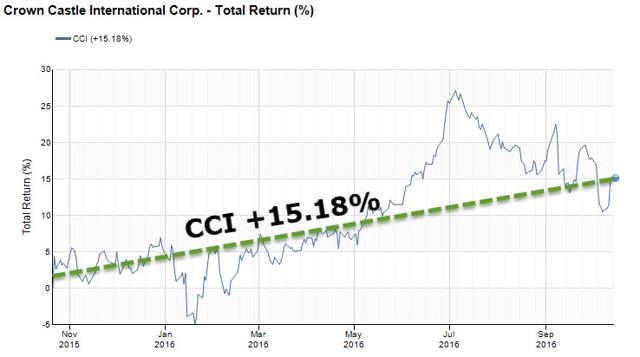 Source: S&P Global Market Intelligence
Year-to-date, CCI shares have underperformed AMT:

Source: S&P Global Market Intelligence
CCI has also underperformed AMT over the last 90 days:

Source: S&P Global Market Intelligence
Perhaps there's an opportunity to own shares now?
Let's examine CCI's dividend yield: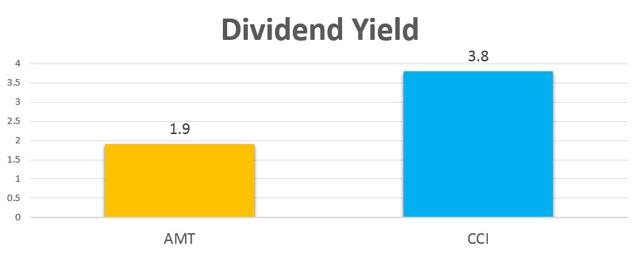 Source: S&P Global Market Intelligence
CCI's dividend yield is double that of AMT. Now let's examine CCI's AFFO history, including our forecast for 2017:

Source: S&P Global Market Intelligence
Now let's examine CCI's dividend history and our forecast for 2017:

Source: S&P Global Market Intelligence
Now let's examine CCI's Payout Ratio:

Source: S&P Global Market Intelligence
Let's face it, CCI is still priced for perfection. I would like to pick up shares (I have been for over a year) but there is no margin of safety. I will continue to monitor this stock hoping for a pullback. The overall business model is sound and the secular tailwinds of an increasing demand for wireless connectivity has positioned the company to capitalize on positive industry trends.
The carriers are driven to increase this investment because as has been true since the early days of wireless, network quality continues to be the market differentiator for carriers' success. Based on this long-term need to invest by the U.S. carriers, CCI has focused its investments over the last several years in the U.S. market.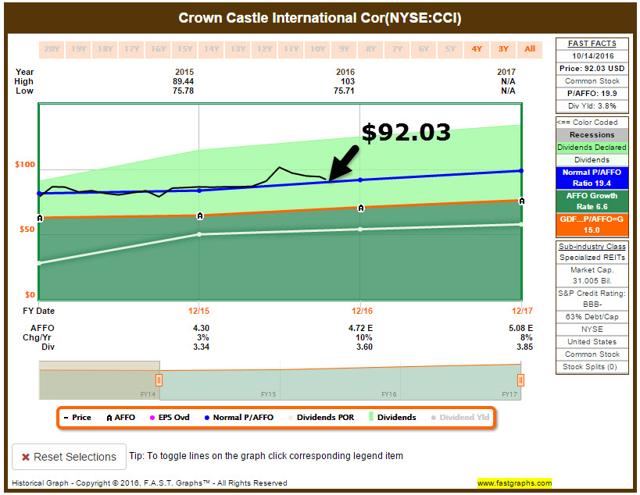 Finally, I'm not asking you to comment as a political pundit, I am simply hoping I can provide you with sound reasoning as it relates to real estate securities. I have found that being a jack-of-all-trades is a good way to be a master of nothing. I intend to stay in my wheel-house and not to be "swayed by what other people think or how the world was feeling that day or anything of the sort."
Author's Note: Brad Thomas is a Wall Street writer and that means that he is not always right with his predictions or recommendations. That also applies to his grammar. Please excuse any typos and I assure you that he will do his best to correct any errors if they are overlooked.
Finally, this article is free, and the sole purpose for writing it is to assist with research (Thomas is the editor of a newsletter, Forbes Real Estate Investor) while also providing a forum for second-level thinking. If you have not followed him, please take five seconds and click his name above (top of the page).
Sources: S&P Global Market Intelligence, F.A.S.T. Graphs and CCI Filings.
Disclaimer: This article is intended to provide information to interested parties. As I have no knowledge of individual investor circumstances, goals, and/or portfolio concentration or diversification, readers are expected to complete their own due diligence before purchasing any stocks mentioned or recommended.
Disclosure: I am/we are long O, DLR, VTR, HTA , STAG, GPT, ROIC, HCN, OHI, LXP, KIM, WPC, DOC, EXR, MYCC, TCO, SKT, UBA, STWD, CONE, BRX, CLDT, HST, APTS, FPI, CORR, NHI, CCP, CTRE, WPG, KRG, SNR, LADR, PEB, BXMT, IRM, CIO, LTC, DEA, NSA, HASI, LTC.
I wrote this article myself, and it expresses my own opinions. I am not receiving compensation for it (other than from Seeking Alpha). I have no business relationship with any company whose stock is mentioned in this article.