Versartis (NASDAQ:VSAR) is developing somavartan, a long-acting recombinant human growth hormone or rhGH, a drug formulation whose development has long vexed the medical community.
Growth Hormone Deficiency or GHD is an orphan disease which can be caused by a number of known or unknown causes, some of which are suspected/deduced to be genetic, or a broad spectrum of endocrine morbidities occurring as a result of brain surgery, radiation to the brain, and chemotherapy-induced trauma. The incidence of pediatric GHD is estimated to be about 3 per 10,000 in the US/EU, and for adult GHD, the figure is 1 in 10,000. Despite constraints with current medication, the seven existing daily-dosing pediatric medications together sell for $1.5 billion a year, and the adult market is approximately another $1.5 billion.
In the pediatric population, GHD can cause short stature, obesity, weak skeletal formation, including both bone and muscle structure, and development of a high risk lipid profile. In adults, GHD may lead to similar problems as with children, with cardiovascular problems as an additional complication.
The current standard of care is daily dosing of rhGH for a number of years. There is no preventive medication, and there is no medication involving the receptor for hGH releasing hormone. Currently marketed rhGH products in the United States - Norditropin (Novo Nordisk), Humatrope (Eli Lilly (NYSE:LLY)), Nutropin-AQ (Roche (OTCQX:RHHBY)/Genentech), Genotropin (Pfizer (NYSE:PFE)), Saizen (Merck Serono), Tev-tropin (Teva Pharmaceutical (NYSE:TEVA)) and Omnitrope (Sandoz GmbH) - are administered by daily subcutaneous injections, and these products have no other pharmacological differences, although different brands try to distinguish themselves by offering complementary services, or by the mode of administration, like vial and syringe, auto-injectors or pen devices.
Although rhGH therapy can resolve GHD, its daily dosing regimen, leading to thousands of injections over the treatment period, make a majority of patients non-compliant to the treatment in various degrees. Matters are worsened by the fact that each dosing may take up to one hour, and involve 20 or more preparatory steps. Missing even two injections per week can result in significant treatment failure, as seen in the diagram below.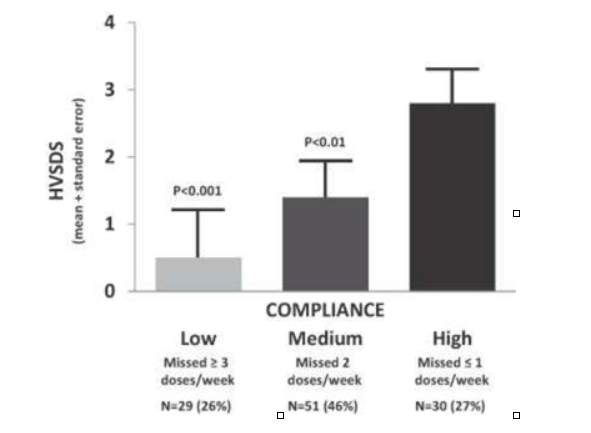 Source - 10-K Filing
Pediatric endocrinologists have therefore been on the lookout for a longer-acting formulation. However, all currently developed formulations have suffered from various safety problems, and are not adequate.
Failures in developing long-acting treatment modules
Various efforts have been made to develop a long-acting formulation of rhGH, but none have been successful. Nutropin Depot, the only FDA-approved long-acting rhGH, developed by Genentech and approved in 1999, caused severe pain at injection site, lipoatrophy and nodule formation, and had lower efficacy than approved daily rhGH doses. Nutrophin was ultimately removed from the market.
Attempts at attaching polyethylene glycol to rhGH to extend its duration of stay in the bloodstream, a process known as PEGylation, have not been successful either. Pfizer's attempt at PEGylation caused lipoatrophy and was not readily absorbed in the blood. Novo Nordisk failed in its attempt because even a weekly dosing regimen was not achieved. Merck Serono also had an unsuccessful trial.
Moreover, PEGylation and circulating PEG approaches are said (by Versartis) to be more expensive to manufacture, requiring additional steps. Also, animal studies showed they cause vacoules in the brain of study animals. Another approach involving a fusion protein like somavartan requires additional manufacturing steps because of glycosylation, and may not achieve sustained half-life.
Competitive advantages of somavartan
Somavaratan was engineered using XTEN technology acquired from Amunix, to extend the "residence time in the bloodstream by reducing the clearance of rhGH from the body by the two primary mechanisms, kidney filtration and receptor mediated clearance." Two distinct amino acid sequences are added to rhGH; one of these makes it too long, hydrodynamically, to have effective kidney filtration; the other obstructs receptor binding and thereby receptor mediated clearance of the drug. These amino acid chains are nonimmunogenic; they cause no problems to the human immune system.
According to Versartis, somavartan has the following advantages over standard of care:
Somavaratan has a longer half-life than daily rhGH products, approximately 131 hours compared to 2-4 hours, and may offer a significantly more convenient dosing solution for GHD patients. Even a once-monthly dose of somavartan had similar safety and efficacy to daily dosing of Genotropin or Norditropin.
Somavaratan has demonstrated an attractive safety and tolerability profile in GHD children. This means, no nodule formation at injection site, no lipoatrophy or localized loss of fat tissue.
Somavaratan may have comparable efficacy to the highest approved dose on the labels of Genotropin and Norditropin.
Somavaratan has the potential to be dosed as a single monthly injection in GHD adults. Investigation is ongoing to increase the concentration of the drug, potentially making its effectiveness even more sustained.
Somavaratan has a manufacturing process that is less complex than the traditional rhGH manufacturing processes and may ultimately offer a cost-of-goods advantage versus current rhGH products.
Current stage of somavartan development
A Phase 2a trial on pediatric population has been successfully completed, and Phase 3 enrolment is ongoing since early 2015. In Japan, a Phase 2/3 trial was initiated in April 2015. The Phase 2 trial for adults has been initiated in the US in 2015. Enrolment has been completed, and results are expected before the end of 2016 - this presents the nearest catalyst for the stock.
In the Phase 3 trial, Somavaratan will be administered with a 30 gauge needle, the same needle size typically used for daily rhGH products. Non-inferiority between the two treatment groups, somavartan and SoC, based upon mean Year 1 height velocity results, will be the primary outcome measure. In August 2016, Versartis announced completion of enrolment. Top line data is expected in mid-2017, which is a major upcoming catalyst.
Additionally, the company may develop somavartan for other growth disorders, like ISS or idiopathic short stature, small for gestational age, or SGA, and Turner Syndrome, together accounting for 20% of the rhGH market. The company retains global rights to somavartan at present. However, they may commercialize under their own steam because of the concentrated network of medical professionals who prescribe rhGH, especially in the US and EU.
Management
CEO Jay P. Shepard, more than 33 years of pharmaceutical, biotechnology and drug delivery expertise, interim CEO at Relypsa, CEO of Ilypsa, a nephrology company acquired by Amgen; CEO of NextWave Pharmaceuticals, a pediatric focused company acquired by Pfizer.
Bert Bakker, M.D., Ph.D., 30-year experience as a pediatric endocrinologist, and Eric Humphriss, M.B.A, lead the clinical team. Humphriss and Bakker were both involved with Genentech's GHD drug development, including a long-acting formulation. Other management members led developments of successful drugs like Imbruvica, ZELBORAF, Avastin and Rituxan.
Money matters
Versartis has had two rounds of secondary offering, the most recent being in September 2016, so it is well funded. Akkaraju Srinivas, a company director, just bought $7M of the offering at $12.25, the offered price. Two of the best biotech funds own this stock: Perceptive Advisors and Baker Brothers. According to Yahoo Finance, the following gives a breakdown of holders:
Breakdown
Shares Held by All Insiders and 5% Owners - 23.98%
% of Shares Held by Institutional & Mutual Fund Owners - 71.20%
% of Float Held by Institutional & Mutual Fund Owners - 93.67%
Number of Institutions Holding Shares - 74
As of the most recently reported quarter, VSAR has cash at hand of about $137 million. Their cash burn rate for the 6 months ending June 2016 was around $45 million, so I could say they are burning $23 million a quarter. That gives them almost two years of available cash, and even if they carry out multiple Phase 3 trials, at least one year worth of cash is available to them. Although there isn't a possibility of near-term dilution, what many small companies do is, when they see good results, they try to raise some money. So expect some dilution somewhere around mid-2017.
Even if you take that into account, with a market cap of only $411 million and a potential target market of $4 billion, Versartis offers tremendous potential to investors.
Intellectual property
Core IP is licensed from Amunix, which is a set of "eight granted US patents, one patent granted by the European Patent Office, one patent granted by the Eurasian Patent Office, one granted patent in Japan, three granted patents in New Zealand, three granted patents in Australia, two granted patents in South Africa, one granted patent in China, one granted patent in Hong Kong, one granted patent in South Korea, and two granted patents in Mexico."
These patents will expire between 2026 and 2032, and assuming a 2019 launch, will give Versartis a clear running track for 12 years or more. The European patent is being contested by Novo Nordisk (NYSE:NVO). Also note that in case of orphan diseases, under the Hatch-Waxman Act, Versartis may get additional years of exclusivity in the market. The sum of royalty payments to be made to Amunix is small compared to the market potential of somavartan.
These are, approximately, 1% of net sales for the first two marketed products, additional royalties in higher percentages for other marketed products, and possible payments of up to $40 million on completion of various milestones. Considering the market potential for GHD alone is up to $4 billion, these are negligible numbers.
Bottom line
Given the insider purchases, funding status, fund holdings, and the overall competitive advantage of somavartan in a $4 billion potential market, and the near-term marketability potential of the drug, we consider this as a strong buying opportunity. Investors must make sure to cash in on upcoming catalysts, but can hold a substantial portion of the stock for longer-term investment.
Disclosure: I am/we are long VSAR.
I wrote this article myself, and it expresses my own opinions. I am not receiving compensation for it (other than from Seeking Alpha). I have no business relationship with any company whose stock is mentioned in this article.