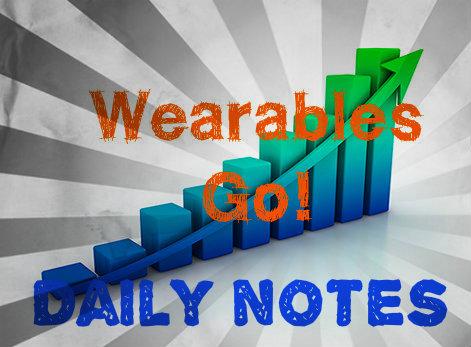 Welcome to the inaugural issue of Wearables Go! Daily Notes.
Note: To get these Wearables Go! Daily Notes as soon as they are published: just click on my profile above; press the big, orange "Follow" button; and choose the real-time alerts option.
Appropriate for our first issue of Wearables Go! Daily Notes is our coverage of the first Wearables Index launched earlier this year: (EQM Indexes: WEARXT). This impressive indication of growth from the EQM Wearables Index fact sheet:
According to Forrester Research, 76% of global tech and business leaders have wearables on their agenda as a tool to harness data and enhance customer interaction.
IDC projects the wearables category will deliver a five-year CAGR of 28%. This type of rapid growth across the category will continue to benefit many wearables-related stocks. The annual growth in wearables and related stocks is illustrated in the graph below:
This fact sheet provides specifics on this emerging Wearables Index to accompany the historical performance graphic below: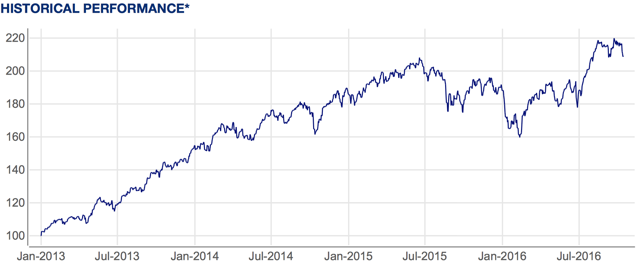 In keeping with this issue's theme of firsts, this SEC filing is for the first ETF to be established for the wearables category. The Wearable Technologies ETF (BATS:WEAR) will be based upon the EQM Wearables Index holdings. The rapid growth that is forecast to continue for wearables technologies over coming years could make this potential ETF a strong performer. Any strength demonstrated may attract inflows of capital into this ETF if it is launched. These possible inflows of capital into the wearables category bodes well for this proposed ETF and also the individual stocks in the category. The future of wearables appears to be evolving nicely.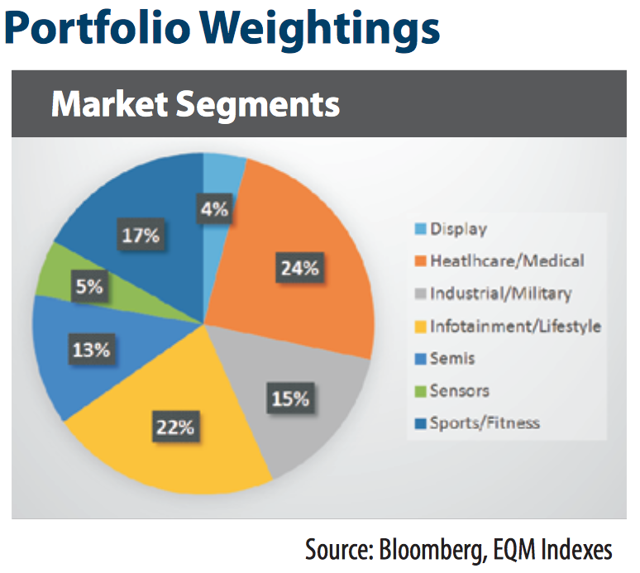 The recent downturn in shares of GoPro (NASDAQ: GPRO) may present an attractive buying opportunity for risk tolerant investors. While the headline news title was initially reported as, "Amazon (NASDAQ: AMZN) Ditches GoPro", the facts may communicate a much different scenario of GoPro enforcing its pricing guidelines upon Amazon. This report from CNBC: GoPro's strategy behind Hero5 shipping delays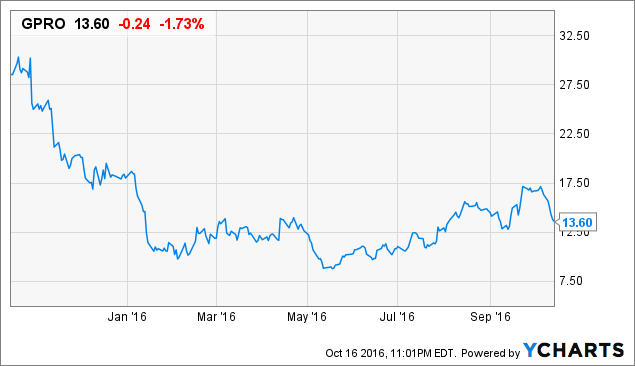 Vuzix (NASDAQ: VUZI) is a leading maker of smartglasses that seems to be announcing quite a bit of good news recently. Now, in the early phase of its product release for the very promising M300 smartglasses, Vuzix has announced 4 new customers/partners. It has also been announced that Vuzix won the Enterprise Wearable Device Of The Year award. The full product release of the M300 may prove to be a materially transformative event for this promising micro-cap. As always, please remember that risk equals reward with a microcap like Vuzix, and there is plenty of both here in this situation.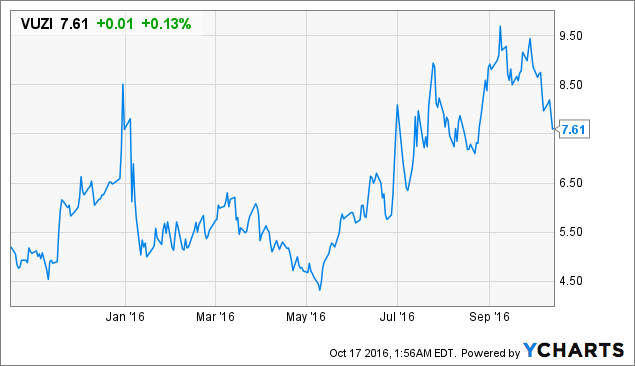 Sony (NYSE: SNE) just launched its entrant into the VR market called PlayStation VR. Priced in between competitors Oculus Rift that is about twice the price of PlayStation VR and Samsung Gear that is cheaper, Sony believes they are bringing a "value proposition". Expect about 50 games to be available by Christmas.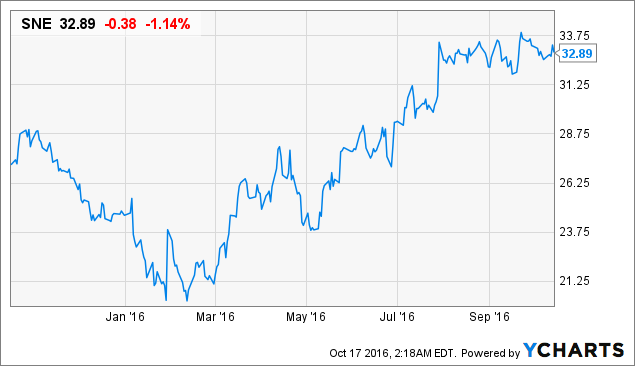 Microsoft's (NASDAQ: MSFT) HoloLens is expanding its availability into six new countries, although still primarily highlighting the developer and commercial communities as partners for its edgy virtual reality product. The future is rapidly approaching as yet another cutting edge application for HoloLens has been announced by medical researchers and engineers at Duke University. They say that neurosurgery may become much safer with the application of the virtual reality technology offered by HoloLens.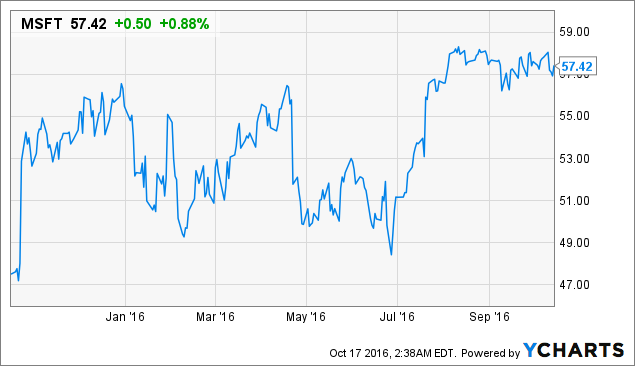 Ambarella (NASDAQ: AMBA), the chipmaker, is a wearables supply chain company that has been closely linked with the fortunes of GoPro, as over 30% of Ambarella's revenues have come from GoPro. Now, Ambarella has set its sights upon diversifying its customer base. A recent FAA regulatory breakthrough will also give a huge boost to commercial drone sales, thereby providing excellent opportunities to Ambarella in this strong growth market.
Taser International (NASDAQ: TASR) has been a dominant player in the wearables body camera market for law enforcement among others. Two items of news contributed to the recent pullback in the stock price of Taser. The NYPD bypassed Taser to award a body camera contract to private competitor. The NYPD, a large customer, cited pricing as the reason for their choice. About ten days later, a Federal District Court ruled in favor of Digital Ally (NASDAQ: DGLY) in the competitor's lawsuit against Taser, thereby allowing Digital Ally to commence an onerous process of discovery involving Taser employees and customers.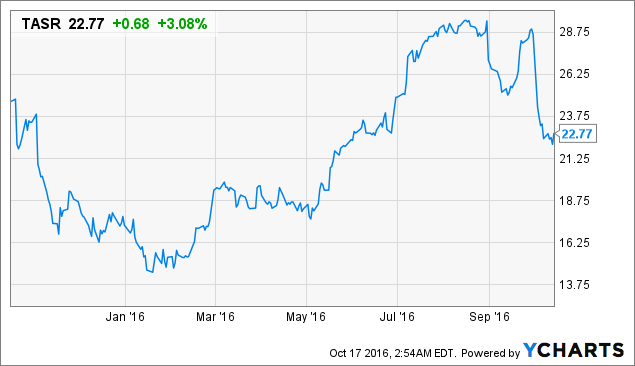 Fitbit (NYSE: FIT) has been on a winning roll of product development in 2016. First, the highly successful Blaze and Alta new product launches occurred in Q1 '16, then more recently, the Charge2 and Flex2 were released as updates. Significantly, there has been new product innovation on the software side of the ecosystem in the Group Health market. And now the leader in wrist wearables is in pre-sale for a stylish line of accessories and bands in its partnership with PUBLIC SCHOOL. The new accessories should deliver a boost to margins and revenues as they will be available in November in time for the holidays. CEO Park briefly mentioned Fitbit's transformation towards a "digital healthcare company" with Cramer on Mad Money.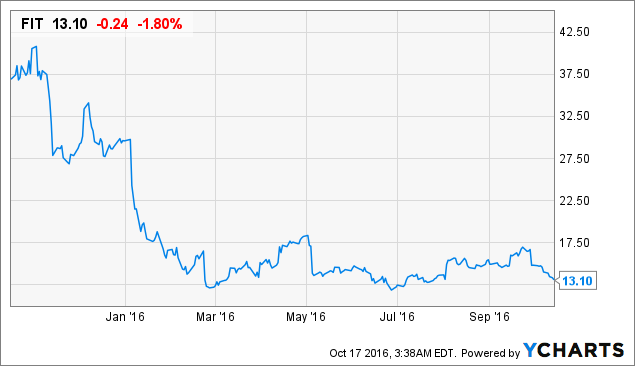 Facebook's (NASDAQ: FB) Oculus acquired a private startup that makes low-power LEDs. The drive to further develop a line of VR products at Facebook marches on as Oculus is working on a cheaper, wireless VR headset.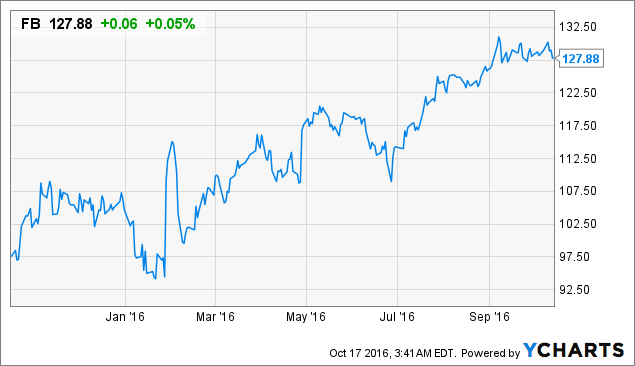 Formerly known as Snapchat (PRIVATE: CHAT), the company recently changed its name to Snap, Inc. At the same time releasing a trendy, new wearables device called Spectacles. This hardware has now become the front-end of the Snapchat application's ecosystem.
Snap's market-leading application retains the name Snapchat as Piper Jaffray reports that teens rank this the leading social app. Snapchat's growing popularity and the release of Spectacles could not come at a better time as Snap readies itself for an IPO. Heavyweight underwriters Goldman Sachs (NYSE: GS) and Morgan Stanley (NYSE: MS) reportedly will run Snap's IPO.
The number of publicly traded wearables-related stocks continues to grow via IPOs, M&A, and the innovation of technology by existing public companies. This is a fascinating category that is still in its nascent stages. Prescient investors are watching wearables closely for both opportunities in new applications of innovative technologies, and also for the disruption of traditional industries by these new technologies.
There is a seismic shift underway in the business and investment landscapes, and the wearables technology revolution is the driver of this tectonic evolution. No investor can afford to be unaware of the wearables revolution or its rapidly moving developments. Please use the follow button at the top of the page to receive Wearables Go! Daily Notes and also wearables-related articles by Bull & Bear Trading.

"To be prepared for war is one of the most effective means of preserving peace." - George Washington, First American president.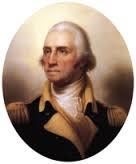 Thank you for reviewing our first issue of Wearables Go! Daily Notes. Free trial our Wearables Go! service in the Seeking Alpha Marketplace for two weeks. No commitment necessary and zero cost to you. Please join us.
Lucrative Ideas

I read my first Bull & Bear Trading article on Fitbit in May and began tracking FIT based upon your recommendations. My cost averaged position was about $12 and I just sold above $16 for a nice gain this week. Your research was very helpful and I look forward to Wearables Go! becoming a valuable resource for my short-term trading and long-term investing. Thanks Bull & Bear Trading! Looking forward to reading your next BIG ideas!!
The wearables and mHealth categories are in the early days of a classic technology bull market. Ready? Go!
Best,
Michael Patrick
Editor
Bull & Bear Trading / Wearables Go!
Disclosure: I am/we are long FIT, AAPL.
I wrote this article myself, and it expresses my own opinions. I am not receiving compensation for it (other than from Seeking Alpha). I have no business relationship with any company whose stock is mentioned in this article.
Editor's Note: This article covers one or more stocks trading at less than $1 per share and/or with less than a $100 million market cap. Please be aware of the risks associated with these stocks.