Wells Fargo's (NYSE:WFC) new top man was put under the microscope only a couple of days into his new job with the bank's Q3 earnings release last Friday. While I was excited to see that Stumpf was out, I thought the timing was awkward given that he knew an earnings report was due out two days later. At any rate, Sloan is the only one that matters now and of course, for the Q3 report, nobody cared what actually happened in Q3; attention was focused on the scandal. But WFC continues to sport a premium valuation despite a lukewarm reception to the earnings release; are things still that good?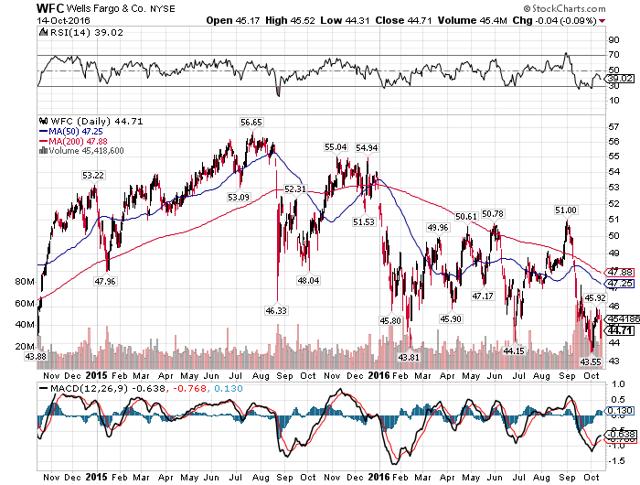 If we set aside the scandal for a moment, WFC's Q3 looks very good from a lot of angles. That starts with total revenue, which was up 2% on a consolidated basis. That amounts to terrific growth for financials these days and WFC has certainly remained at the forefront in that area against its peers. The growth came from higher net interest income driven by trading revenue and investment securities. NIM, however, was down 4bps to 2.82% as more long term debt and deposits crimped margins. Wells generally maintains a higher NIM than the other TBTFs and that isn't going to change. The move down, however, represented roughly 1.4% of its NIM level, crimping what would have been much better revenue growth without the decline.
Noninterest expense is where things start to get interesting for WFC as the bank put in a rather lackluster quarter here. Higher litigation accruals, higher FDIC expense, higher salaries and a $107M donation all factored into noninterest expense growth outpacing revenue growth. The problem with that is that WFC's efficiency ratio deteriorated materially, something it cannot afford given the premium the stock trades with. WFC's efficiency ratio deteriorated 130bps over Q2 and a whopping 270bps over last year's Q3. Those are ugly numbers and they mean that WFC's profitability has been seriously impacted. Low efficiency ratios used to be a hallmark of WFC's quarterly results but as we get more and more evidence to the contrary, the bull case for WFC is impaired a little more each time. Perhaps even more concerning, management stated in the press release that it expects WFC's efficiency ratio to remain elevated. That is terrible news and it means that bulls need to readjust their earnings growth forecasts because WFC just told us its returns are going to stay down for the foreseeable future.
And speaking of those returns, I've been saying for a while now that WFC no longer earns the premium it trades for. I used to be a WFC bull so I'm not just some perma-bear that is out to crusade against WFC. But when a stock trades for such a noticeable premium over its peers for such a long time, it has to continue to earn it. WFC has become more and more average in the past few quarters as expenses have risen and things like ROA and ROE have steadily drifted down. ROA was down 3bps sequentially and 15bps Y/Y and the story is the same with ROE, losing 10bps and 102bps, respectively. These are sizable losses and WFC clearly doesn't think things are going to improve anytime soon; so why would you pay a premium for this stock?
There are still plenty of good things about WFC's business and I'm certainly not trying to imply that it is fundamentally inferior or anything of the sort. I'm simply trying to make the point that WFC is a lot closer to its peers in terms of performance than it has been for a long time but investors don't seem to realize it.
Loan and deposit growth as well as credit metrics remained largely on track during Q3 so there was no surprise there. And let's face it; WFC isn't struggling as it continues to produce ~$5.5B in net profit per quarter. This is not a company that is struggling but given the fresh headwinds it has and the fact that it has been experiencing deteriorating performance for some time now, I just can't see paying the going rate for shares.
What fresh headwinds are those? Obviously, the checking account scandal has been huge of late. It is all over the news and even in Q3, WFC told us that the scandal has significantly impacted its ability to attract new customers. Its famous cross-sale ratio ticked down from 6.33 to 6.25 but I believe that has to be just the tip of the iceberg.
New checking account openings, visits with bankers, mortgage referrals and credit card applications all fell off a cliff in Q3 and remember that the scandal didn't break until late in Q3. What Q4 ultimately looks like for these metrics is going to be tremendously interesting and could determine if WFC finally breaks down or if damage remains limited. The early read on these vital metrics is absolutely horrendous so unless WFC has some tricks up its sleeve, I'm certainly more bearish after the report than I was going into it. These kinds of numbers with respect to new business generation are very difficult to overcome and in particular, for a company like WFC that brags about its ability to cross-sell.
Finally, I have been calling for Stumpf to be shown the door since the scandal broke and he handled it in absolutely the worst possible way, deflecting all responsibility and simply blaming 5.3K low-income workers. I haven't seen many other instances of a CEO offering up such pathetic behavior and a complete lack of leadership for something he should have been aware of and taken the blame for. Now that he's gone, however, I'm now disappointed in the board's choice to replace him.
They've chosen Tim Sloan and while he's done an admirable job in his years as Stumpf's right-hand man, his performance on the conference call just sounded like what Stumpf would have said. He offered up absolutely no detail on virtually anything related to the scandal, who was impacted, how they were impacted or how they were going to fix it. He offered up some canned words about fixing WFC's reputation and at one point, after providing some details about new account openings, just said, "If that doesn't satisfy you, I'm sorry." That's quite the remark to make considering the company he now runs is in the middle of crisis management but he seemed 100% unwilling to entertain even basic questions about the scandal.
I was very disappointed in Sloan's performance on the conference call and to say he didn't put my mind at ease is a gross understatement. Sloan had the chance to come out with a clean slate and be apologetic, answer questions and offer up details about what has happened and what is to come and he did nothing of the sort. He gave the same noncommittal answers that Stumpf has been giving for weeks now and missed the chance to actually make some progress.
I don't know what WFC is so afraid of with respect to providing information to investors but it is afraid of something. No company acts like this that is being open, honest and transparent and since WFC is being so secretive about the scandal, it makes me think things are worse than we even know. That's why it is important to be open and honest but apparently WFC doesn't know how to do that.
Given the fact that its fundamentals continue to slowly deteriorate and the fact that the new CEO is virtually indistinguishable from the old one, its current PE of more than 11 times this year's earnings is still too high. Shares have come off very slightly as a result of the scandal but I still don't think the stock is taking into account the fact that its returns have continued to tick down for a few quarters now and the fact that WFC just told us that its efficiency ratio is going to remain elevated. That will continue to crimp returns but the stock isn't taking any of this into account.
WFC is trading near its lows but I think new lows are coming. Shares cannot sustain a bounce and given so many headwinds going forward, I simply don't see upside here. I'm shorting WFC here as it has so many enormous problems but continues to sport a premium valuation. Shorting WFC isn't something I ever thought I would do but given its issues, I think that kind of consideration is warranted. I'm sure to be laughed at by the bulls but if you take an objective look at WFC's fundamentals, it just isn't the same bank that it was a couple of years ago but trades for much the same valuation. That's a situation I believe will be reconciled with a lower valuation, not better fundamentals.
Disclosure: I am/we are short WFC.
I wrote this article myself, and it expresses my own opinions. I am not receiving compensation for it (other than from Seeking Alpha). I have no business relationship with any company whose stock is mentioned in this article.