Please take note this is only one aspect in weighing the attractiveness or non-attractiveness of the companies mentioned as an investment and should not be used independent of other factors. This article examines one segment of the companies' businesses, and other factors such as valuation are not addressed.
China's efforts to rebalance the economy towards a consumer-driven model has increased domestic consumption and boosted the country's e-commerce market, which have been major growth drivers of China's logistics sector.
Consumption accounts for about 36% of GDP in China. This is lower than the world average which stands at 60% of GDP (in the U.S. the figure is about 70%).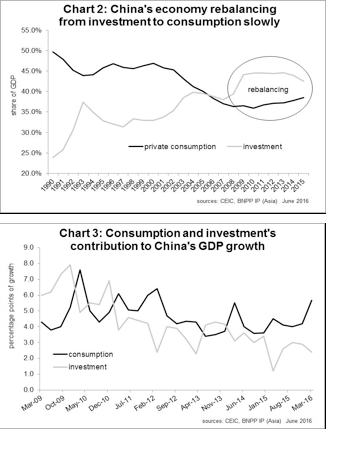 Source: The SWIFT Institute
By 2025, consumption is estimated to account for 42% of China's total GDP.
China is the world's largest ecommerce market, having overtaken the United States in 2013.
However, with less than 40% of China's population shopping online, China's e-commerce market still has room for growth. By 2019, it is expected that the percentage of Chinese shopping online will increase to 51% of China's 1.3 billion population.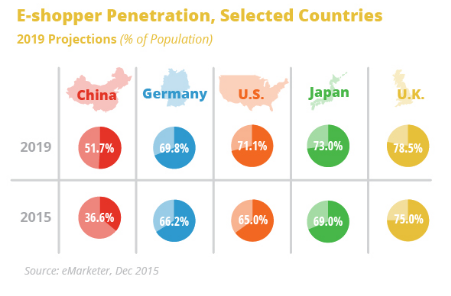 Source: eMarketer
Some experts have suggested that China's e-commerce market could grow to be larger than the United States and Europe combined within three years.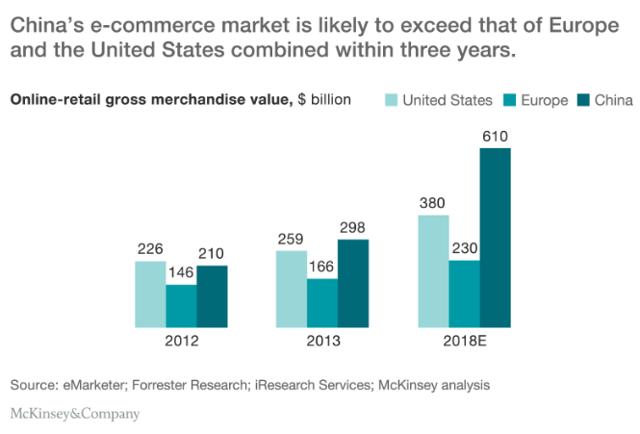 Source: McKinsey & Company
Additionally, cross border e-commerce (known as the "haitao market") is another growth engine for China's e-commerce market.
According to McKinsey & Co, China's cross-border consumer e-commerce amounted to an estimated 259 billion yuan ($40 billion) in 2015, which is more than 6% of its total consumer e-commerce and is growing at a rate of over 50% annually.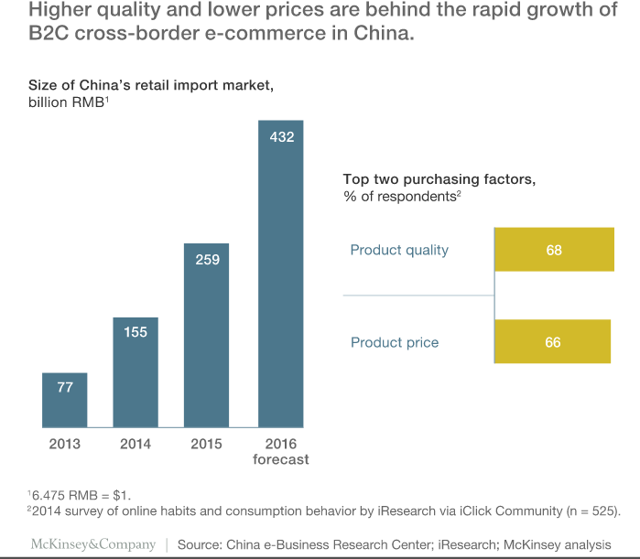 Source: McKinsey & Company
Increasing domestic consumption and China's booming e-commerce market are driving demand for logistics services; with the country's domestic consumption and e-commerce market still showing substantial growth potential, demand for logistics services should increase and hence China's logistics market is expected to exhibit significant growth in the years ahead.
This presents a structural (rather than a cyclical) growth driver.
Riding on the back of increasing domestic consumption and booming e-commerce, China's logistics market has grown to be the largest logistics market in the world; China logistics costs reached US$ 1.7 trillion in 2014, compared to US$ 1.4 trillion on the U.S.
However, the industry is still under-developed, and at early stages.
Logistics facilities supply in China has struggled to keep pace with demand and consequently, the country's logistics system has reportedly been pushed to the limit.
According to Lasalle Investment Management, the modern logistics stock of China (the world's largest e-commerce market) severely lags behind its global counterparts and is "struggling to keep up" with its enormous and rapidly expanding consumer market.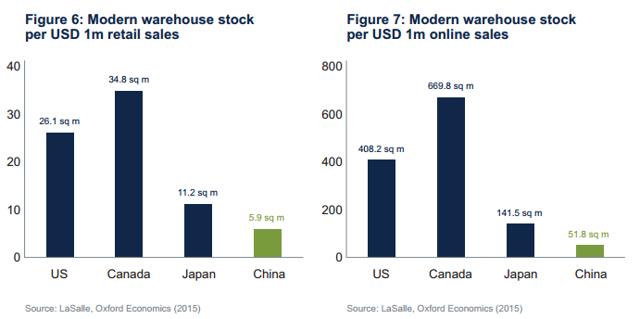 Source: Lasalle Investment Management
This supply-demand mismatch presents an opportunity for expansion in China's logistics sector.
China's logistics market is fragmented with the top 20 transportation companies accounting for less than 2% market share which restricts them from benefiting from economies of scale.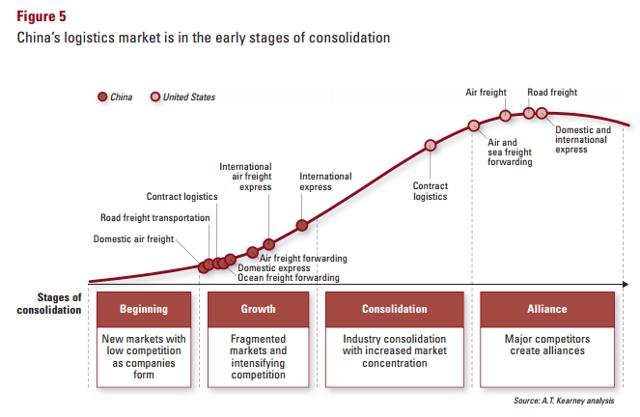 Source: A.T. Kearney
This adds to logistics costs which are relatively high in China, amounting to about 18% of GDP, whereas in mature markets such as the U.S., U.K. and Japan, the cost is about 8%.
In August this year, the Chinese government released a six-year plan to reduce domestic logistic costs to 16% of GDP by 2020, to make the economy more competitive.
Reducing the ratio by 1 percentage point results in cost savings of over 900 billion yuan (about US$ 135 billion) for Chinese industries.
With the Chinese government providing a favorable policy environment, the country's logistics sector is expected to show steady growth.
Overall, a growing e-commerce and haitao market, increasing domestic consumption, an under-supply of logistics facilities and a favorable policy environment are contributing factors toward making China an attractive market for logistics investment.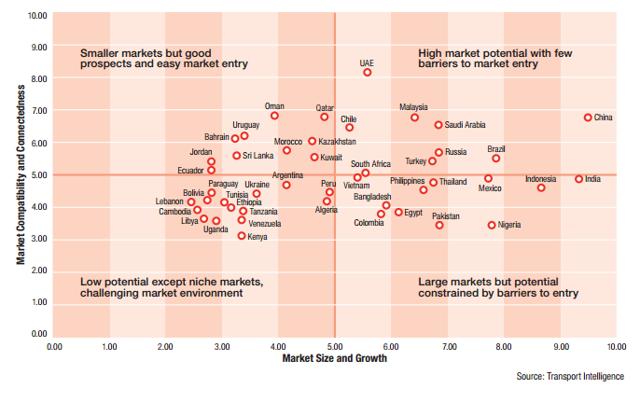 Source: Agility - Emerging Markets Logistics Quadrant
Sinotrans (OTC:SNOTY) (OTCPK:SNOTF), China's largest logistics service provider, is well positioned to benefit from the development of China's logistics infrastructure and long-term growth of logistics demand in China. According to Armstrong & Associates, a supply-chain market research and consultancy firm, Sinotrans is the only Chinese company that ranks among the top 20 third-party logistics providers in the world.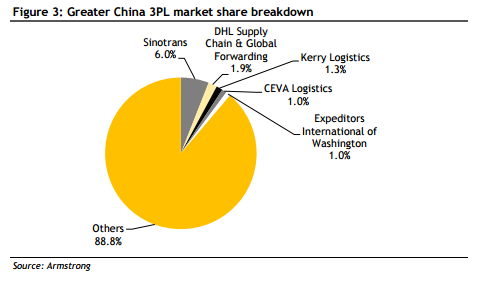 Sinotrans has also launched an e-commerce platform to facilitate cargo space reservations and cross-border e-commerce logistics services.
Meanwhile, many other investors (local and foreign) have responded to this opportunity.
Carlyle Group LP, Canada Pension Plan Investment Board (CPPIB) and Warburg Pincus have invested $12 billion in China's logistics sector since 2013, according to real estate consultancy Jones Lang LaSalle.
Carlyle Group's (NASDAQ:CG) Asia real estate will be focused on China logistics going forward according the company's head of Asia real estate.
Last year, Canada Pension Plan Investment Board and Sydney-based Goodman Group invested an US$1 billion and US$250 million, respectively, into a joint-venture (Goodman China Logistics Holding) set up in 2009 to own and develop logistics assets in Mainland China. This is the fifth infusion by the two companies into the joint venture, bringing the joint-venture's total combined equity allocation to US$ 3.25 billion.
Alibaba (NYSE:BABA) plans to invest US$16 billion over the next five years for future logistics investments in an effort to increase efficiency, market reach and delivery speed.
Alibaba's logistics affiliate Cainiao Smart Logistics Network Ltd., intends to quintuple warehouse space in the next year alone.
In an effort to capitalize on China's growing e-commerce sector, DHL eCommerce, a division of Deutsche Post DHL Group, announced plans to grow its overall presence in China by over 50% by the end of this year. DHL expects China's B2C e-commerce market to grow at a CAGR of over 30% from this year until 2020.
Chinese express delivery companies are racing to tap capital markets to support business expansion in the face of growing domestic demand. China's homegrown express delivery firms have benefited from a domestic delivery market that has been growing at a rate of 50% a year over the past five years (according to this article on CCTV News) largely thanks to its booming e-commerce market.
China's emergence as the world's largest e-commerce market also helped its express delivery market emerge as the largest in the world.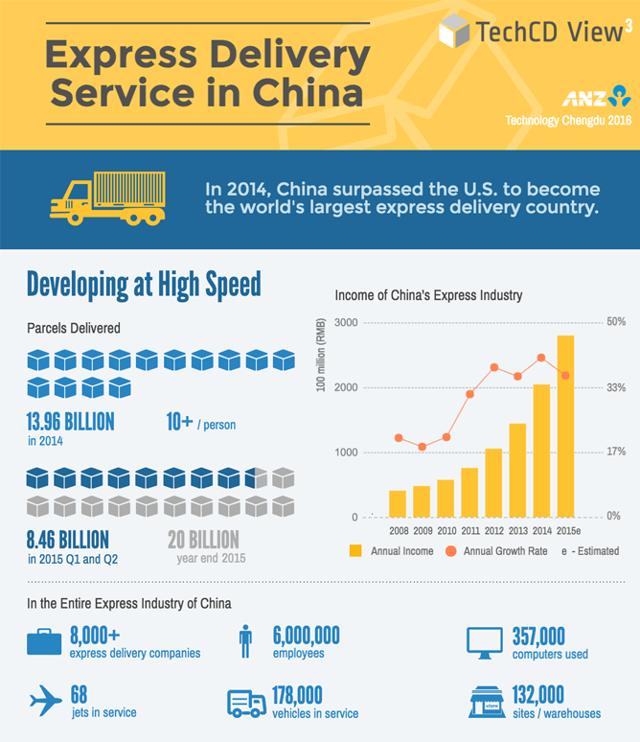 Source: ANZ
The country moved 20.7 billion express delivery parcels last year, compared to 13.4 billion in the U.S. However, on a per capita basis, China still lags behind, with 15 express parcel per person compared to 42 in the U.S. thus indicating plenty of growth potential in this segment of China's logistics market as the county's e-commerce market continues to grow in the years ahead. Around 70% of express delivery parcels in China were generated from e-commerce, compared to 50% in the U.S.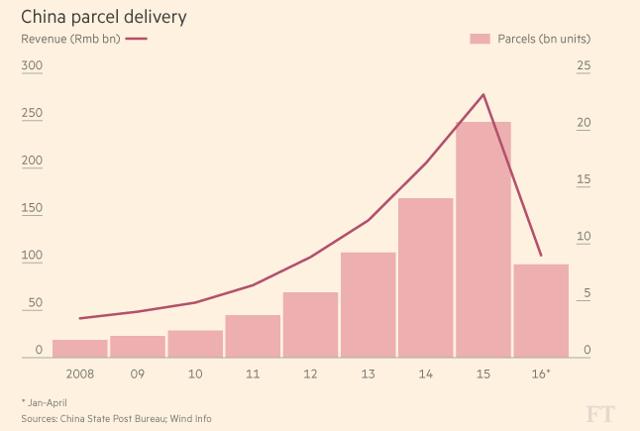 Source: FT.com
Most of China's express delivery firms are privately-held; however, of late, a number of China's express companies have sought listings to support business expansion and build scale amid growing market demand in an increasingly competitive environment (according to the state post bureau, rates dropped more than 35 per cent between 2011 and last year) and rising costs which are negatively impacting margins of express delivery companies which offer an essentially homogenized service with little product differentiation.
SF Express, China's largest private delivery firm is seeking a listing on the Shenzhen stock exchange through a reverse merger and Shanghai-based e-Shang Warehousing Services Co, co-founded by private equity firm Warburg Pincus, plans to list in Hong Kong.
Chinese couriers YTO Express - backed by Alibaba Group - and STO Express are still awaiting regulatory approval and ZTO Express, a partner in Alibaba's Cainiao Network Logistics arm, has filed for an IPO in New York which could be the biggest U.S. listing by a Chinese company since Alibaba's US$ 25 billion IPO.
ZTO Express will be the first courier-services provider in China to list on a U.S. exchange. The company is a partner of Alibaba's China Smart Logistics Network (CSN) also known as Cainiao, which is backed by Alibaba (Alibaba holds a 48% stake). Sequoia Capital owns 7.2% of ZTO Express and Warbug-Pincus owns 6.1%.
Best Logistics Technologies Ltd., partly owned by Alibaba is raising US$700 million in a new fundraising round, ahead of a future IPO.
Disclosure: I/we have no positions in any stocks mentioned, and no plans to initiate any positions within the next 72 hours.
I wrote this article myself, and it expresses my own opinions. I am not receiving compensation for it (other than from Seeking Alpha). I have no business relationship with any company whose stock is mentioned in this article.
Editor's Note: This article covers one or more stocks trading at less than $1 per share and/or with less than a $100 million market cap. Please be aware of the risks associated with these stocks.