Yet another quarter has passed where BlackBerry (NASDAQ:BBRY) faced an immense reduction in revenue, and this time across all three divisions. Hardware revenue faced a massive decrease of almost $50 million and almost $90 million from the quarter before. The graph below shows the hardware revenue dating back to the first quarter of fiscal year 2016.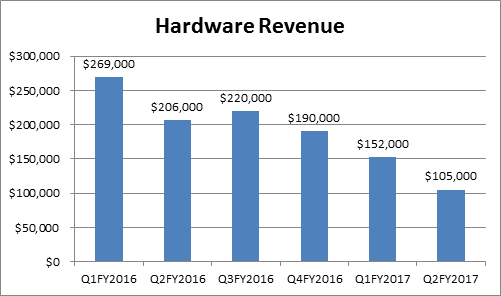 Hardware revenue from Q1FY2016 to Q2FY2017
As seen in the graph below the amount of smartphones sold has been declining at a linear rate of 100,000 units per quarter for the past year. BlackBerry's strategy involved trying several different methods to revamp sales, including switching to Android OS devices, but nothing has worked so far.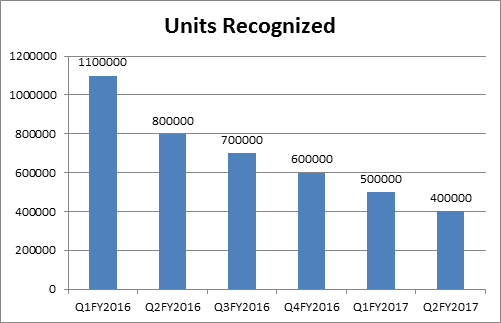 Smartphone sales from Q1FY2016 to Q2FY2017
Things appear quite bleak for the company but even with these scary revenue declines there is something interesting that happened in the last quarter. The business segment actually decreased its operating loss from $21 million to $8 million, even after a $47 million decrease in revenue. The results are summarized in the table below.
Hardware results from Q1FY2016 to Q2FY2017
| | | | |
| --- | --- | --- | --- |
| Fiscal Quarter and Year | Hardware Revenue | Units Recognized | Operating loss |
| Q1FY2016 | $269,000 | 1.1 mil | - |
| Q2FY2016 | $206,000 | 800 k | - |
| Q3FY2016 | $220,000 | 700 k | - |
| Q4FY2016 | $190,000 | 600 k | - |
| Q1FY2017 | $152,000 | 500 k | $21 mil |
| Q2FY2017 | $105,000 | 400 k | $8 mil |
In my last article titled "All Eyes On Hardware Margins" I stated that the company's hardware margins would be the most important statistic from the quarterly results. Interestingly enough the cost of goods sold decreased by almost half and brought margins up significantly. These results are summarized in the table below.
Non-GAAP Mobility Solutions Margins for Q1 and Q2 of FY16/17
| | | | | |
| --- | --- | --- | --- | --- |
| | Q1FY16 | Q2FY16 | Q1FY17 | Q2FY17 |
| Revenue | 269 | 206 | 152 | 105 |
| Cost of Goods sold | 267 | 228 | 140 | 78 |
| Gross Margin | 2 | (22) | 12 | 27 |
| Operating expenses | - | - | 33 | 35 |
| Operating income (loss) | - | - | (21) | (8) |
The company attributed this increase in margins to a decrease in royalty costs and an increase in ASP's. After Q1FY17 the company stated that its objective was to achieve profitability in Mobility Solutions in the third quarter of fiscal 2017. From the table above this goal actually seems plausible as gross margins have improved and the operating loss has narrowed. Unfortunately, this improvement has come mainly due to Non-GAAP adjustments resulting from the write-down on inventory. Without the Non-GAAP adjustments the company's Mobility Solutions business actually had negative gross margins of $29 million for Q1FY17 and $69 million for Q2FY17.
Gross Margins excluding Non-GAAP Adjustments
| | | | | |
| --- | --- | --- | --- | --- |
| | Q1FY16 | Q2FY16 | Q1FY17 | Q2FY17 |
| GAAP Gross Margin | 2 | (22) | (29) | (69) |
It is difficult to know how to treat these results. Will the adjustments really be one time charges or will we see this trend continue? The company recently announced that it has ended all internal development of hardware. CEO John Chen also said the following during the last conference call:
Coming out of Q2, I feel that we are reaching a good inflection point where our financial picture is stable and our pivot to software taking hold. In line with this pivot, we are announcing a new strategic direction in our mobility solutions business, focused on developing and licensing of our security device software as well as the BlackBerry brand.
Now with a clear view of the historic financials of the hardware business presented I will go into detail on the numerous business activities on the horizon.
DTEK60 To Be Released Soon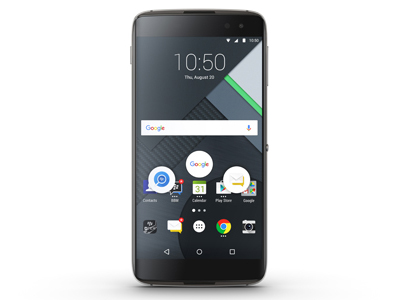 BlackBerry launched the DTEK50 device only a few months ago and already a follow up device will be released soon. Any day now the company will launch the DTEK60 which will cost a few hundred dollars more than the DTEK50 but have better specs. Even though there hasn't been any formal announcement we know this is coming out as retailers such as NCIX, B&H Photo, and Staples Canada have already put the device up for pre-order or sale.
The strategy used for the production of this device seems to be the same as that of the DTEK50. In this case the device appears to be based off the TCL 950 design with a few changes to the storage capacity and screen. Although this looks like a good move for the company, we already saw this strategy fail with the DTEK50. In the US no major carriers sold the phone and, as mentioned previously, there was no improvement in handset sales.
The only benefits I saw to this move is that it allows the company to slow down the handset decay and gives the software team a device to continue their Android development on. Still, with poor marketing and carrier support I don't see this device being able to turn the business around and may continue the trend of inventory write-downs.
Physical Keyboard Device Within 6 Months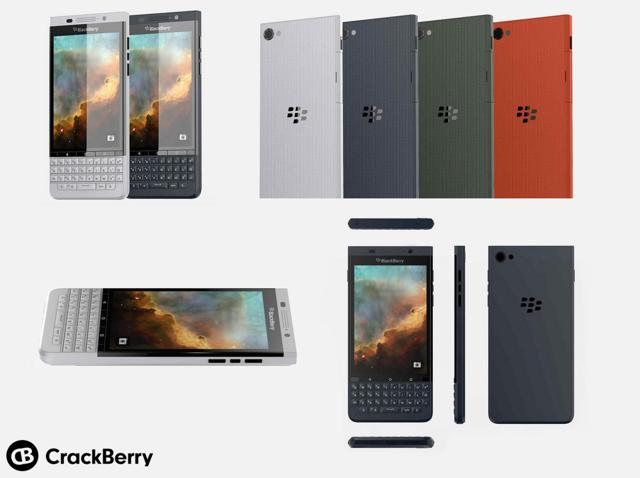 BlackBerry's Senior Vice President of Global Device Sales, Alex Thurber, recently confirmed in an interview that the company would be releasing a physical keyboard device within six months. This device, codenamed Vienna, has been in development for quite some time now as leaks and artist renderings started appearing in November of last year, only a few days after the Priv device was released.
I suspect this device will come preloaded with Android N which BlackBerry will claim allows for even higher security. Its previous marketing slogan of "The world's most secure Android smartphone" for the DTEK50 did nothing to reverse the handset decline, so this security angle does not seem to matter to the general consumer.
The biggest question is how will BlackBerry produce this device and keep costs low? Can the partnership with TCL help if TCL/Alcatel doesn't have any Android phones with keyboards? Will Foxconn or Wistron produce this device? The device is expected to be mid-range but the PKB typically increases the cost and I would imagine it would be even higher if the touch-capacitive keyboard is included. All of this just looks like bad news for the company's bottom line but as it is still early, we will have to wait for more info. With the six month time frame the device should be released by April 2017, i.e. Q1FY18.
Other Mobility Solutions Contributors
There is still a lot that people haven't realized about BlackBerry yet. The hardware business has evolved into Mobility Solutions and this quarter the division will see minor growth from several contributors. Over the next two quarters there should also be a decent amount of news in this area that should give a positive bump to the stock.
BlackBerry Radar
It is not clear how much the BlackBerry Radar solution costs but 500 units were sold to Caravan Transportation Group early this quarter and there is an intention to roll out to more vehicles in their fleet of 1,500. In previous conference calls Chen mentioned that five companies had trialed the system and demand was high. There will probably be more announcements in the future and any big names could give the business some much needed positive attention.
As I have mentioned before, BlackBerry Radar should provide better margins than smartphones as the materials are simpler and bundled with a software platform which may result in recurring revenue from software maintenance/updates.
Hub+ Services
BlackBerry's Android app Hub+ Services was made available in the Google Play Store on August 3. Users get a 30-day trial then can upgrade to the ad-free version for 99 cents a month. After being available for only a few days the app had over 100,000 installs. With the timing of the release, subscriptions of the app would have gone into effect early September, i.e. the beginning of this quarter. 100,000 installs results in $297,000/quarter. This is assuming that the version with ads also generates around 99 cents/month. Just last week the app surpassed 500,000 installs and is now in the 500k-1million install range. Conservatively, this is $1.485mil/quarter and could be up to almost $3 million.
While these values are relatively insignificant, it definitely doesn't hurt especially considering the high margins. Growth in this area is reasonable and the company should expand their software offerings by expanding to iOS (if possible) and releasing some new apps as well.
Device Software Licensing
Finally, device software licensing is the most interesting area within the Mobility Solutions business and may be what helps continue the production of BlackBerry-branded devices in the future. A deal with the Indonesian joint venture PT BB Merah Putih is the major device software licensing agreement for BlackBerry. The joint venture and its affiliates account for nearly half of the total Indonesian mobile market. At face value this deal looks great for the company as it will receive licensing revenue up front and royalties on each device sold. Unfortunately, it is still early and we don't know when these devices will actually be ready for sale. More information on the licensing revenue should be available after the end of this quarter.
The pipeline also includes potential deals in China (high probability) and India. Striking another deal in any more countries would definitely give a boost to the stock but it is still early in the game.
Final Thoughts
Well there you have it; a high-level view of BlackBerry's Mobility Solutions business for the next few quarters.
As Chen said the inflection point is coming and the MS business may achieve profitability this quarter. Will what the company defines as "profitability" be acceptable or will it be deceiving like 100+% YOY gains in Software revenue?
The Seeking Alpha community has been great at providing an honest view of BlackBerry. Many contributors pointed out how the company's yearly software gains were there only due to acquisitions and this is how the company will be showing 30% growth for the fiscal year. BlackBerry may have some more tricks in its bag for the MS segment. The continuation of selling smartphones for all this time has contributed to digging the company into a hole. But sometimes when you dig deep enough you can get lucky and strike oil. With this comprehensive article I would like to ask the SA community to join me in the comments and give me your feedback on the Mobility Solutions business.
Disclosure: I am/we are long BBRY.
I wrote this article myself, and it expresses my own opinions. I am not receiving compensation for it (other than from Seeking Alpha). I have no business relationship with any company whose stock is mentioned in this article.