The stock market (NYSEARCA:SPY) rallied at the open on Friday morning, fueled by what was interpreted to be a solid retail sales report and led by rallies in banks such as Citigroup (NYSE:C) and JPMorgan (NYSE:JPM) that reported better-than-expected earnings. Bank stocks may also have been given a lift after the interview with Boston Fed President Eric Rosengren on CNBC prior to the opening bell.
Affirming his intention to vote for a rate hike at the Fed's December meeting, Rosengren asserted that the economy continues to strengthen and that the unemployment rate will fall to 4.5% by the end of 2017. While this outlook, should it come to fruition, would clearly warrant raising short-term interest rates in December, it isn't based in reality. There may be legitimate reasons to increase interest rates, but this is not one of them.
In fact, as a result of the retail sales report on Friday, the Atlanta Fed reduced its forecast for the rate of economic growth in the third quarter to just 1.9%, due to a decline in its expected rate of consumer spending growth. The Atlanta Fed was forecasting a rate of growth nearly double that just two months ago. The unemployment rate ticked up last month from 4.9% to 5.0%, and there are no indications that it will fall further. To the contrary, the downward revisions by the Bureau of Labor Statistics to its payroll estimates for each of the past six months indicates that the unemployment rate is more likely to rise.
The stock market rally fizzled one hour after the open, and the averages moved lower through the remainder of the day. If expectations for a December rate hike were the reason for the failed rally, then one would assume that bank stocks would not have given up the majority of their gains, as they did. Even a dovish speech by Janet Yellen later that afternoon couldn't lift stock prices, as her speeches typically have in the past.
The Fed Meeting
In my view, the December Fed meeting is the most important event of the fourth quarter. Despite the consensus view that the Fed will increase rates by 25 basis points, as indicated by Fed Fund futures prices, the meeting is still two months from now. We have seen a similar consensus view in advance of prior meetings, only to have unforeseen events lead to no Fed action. I believe the same scenario will play out between now and December, but I think Janet Yellen has already made up her mind.
In arguing that the Fed will not raise interest rates at its December meeting, I stated on Wednesday of last week that Yellen would be willing to allow the rate of inflation to rise above the Fed's 2% target in the hope that the rate of income growth increases further. I think she acknowledged this very intention in yesterday's speech when she said that the Fed may need to run a "high-pressure economy" to increase aggregate demand and undo the damage caused by the Great Recession. In my view, this was her way of indicating that she does not support an interest-rate increase in December.
While stock investors shrugged, bond investors ran for cover during her speech, as long-term bond yields soared to levels not seen since June. The concern was over inflation running well above the Fed's target of 2%. The bottom line is that I think Yellen is resolved to hold interest rates at current levels through the end of the year.
Corporate Earnings
Perhaps this quarter will bring an end to the corporate earnings recession that began 18 months ago. While earnings are currently expected to decline year over year by just 1.8% for the quarter just ended, revenues are expected to rise for the first time since Q4 2014, albeit by just 2.6%. Is this relevant? I'm not sure why it would be when the earnings and revenue declines in past quarters have been irrelevant for so long.
I feel like a donkey chasing this carrot called earnings growth that Wall Street keeps dangling in front of me quarter after quarter. I keep marching forward, but I can't reach it.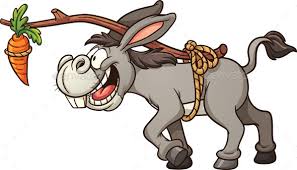 Now that it appears to be reachable, we have a new problem, which is probably why the donkey above is marching in the wrong direction. Profit margins are declining. Rising wages and desperately needed capital investment further pressure profit margins. Falling profit margins typically result in lower valuations. I don't think earnings will be a significant factor this quarter, unless they fall well below the consensus estimate. We need to see significant earnings growth moving forward to justify current valuations.
Liquidity
While investors debate whether or not there will be another interest rate increase in December, the stock market could be taking its cue from the significant decline in liquidity over the past five weeks. The total amount of excess reserves held by depository institutions has fallen markedly, as can be seen below, and this is relevant given what we saw occur last year.

This near $300 billion decline is similar in size and timing to the decline we saw one year ago, in advance of the December 2015 Fed meeting. This could be a contributing factor to falling stock prices. It also could be interpreted as an indication that the Fed is preparing to raise interest rates, as it did last December, but I'm not convinced. While the Fed may be preparing to do so, perhaps to satisfy its hawkish members, I still think there will be a game-time decision that results in no change. Of course, the Fed could just as easily increase excess reserves, as it did following the correction in the S&P 500 that took place at the beginning of last year. This is a relevant development that is worth watching.
The Bond Market
Long-term bond yields have risen dramatically over the past two weeks. Earlier in the week, yields rose over fears that the Fed would raise interest rates, while at the end of the week, yields rose over fears that the Fed would not raise interest rates and would allow the rate of inflation to run above its 2% target.
It seems that investors are determined to reduce the duration of their fixed-income holdings, regardless of the reasoning, which is understandable on a long-term basis. Yet I think we are approaching levels where long-term interest rates may stabilize, if not reverse course during the fourth quarter. The iShares 20+ year Treasury bond ETF (NYSEARCA:TLT) is oversold on a short-term basis, and I think bond yields will fall if a stock market correction ensues between now and year-end. Weakening economic data should also be a catalyst for lower bond yields.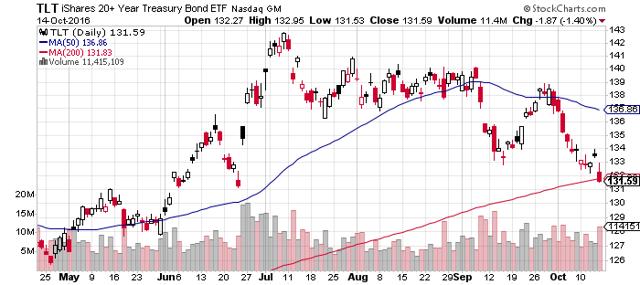 Yet the upside of owning fixed-income products and funds that don't have a maturity date in the prevailing interest rate environment is no longer worth the downside risk. Therefore, I view another decline in long-term interest rates as an opportunity to exchange funds for individual bonds, while continuing to shorten duration and increase quality.
Gold
Gold (NYSEARCA:GLD) appears to have consolidated its gains from the first half of this year, as a new uptrend in the precious metal has taken hold, based on the point & figure chart seen below.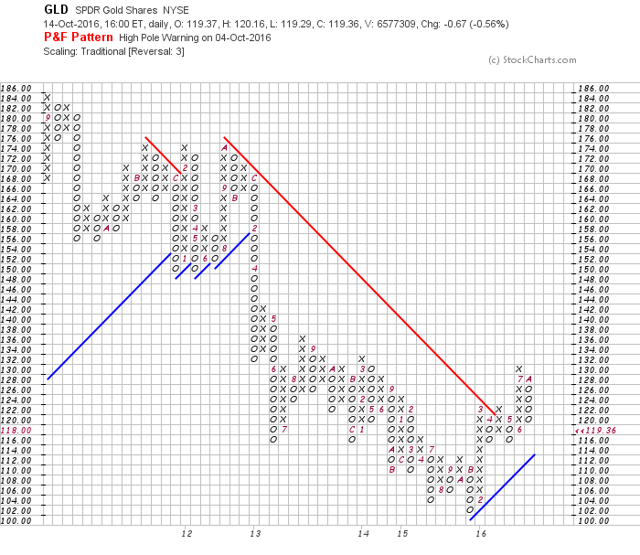 I believe the risk versus reward is optimal for increasing exposure at current levels, and I expect gold to outperform stocks and bonds in 2017. This alternative asset can serve as an effective hedge on multiple fronts. The fear of rising rates of inflation could lead to higher prices, as it has in the past, but most importantly, it can serve as a safe haven during times of market instability. Market instability seems like an inevitability given the monetary policy excesses that must be unwound.
The Stock Market
It feels like a stock market correction is underway, if for no reason other than the uncertainty that lies ahead. We have the uncertainty of corporate earnings results, the Presidential election and the Fed meeting in December. As a result, I expect to see more failed rallies in the coming weeks that lead to a more significant decline. From a technical standpoint, a close below 2,125 on the S&P 500 index would be a negative event, given that this level is currently serving as near-term support.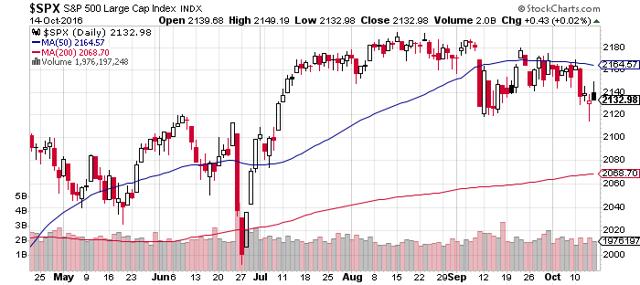 I believe a break below 2,125 on a closing basis would open the door to a test of the 200-day moving average at approximately 2,070. Beneath this long-term moving average is the low of 2,000 that we touched last June. Remember that when this market declines, it declines rapidly and without warning, as the machines that provide our liquidity seemingly vanish.
I suspect that a decline that approaches the 2,000 level between now and when the Fed meets in December would dramatically reduce the consensus expectations for a rate hike. This would be especially true if the economic data continues to weaken, as I am forecasting. The Fed would likely combat the decline in stock prices by increasing liquidity, as it did one year ago, which should set the stage for a rally into the end of the year.
In summary, my playbook for the fourth quarter is to position for a V- or U-shaped decline in the stock market, with the likely pivot point falling between the election and the Fed's December meeting. I expect bond yields to fall as stock prices decline. Still, I don't see the S&P 500, which has been virtually flat for two years, surpassing its previous all-time highs.
The Russell 2000 index (NYSEARCA:IWM), which is more domestically focused, peaked in June 2015. It never confirmed the modest new high in the S&P 500 achieved last August. My near-term forecast is just another step in the process of the stock market gradually rolling over, as valuations revert to their historical mean.
Disclosure: I am/we are long TLT, GLD.
I wrote this article myself, and it expresses my own opinions. I am not receiving compensation for it (other than from Seeking Alpha). I have no business relationship with any company whose stock is mentioned in this article.
Additional disclosure: Lawrence Fuller is the Managing Director of Fuller Asset Management, a Registered Investment Adviser. This post is for informational purposes only. There are risks involved with investing including loss of principal. Lawrence Fuller makes no explicit or implicit guarantee with respect to performance or the outcome of any investment or projections made by him or Fuller Asset Management. There is no guarantee that the goals of the strategies discussed by will be met. Information or opinions expressed may change without notice, and should not be considered recommendations to buy or sell any particular security.