JPMorgan (NYSE:JPM) delivered a 3Q16 EPS of $1.58, 14% above consensus estimates. The beat was primarily driven by strong FICC results.

Source: Company data
In our last published article on JPMorgan, we noted that Q3 numbers should be strong, thanks to US Rates, Credit Trading and Equity Capital Markets divisions. We said:
Strong 2Q FICC revenue performance has continued in 3Q, driven by improved Credit Trading and strength in Rates. According to FINRA (Financial Industry Regulatory Authority), bonds' (Investment Grade+High Yield+Convertible bonds) trading volumes were down 7% q/q, which was better than normal seasonality, thanks to a strong July and better than seasonal August and September.

3Q trading revenues were also supported by continued strength in Rates business. We believe uncertainty around actions by global central banks (Fed, European Central Bank, Bank of England and Bank of Japan) have led to higher client activity.
JPM's 3Q press-release has confirmed our thesis.
Markets & Investor Services revenue was $6.5 billion, up 21%, driven by higher Markets revenue, up 33%. Fixed Income Markets revenue was up 48% reflecting broad based strength across products. Rates performance was particularly strong, with good client activity, as markets remained active throughout the quarter, post the Brexit vote and in anticipation of Central bank actions as well as money market reform. Credit and Securitized Products revenue was also higher, driven by improving market sentiment across primary and secondary markets which produced robust issuance volumes and strong client trading activity. Equity Markets revenue was up 1%, compared to a strong prior-year quarter reflecting continued strength in Asia and strength
On the earnings call, JPM's CFO Marianne Lake said that strong momentum in the firm's trading business has continued so far in the fourth quarter.
Investment banking revenues came in at USD1.74bn, above consensus estimates of USD1.54bn. As we mentioned in our recent article, JPMorgan continues gaining market share in most investment banking products, thanks to the strength of its franchise. We also think that JPM benefits from a flight to quality.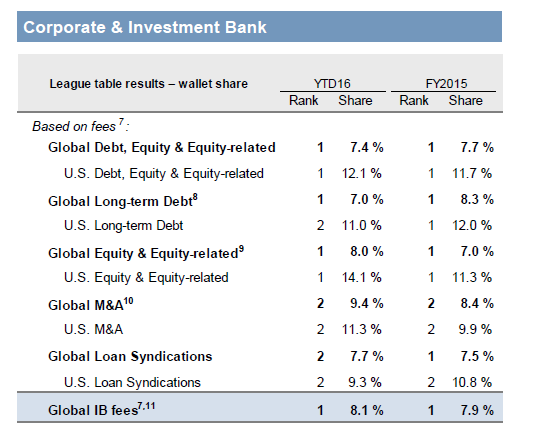 Source: Company data
Credit growth was exceptionally strong with core loans up 15% y/y in Q3. This is a very impressive number that once again reinforces the franchise's strength.
One can argue that earnings were artificially inflated by reserve write-backs. According to the press-release, 'the provision for credit losses was a benefit of $121 million, compared to an expense of $82 million in the prior-year quarter, driven by reserve releases, largely in the Oil & Gas portfolio due to loan sales'. We do not think this is an issue and reserve releases did not come as a surprise for us, given oil price recovery. In fact, we could see further recoveries and reserve releases, supporting JPM's bottom line.
Several analysts have recently suggested that JPM looks expensive. We do not agree with this view. The following chart shows that JPMorgan is trading below the sector's regression line. We believe JPM deserves premium multiples given its above-average profitability levels and its best-in-class shareholder yield.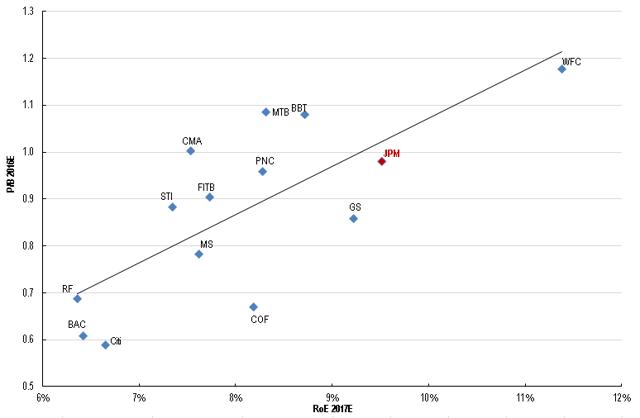 Source: Bloomberg, Renaissance Research
As a portfolio manager, I have full access to Dealogic, FINRA databases and JPMorgan Markets Portal. So if you are interested in accurate earnings forecasts for JPMorgan and other U.S. banks, consider following us by clicking the "Follow" button beside our name at the top of the page. Thank you for reading.
Disclosure: I am/we are long JPM.
I wrote this article myself, and it expresses my own opinions. I am not receiving compensation for it (other than from Seeking Alpha). I have no business relationship with any company whose stock is mentioned in this article.