It looks like Twitter's (NYSE:TWTR) M&A drama has come to an end without a resolution. Salesforce.com (NYSE:CRM) appears to have moved on, the most recent in a list of potential suitors that reportedly at least have considered acquiring the company. M&A speculation had driven shares up substantially - at a peak around $25, TWTR shares had increased nearly 80% in the four months between early June and early October - but with those hopes apparently dashed, the decline has been quick and severe: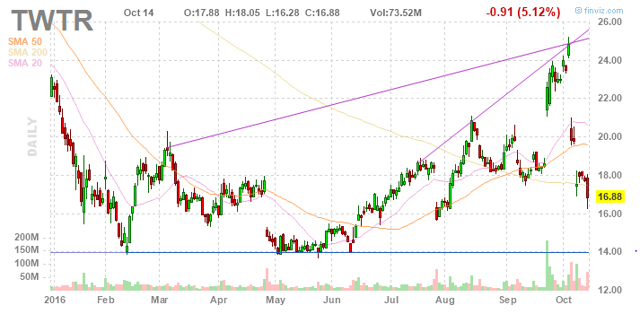 Source: finviz.com
The question, as always, is, "What now?" And I'd argue that TWTR still has room to decline - and perhaps substantially so. The events of the past month, in particular, themselves don't reflect all that well on the company. There's long been some sort of M&A premium built into the shares, which likely has to be pulled out going forward. So what's left is a company that is barely profitable (when considering the huge amount of shares granted to employees each year) and that looks worse than it did just five months ago, when shares traded at $14.
From here, that implies a likely further decline in TWTR shares, with a decent chance the stock will tumble through support at $14, portending another 20% decline at least. This is a barely profitable company whose valuation, depressed as it has been relative to post-IPO highs, still relied on M&A as a driver in some sense. With that pillar of the bull case gone, I'm not sure what's left, or what is supposed to drive TWTR shares higher.
A Timeline Of The Last Six Months
With the M&A drama gone, the 'story' around TWTR may revert to what it was - and it wasn't that long ago that some investors and analysts were leaving Twitter for dead. A timeline of the last six months gives some color to the story going forward:
Source: YCharts.com, plus author editing
A - April 26. Twitter plunges after Q1 earnings disappoint, with shares falling 16% to $14.86. User growth has flattened, and Twitter continues to struggle with monetization.
B - May 24. TWTR hits post-IPO lows just above $14, a support level that will hold again a few weeks later, after further negative commentary from analysts weighs on the stock. But it appears that M&A hopes again are rekindled; the stock does bounce nicely, with some bulls arguing that the company simply is too cheap.
C - July 27. TWTR shares shrug off the Leslie Jones firestorm, but once again the stock declines after earnings, closing down 15% after the Q2 report comes in below expectations.
D - August 3. The first of a series of takeover rumors comes from CNBC; TWTR shares gain 7%.
E - August 30. Co-founder Evan Williams admits the company "would have to consider the right options", including M&A, seemingly a change from past commentary. (CEO Jack Dorsey had dismissed the company's interest in a sale on the Q2 call just a month earlier.)
F - September 23. M&A speculation perks up again, and TWTR shares jump 21%.
G - September 26. Disney (NYSE:DIS) reportedly is thinking about a bid, and Twitter itself is claimed to have started an official sale process.
H - September 30. Alphabet (NASDAQ:GOOG) (NASDAQ:GOOGL) is said to have hired Lazard to advise it on an offer.
I - October 5. The Salesforce.com-Twitter speculation peaks, as does TWTR's stock price. CRM declines over 7% in response.
J - October 6. TWTR shares retreat after reports that Apple (NASDAQ:AAPL), Alphabet, and Disney all have decided not to make an offer, leaving Salesforce.com as the only likely near-term buyer.
K - October 10. A bid from Salesforce.com appears to be unlikely.
L - October 14. CRM CEO Marc Benioff says publicly that Twitter "wasn't the right fit for us".
The Bad News Isn't Just M&A
What's notable in reviewing the last few months is that there really haven't been any operational drivers in the stock, other than the earnings declines. Bulls have pointed to the new streaming deal for Thursday night NFL games (and other agreements), but the ratings on Twitter don't appear to have moved the stock much, if at all. (More on that initiative in a moment.) Simply looking at the chart, there seems more downside likely: TWTR traded at $14 after Q1 earnings, and under $16 after the Q2 report, with the latter price almost certainly benefiting from higher trading chatter about M&A heading into - and out of - the report. Regardless, I'd argue that both prices incorporated some level of M&A premium, given that such speculation has been ongoing since Twitter was still a private company.
That premium isn't necessarily gone: it's not as if DIS, CRM, GOOG, and AAPL are the only possible bidders on the planet. But it certainly has to be reduced, since such a deal seems unlikely in the near term (which discounts any potential upside) and since there's been a clear opportunity for a buyer, whether strategic or private equity, to step in. While it's impossible to accurately suss out that M&A premium, I'd argue that if the stock was worth $14-$16 with some sort of M&A hopes, it should be worth less than that without them.
I'd also add that the process hasn't made Twitter look all that good. There's been multiple leaks (though from this story, anyway, it looks like that might be a Valley-wide issue), muddling messaging, and apparent conflict within the highest ranks of the company. Any bull case going forward is based at least in part on a turnaround in some sense, and those processes are difficult enough when management and the board are unified.
So the argument from my standpoint is that TWTR is a short for three reasons:
The company doesn't look better than it did on August 1st; in fact, I believe it looks somewhat worse.
Whatever M&A premium existed coming out of Q2 earnings in July has to be reduced; looking at the trading action over the past few months, that itself implies a sub-$15 share price.
The 'story' returns to the operating business, which investors don't like (five straight double-digit declines coming out of earnings). That puts a lot of pressure on Q3 earnings - and I'd argue that if there was some material inflection point in user growth or ad sales in the quarter's numbers, Twitter's actions over the past 30 days would be very different.
Honestly, I don't see much of a counter to that case. M&A isn't dead - but it's likely dead for now, and Twitter's long-term negotiating power is limited by the fact that the most likely, long-touted suitors appear to have dismissed the company as a strategic fit. I've already believed that Twitter's executive stream is stretched, with several top executives holding multiple positions (including Dorsey, of course, who is also CEO of Square (NYSE:SQ)); the company has lost three more executives (two in communications, and the VP of finance) in the last two-plus months. TWTR is not profitable accounting for dilution: trailing twelve-month Adjusted EBITDA is $687 million, while the company has booked share-based compensation of $642 million over the same period. A $9 billion-plus enterprise value might seem "cheap" in the context of earlier valuations, or even the discount to the mid-$20s price seen earlier this month. But for a company that is generating negligible free cash flow, save for that essentially created by issuing shares to employees, it's not cheap at all.
The one argument that bulls likely would make beyond M&A is that Twitter's recent streaming deals offer significant upside. But I strongly disagree with that characterization. First of all, the idea that Twitter is going to suddenly wring billions of dollars in value from an industry full of media giants and leagues that are expert in monetizing their content is ludicrous. Does anyone believe that CBS (NYSE:CBS) is going to idly allow Twitter to cannibalize their Thursday night ratings? Or that ESPN and Turner, having paid a combined $24 billion for NBA media rights, will let Twitter encroach on its territory? Or that the NFL - whose media revenues drive over half of its total revenue - is going to give Twitter a significant cut for a measly $10 million?
I'd add secondly that it's starting to look like we're at 'peak sports' in the U.S. regardless. NFL ratings are falling, participation in everything from golf to baseball is declining, and younger viewers - the demographic Twitter's ad buyers want - are actively choosing eSports over the traditional version.
If the sports streaming initiative is a key part of the TWTR bull case, then it's a very weak bull case, in my opinion. The problem for TWTR at the moment is that at least in the near- to mid-term, I'm not sure what else there is. I'm skeptical that Q3 will show evidence of a turnaround; M&A speculation probably has died out for the time being; and yet shares still are up reasonably from their levels. In my opinion, that leans bearish for the Q3 report, and provides an opportunity to bet on further near-term downside. The November 17 put, at $1.68, needs high-single-digit upside to become profitable, and there are bear call/put spread opportunities with 40%+ returns on any sort of decline from Friday's close of $16.88.
Longer term, I'm still skeptical on TWTR, though obviously there are a number of ways the situation here can play out. But TWTR long has been a 'story' stock, and with the fundamentals still rather weak, it remains so. I can't see much reason for that near-term story to be all that positive - and looking back anyway, that seems to imply further downside from $17.
Disclosure: I/we have no positions in any stocks mentioned, but may initiate a short position in TWTR over the next 72 hours.
I wrote this article myself, and it expresses my own opinions. I am not receiving compensation for it (other than from Seeking Alpha). I have no business relationship with any company whose stock is mentioned in this article.
Additional disclosure: Any short position almost certainly would involve the use of near-term options.