Bank of Nova Scotia (NYSE:BNS) is a Canadian dividend challenger, having increased its dividend in 43 of the last 45 years in CAD (it was frozen in 2010). The company has also paid a dividend to shareholders every year since 1832. This level of consistency is impressive and merits a look into the business to see if it makes for a good investment today.
Scotiabank is Canada's international bank and a leading financial services provider in North America, Latin America, the Caribbean and Central America, and Asia-Pacific. We are dedicated to helping our 23 million customers become better off through a broad range of advice, products and services, including personal and commercial banking, wealth management and private banking, corporate and investment banking, and capital markets. With a team of more than 88,000 employees and assets of $907 billion (as at July 31, 2016), Scotiabank trades on the Toronto and New York Exchanges.

Source: Scotiabank
BNS is proud of its international footprint, calling itself Canada's international bank. The bank's earnings and revenue breakdowns are displayed below.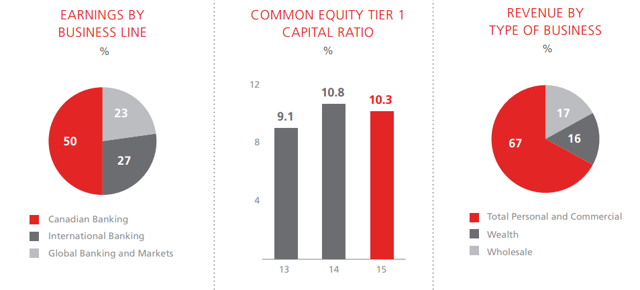 Source: 2015 Annual Report
BNS now earns half inside and half outside Canada, and with the expected growth rates, it will likely one day be truly an international bank more than a Canadian one. Its Tier 1 capital ratio of 10.3% is well above the Basel III requirement of 6%, showing the safety in the bank's capital structure. In the most recent quarter, that ratio has increased to 10.5%.
Risks to Loan Portfolio

Source: Annual Reports
Compared above are loan liquidity ratios for BNS and the two other leading Canadian banks, Toronto-Dominion (NYSE: TD) and Royal Bank of Canada (NYSE: RY). I also added in numbers for Wells Fargo (NYSE: WFC), since it is generally considered one of the more conservative American banks for dividend growth investors to invest in (or used to be, considering recent scandals).
BNS has the highest loans/assets ratio and the second-highest loan/deposit ratio. I think this gives an idea of where the company falls on the line of risk/reward. RY is the largest, and judging by these figures, the most conservative of the banks, and BNS is the least so. However, none of these ratios is far enough out of line for it to seem strange, and interest rates definitely play a role in driving these ratios. Loans will generally be higher in a low interest rate environment.
As far as risks to the BNS loan portfolio, much has been made of the bank's energy exposure. As most people know, low oil prices have caused a lot of pain for energy companies for some time now, and thusly, have driven those banks lower which facilitate their loans.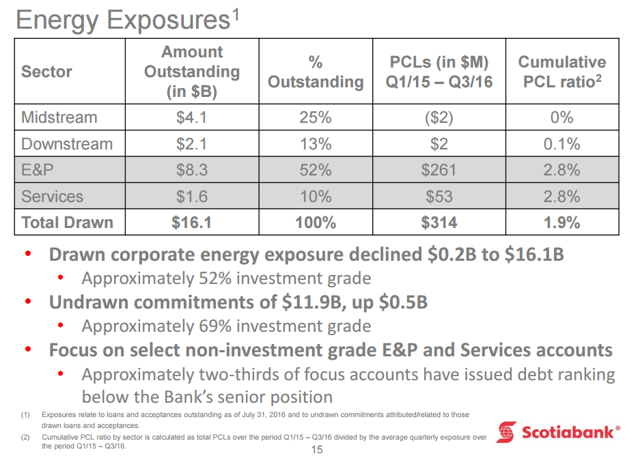 Source: Q3 Investor Presentation
BNS definitely has a decent amount of risk exposure to energy loans. This is likely reflected in the fact that it is carrying the highest dividend yield of all 3 of the big Canadian banks. However, from the company's most recent quarterly report, it seems as though these risks may be on the decline. From the peak in Q2 2016, the overall PCL (Provision for Credit Losses) ratio for the bank decreased 12 bps from the second into the third quarter. This was driven primarily by a decrease in energy loan losses. With oil well off its lows, the bank expects to be past the worst of it, and this could represent an opportunity going forward.
BNS was able to record a 8.4% YOY increase in deposits going into 2016. In 2016 so far, deposits increased 7% YOY as of the bank's most recent quarterly earnings. Its international business should drive above average deposit growth going forward. This is an important metric for banks, since deposits drive liquidity and how much they are able to loan out.
International Growth
Scotiabank is heavily invested in Central and South America, specifically Peru, Colombia, Mexico, and Chile. These countries are expected to grow faster than Canada is growing today, at an average of 2.8%/year compared to Canada's 1.6%. There are several other factors that should continue to provide faster growth in these markets as well.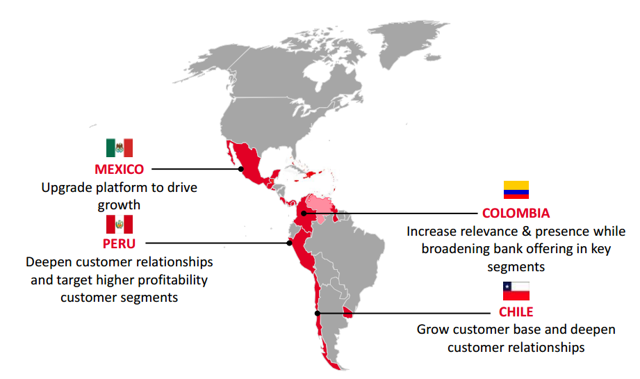 The countries referenced above have a much lower average age than the US or Canada. Younger demographics spur economic growth, and all four of these countries look to grow more quickly than Canada is expected to. These countries are riskier than the more developed countries; however, all four carry an investment-grade credit rating from the major 3 credit agencies. This gives BNS the best of both worlds: above-average growth with lower risk.
It may be something the average investor doesn't think about, but the number of people above the age of 15 without a bank account is very high in these countries. In America and Canada, over 90% of everyone has a bank account. However, there is definitely room for growth, with three of the four countries having less than 40% of their populations putting money into a bank. Therefore, along with the growth in market share projected by management, macro trends could support banks in these countries as well while they develop.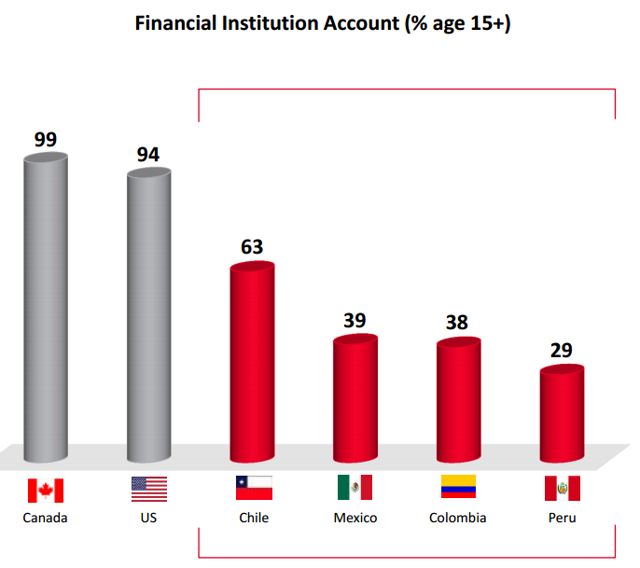 Source: Investor Presentation
Overall, BNS guides for 9-11% EPS growth over the next 3-5 years. Analyst expectations from FinViz are around 4.40%. I think this disparity could be a lag from the ailing energy industry. If BNS is able to continue lowering its risk profile, future returns could be more in line with the bank's projections than that of analysts. However, regardless of growth, this seems to be a very safe, high-yielding investment.
Financials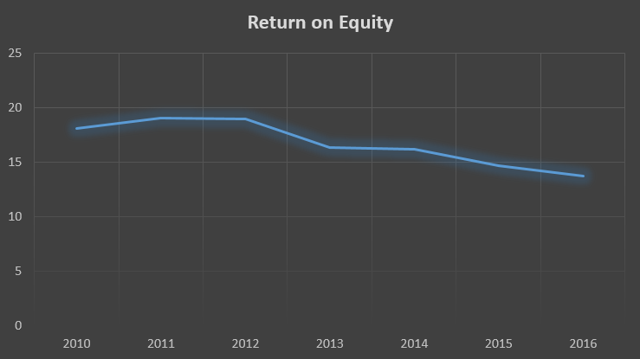 BNS has a solid return on equity, which this year is higher than that of TD and WFC, but lower than that of RY. This downward trend is due to a deterioration in shareholders' equity from share issuances, in combination with declining net income. I will discuss this further ahead in the article.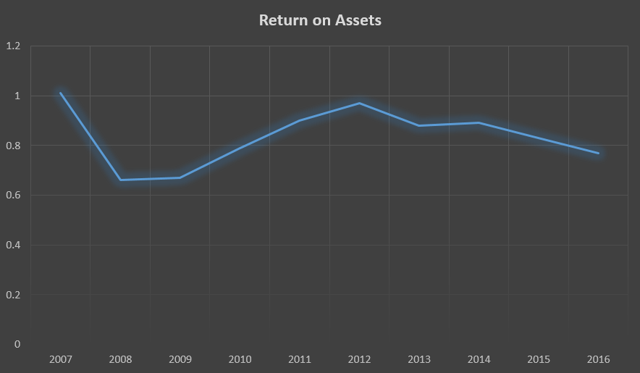 BNS's ROA is higher than TD's, but lower than those of both WFC and RY. It has been stable and has declined in the last couple of years due to slowly deteriorating net income. Investors should look for this to rebound as the company expects to begin growing past the shocks from its energy exposure.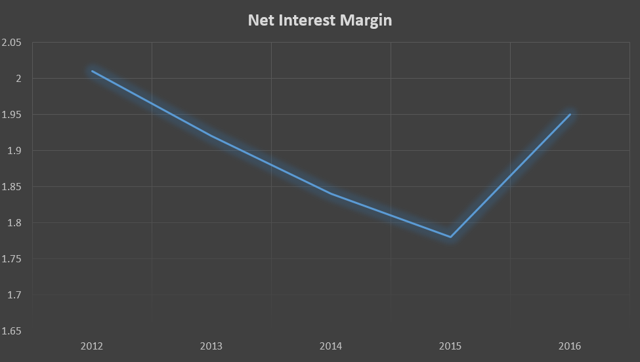 Source: GuruFocus
Its net interest margin has started to increase after bottoming last year. Investors should expect future increases, as global interest rates are expected to rise, which will be a tailwind for banks.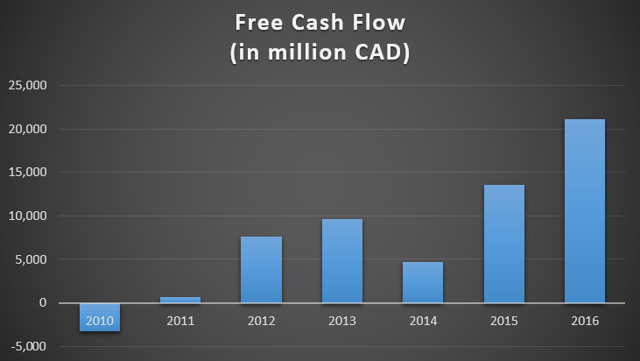 BNS has driven huge gains in its FCF in the past 6 years. It only has ~$6 billion in long term debt, which could be paid off completely with FCF alone. The bank's dividend growth rates have been solid, considering it currently yields 4.19%. With a payout ratio of 50%, I would expect the dividend to continue growing at around the same pace as earnings, while giving the company plenty of breathing room.

Increasing Share Count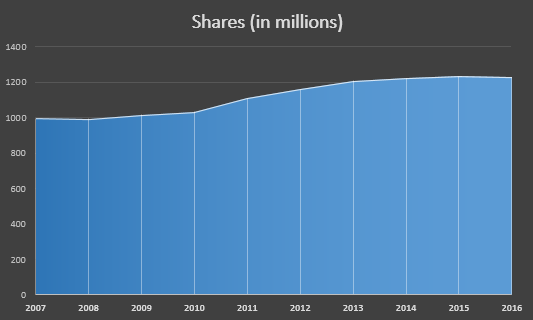 BNS has been a net share issuer, to the tune of ~18% share dilution since 2010. This shows up in its deteriorating ROE and ROA. Although I don't support debt-fueled buybacks, I believe that when the company is trading at a 12.50 TTM P/E, deploying some FCF towards buybacks would make sense. Obviously there are other considerations to take into consideration, but as a potential investor, I don't like to see my equity in a company eroded over time.
Valuation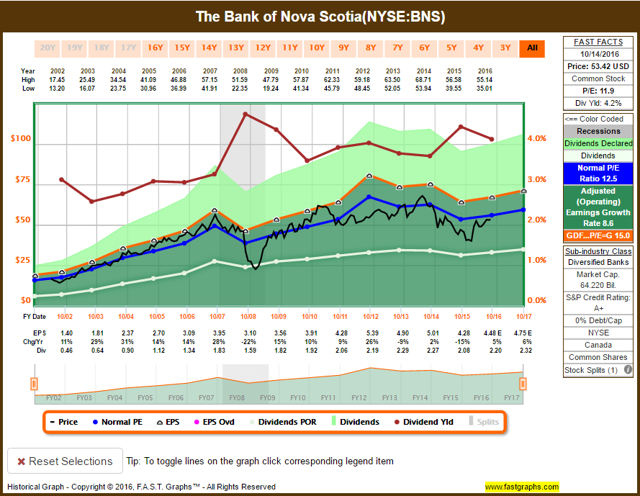 Source: F.A.S.T. Graphs
In a long view, BNS is definitely trading under its long-term average P/E. The real bargain basement price was around the beginning of the year, which was when oil prices bottomed. Let's zoom in to see how the bank is valued based on the recent past.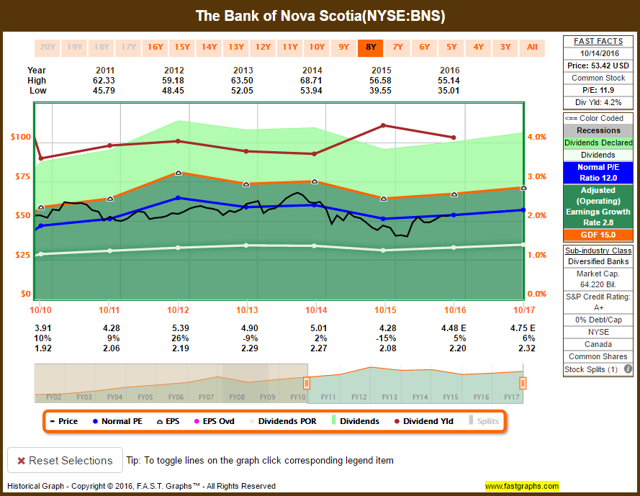 According to its recent history, it looks as though BNS is trading around fair value. Compared to its competitors, BNS has the lowest forward P/E, but all three are trading in the 11X range.
Conclusion
Bank of Nova Scotia seems to be past the worst of the defaults in its energy loan exposure. The company is well aligned for growth in international markets for years to come. My biggest concern going forward is the erosion of shareholders' equity, and I want to see net income increase materially in the near future. However, given its high yield and growth prospects, BNS looks like a buy today. I will be doing articles on its competitors, as well, to decide which Canadian bank is the best investment.
Note: I am not a tax professional. However, after reviewing the tax treaty here, American investors should expect a 15% tax withholding on dividends from Canadian companies. In tax-advantaged accounts, this withholding is waived.
If you liked this article, and would like to read more like it, please click the "Follow" button next to my picture at the top and select Real-time alerts. Thanks for reading.
Elsewhere on Seeking Alpha
Financial statistics were sourced from Morningstar, with the charts and tables created by the author, unless otherwise stated. This article is for informational purposes only and represents the author's own opinions. It is not a formal recommendation to buy or sell any stock. Please do your own due diligence and/or consult a financial professional prior to making investment decisions.
Disclosure: I/we have no positions in any stocks mentioned, and no plans to initiate any positions within the next 72 hours.
I wrote this article myself, and it expresses my own opinions. I am not receiving compensation for it (other than from Seeking Alpha). I have no business relationship with any company whose stock is mentioned in this article.