By Jorge Flores and Joseph Suh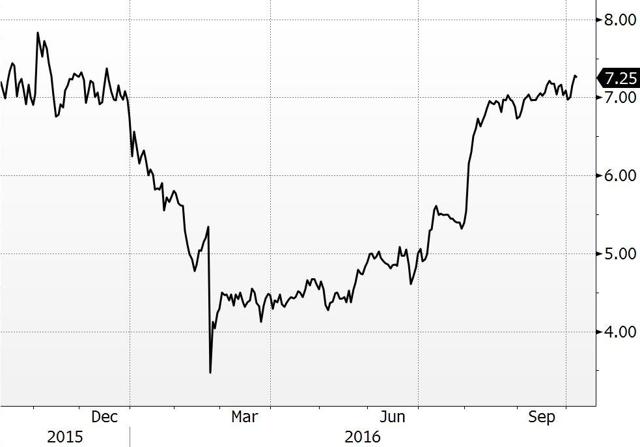 Chart Source: Bloomberg
Investment Thesis
While Chegg (NYSE:CHGG) has incurred operating losses since 2005, their operations have made them one of the most prominent names in education. I believe investors are not pricing that into the company currently. The company collects valuable data and works with marketers adding significant value to its new digital division. The company's decision to discontinue book operations will allow it to profit on its most asset; it's growing student base. I believe management is ambitiously focused on optimizing this company making it a good long term investment. The CEO, Dan Rosenweig, has decades of experience in the technology sector as the former Chief Operations Officer of Yahoo (YHOO), president of CNET Networks, and the Chief Executive of Guitar Hero. I believe his expertise in the technology industry will prove very valuable in the future for this company.
Catalyst
Since 2012 this company has been growing digital revenues from 13% of total revenues in 2012 to 46% in 2015. Exiting 2016 all revenues are projected to be purely digital. This transition will help the company on many levels.
They will have more investable capital; not spending millions on textbooks each year.
They will almost entirely eliminate their depreciation expense.
The company won't be affected by the seasonality of the school calendar instead a steady subscription revenue.
Operations expenses will be greatly reduced.
Gross margins are predicted to go from being 1/3rd of Sales to more than 1/2 of sales by the end of this year as a result of the discontinued division.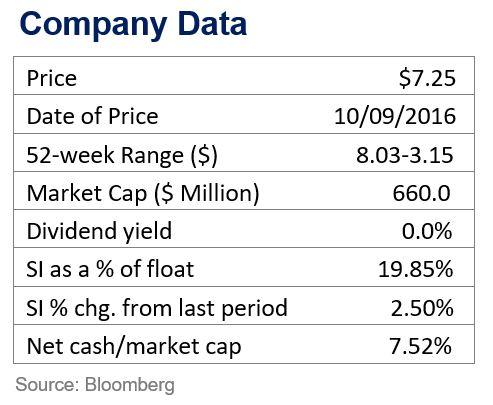 My Case
Chegg is in a growing educational support industry, favored by students because of its low cost educational support. CEO Dan Rosensweig and CFO Andy Brown have decades of experience in the technology sector and are highly qualified and motivated to change this company's business model. Chegg is leveraged to benefit from the rising costs of higher education and their high brand recognition among students. There is a high short interest in the stock; I like CHGG as a long term investment.
As digital division growth continues and losses incurred on the book division cease, this company will be able to reinvest more in itself going forward.
The company is entering into new markets which will continue growth rates going forward. The test prep industry alone generates 1 billion dollars a year.
This company will by year end change industries to an online services provider; an industry known to have greater EV/Revenue multiples potentially increasing the price of the stock.
Leadership has set long term goals to grow Chegg to a $500MM pure digital revenue company with +25% EBITDA margins. Many analysts believe this goal is very reasonable. I expect to see continued digital growth, increasing profit margins, and increasing return on assets.
I recommend taking a long position in CHGG, with upside potential to the $11-$12 range by Dec. 2017.
CHGG Target Price
I calculated future share price on Dec. 2017 to be $11.31 based on a fair Enterprise Value/Revenue multiple of 4. A much higher price target could be calculated using EV/Revenue multiples similar to Netflix or LinkedIn at 6 and 7 respectively. Projected revenues, cash, and debt from JPMorgan and Lakeshore Capital were used to get this price target.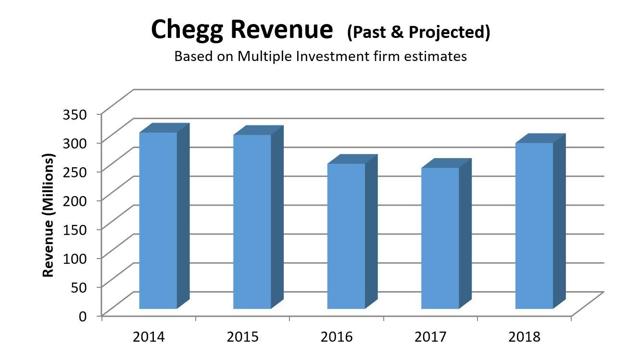 Bull Case
$11.31 (Dec 2017 Target) based a 4.0x EV/Revenue multiple on 2017 Revenue estimates.
Diversification within the digital division should lead to surging growth and higher margins.
Strong FCF's in 2016 and beyond positions the company favorably to broaden its product and service portfolio to its main college and high school markets
With strong organic growth and 60 million cash the company has potential to broaden their portfolio with acquisitions.
Chegg's growing penetration rates make it more valuable to educational and branding partners as more data on millennial users is collected.
Bear Case
$6.52 (Dec 2017 Valuation, Unfavorable Scenario) based on a 3.0x EV/Revenue multiple on 2017 Revenues assuming they miss earnings by 25% in 2017.
2017 Earnings are 25% below estimates.
Chegg Study division growth rates slow as they corner the market.
Online competitors develop competing platforms diminishing Chegg's market share dominance.
Management's attempts to grow their digital revenues into tutoring, writing, internships, and test prep markets fail.
Conclusion
Chegg stock will likely continue to trade between these price points. Many investors are giving this stock a second look as prospects for this company change favorably for investors with a long term investing horizon. I recommend a long position in this stock based on high organic growth rates, improving business models, and the unrealized value in Chegg's future disruptive education business model.