Gastar (NYSEMKT:GST) has been an interesting small capitalization oil and gas stock for many years now.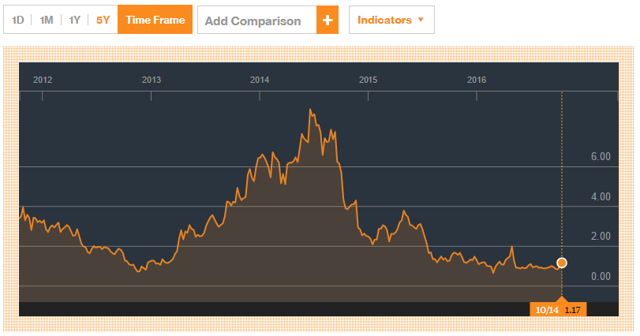 We can see the roller coaster ride of the common units in the above chart going from $4 to $1, up to nearly $9 per share, then crashing back down to present levels just above $1. The stock has had history with Chesapeake (NYSE:CHK) including lawsuits and property transactions. Interestingly enough, most of the litigation the firm has encountered ended up benefiting the firm. Gastar, for example, recently received $10.1 million from an old lawsuit settlement originating in 2010. The firm has always been on the cusp of generating incredible results then the firm hits a wall be it Chesapeake trying to push the firm around or oil prices hitting decade lows. The preferred shares also resemble a nausea inducing ride.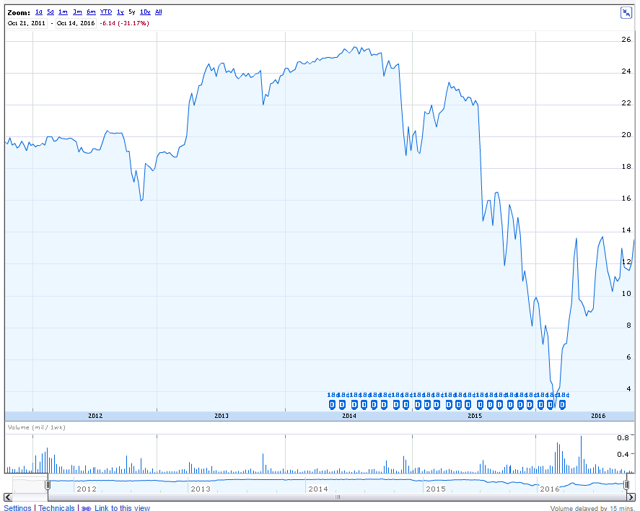 The GST-A and GST-B preferred share classes generally trade at $22-24 in normal markets yet in Q1 of this year they both hit $2 per share before retracing to current levels around $13. Callon Petroleum (NYSE:CPE), for instance, is a small cap E&P with moderate leverage and its preferred shares (CPE-A) trade above par. But Gastar does not go down easy. Management is agile, the firm has acreage in low cost basins, it recently reduced debt and has avoided high leverage, and its operating results are usually average or better.
Let's take a look at the last traded part of the capital structure.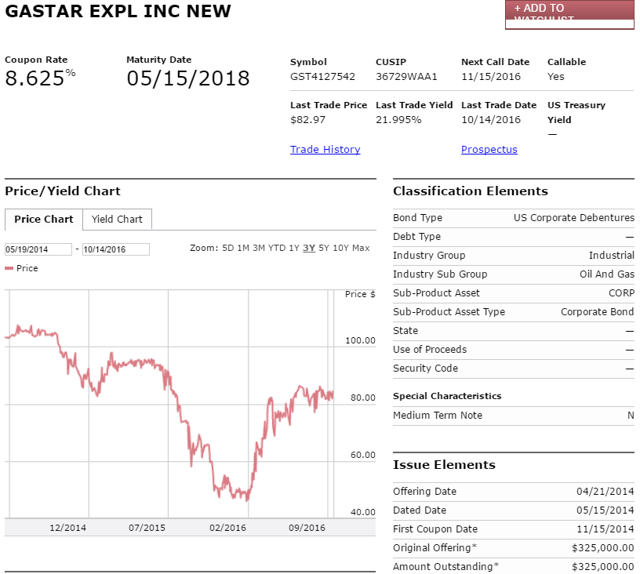 Thanks to FINRA and Morningstar's joint efforts, the above chart gives us significant information concerning the firm's outstanding bonds maturing May 2018. Like other smaller upstream drillers, such as Vanguard Natural Resources (NYSE:VNR), Memorial Production Partners (NASDAQ:MEMP), Legacy Reserves (NASDAQ:LGCY), and EV Energy Partners (NASDAQ:EVEP), we see Gastar's debt collapse from well over par value of 100 down to just below 50 cents on the dollar. Every firm I just mentioned, however, saw a 20 handle (or worse) on their debt. With a bid and offer of approximately 85 and 90 cents on the dollar, GST's senior notes have essentially recovered despite the fact we are in the early stages of the commodity space's recovery (or very late stages of its collapse depending on your viewpoint).
GST actually trades closer to its investment grade pure play Exploration and Production ("E&P") colleagues like Pioneer Natural Resources (NYSE:PXD), Chesapeake Energy Corp , and Apache Corporation (NYSE:APA).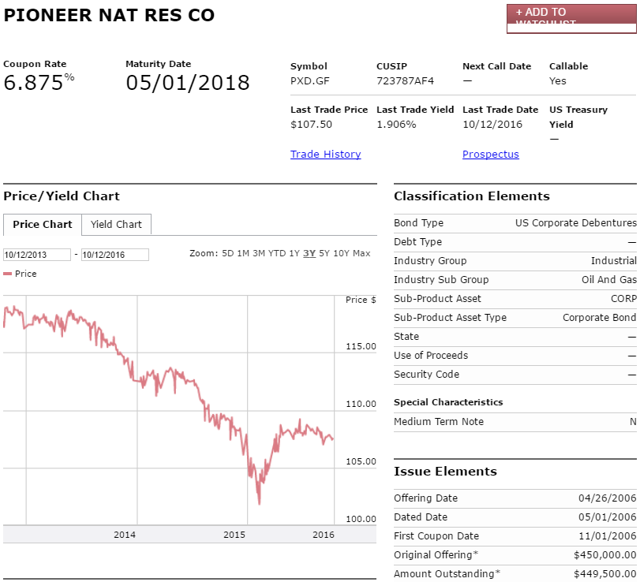 This PXD issuance is in the same part of the capital structure, has a similar coupon, and nearly identical maturity as GST's bond described above. Pioneer's investment grade issuance certainly held up better and once again trades slightly above par, but it sold off sharply in Q1 2016 and has also recovered most of its losses from the absolute bottom. The upside is not apples to apples here since the bond matures in less than two years at par and currently trades at a premium.
What about a weaker name like CHK?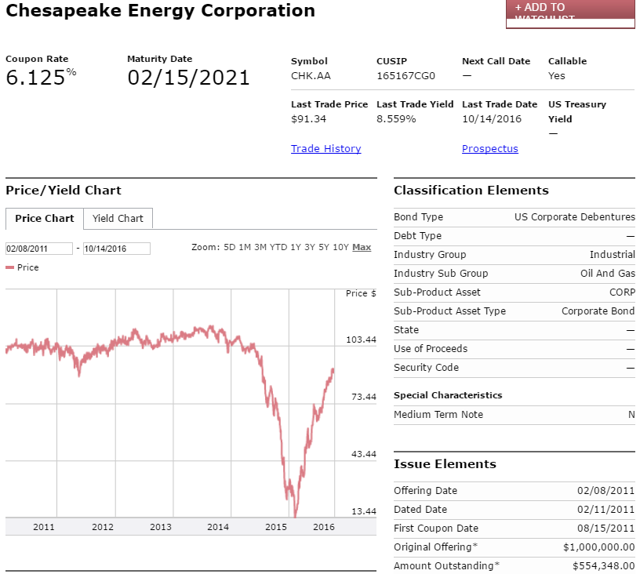 This issuance maturing 2021 sold off much harder than GST's and currently trades at about the same level. The point is GST debt is trading closer to that of the more fortified large capitalization upstream firms rather than its small cap and MLP peers.
Preferred at 50% of Par while Debt is at 90%?
At some point things get so far out of whack within a firm's capital structure that nearly "free money" opportunities present themselves. Let's take a look at GST's financials and capital structure. That was the case for both Gastar and Legacy back when their preferred shares and debt sold off to 5-10% of face value (all of which have since recovered to much higher levels).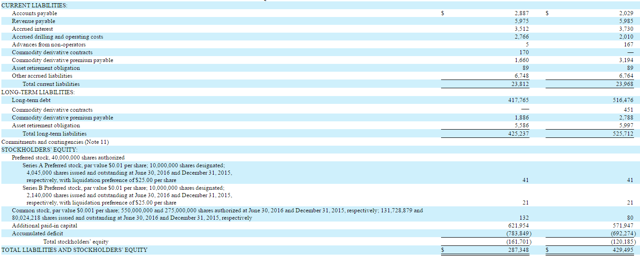 As usual, the data from sec.gov, in this case the firm's most recent 10-Q, is not the most user friendly, but it shows all the firm's liabilities. In short, the firm's total current liabilities are flat since the end of the year through June 30, 2016 while its total long-term liabilities are down from $525.7 million to a more manageable $425.2 million. Both of these values were almost entirely (98%) long-term debt which includes the credit facility. The firm was cash flow positive (excluding financing and investing activities which are volatile over reporting periods) by approximately $5 million and $37 million for the last six months of 2015 and first six half of 2016 respectively and ended Q2 with a healthy $50.8 million in cash and cash equivalents and another $100 million in liquidity through the credit facility.
The firm's credit facility represents a lower proportion ($99.6 million) of its total long-term debt ($424.6 million) than most of its peers. This is extremely important for senior debt holders since the facility is first lien and thus first in line to recoup its invested capital. The rest of the firm's asset base goes directly to the senior notes with a face value of $325 million in the event of a restructuring. This is bullish for note holders which is a contributing factor to their strong performance. If you thought Gastar had $300 million worth of assets come liquidation, for instance, $200 million would remain to go to the senior notes resulting in a recovery rate just over 60 cents on the dollar. The market is currently valuing GST's assets at $360 million given where the debt is trading and $500 million if you include equity (if you are bearish on the firm's long-term survival, you'd exclude the latter). The net market capitalization of $154 million today reflects that.
These dissections of the capital structure can be confusing so here is a simple summary: if one believes the firm is likely to grow its net assets by at least $220 million, be it through common equity issuance, successfully drilling results resulting in additional retained earnings, or the reduction in value of other liabilities, the preferred share classes should both trade at par and* receive a fully recovery of value in the event of a restructuring. The debt is fully covered if the firm can grow net equity by $55 million which is not too difficult to do. We know that reorganization with that much equity ahead of the debt is unlikely, but it is good to understand that point regardless.
The major challenges for Gastar are twofold. The first being that while its acreage and associated number of drilling sites is strong, the firm needs capital to keep production volumes high and fulfill its obligations.

Using SEC pricing, based on a 6/30/2016 report by Wright & Company, the firm has 32.8 million barrels of oil equivalent ("MMBoe"), 60% of which was crude oil, in Proved Reserves. How do we put this into context? Through Q2, 2016's production was 6.2 million MMBoe or 18.9% of its current Proved Reserves. With nearly 1,500 net undeveloped drilling locations located in the Oklahoma Mid-Continent STACK play, Gastar has more than sufficient opportunities but only if they have the financial resources to capitalize on them.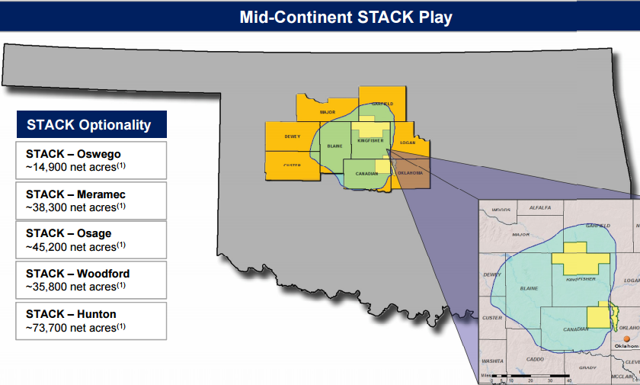 This is much different than say Mid-Con Energy Partners (NASDAQ:MCEP), an oil focused upstream MLP, which has a natural portfolio level decline rate that is less than half of Gastar's though there is some enhanced oil recovery baked into those figures. Gastar must continue to develop and drill wells to keep the firm going. This chart demonstrates that GST is aware of this and is not slowing down despite difficulties in the macro and credit markets.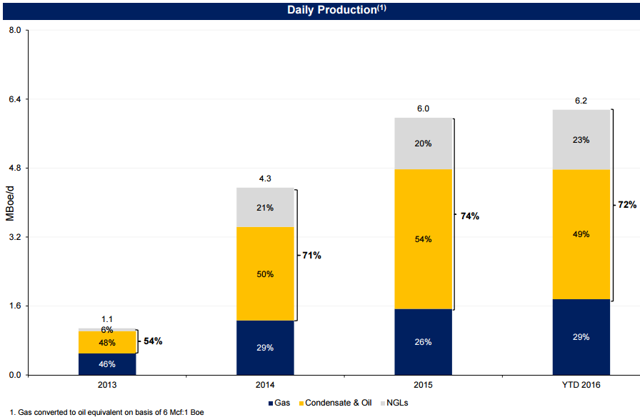 Its year to date production is slightly ahead of its 2015 volumes. Fortunately, its normalized cash G&A and total direct costs were $5.75/Boe and $9.92/Boe, respectively, which are considered favorable. Just under 80% of its liquids and gas production is hedged for the remainder of 2016 sacrificing some upside if commodities rally but better downside production if the opposite occurs. Pricing is actually quite favorable with oil and natural gas liquids ("NGLs") priced at the equivalent of $70.75 and $71.75 on average for 2016 and 2017 though volumes are much lower (1,628 Bbl/d vs 2,580 Bbl/d) for next year with NGL pricing assuming a 30% value of crude which is reasonable. Gas is hedged at similar prices to the strip in the low $3 MMbtu level. For firms like GST with a decently efficient operations, it is likely wise to hedge at profitable levels rather than risk liquidity concerns if commodity prices retrace to Q1 lows.
Focusing on the preferreds, which have suspended their cumulative distributions, there is important information noted here. The 10,000,000 shares of Series A preferred shares designated are only 4,045,000 million shares issued and outstanding at the end of Q2. Series B preferred shares had the same number designated but only 2,140,000 issued and outstanding. I encourage readers to visit Quantumonline.com before investing the preferred shares. There are distribution rate increases and other nuances worth knowing. Gastar successfully issued $44.8 million in equity back in May to support its obligations and increase its capital budget. Successful equity issuance significantly lowers the risk associated with debt and preferred shares.
Budget And Drilling Activity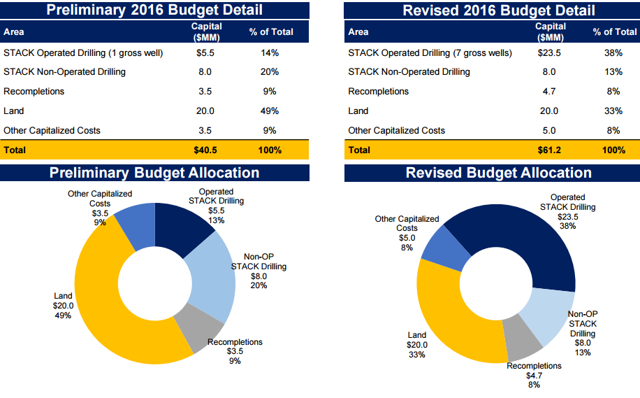 GST is not backing down in the face of low prices. As an investor in any part of the capital structure, we know GST needs to continue drilling, and do so profitably, to pay distributions or increase the value of its common equity. It increased its expenditures for 2016 for drilling in the STACK up to $23.5 million from its initial allocation of only $5.5 million. The rest of its budget allocation has remained essentially the same. I always look at what type of other players are involved in a basin alongside a firm I am considering investing in. How does that look for Gastar?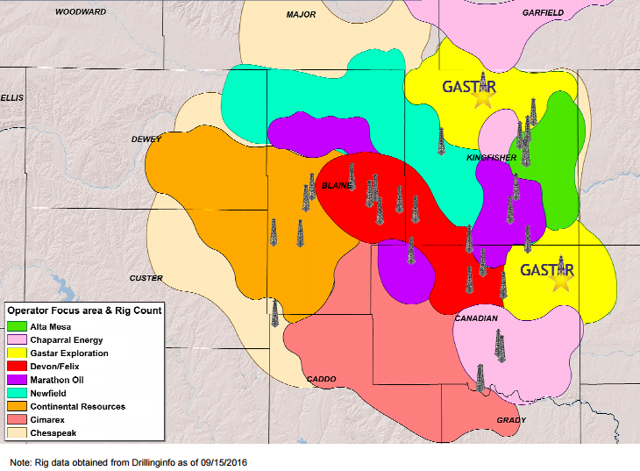 Per Drillinginfo.com, there are nine firms with major positions in the area. Chesapeake has seen its fair share of troubles and Chaparral Energy filed for Chapter 11 protection back in May of this year. Continental Resources (NYSE:CLR) has also seen its share of controversy thanks to its "enthusiastic" CEO but it remains an active heavy weight in the space. Devon Energy Corp (NYSE:DVN), Newfield Exploration (NYSE:NFX), Cimarex (NYSE:XEC), and Marathon (NYSE:MRO) are all ~$10 billion plus, well capitalized drilling powerhouses. The STACK has attracted many quality players due to the fact it is one of a handful of geological basins with expected returns in the 40% internal rate of return ("IRR") range even at current strip pricing. Keep in mind that while that helps cash flows, Gastar still has liquidity and capital needs that high long-term well returns cannot resolve on their own.
Other Serious Issue: Realized Prices in the Mid-Continent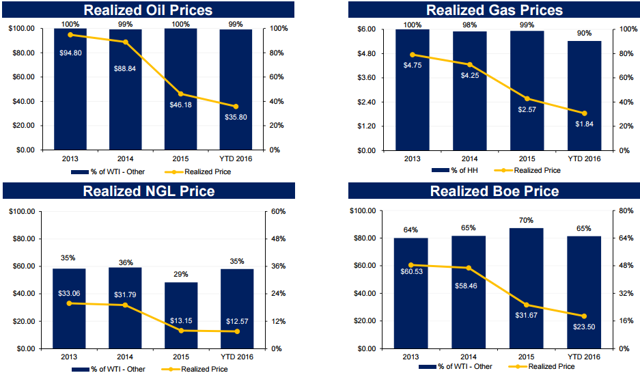 All the activity in the Mid-Continent coupled with the lack of industrial activity or population in the immediate area has resulted in massive hits to Gastar's realized pricing. Realized oil prices were down to $35.80 for the first half of 2016. Negative differentials also grew for gas with realized prices of only $1.84 MMbtu over the same time period compared to $2.57 and $4.25 in 2015 and 2014 respectively. Investors, particularly in the common equity, need to watch these figures very closely and track if infrastructure development in the area is likely to alleviate the pricing situation. We do not want the basin's success to turn it into another Marcellus Shale where realized pricing is so abysmal that spot prices almost no longer matter. Despite the poor pricing, the firm's total direct costs of just under $10/Boe allows it to maintain favorable profitability through operations.
Conclusion
We are now aware of the risks, operations, and potential returns associated with Gastar. For convenience's sake, here is a summary:
Common Shares: These are entirely dependent on Gastar's ability to continue to drill successfully and increase its equity value significantly. Additional equity issuances are likely and will dilute their value. But at just over $1 per share due to the firm's much reduced market capitalization, these offer significant upside from current levels and have not participated in the overall sector rally like the preferreds and debt have.
Preferred Shares: Provided a small pullback, investors here will receive annual distributions of nearly 20% on invested capital (currently suspended) coupled with a capital gain of approximately 100% if the firm's liquidity position and cash flows stabilize. Investors here need to believe the firm can increase its equity value marginally by $150-250 million depending on how conservative they value assets and commodity prices going forward.
Senior Notes: Using SEC pricing, there is not major downside for the notes despite them trading at only a 15-20% of par. I could see a situation where the recovery rate might go as extreme as only 60-65 cents on the dollar but even that is not too far from current market prices and only represents two years of interest payments. A $50-150 million recovery in net equity value takes principal loss off the table. The bonds result in a yield to maturity IRR of approximately 10-12% if bought on the offer close to 90 and 18-20% if on the bid closer to 80. While not game changing, compared to most corporate debt trading with 5% or less coupons and 5-10% above par, this is a compelling opportunity.
Disclosure: I am/we are long GST-A, VTR, HCP, HTA, OHI, DOC, WFM, MAIN, BXMT, BNS, LGCYO, CF, EPD, MMP, CF, EVEP, MEMP, TD, RY, HMC, OAS.
I wrote this article myself, and it expresses my own opinions. I am not receiving compensation for it (other than from Seeking Alpha). I have no business relationship with any company whose stock is mentioned in this article.
Additional disclosure: WER has positions in EVEP and MEMP debt only - not the common units. The author may enter into long or short positions in any part of the capital structure of any of the firms mentioned in this article. Readers should always conduct their own independent due diligence and not rely upon information or opinions provided by the author.
Editor's Note: This article covers one or more stocks trading at less than $1 per share and/or with less than a $100 million market cap. Please be aware of the risks associated with these stocks.