Gold has been one of the best performing asset classes in 2016. In the face of global uncertainty, investors piled into this precious metal in hopes of providing some security. However, with all the negativity that has developed, investors are surprisingly risk off. Equities are gaining strength and monetary policy has received a bit of clarity. I think it's going to be another rough week for gold. Uncertainty in the markets is clearing up and only one more event this year stands to create significant volatility: the Presidential Election. As this moves out of the way, the tone of the Federal Reserve becomes geared towards raising the Fed Funds rate at the December meeting, making a multi-month downtrend for gold likely.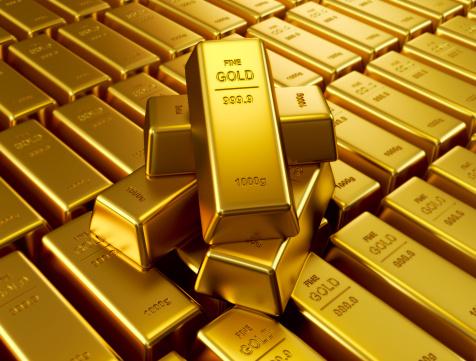 Source: Wall Street Daily
Presidential Election: No Time To Panic
With October already half complete, we are reminded that the Presidential election is just under three weeks away. The investment community has been at odds on which way to speculate and how to profit from this major event. While some individuals believe that because there is no precedent for a presidential candidate to significantly alter the markets after the election announcement, a strong amount of investment advisors are saying that they're exiting many investments, including those in gold, and building up their cash profile. The investments that are remaining online are those in the current income space, paying sustainable yields each quarter.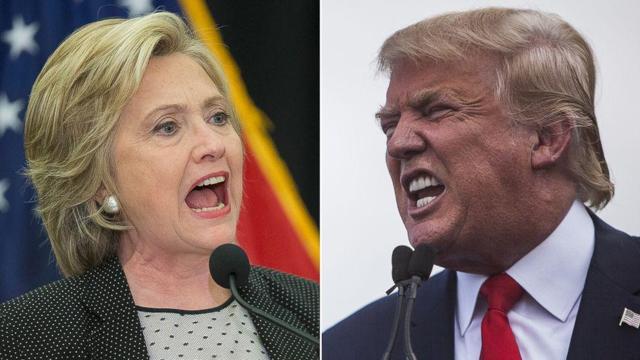 Source: ABC News
This news is interesting because it means that should the election create higher volatility, gold may not necessarily do well as investors could forgo that asset for just pure cash - a zero risk position. It's becoming clearer that Hillary Clinton is the front runner. Numerous polls show the Democrat outpacing her Republican competitor. In the context of gold, there's actually a lot of uncertainty that would occur if either candidate was elected. However, the market does feel that Clinton is the safer option, especially in the realm of foreign policy.
As a word of caution, should Trump win, gold will likely see support given the uncertainty around his policies, as we've just never seen a wild card like him before. That makes ETFs like 3x leveraged bull gold miners (NYSEARCA:NUGT) favorable trades on the day of the election and a few sessions after. The 3x leveraged bear gold miners ETF (NYSEARCA:DUST) could be also added in a smaller amount as a hedge to a NUGT long, should it look like Trump is going to win. Given that Trump winning is not the likely outcome at this point, I continue to see gold falling after the election. Additionally, this trade could be entirely wrong if investors forgo the risk associated with gold, even though it is a safe haven, and withdraw to higher cash allocations.
Interest Rate Hike At December A Go
Janet Yellen shared with the investing community a few interesting comments on Friday on how aggressive policies from the Federal Reserve, and policy makers globally, may be needed to spur inflation and keep the labor market intact. More importantly, it seemed as though Yellen was hawkishly justifying a rate hike at the December meeting as she harped on the negatives of historically low interest rates and how a recession could be induced should monetary policy fail to take the correct steps.
Now, the probability for a Fed Funds rate increase of 25bp on the top and bottom end of the rate's range at the December 14th FOMC meeting is now up to 64%. This is up from last week when it was hanging around 61%, and up about twelve percentage points from two weeks ago. Clearly, traders are becoming more keen on the idea of an interest rate hike at the next meeting.
Probability of Target Fed Funds Rate Increase At December FOMC Meeting
The data seen below is based upon 30 day Fed Funds futures available via the CME Group.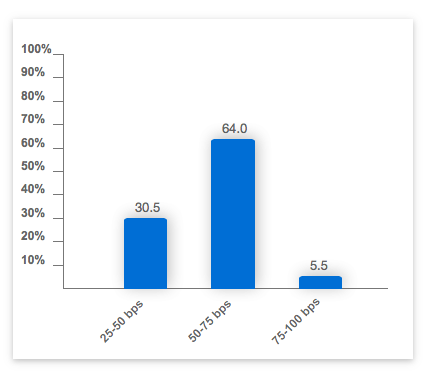 Source: CME Group
I think it's far more than likely that an interest rate hike occurs at the December meeting. As speculation last year built up prior to the December meeting, investors were calling on the Federal Reserve to raise rates or otherwise jeopardize their credibility. When they finally did raise rates and then set guidance that they would raise rates four more additional times in the next year, the market rallied. Gold saw weakness heading up to the meeting and in a few sessions after, but remember that this meeting, the hike and guidance, and the rally in equities was overshadowed by fears over China's growth and how weak commodity prices were. We didn't actually get to see, in my opinion, weakness in gold because so many other external factors were influencing prices. I think the bottom line is here that if the Federal Reserve raises rates at the December meeting, expect further gold weakness.
Another conviction behind why the Federal Reserve may raise interest rates at the December meeting is because the Presidential election will finally be over. There will be much more certainty present in the American markets and the Federal Reserve can make a more encompassing decision. This is huge in terms of reducing volatility, which has picked up quite a bit in the last two months, causing now two large spikes. While this uncertainty gives gold strength, the outlook post-Presidential election is that volatility will retract and equities will see inflows.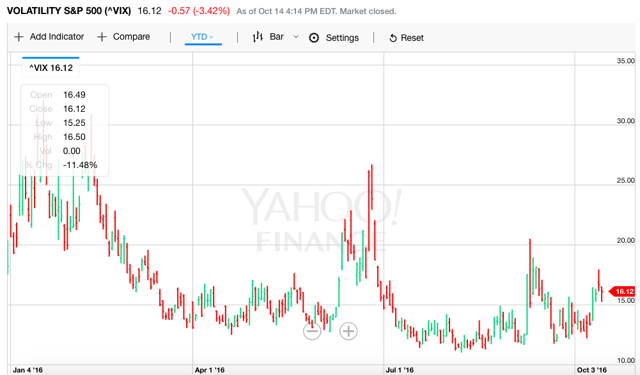 Source: Yahoo! Finance
Conclusion
Speculators are actively decreasing net longs in gold for the second week in a row. This is going to cause the pure gold tracking ETFs (NYSEARCA:GLD) (NYSEARCA:GDX) and (NYSEARCA:IAU) to see further withdrawals over the coming weeks. I understand where they're coming from, as they're betting on a cash reversion during the Presidential election and then an interest rate hike in December, shifting their allocation to domestic equities. Gold's run has timed out and it's time investors take a look at the downside.
Disclosure: I/we have no positions in any stocks mentioned, but may initiate a long position in DUST over the next 72 hours.
I wrote this article myself, and it expresses my own opinions. I am not receiving compensation for it (other than from Seeking Alpha). I have no business relationship with any company whose stock is mentioned in this article.