Last week, I read an article on this site that stated social media giant Facebook (NASDAQ:FB) was ridiculously overvalued. While I appreciate the author's effort in breaking down the company's segments, a number of assumptions used don't reflect Facebook's actual current state. Today, I'll detail why I think there is still plenty of upside.
First, a statement right at the beginning caught my attention:
But what about valuation? Valued at $370 billion, its market cap is slightly less than that of the retail giant, Amazon (NASDAQ:AMZN). Is it logical for Facebook to have a market cap close to that of a company which has a "Gross Profit" 3 times bigger and has similar growth opportunities? This is summarized in one world, ridiculous.
Well, what about operating profit or net income? In the first half of 2016, Amazon had operating income of $2.356 billion, per its 10-Q filing, and net income of $1.37 billion. On the other hand, Facebook reported operating income of $4.832 billion, more than double Amazon per its 10-Q filing, and net income of more than $3.55 billion. In terms of revenue growth opportunities, Facebook is projected for higher percentage growth rates in the short term as well. Using actual earnings instead of gross profit, you could say that Facebook should be worth a lot more than Amazon.
The other major contention I have with the article is that the assumptions used don't exactly make sense in relation to all of Facebook. The author uses a 30% net profit margin for Facebook for 2017, resulting in a net income figure of less than $4.7 billion. The company has already reported net income of more than $3.5 billion in the first six months of this year.
That puts it on pace for more than $6 billion this year, and improvement is expected next year. The author creates a net present value based on "cash flows," but there's no calculation of cash flow as opposed to net income. In the first half of this year, free cash flow for Facebook was more than $4 billion, higher than the company's net income.
Now if we only assume the author is talking about Facebook's core here for net income, it implies that the core will generate less than $15 billion in revenues next year ($4.7 billion net income divided by 30% margin). With current revenue estimates for the company at almost $37 billion next year, that implies that Instagram, WhatsApp and everything else will drive $22 billion in revenue. I don't think that will be the case. Don't forget, Facebook estimates continue to rise, as seen below for this year, so if the pattern continues, we could see close to $40 billion next year.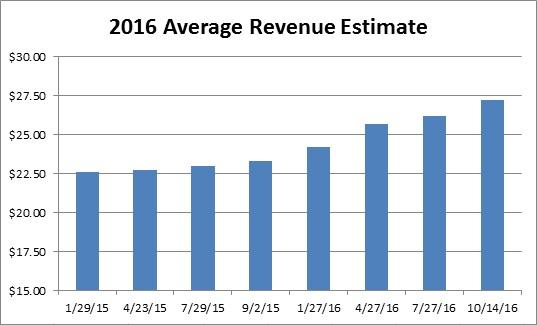 But I can just look at today's market and see why Facebook is easily worth what it is. Twitter (NYSE:TWTR) currently is fetching almost 29 times next year's projected non-GAAP EPS, and LinkedIn (LNKD) is at nearly 41, and that includes the fact that LinkedIn is trading below Microsoft's buyout price. If those two can average 35 times non-GAAP EPS, Facebook should at least go for 30 times given a higher projected revenue growth percentage, actual profits and sizable cash flow, discounted a bit for its size.
That would give Facebook a valuation of $152 per share, well above current value, but still a few bucks below the average price target on the Street. The above calculation also includes the fact that Twitter shares are down more than 30% off their recent buyout speculation high. Use that higher value for Twitter and you could easily add at least another $10 to $20 for Facebook.
For these reasons, I don't agree with the thinking that Facebook is ridiculously overvalued, especially when the numbers you use don't reflect reality. While shares have run a lot in recent years, you are talking about a company that is projected to see revenues go from $5 billion to $37 billion in five years, and those estimates have proven to be very conservative in recent quarters. Facebook trades at an earnings discount to its peers, despite higher growth, sizeable profits, and decent cash flow. There is plenty of upside ahead.
Disclosure: I/we have no positions in any stocks mentioned, and no plans to initiate any positions within the next 72 hours.
I wrote this article myself, and it expresses my own opinions. I am not receiving compensation for it (other than from Seeking Alpha). I have no business relationship with any company whose stock is mentioned in this article.
Additional disclosure: Investors are always reminded that before making any investment, you should do your own proper due diligence on any name directly or indirectly mentioned in this article. Investors should also consider seeking advice from a broker or financial adviser before making any investment decisions. Any material in this article should be considered general information, and not relied on as a formal investment recommendation.