Introduction
In today's market environment with assets being generally highly priced and expected returns low, I look more and more at often overlooked high yield equity alternatives which can provide a higher predictability of future returns.
According to Ray Dalio, the founder and co-chief investment officer of the world's largest hedge fund, Bridgewater Associates, the expected returns for stocks are today about 4% and volatility will be above average.
Get ready for lower than normal returns with greater than normal risk. Take current bond yield (less than 2%) and cash (0%) and compare that to something like a 4% expected return on equities. Because of volatility, the 4% expected annual return pick up of equities over cash, or 2% over bonds, can be lost in a day or two." Ray Dalio
In this context, a 9% dividend yield becomes a very desirable feature as long as the distributions are supported by quality asset that can generate sustainable cash flow. As I will seek to demonstrate throughout this article, I believe Dream Global (OTC:DUNDF) fits this profile as it operates in strong markets and targets good quality assets.
As a real estate and finance professional based in Germany, I have seen prices go through the roof. The demand for real estate as an asset class has always been high in Germany; but ever since interest rates fell to low single-digit levels, capital has massively flown from bonds to properties. Total investment in commercial properties in Germany reached $55 billion in 2015, representing an increase of close to 40% compared to 2014. As a result, cap rates have been compressing and it has become more and more difficult to find attractive real estate investment deals in the German private market. REITs with properties in Germany have generally followed the trend and often trade at premiums to NAVs. A few exceptions remain and my favorite one is Dream Global. It allows you to invest in German real estate in a passive, liquid and diversified manner with a 20% discount to NAV and also allows you to save approx. 10% in transaction cost which are typical in private market transactions in Germany. A 30% advantage in a strong seller market sounds like a steal...
Strong Real Estate Fundamentals in Germany
According to several recently published articles, Germany is currently the world's strongest economy. Its economy is well known for its exports of machinery, automobile, household equipment and chemicals. It is one of the few western economies having their budget in balance; posting a record surplus of over $12 billion in 2015. Furthermore, its economy is showing relatively strong economic growth and its unemployment rate is at a record low of 4.2%.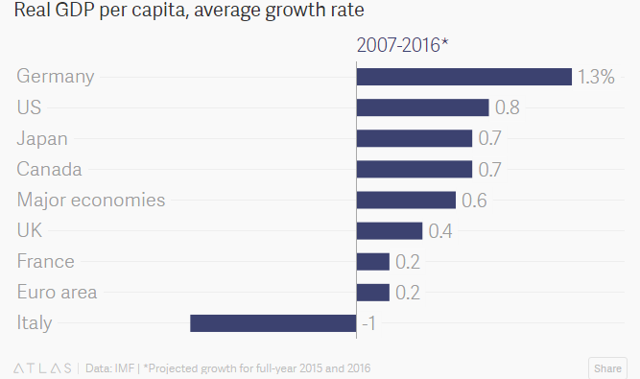 Source: Quartz
The direct result of this positive economic environment is a strong real estate market fundamental. The demand for renting office space is high, supply is moderate, vacancy rates are at record low and rents are increasing in Germany's largest office markets. Finally, mortgage rates are among the lowest in the world providing an opportunity to fund yourself with very cheap ECB money.
An Underrated Portfolio…
Dream Global targets office properties in the best German markets. It owns today a portfolio of 197 properties that are well diversified geographically and by tenant. Ever since its IPO in 2011, Dream Global has worked towards improving asset quality and tenant diversification. Its initial portfolio, which used to be highly concentrated on properties occupied by Deutsche Post (OTCPK:DPSTF), has been well diversified through a robust acquisition pipeline targeting exclusively higher class buildings.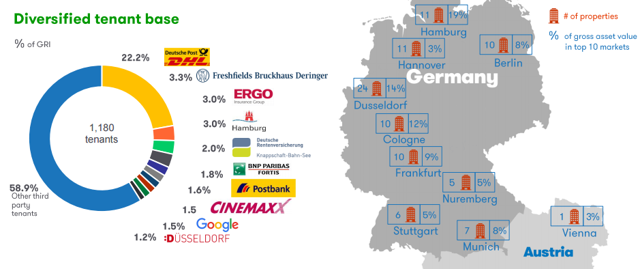 Source: Investor Presentation
Today, the Deutsche Post properties represent a much smaller weighting in the portfolio and the top 20 other assets account for approximately 60% of the portfolio value. These assets are all individually presented in this presentation. The 20 assets are valued at $2.2 billion, 95% occupied and would earn a Core / Core plus classification. Certain of these buildings are even trademark assets such as the Cologne Tower which can be seen on the picture below.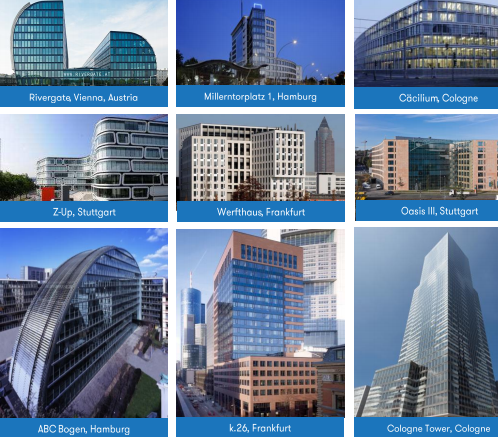 The portfolio has since 2011 generated enough cash flow to consistently pay a monthly dividend of $0.06667 per unit which equals today to a 9% yield. The track record of stable payments is positive and I believe it to be sustainable for the foreseeable future. The cash payout ratio equaled 86% last quarter and further rent increases, refinancing savings and occupancy improvements should bring the payout ratio down.
As rents kept growing and cap rates compressing, the NAV per Unit of the trust grew from $6.76 in 2011 to $11.27 today representing a close to 70% increase. Despite this considerable increase in NAV per unit and an abnormal yield, the unit price has stagnated ever since the IPO. Today, Dream Global trades at approximately $9 CAD and offers a 20% discount to the underlying real estate ownership.
As one of my fellow contributors mentioned in his past article, Dream does not only trade at a discount to NAV, it also trades at a significant discount to peers. Dream Global trade at around 10 times its FFO while its German peers often trade closer to 20 times.
So what is causing this large discount to peers?
Typically, when a REIT trades at such a high discount, it is because of a highly risky balance sheet, low quality assets or a bad management.
Neither of these reasons fits Dream Global well in my view. Its balance sheet is conservative with approximately 50% in Loan to Value, non-recourse loans, a very low borrowing rate and well staggered debt maturities limiting refinancing risk to any single period. The portfolio is well diversified and contains high quality assets located in a strong market. I am not too concerned about the Deutsche Post portfolio as the management team has proved to achieve high tenant retention and the in place rents are well below market rents. And finally, I don't perceive much wrong with the management itself. Sure you could criticize that the REIT is externally managed, but keep in mind that its market capitalization is only a little over a billion and an internal management would probably not be much more efficient with this scale. The fees paid to the management seem to be very reasonable and I appreciate that a portion of the fees is paid in deferred trust units which gives them skin in the game to align interests.
My hypothesis is that Dream Global is undervalued simply because it is traded in Canada instead of Germany. It is very convenient for Canadian investors to be able to gain exposure to German real estate by investing in a Canadian REIT; however, I doubt that they are the best at assessing its value. While living in the US, I noticed that whenever Europe was mentioned, it was to discuss the current issues of the EU and the eurozone. Despite having a strong economy, Germany suffers from this negative image and I believe that when Canadian investors allocate capital to German real estate they price this perceived risk higher than German investors would. The consequence is that Dream Global trades at a discount and yield about 9%. This kind of yield is unseen in the domestic German REIT market. The risk just isn't priced the same.
The question to ask yourself is really what would happen if the Eurozone were to implode? I believe that the German currency would significantly appreciate in value which would lead to large currency gains for Dream Global unit holders. Germany would be seen as a safe haven in Europe and capital would flow into their real estate assets from everywhere creating potentially an even greater boom. Being detached from all the weak countries in the Eurozone, would certainly not damage the German currency.
Final Thoughts
Germany is a solid economy, and generating close to a double-digit yield from its real estate assets is significant. By investing in shares of Dream Global, you are buying a high quality portfolio of office properties at 80 cents on a dollar, without paying approx. 10% in transaction fees and taking any operational responsibilities. If I had the choice between investing in this portfolio in a passive and liquid manner or investing a single office building in the private market, I would choose Dream without much hesitation.
Disclosure: I/we have no positions in any stocks mentioned, and no plans to initiate any positions within the next 72 hours.
I wrote this article myself, and it expresses my own opinions. I am not receiving compensation for it (other than from Seeking Alpha). I have no business relationship with any company whose stock is mentioned in this article.