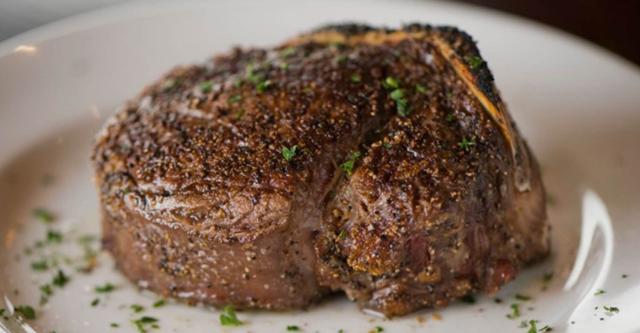 The restaurant sector hasn't exactly been a safe haven in the past few quarters as the winners have been separated from the losers in a big way. Del Frisco (NASDAQ:DFRG) is the latter and as you can see from the chart below, it has been punished severely over the past couple of years. DFRG certainly serves higher end dining customers and while that works some times, it very obviously doesn't work other times and DFRG has been struggling. Q3 earnings were out last week and the reaction from investors was generally positive. But was it because DFRG's results were that good or because expectations were very low?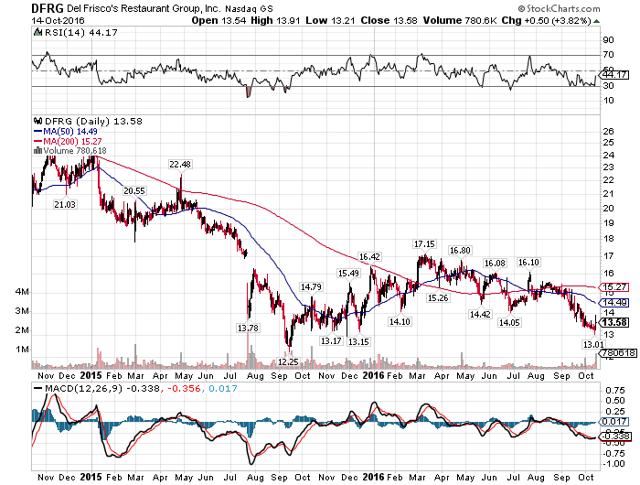 Total revenue was up 4% during the quarter, a respectable number to be sure. But the problem is that the entire gain (and more) came from an increase in operating weeks. DFRG has more stores today than it did last year and those extra weeks afforded DFRG a higher level of revenue. When we look at comp sales, the figures are much, much worse.
The consolidated comp was -3% after another 1.2% loss in last year's Q3. That sort of stacked loss is really bearish and it means that not only can DFRG not figure out what's wrong, but the problem is getting worse. The negative comps were present at all three of its chains so it isn't even as though there is a source of strength somewhere. Further, if we look at traffic versus higher average ticket, the plot thickens.
Double Eagle saw a 3.1% gain in average ticket but traffic fell 6.8%. Sullivan's saw a 0.4% increase in average ticket but a 3.6% decrease in traffic. And Del Frisco's produced a 0.3% ticket gain and a 1.7% loss in traffic. The point of this is that the only reason DFRG's comp number wasn't significantly worse is because it boosted its average ticket. That's certainly a worthy goal but the fact that traffic is falling off a cliff is tremendously concerning.
The life blood of any restaurant or retailer is traffic because without it, nothing else matters. The fact that DFRG is seeing such massive losses in traffic has to worry the bulls because there is only so much any restaurant chain can do with respect to raising average ticket. At some point, it needs traffic but if Q3 is a guide, DFRG is a very long way away from achieving even flat traffic and that's very concerning to me.
Cost of sales and G&A expenses were both down materially against last year's Q3 but higher restaurant operating expenses spoiled the party for DFRG in Q3. Adjusted operating margins fell against last year's result and when a company has solidly negative comp sales, you'd expect nothing less. DFRG still has very nice unit margins around 20% and guided for around that same level for the full year but even still, it needs comps to move up because things like occupancy and labor costs are killing its margins. The gain in cost of sales was squandered as it saw deleveraging of operating expenses and that is going to continue to happen until DFRG addresses its negative comp sales.
After the rally we saw off of the report on Friday, DFRG is now going for 16.4 times this year's earnings. That's a little difficult for me to reconcile considering it has so many problems generating demand. Yes, unit margins are still strong and G&A costs were down in Q3. But higher labor and occupancy expenses aren't going to go away and the only way to leverage them down is via higher comp sales; more units cannot help here and in fact, may make it worse. But DFRG has a very obvious demand problem and I can't see paying more than 16 times earnings for it. If you want a restaurant stock there a lots of better choices than DFRG where we see solidly negative comp sales growth and no real catalysts for improvement.
DFRG is already trading near its lows so if it breaks the $12 level to the downside, I'll be there to short aggressively. Right now, we may see a bounce due to a better than expected report but remember that stepping over a very low bar doesn't make a stock a buy. I think DFRG is ultimately going to remain depressed at best or continue to fall at worst. This is not a healthy company and I don't want to be anywhere near this thing from the long side.
Disclosure: I/we have no positions in any stocks mentioned, and no plans to initiate any positions within the next 72 hours.
I wrote this article myself, and it expresses my own opinions. I am not receiving compensation for it (other than from Seeking Alpha). I have no business relationship with any company whose stock is mentioned in this article.