Every month, I give a breakdown of the regional FED surveys like the Empire State Manufacturing Survey. I do this because they add valuable information to the big economical puzzle. In addition to that, they are leading the ISM index. These indicators are able to predict the direction of the ISM index and are very reliable once all regional surveys are put together at the end of each month.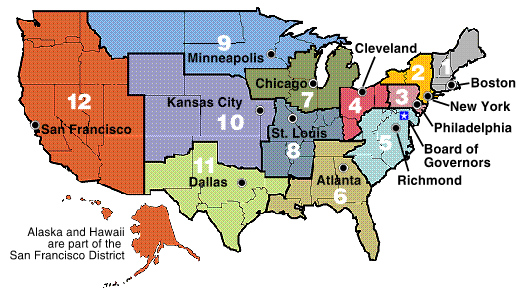 Source: Federal Reserve
This article gives a breakdown of all important parts of the Empire State survey, conducted in the New York district.
Let's start by looking at the composite index. The composite index has hit the lowest level since May of 2016. The last small uptick has been erased completely. Overall business conditions in the NY FED district remain extremely challenging.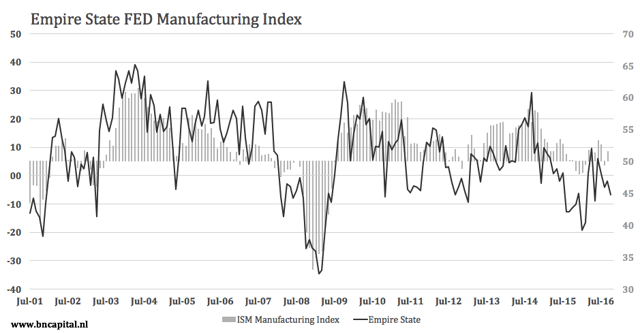 New orders increased from -7.5 to -5.6. This means that new orders are a bit stronger but still in a period of heavy contraction. There have been three months with significant growth since the slow down started in 2014.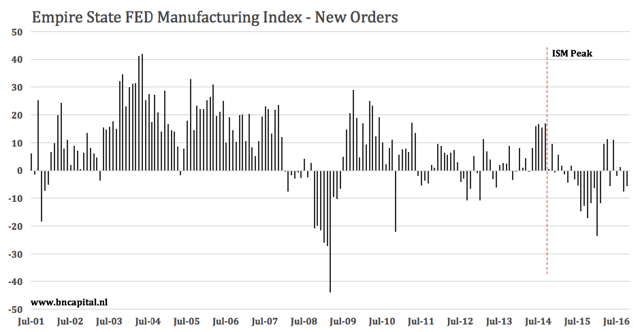 Shipments keep doing what they have been doing since 2015: being volatile. Today's print comes in at -0.6 and gives us no clear information other than the fact that there has been no serious growth since 2015.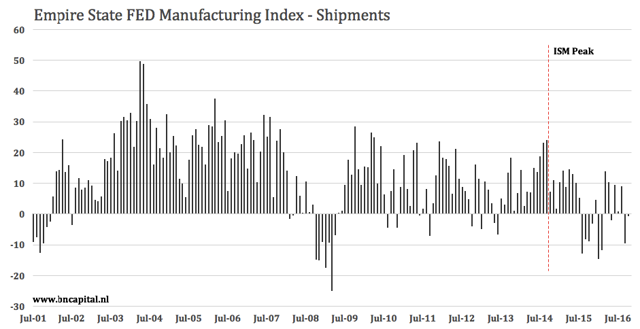 Employment jumps almost 10 points after printing one of the worst post-crisis numbers in September. The good news is that the contraction has lingered a bit. The bad news is that employment is extremely weak in the NY district. This keeps putting pressure on the official NFP number for the month of October.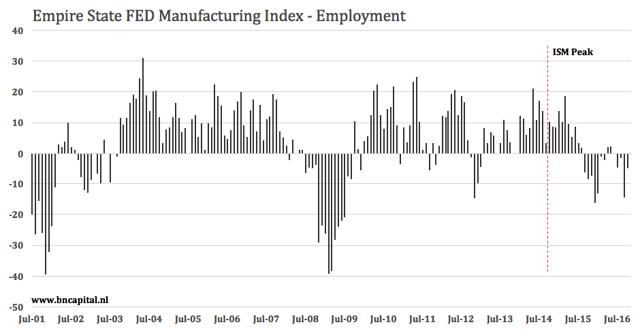 Last but not least: capital expenditures. Capex has slowed a bit since 2014 and is currently below 2015 levels. The good news is that the slowdown has stalled. I have to add that capital expenditures are only usable in combination with other regional capex numbers. That way, there is a real trend and more reliable information.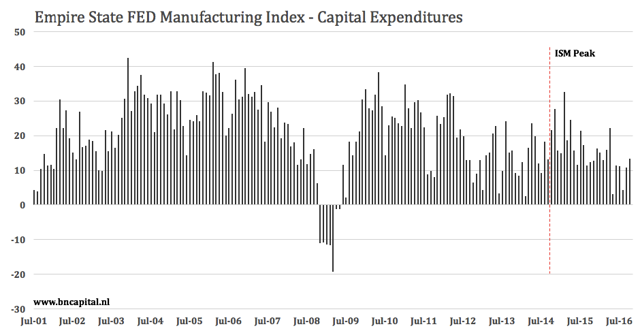 Overall, I am disappointed to see another weak print this month. Other regional indicators will tell if growth is weakening again. However, today's publication showed that growth slowing is still valid and that my thesis of a late-cycle economic stage is on the table.
Many thanks for reading my article. Please leave a comment if you have questions or remarks.
Disclosure: I/we have no positions in any stocks mentioned, and no plans to initiate any positions within the next 72 hours.
I wrote this article myself, and it expresses my own opinions. I am not receiving compensation for it (other than from Seeking Alpha). I have no business relationship with any company whose stock is mentioned in this article.