Being a contrarian is often one of the simplest, yet most difficult strategies to employ as a stock market investor. When people look back at history, they find over and over that history is littered with examples of the stock market taking prices to extremes. People acted in 2000 as if Big Tobacco would be sued into bankruptcy. They acted as if people would never fly again after September 11th. They thought housing would never recover in 2009. They thought that major banks would fail, even as recently as 2011. It's easy to look at history and see the over reactions, however, in the moment, it's incredibly difficult for average people to cut through the noise and take advantage of opportunities that sit, staring you right in the face.
Today, the opportunity that I see with the most similarities to the ones mentioned above, is the opportunity with the offshore drillers. The news everywhere is bad for this industry. Oil prices have collapsed. The exploration & production companies that pay gigantic sums of money to rent these oil rigs are now in cash hoarding mode. Many have suspended share repurchases, some have cut dividends, nearly all have cut CapEx. The cuts to CapEx have been dramatic, with estimates in excess of $1 trillion dollars, and the immediate future is grim. Most industry executives do not expect a recovery until 2019 or 2020. Day rates for rigs are pricing near break even levels, and even with this reduced pricing, The CEO of Diamond Offshore still commented at a recent investor conference that in his opinion, less that one in four active rigs will get a new contract in this market.
So, having said that, most would immediately think, if everything is bad, how can this be good?
The reality is, offshore drilling is a highly cyclical industry. The stock market, as I noted a few times in the first paragraph, often times is manic depressive. There is a complete obsession with the next six to twelve months, and a near total disregard to potential beyond that. Often times a long-term oriented investor can find incredible opportunities ignored by the short sighted focus that Wall Street has on the immediate future.
The keys here are first to understand the necessity of oil to the global economy, and second, to understand the importance of offshore drilling to the industry. Put simply, we live in a world that can't function without oil. There have been a few years in history where oil demand declined, but generally speaking, the global demand for oil has only increased, and it will only continue to increase. There simply is no alternative.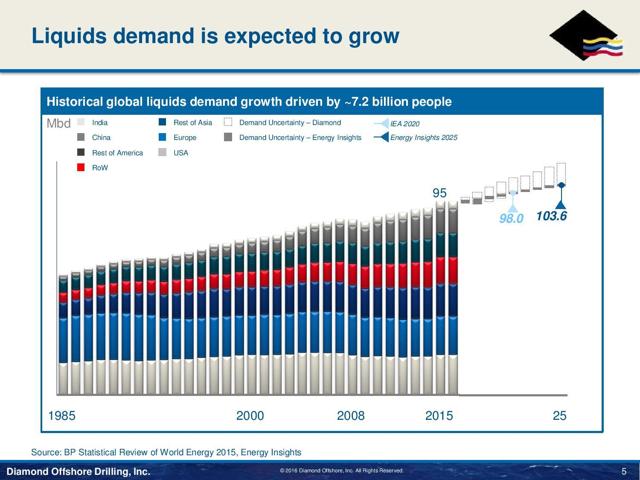 Source: BP, Diamond Offshore
Regarding the importance of offshore drilling to the industry, I think many are surprised to hear that 25% to 30% of global oil production comes from offshore. Global oil demand is approaching 97 million barrels per day, meaning over 25 million barrels per day continue to come from offshore. Meanwhile, fracking, or tight oil, is around 5% of production. The most common argument I hear from people is that fracking is the new marginal producer that can turn on almost instantly and that will forever cause oil prices to stay in the $50 per barrel range. I believe those people couldn't be more wrong.
While Shale/fracking/tight oil has an advantage in the current market due to the fact that it costs less up front to begin production, it also has very high depletion rates. It is not uncommon for there to be 50% depletion annually with shale production. Offshore, while far more profitable long term, and with low depletion rates of 3%-8%, simply requires more cash up front and takes longer to get started. In this current environment of cash hoarding E&P companies, shale has the advantage.
Due to the extreme depletion rates, however, the long term view for fracking is that total US production will only rise from the current 5 million barrels per day to 7 million barrels per day by 2040.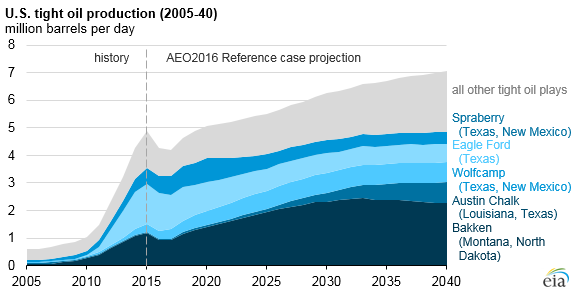 Source: EIA.gov
Think about that chart for a second. The cumulative annual increase over the next 24 years of two million barrels per day is less than the global demand for oil increases every eighteen months. In the worst of the 2008/2009 recession, global oil demand was 86 million barrels per day. Throughout this entire economic recovery that many argue is the weakest recovery in history, global demand for oil has still increased by over 1 million barrels per day annually. Once people realize this, they realize how flawed the idea that fracking will dominate oil production in the future.
Exploration & Production companies are in business to produce energy. There is only one way to do that, and that's to drill. This is not an industry where cash conservation works over long periods of time. Because of natural depletion you have to drill more and more to produce the same amount of energy. Due to the aforementioned $1 Trillion in CapEx cuts, I believe we may be in a period of significantly higher oil prices in the future. At some point, Wall Street will begin demanding that E&P companies replace their reserves and increase production. As Hugh McColl once said regarding banking, "You're either growing or you're dying". The same applies to this industry. There's very little Wall Street hates more than a dying company.
Now, realizing the importance of offshore, the next step is to decide how to take advantage of it. You could simply buy a basket of all the drillers and wait. Alternatively, you could pick off a select few companies and invest heavily in them. This is the strategy I suggest. My recommendation is to buy Diamond Offshore (NYSE:DO) and Noble Corp. (NYSE: NE).
Diamond is a company that is majority owned by Loews (NYSE:L) which controls 53% of Diamond Offshore shares. This gives Diamond shareholders an incredible advantage being that their parent company is very cash rich and very willing to support them if times get tough enough. Diamond on it's own has no liquidity issues out to 2020 and no issues with debt covenants. Diamond was also first to market with an incredibly innovative sale/leaseback transaction with GE (NYSE:GE) the manufacturer of the blow out preventers on their drilling rigs. Earlier this year Diamond realized $210 million of cash proceeds for selling back to GE the equipment, and taking on a lease agreement, similar to the one Diamonds customers sign, in which GE gets paid for operational time, and not idle time.
Diamond's new build program is complete. They have minimal CapEx requirements going forward, and they are very much free cash flow positive today. They have suspended their once very generous dividend as a precaution, and they are ready to take advantage of the future. Investors should note that this company, during good times, will absolutely flood shareholders with cash. During the time between Q4-2008 and Q2 2011 Diamond distributed more dividends than the current share price. During the entire most recent up cycle, Diamond distributed over $41 per share of dividends to shareholders. Not bad for a cyclical stock you can buy today for $17.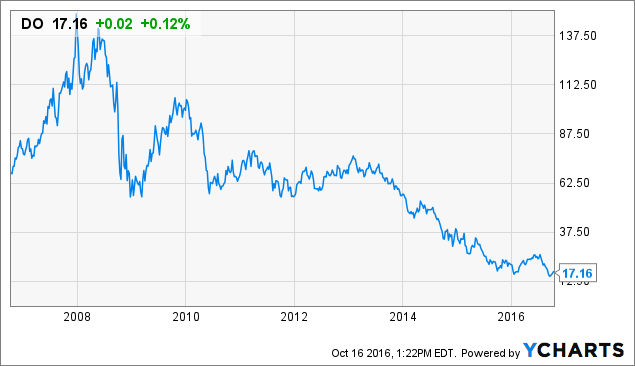 The second company I recommend is Noble Corp. This is a British company with global operations. Noble, like Diamond, has recently completed it's newbuild program, and has very little in the way of CapEx requirements going forward. It is also cash flow positive, has a nice cash pile currently, and has well laddered debt maturities going out for the next few years. I believe Noble will be able to repay all debt maturities in the next three years with cash on hand, and cash flow from operations.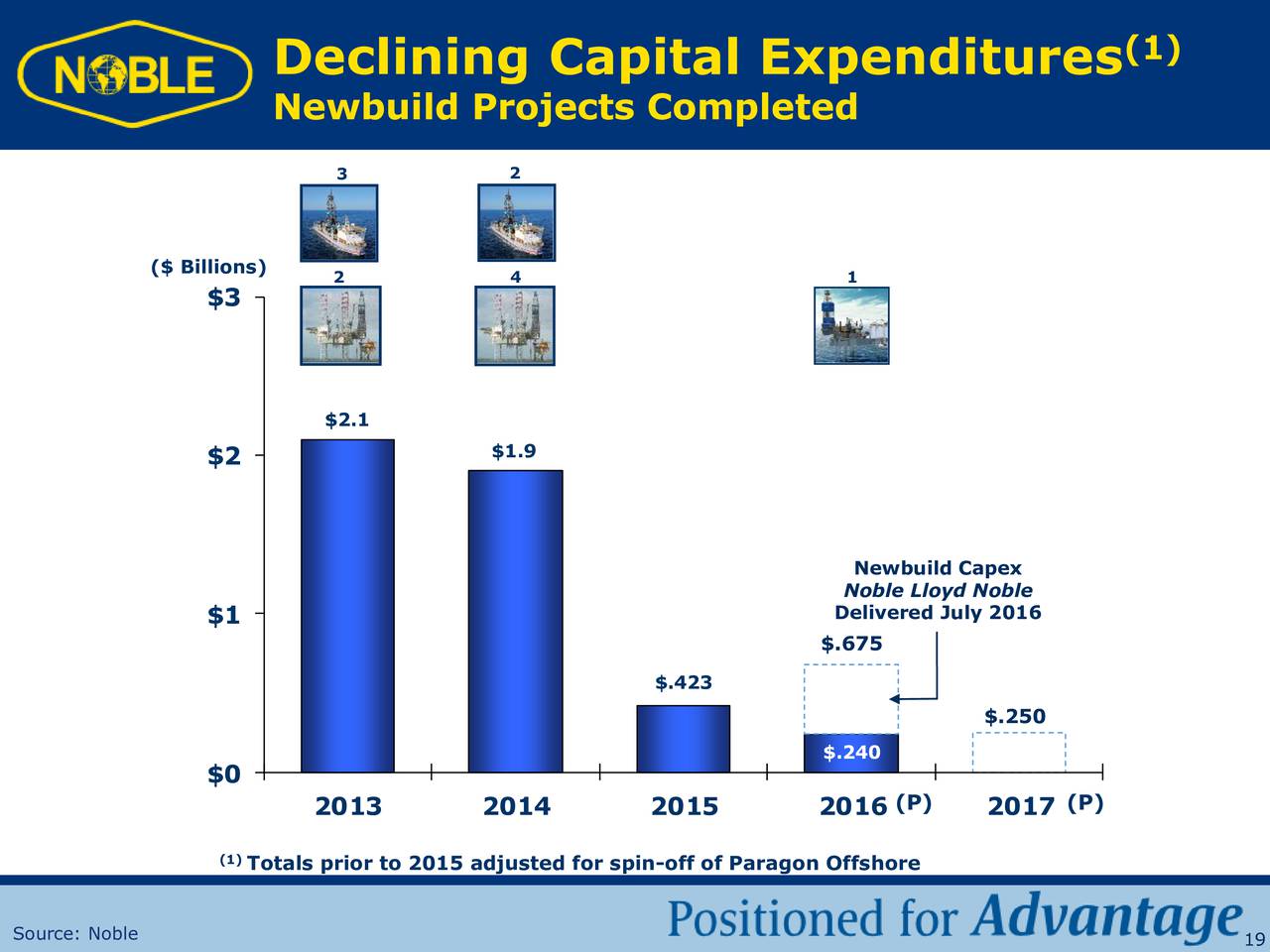 Source:Noble
1824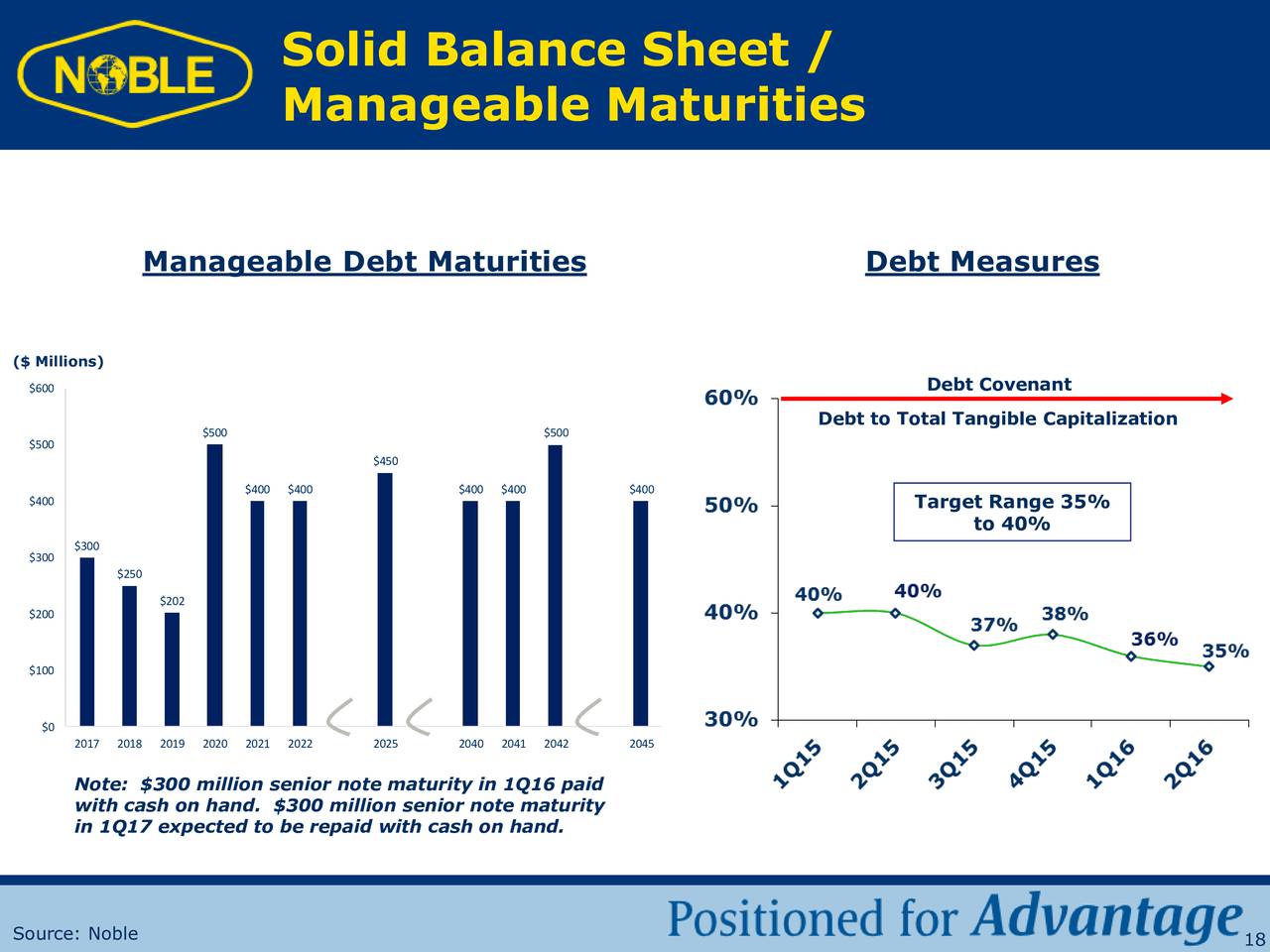 Source: Noble
Noble could also continue to repurchase it's mid to long term debt in the open market with it's free cash flow. The debt maturities can be bought today as low as 56 cents on the dollar for the long dated 2042 bonds, or 74 cents on the dollar for the 2022 bonds. Back in March, Noble tendered for hundreds of millions of it's debt at huge discounts to par. Unfortunately, the market quickly bid the prices up to just above the tender price and Noble was only able to repurchase $36 million of bonds for $24 million.
Noble, like Diamond, had a very generous dividend policy up until recently, with a $1.50 annual payout per share. With only 242 million shares outstanding, it wouldn't be terribly difficult to resume that level of payout once the market recovers. My suspicion is that the market would never allow the price of the stock to sit at these levels if there were even a hint of an increase in the payout, and the real gains would be had through price appreciation well in advance of any actual dividend increases.
One common misconception about these companies is that investors feel that oil has to go back above $100 per barrel and day rates have to return to peak levels for these companies to do well. The CEO of Noble pointed out at a presentation last month that this is absolutely not true. This industry, just like all industries, gets more efficient when times get tough. Noble CEO David Williams says that they can generate plenty of cash at $100,000 day rate for jack up rigs and $250,000 day rate on ultra deep water rigs.
In conclusion, there are only a few opportunities that come along each decade where an entire industry is decimated. Generally, the business environment surrounding the industry is terrible. Stock prices fall to shockingly low levels, and investors won't touch the industry as bankruptcy talk is pervasive. Long term investors can use this opportunity to identify opportunities once they verify that the industry is essential to life as we know it. While I cannot identify all survivors, the reality is, the industry is essential, therefore there must be survivors. Diamond with it's current free cash flow and it's deep pocketed parent company and Noble with it's modern fleet, nice cash position, and projected free cash flow should clearly come out of this downturn as winners.
Disclosure: I am/we are long DO, NE.
I wrote this article myself, and it expresses my own opinions. I am not receiving compensation for it (other than from Seeking Alpha). I have no business relationship with any company whose stock is mentioned in this article.