Those that follow Tesla Motors (NASDAQ:TSLA) are used to delays from the company and its CEO Elon Musk. In the past year we've seen push back on the Model X ramp, the second master plan, and autopilot news, just to name a few. While Elon and those that support him may think that a few days here and there aren't a big deal, the market is definitely saying otherwise.
Just this past weekend, Elon Musk tweeted out that the company's latest announcement would be delayed by two days until this Wednesday, citing "a few more days of refinement needed". The most popular theory is that this news will relate to Autopilot 2.0. Some speculate the delay is due to news out of Germany that the government has told Tesla to stop using the word "Autopilot".
So far on Monday, shares of Tesla are down more than $2, yet the tech sector and US market overall is basically flat. Shares have fallen about $20 from their early October highs after the strong Q3 delivery number. In fact, as seen in the chart below, Tesla is near multi-month lows, now below $194 a share.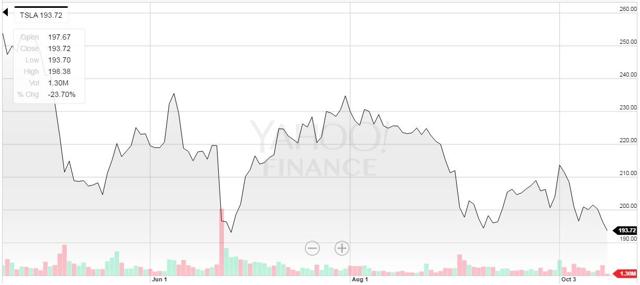 A few bucks here and there may not seem like much, but it is really starting to add up. Many expect Tesla to raise funds next month, and the fall in share price makes any equity raise more dilutive. Additionally, the US 10-Year Treasury bond has risen more than 40 basis points from its yearly low in recent months, seen below. That would make any debt significantly more expensive. Tesla should have raised funds a few months ago when yields were much lower and its shares were 20% or more higher.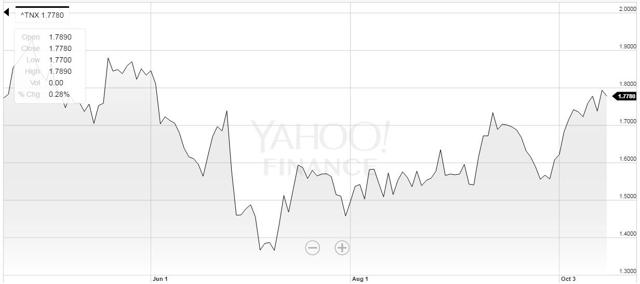 So while everyone waits until Wednesday for the next product announcement, I'm curious to hear about the SolarCity (SCTY) deal. Last Friday was a scheduled court appearance for Tesla in regards to lawsuits filed against the merger, but we received the following statement in the most recent prospectus. Overall, the legal situation is still outstanding, which could delay the merger.
On October 10, the Court entered orders consolidating the Actions and appointing lead plaintiffs and lead counsel. On October 11, 2016, lead counsel informed the Court that they do not intend to move for expedited proceedings, and the Court canceled the previously scheduled hearing to consider any such motion.
Elon Musk continues to ask for a few more days to get things right, but it appears investors are starting to get fed up. Shares continue to drop after the latest product announcement delay, and with bond yields surging in recent months, Tesla's next capital raise is going to be a bit more painful then previous offerings. Investors better hope that Tesla's legal team scores a victory rather soon, because lawsuits could drag the SolarCity merger process on for several months. A day or two may not seem like much, but more failed promises from Elon Musk are proving quite costly.
Disclosure: I/we have no positions in any stocks mentioned, and no plans to initiate any positions within the next 72 hours.
I wrote this article myself, and it expresses my own opinions. I am not receiving compensation for it (other than from Seeking Alpha). I have no business relationship with any company whose stock is mentioned in this article.
Additional disclosure: Investors are always reminded that before making any investment, you should do your own proper due diligence on any name directly or indirectly mentioned in this article. Investors should also consider seeking advice from a broker or financial adviser before making any investment decisions. Any material in this article should be considered general information, and not relied on as a formal investment recommendation.