Last week, some rather interesting (and mostly positive) oil related data was released by the EIA (Energy Information Administration). Seeing as how this data is among the most monumental released by the organization so far this year, I figured that now would be a good time to look into it and give my thoughts on what it should mean for investors in companies like Memorial Production Partners (NASDAQ:MEMP), Approach Resources (NASDAQ:AREX), and Legacy Reserves (NASDAQ:LGCY), as well as for the United States Oil ETF (NYSEARCA:USO) and other oil-related ETFs moving forward.
Over 35 million barrels went missing... kind of
What we had in the weekly report by the EIA was some rather peculiar data regarding crude oil stocks. According to the organization, crude stocks during the week managed to rise by 4.9 million barrels from 469.1 million barrels to 474 million. This is actually worse than the 2.7 million barrel build estimated by the API (American Petroleum Institute) and was much worse than the 2 million barrel build analysts were forecasting.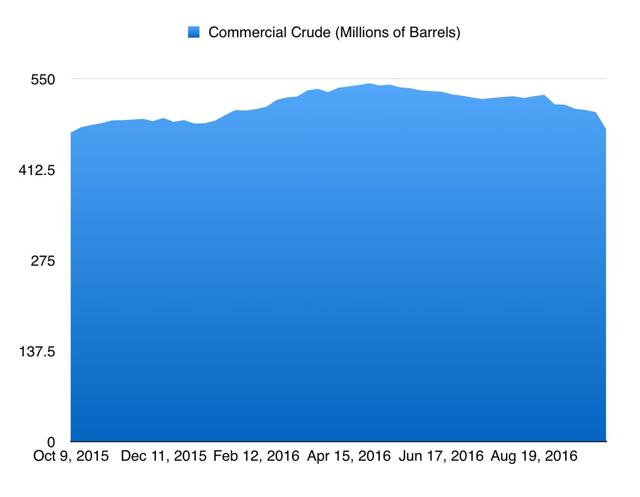 *Graph created by author using EIA data
If this were all, I'd say that the picture was actually pessimistic, but if you look at the unrevised crude storage levels from the week before, stocks actually stood at 499.7 million barrels. This indicates that the organization was forced, based on new findings, to reduce storage estimates by an impressive 25.7 million barrels. In the graph below, you can see the impact of this compared to where inventories have been over the past 52 weeks.
What we have here is a situation where a nice chunk of barrels just got estimated away, which is certainly bullish if the data is accurate. What's also interesting is that other product categories managed to report decreases in inventory levels week over week. This may actually be the first time since I began covering the data where every single category of petroleum products reported a draw. At least, it's the only time I can recall it happening.
Take, for instance, motor gasoline, which fell by 1.9 million barrels from 227.4 million barrels to 225.5 million. Fuel ethanol dropped by 0.8 million barrels from 20.2 million to 19.4 million and kerosene-type jet fuel dropped 0.7 million barrels from 44 million to 43.3 million. Distillate fuel saw a huge decline of 3.7 million barrels, falling from 160.7 million to 157 million, and residual fuel stocks dropped 1.4 million barrels from 39.2 million to 37.8 million. The "other" category of petroleum products dipped 1.3 million barrels from 284.4 million to 283.2 million, and even propane/propylene dipped very modestly by 0.1 million barrels from 104 million to 103.9 million. As a result of all of these declines, and despite the revised increase in crude inventories, total crude plus petroleum products for the week fell by 5.1 million barrels from 1.3491 billion barrels to 1.344 billion. However, if you compare the revised data to the old total picture, inventories across all categories dropped by 35.7 million barrels. There is, however, a catch to this. The EIA decided that they would begin to not include leased storage which comes out to around 30.6 million barrels (that was classified under crude), so the total drop during this time frame would have actually declined by a more modest 5.1 million barrels.
What about production and demand?
In addition to seeing a positive inventory report, we can also rejoice in the fact that production fell yet again, declining by 17 thousand barrels per day (or 119 thousand barrels for the week) from 8.467 million barrels per day to 8.45 million barrels per day. However, if you strip out a move higher from Alaska, production actually dropped by 36 thousand barrels per day (or 252 thousand barrels for the week) in the Lower 48 states (which includes the Gulf of Mexico). In the graph below, you can see the trend of total domestic oil production spread out over the past 52 weeks.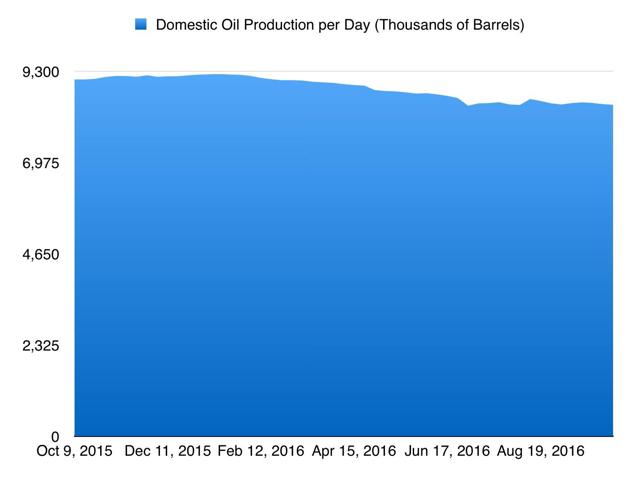 *Graph created by author using EIA data
On top of this, demand has stayed fairly robust. Though motor gasoline demand fell from 9.390 million barrels per day a week earlier to 9.264 million barrels per day now, this is still 1.4% above the 9.137 million barrels per day demanded the same time a year earlier. Using the four-week average, demand came out to 9.296 million barrels per day, about 2.3% above the 9.083 million barrels per day seen the same time a year earlier. Meanwhile, even though distillate fuel demand was higher week over week and year over year, its four-week average figure was down by 3.5% from 3.973 million barrels per day to 3.836 million barrels per day, which is fairly bearish.
The rig count is the only black spot for the week
Overall, I'm very happy with the data provided by the EIA, but there was one piece of news that I didn't much care for. According to Baker Hughes (BHI), the oil rig count rose by another 4 units to 432 in operation now. Though this is small and seems to have come from less relevant regions (plus the very-relevant Niobrara possibly), an increase is still negative in and of itself. That being said, oil rigs in operation are still 27.4% below the 595 units in operation the same time last year. In Canada, however, the rig count rose by another 3 units, climbing to 90 units in operation, up 18.4% compared to the 76 units in operation last year.
Takeaway
What we can see here is that, absent the rig count, the picture as shown by the EIA was very positive during the week. Though some things (like distillate fuel) could be better, the overall conclusion is that the drop in inventories, combined with strong motor gasoline demand and a continued decrease in production, are more than enough to make this a bullish report that has the potential to benefit many oil-related companies, so long as the market behaves according to the shift in fundamentals moving forward. However, it is important to keep in mind that a large portion of this drop was essentially a change in methodology, which doesn't have a material positive bearing on it.
Disclosure: I am/we are long AREX, MEMP, LGCY.
I wrote this article myself, and it expresses my own opinions. I am not receiving compensation for it (other than from Seeking Alpha). I have no business relationship with any company whose stock is mentioned in this article.
Additional disclosure: I own LGCYO, not LGCY
Editor's Note: This article covers one or more stocks trading at less than $1 per share and/or with less than a $100 million market cap. Please be aware of the risks associated with these stocks.