My war chest full of cash has continued to rise. Over the past quarter I have stockpiled additional funds in hopes of a market downturn. With the Fed keeping things level in terms of interest rates, though, the market seems content to stay aloft. Whether they are doing this for political reasons or not, stock market investors are subject to their whims in many ways. For my part, I'd rather keep cash earning high interest than put the bulk of it into the market when I figure there's a fair chance to get in cheaper soon enough once the election ends and rates potentially drift upward.
As stated in my Q2 2016 Dividend Report, I have earned a total of $1,208.05 in combined CAD and USD dividends through the first six months of the year. Over the past quarter I have not actively contributed further to stock purchases and so any dividend growth from particular companies would have come from internal increases on their payouts aside from any lingering DRiP activity prior to removing myself from the DRiP at my discount broker.
CAD Dividend Payments
| | | |
| --- | --- | --- |
| Company | CAD Payment ($) | Div Increase (%) |
| Toronto-Dominion Bank (NYSE:TD) | 44.00 | |
| Riocan Real Estate Investment Trust (OTCPK:RIOCF) | 91.89 | |
| The Coca-Cola Company (NYSE:KO) | 59.69 | |
| Johnson & Johnson (NYSE:JNJ) | 65.93 | |
| BCE Inc. (NYSE:BCE) | 148.79 | |
| Canadian Imperial Bank of Commerce (NYSE:CM) | 14.52 | |
| Jean Coutu Group (NYSE:PJC) Inc. (OTCPK:JCOUF) | 21.24 | |
| Corby Spirit and Wine Ltd. (OTCPK:CBYDF) | 9.69 | |
| Bank of Nova Scotia (NYSE:BNS) | 18.00 | |
| TELUS Corporation (NYSE:TU) | 32.20 | |
| Rogers Communications Inc. (NYSE:RCI) | 26.40 | |
| Fortis Inc. (FRTSF) | 15.00 | |
| Canadian Utilities (OTCPK:CDUAF) | 16.25 | |
| Canadian National Railway Company (NYSE:CNI) | 5.63 | |
| Canadian Pacific Railway Limited (NYSE:CP) | 3.00 | 42.86 |
USD Dividend Payments
| | | |
| --- | --- | --- |
| Company | USD Payments ($) | Div Increase (%) |
| Waste Management Inc. (NYSE:WM) | 17.43 | |
| McDonald's Corporation (NYSE:MCD) | 15.89 | |
| Yum! Brands, Inc. (NYSE:YUM) | 15.25 | |
| PepsiCo, Inc. (NYSE:PEP) | 6.41 | |
| Wal-Mart Stores, Inc. (NYSE:WMT) | 6.38 | |
Dividend Summary
Our grand totals amount to $572.23 CAD and $61.36 USD. The CAD income is up slightly while the USD income remains as it was. Since I have been holding off for better prices in the markets, my income has stagnated to some degree. As I indicate further down in this article, however, I am looking to get the engines revving with excess cash flow that I have been producing. My portfolio is incredibly defensively positioned right now with around 20% in cash. As such, I believe it is time to put anything over the top of that to work.
One thing that really jumps off the page as I look at the dividend totals above is the fact that CP raised their dividend by 42.86%. The sad thing being, of course, that this is the lowest income contributor within my portfolio. The July 25 payment actually represents the first dividend increase on their common shares since the boost for the July 30, 2012, payment. Needless to say they seem to be looking to make up for lost time. This dividend increase by CP actually represents the only dividend increase in my portfolio for Q3, which seems rather surprising given the number of dividend growth positions I hold, but there are a few on the docket such as MCD in the coming quarter that should keep things rolling.
As noted previously, both JNJ and KO are held in CAD within my TFSA. As such, I am subject to a 15% withholding tax on those dividends which are converted automatically from USD to CAD. While the USD is strong, this provides a boost to my income. I am aware, however, that should the FX tip the other way, my dividend income could take a hit with these two names.
Q4 Stock Considerations
This coming quarter will again see fresh capital filling up my coffers for use in greater quantities than in the past as I am no longer DRiPing. As such, it becomes even more important for me to be scouting opportunities or at least actively (as opposed to passively as I have been) reinvesting back into names I already own. Cash sitting in an account earning nothing is counterproductive to my long term goals. Compounding only takes place when money is allocated and earning.
As for portfolio additions, I feel I have been playing the waiting game for quite some time now and my trigger finger is certainly feeling the itch to make a purchase. Over the next month I have two names on my list: Jean Coutu Group PJC Inc. and Hydro One Ltd (OTC:HRNNF).
I've bought three tranches worth of JCOUF since late 2014 and the stock is down again. This time I am looking to add 50 shares of the company and did place an order for such today. I am hoping for this to be filled tomorrow. The purchase will be made, as my previous ones, in CAD on the TSX. With the quarterly dividend sitting at $0.12 quarterly, this would add $6.00 to my quarterly dividend income. This buy would also allow me to average down on a position I have been working my way into over the past two years. I would regard this as my final purchase with the company as I will have over 200 shares which was my initial target.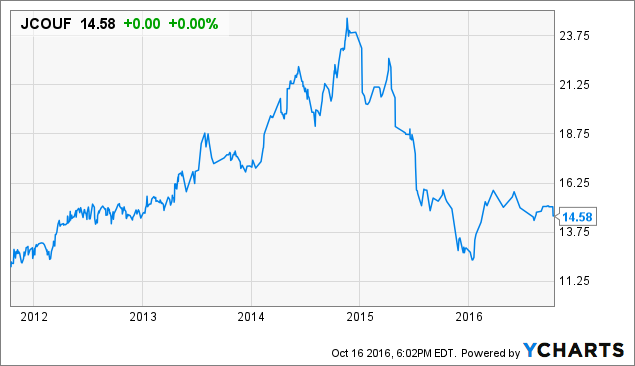 I highlighted the second name on my watchlist, HRNNF, in my Q2 Dividend Report. The company has declined slightly since that time which encourages me to finally get some exposure. In total I would eventually like to own 150-200 shares of the company on the TSX in CAD. I will be targeting 40 shares for just under $25.00 CAD which will get me started. From there, as prices decline, I may simply add larger amounts on the way down.
This strategy of starting small and averaging down is one I have adopted over the years as I've seen positions I desired simply rise unabated while I sat on the sidelines. I believe nowadays that while waiting patiently for better prices is sometimes a good strategy, overall it is best to at least get some exposure even at a lofty valuation in order to not feel left in the cold if better prices never materialize. This discussion is all subject to availability of funds as it is only possible to keep averaging down so long as capital is sufficient to make it worthwhile. Further still, other opportunities often outweigh the benefits of averaging down on a given position. There is, of course, an opportunity cost to every acquisition.
For Q4 I am also particularly interested in watching how the dust settles for YUM as the company completes the spinoff of the Yum! China brand. Although the new Chinese company will not pay a dividend, I do intend to hang onto those shares. It falls outside the domain of my strategy to buy non-dividend paying stocks, but I'll make an exception here since it comes from an already-existing position of mine. Beyond that, I do believe the Chinese market provides plenty of upside if the company can eventually get it right. The food supplier scandal took a bite out of their respected brand name, but over the years to come I see significant upside in that market.
Conclusion
I still believe the market is overheated. While I never like to use the word "bubble," I do believe the incredibly low-interest rate environment we are in has propped up the stock market. I am not looking to sell my positions or even cull, but I have taken the step of prudently sitting on cash. Still, I do plan to put additional funds to work as they come in. The larger cash amounts I have put aside are only going to be deployed if we see stocks on my watchlist coming into better price ranges.
My income this quarter crept forward. Having not lost any ground, I am currently like a coiled spring. Given the opportunity, I am looking to deploy and hopefully set 2017 up to be a record year as 2016 is on track to be.
In total, I have now earned $1,841.64 on a currency-neutral basis through the first three quarters of the year and am looking forward to seeing Q4 push me above my annual target for passive income.
Thank you for reading.
Full Disclosure: Long TD, RIOCF, KO, JNJ, BCE, CM, JCOUF, CBYDF, BNS, TU, RCI,
FRTSF, CDUAF, CNI, CP, WM, MCD, YUM, PEP, WMT
All Canadian companies are held in CAD on the Canadian exchange.
Disclosure: I am/we are long TD, RIOCF, KO, JNJ, BCE, CM, JCOUF, CBYDF, BNS, TU, RCI, FRTSF, CDUAF, CNI, CP, WM, MCD, YUM, PEP, WMT.
I wrote this article myself, and it expresses my own opinions. I am not receiving compensation for it (other than from Seeking Alpha). I have no business relationship with any company whose stock is mentioned in this article.