I've written a lot about the Gigafactory, focusing both on Tesla's (NASDAQ:TSLA) deal with the State of Nevada and on its deal with Panasonic (OTCPK:PCRFY). See here, here, and here for recent examples.
Why am I so curious about the Nevada facility? Because Tesla promises the $5 billion factory is the key to achieving enormous battery cost savings that will make it possible to price the Model 3 for the mass market.
It's no exaggeration to say the Model 3's success and, indeed, Tesla's survival, depend upon fulfillment of that promise.
Some recent disclosures by Tesla (including some prompted by the U.S. Securities and Exchange Commission) make the time ripe for an update on the Tesla's dealings with Nevada and its relationship with Panasonic.
Unfortunately, this piece would become far too lengthy if it included both, so I'm first going to tackle where things stand between Tesla and the State of Nevada, and will tackle Tesla and Panasonic several days down the road.
I. Nevada's Subsidies to Tesla: Lavishly Lovely, Thank You.
In competing with several other states for the Gigafactory, the Nevada Governor's Office of Economic Development engaged several economic consulting firms to prepare reports forecasting the jobs Tesla could bring to the state.
The idea was to show the economic impact of the added employment would outweigh the $1.3 billion (more or less) incentive package that Nevada proposed to offer. The incentives would take the form of free land for the factory, sales tax abatements, property tax abatements, transferable income tax credits, reduced rates on electricity, and construction of a highway for easier access to the Gigafactory site.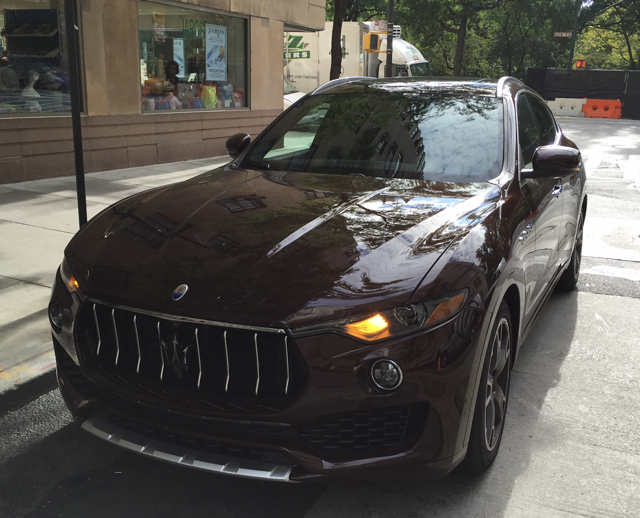 (2017 Maserati Levante in "Rame" -- Italian for Auburn)
The consultants' reports were duly prepared and publicized, the Nevada legislature was impressed, and the result was the October 17, 2014 Incentive Agreement.
In granting the munificent package, the legislature required periodic reports by the Governor's Office of Economic Development about Tesla's capital expenditures and employment.
The most recent quarterly report - for Q2 2016 - was filed on August 17, 2016 for Q2. From this point forward, the reports will be annual.
The Q2 2016 report shows Tesla was awarded $10.8 million in transferable tax credits for capital expenditures made during the second half of 2015. Thus, the total transferable tax credits awarded to Tesla for expenditures through the end of 2015 was $20.4 million.
As of the end of 2015, Tesla and Panasonic together had 272 full-time employees (FTEs) at the Gigafactory employees. So, the transferable tax credits amounted to $75,000 per FTE.
The $75,000 figure doesn't include the free land deeded to Tesla; the land's market value was $43 million.
Let's amortize the land value over the 10-year term of the Nevada deal, and assume that as of year-end 2015, Tesla had used only 15% of the benefit, or $6.45 million. That works out to an additional subsidy of $23,713 per FTE.
How about the $70 million in highway construction the State agreed to do as part of the deal?
Let's generously assume only 30% of that ($21 million) was to benefit Tesla, and again amortize the cost over the 10-year term, giving us $3.15 million as of year-end 2015. That's another $11,581 per FTE.
And, of course, there are the reduced-rate electricity ($8 million over eight years, paid for by hikes to residential bills) and the $1.25 billion in sales and property tax abatements. The tax abatements probably dwarf all the other categories.
Assuming Tesla used very little electricity in 2015 (while construction of Phase 1 was underway), let's ignore that subsidy.
As for the tax abatements, let's again amortize them over the term of the deal, giving us $187.5 million for the 18 months ending December 31, 2015.
But, wow, $187.5 million is a staggering figure. To make it less daunting, let's divide it by ten, bringing it to $18.75 million (perhaps on the theory that the tax waivers will be most important once the full Gigafactory is in place). This adds $68,934 to our per-FTE subsidy figure.
So, Nevada taxpayers and politicians, as of year-end 2015, you have granted Tesla subsidies worth $179,228 per FTE: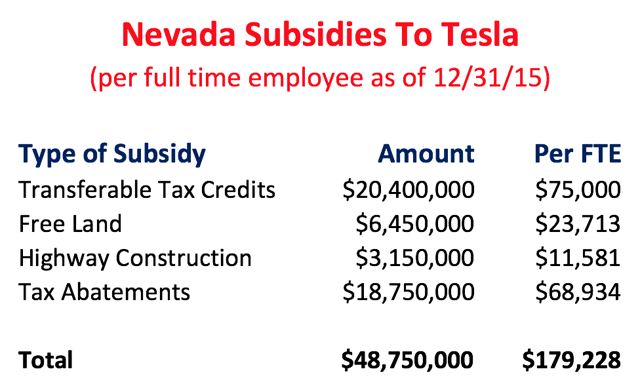 Will this number change? Of course. Indeed, it already has. We know the FTE count increased to 419 as of June 30, 2016. However, we don't know the tax credits and abatements to be awarded for the first half of this year, so we can't make any calculations based on the latest reported employee count.
Will the number ever amount to a subsidy of less than $100,000 per FTE? I very much doubt it. Feel free to run your own numbers based on whatever assumptions you find realistic.
But before you assume the jobs forecast by those consulting firms will actually materialize, keep reading…
II. Sorry, Nevada, But You Made a Dreadful Deal.
What do you think, Nevada elected officials? Was it wise to pay Tesla $179K per new full-time job?
Taxpayers and ratepayers, what's your opinion?
I think it's a terrible deal, and here's why:
Tesla didn't need to perform a single action or meet a single benchmark to receive the free land, the highway construction, and the discounted electrical rates. Nevada handed those over to Tesla just for signing the deal.
As for the tax abatements (sales tax and various real estate taxes), how does it benefit Nevada to add billions of dollars worth of real estate and equipment to the tax rolls if it's all tax exempt?
The payoff to Nevada comes only if Tesla generates both direct and indirect employment in levels that generate benefits exceeding the cost of the subsidies.
Nevada politicians obviously were betting that would happen. They relied on direct employment estimates (along with capital expenditure estimates) made by an economic consulting firm called Applied Economics.
Applied Economics was hired by the Governor's Office of Economic Development and its report become the foundation for the Governor's recommendation which, in turn, was the foundation for the subsidy legislation: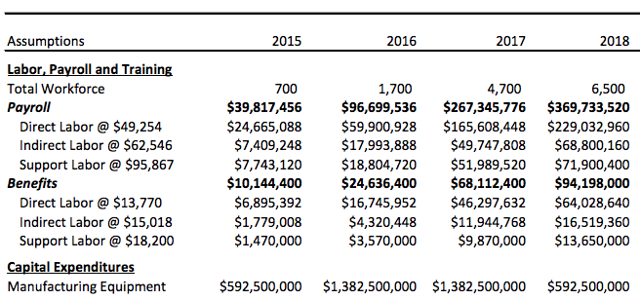 As you can see, the Nevada politicians were told to assume a Gigafactory workforce of 700 FTEs in 2015. Actual year-end figure: 272.
For 2016, the forecast is 1,700 FTEs at the Gigafactory. The actual 2016 number at mid-year? 419 FTEs.
Will the number of FTEs be greater than 419 by year end? Almost certainly. But will the FTE number be even half of the 1,700 estimate? Highly doubtful.
For 2017, the politicians' forecast is 4,700 FTEs, growing to 6,500 in 2018, and leveling off there.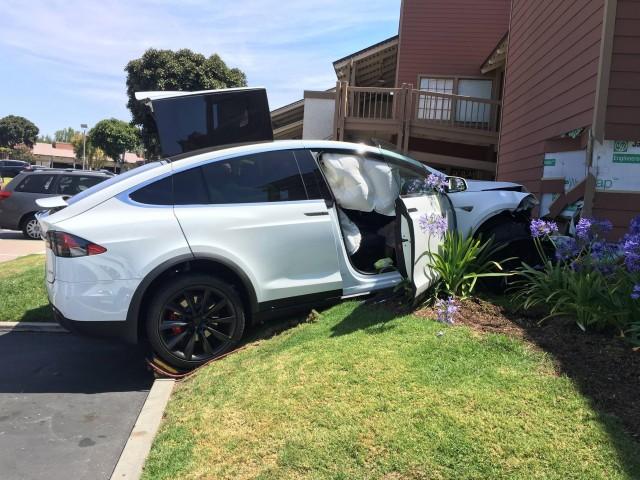 (2017 Tesla Model X in Fremont Metallic White)
The employment forecasts for future years are likely to be as unrealistic as those for 2015 and 2016 have proven to be.
Why? Because Elon Musk is hell-bent on "building the machine that makes the machine." Here's how Tesla's Vice President of Vehicle Production, Peter Hochholdinger, translated what that means in a recent interview:
It's about density and speed and putting more automation into, for example, general assembly. General assembly in a car manufacturer today is quite labor-driven, of course. That's more or less because of the product design.
In other words, the name of the game in the manufacturing business is increasing automation. More machines, fewer humans.
I'm not criticizing Tesla for this approach. Every automaker (and other major manufacturer) has been adopting it for decades. A continued move to even further automation is all but inevitable.
However, the assumption about jobs generation was a terrible miscalculation by Nevada.
And, it's worse than just the missing Gigafactory jobs.
Why? Because the Applied Economics' forecasts (which, again, were the Governor's rationale for recommending the Tesla subsidy package, and the Nevada Legislature's rationale for approving it) assume a "multiplier" effect from Gigafactory jobs, where every new FTE at the Gigafactory results in a second new FTE for some other Nevada employer.
III. Nevada's Economic Consultants Did Even Worse in their Capital Expenditure Forecasts.
As a note, the capital expenditure forecasts in the Applied Economics study are even more wildly optimistic than the employment forecasts. The Nevada legislators were counting on $928 million in building and equipment spending in 2015. Actual amount? $374 million.
In 2016, they forecast more than $1.7 billion of Gigafactory building and equipment spending, and that's not even counting the $554 million shortfall from 2015.
Midway through 2016 the actual figures was $280 million.
The 2017 estimate for capital spending at the Gigafactory, even ignoring shortfalls from 2015 and 2016, is more than $1.7 billion.
Lots of luck with that, Nevada.
So, here's where things stand today:
Nevada has surrendered to Tesla $20.4 million and counting in income tax revenues, requiring other taxpayers to make up the difference.
It has given away a valuable parcel of land.
It has offered Tesla and Panasonic the ability to use a vast real estate facility without paying property taxes, thereby depriving taxing jurisdiction, including school districts, of needed revenue for years to come.
It has increased electrical rates to residential ratepayers.
But the Gigafactory jobs aren't there as promised, and likely never will be.
And the level of capital expenditure is badly lagging as well.
IV. All Those Sub-Suppliers -- Faces on the Milk Carton
Meanwhile, what ever happened to the promise of the sub-suppliers who would "co-locate" at the Gigafactory to make it a fully vertically-integrated manufacturing facility? This was to be the secret sauce of cost savings.
And, no doubt, the arrival of a dozen or more sub-suppliers, with the hundreds of employees they would add, figured into Nevada's FTE forecasts for the Gigafactory.
In 2014, the promise of the sub-suppliers appeared everywhere: in the Nevada economic forecasts, in Tesla's public statements, in conference call transcripts, in press accounts. Indeed, even in Tesla's Gigafactory agreements with Panasonic.
Consider, for instance, Section 1.1(c) of the October 1, 2014 General Terms and Conditions:
Except as otherwise agreed in writing by Tesla and [Panasonic], the Parties shall, for the purpose of exploring the cost effectiveness of the [cells], simplifying logistics, reducing Lead Time, and other agreed reasons, use Commercially Reasonable Efforts to cause [Panasonic's] sub-suppliers required for the production of [cells] at the Factory to establish operations at the Factory on or around the mutually-agreed timing.
Fortunately, Panasonic insisted on adding the following sentence:
For the avoidance of doubt, Tesla acknowledges that [Panasonic] cannot guarantee that its sub-suppliers will agree to establish operations at the Factory.
Too bad the State of Nevada did not protect itself as well as Panasonic did.
Interestingly, I'm writing this just as the news hits that the Nevada legislature has hiked the hotel room tax to contribute $750 million toward a new Las Vegas football stadium, being to entice the National Football League's Oakland Raiders to relocate. (The remaining funds for the $1.9 billion project are being suppled by casino owner Sheldon Adelson and the owners of the football team.)
I'm sure that will work out well for Nevada taxpayers, too. Aren't sports stadia always good investments of taxpayer dollars?
V. Is Tesla Trying To Rescue the Deal by Building Drive Systems in Nevada?
Seeking Alpha Contributor Rolling O Research published a piece last week speculating that Model 3 "drive systems" will be manufactured at the Gigafactory rather than at Tesla's Fremont, California factory.
I have no idea whether Rolling O's speculation is correct. It would be odd, to say the least, if this "world's largest" factory whose sole focus was said to be the vertically integrated manufacture of batteries -- from cathode and anode precursors right up to fully assembled packs -- were to morph instead into a multi-purpose manufacturing facility.
Rolling O's article has attracted some fascinating comments, including this one by a Seeking Alpha member who claims to be a Tesla engineer working in Nevada:
This [moving drive system assembly from California to Nevada] shouldn't be a surprise to anyone. It makes sense to reserve the Fremont space for high volume final assembly production so any subassemblies and subcomponents can and should be built elsewhere. Why pay CA taxes, real estate, wages, and deal with the BS environmental regulations?!?! The logistical advantage of shipping components (especially large ones) via train from Sparks to Fremont was a huge reason the Gigafactory site is where it is. GTFO out of Kalifornia and profit!
The same commenter agrees the Gigafactory grand opening was a publicity stunt, and writes:
I can't defend some of the misleading information leading up to SC bailout/merger that reeks so strongly of nepotism and seems borderline illegal by SEC regulations.
I can't find fault with either of those comments. California is far from the most hospitable regulatory or labor environment for an auto manufacturer, and the SolarCity (SCTY) deal is a new low point in craven self-interest by connected insiders.
But, is it possible Tesla is actually relocating its drive system manufacturing from California to Nevada, if for no other reason than to give a bit of cover to the Nevada politicians who struck the catastrophic Incentive Agreement? Sure, for the reasons given by the Tesla engineer, it might make sense.
Were that to happen, then, this being Tesla, no doubt the headline on Dana Hull's story at Bloomberg would read: "Tesla's Pleasant Surprise: More Nevada Jobs" rather than: "Tesla's Actual Hiring Has Fallen Far Short of Forecasts".
(I should note that Seeking Alpha member User 23538993 vehemently disputes that Tesla makes its own motors or gear boxes. You can see his comments here, together with his links, and decide for yourself. JRP3, among others, takes issue with this. I have no idea who's right, but in general think Tesla is better off when it out-sources the manufacture of parts.)
VI. If It's Bad for Nevada, Does that Mean It's Good for Tesla?
So, because the Nevada politicians chose poorly, and were out-negotiated and out-smarted by Tesla, does that mean Tesla comes out a winner?
That depends, obviously, on whether the Gigafactory finally shapes up to be the fully vertically-integrated manufacturing facility that was promised, delivering lower cost cells than Tesla could obtain anywhere else.
It's no secret I have serious doubts. First, there's no guarantee that Lithium-ion will prove the chemistry that carries the day as automobile drive trains continues their slow but inevitable march toward electrification. If a superior chemistry emerges (and the work in this field is very active), Tesla will find itself saddled with huge obligations to purchase cells that have become obsolete.
Second, more fundamentally, aside from the Nevada subsidies, most of the Gigafactory's economic benefits are likely to be reaped by Panasonic, while most of the risk lies with Tesla. But that's, as I noted at the outset, a story for another time.
VII. How Elon Musk Is Saving the Earth - Part V
Visionary inventor and high-tech serial entrepreneur Elon Musk has big sci-fi dreams to one day colonize Mars. But for now, at least, the SpaceX founder and CEO and Tesla Motors co-founder and CEO will have to content himself with the private colonization of a particularly plummy pocket of the high-toned Bel Air area in Los Angeles where over the last four years, according to a variety of sources, resources and calculations, he's dropped a staggering $70.3 million on five homes…. We now hear from always on top of everything real estate yenta Yolanda Yakketyyak, who back in February (2016) exhaustively chronicled the tech tycoon's earlier purchases, that Mister Musk is, through an opaque corporate concern, the mysterious buyer who just shelled out an $24.25 million in a hush-hush off-market deal to acquire a brand spanking new ultra-contemporary spec-built mansion located on a high ridge above Bel Air.
There's plenty more juicy detail. Be my guest.
Montana Skeptic on Twitter
You can email me at Montana.Skeptic@gmail.com and follow me on Twitter where I'm @MontanaSkeptic1.
I have mixed feelings about both the email and the Twitter.
As for the email, there has been a flood of it lately, and I apologize for not being able to respond to everyone.
And Twitter? The formidable Glenn Reynolds of Instapundit fame recently called it "the crystal meth of social media. Addictive, but unsatisfying."
I use Twitter mostly to announce my own pieces, and intend to try to limit further the already small amount of time I spend there.
Disclosure: I am/we are short TSLA VIA OPTIONS. I wrote this article myself, and it expresses my own opinions. I am not receiving compensation for it (other than from Seeking Alpha). I have no business relationship with any company whose stock is mentioned in this article.
Editor's Note: This article discusses one or more securities that do not trade on a major U.S. exchange. Please be aware of the risks associated with these stocks.