Over the past few months, the talk among money managers has been that of the upcoming money market reform championed by Federal Reserve Board governor Daniel Tarullo, the massive rotation it has already caused out of prime money market funds into government money market funds, and the more serious effects it has caused such as increasing global interest rates (see LIBOR) and costs of short-term lending through commercial paper and asset-backed securities (detailed in article: Constructing A Pure Alpha Japan Portfolio: Money Market Funding Crunch Means More Doom And Gloom For Japanese Financials).
Despite this increase in costs, however, ABS issuance, particularly in the collateralised loan obligation, or CLO, market, has exploded in the final quarter of 2016 in what Jason Merrill of Penn Mutual Asset Management is calling a "frenzy of issuance," with banks now forced to increase projections to between $50-60 billion in CLO sales by the end of 2016, of which about $43.5 billion has already been priced in.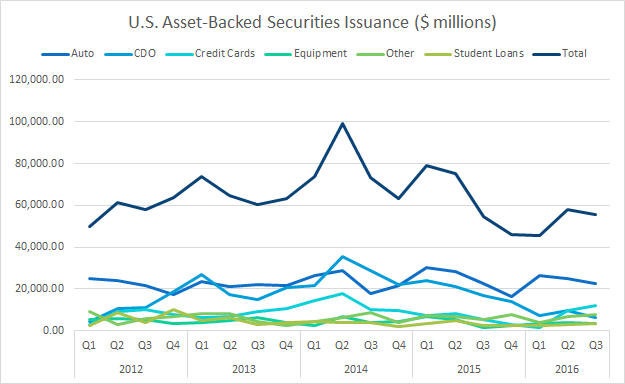 (Source: Securities Industry and Financial Markets Association)
By historical standards, even post-crisis, ABS issuance is still sluggish but this incredible spike in issuance in this final quarter in spite of increased costs and upcoming regulations is highly significant. Last quarter, in the second week of September alone, new supply of securitized products hit its highest weekly level since September 2014, with almost $19 billion of structured bonds sold, including $13 billion of securities backed by loans on cars, credit cards and other consumer products.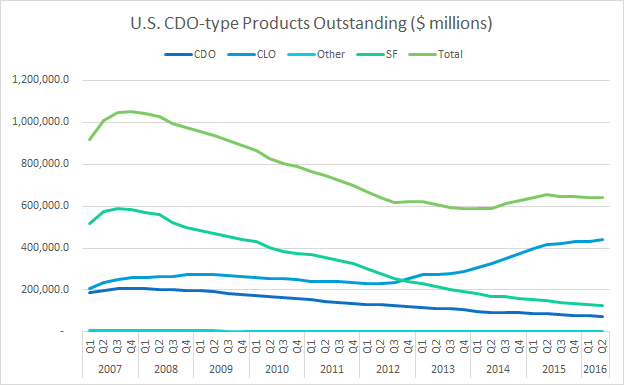 (Source: Securities Industry and Financial Markets Association)
It's not that difficult to see why underwriters and investors are rushing to sign off on as many contracts as possible:
Money market reform (took effect October 14th, 2016) which requires institutional and municipal prime money market funds to switch to floating NAVs instead of traditional $1.00 fixed NAV
Upcoming risk-retention regulation (takes effect by new year) which requires ABSs to retain 5% of the credit risk of each transaction
Global search for yield as low-to-negative yield environment causes alternative investment vehicles to profit and traditional investment vehicles to seek out opportunities abroad
Increasing costs (e.g. rising LIBOR), higher demand for dollar-denominated investments causing massive dollar crunch
With all of these issues pressing down on banks, companies, and investors across the globe, but especially those in Europe and Japan with operations in the U.S., this massive last-minute frenzy for CLOs and other securitized products is understandable.
The problem is there aren't enough high-quality CLO or other ABS opportunities for even institutional investors to buy. According to a recent article by Global Capital, the senior tranches of AAA-rated paper are being increasingly pre-placed with large U.S. financial institutions, leaving smaller investors with a shrinking pie of debt to buy... unless they want to enter the more risky leveraged/sub-prime space.
A lot of guys don't syndicate the whole deal. So say an issuer pre-places two-thirds [of the AAA-rated paper] with one buyer, then it gets really tough for other guys to get into the club after that.
The article goes on further to explain how there is talk of even Chinese investors looking to get in on the U.S. CLO market:
...there is real talk of Chinese investors beginning to allocate serious money to CLOs... the sector could see as much as 40bp of spread tightening at the top of the stack if Chinese interest became more widespread... a regular flow of Chinese investors would change CLO market fundamentals.
Amid the global search for yield, Japanese and European institutions are already highly active in the space in spite of the strong dollar and other obvious transaction costs involved, so the inclusion of Chinese investors would pressure an already crowded investment environment. It is not really a surprise unfortunately; with negative interest rates and slowing Chinese growth the talk of the times, it makes sense, for example, that some Japanese investors are so desperate for yield they're buying up U.S. munis. What a world...
Goldman Sachs (NYSE:GS) sees all of this rushing for quality debt as an opportunity to profit, especially for U.S. investors in the high-quality CLO space:
...in most economic scenarios, AAA bonds will receive 100% principal returned regardless of the amount of excess spread available to absorb losses. As a result, increases in short-term LIBOR should flow through one-for-one to the senior AAA CLO tranches. In the current low yield environment, and given our expectation for rising rates, we take a relatively constructive view on senior CLO floating rate assets.
Unfortunately, for us small-time investors, we can merely watch in awe as all of this unfolds. For the very few opportunities that there are, exist generally in the low-quality, leveraged loan space, and, at that point, you may as well be investing in junk bonds (NYSEARCA:JNK). Still, there are possibly opportunities for the small-time investor in funds (exchange-traded, closed-end, mutual, or otherwise) that invest in the senior lien, floating rate space. Some of these include but are not limited to:
In any case, it truly is an issuer's market, at least this quarter. Who knows what will happen by 2017. Could the securitization market die a slow death as more and more regulation and capital requirements amid increasing costs force institutions and investors to abandon the space? Or will Wall Street find some new way to circumvent regulation or create some new formula that changes the way we price these products for the better? Whatever happens, it is clear the securitization/leveraged loan market and perhaps the entire credit system is experiencing a fundamental transformation for better or worse.
Disclosure: I/we have no positions in any stocks mentioned, and no plans to initiate any positions within the next 72 hours.
I wrote this article myself, and it expresses my own opinions. I am not receiving compensation for it (other than from Seeking Alpha). I have no business relationship with any company whose stock is mentioned in this article.