I haven't written about Halliburton (NYSE:HAL) in a while. Over the past 18 months, collapsing energy prices cratered the shares, along with many Energy Service industry peers. In February 2016, the stock closed ~$29. However, YTD the shares rebounded strongly, recently settling about $47 a piece.

In this article, I offer readers a long investment thesis. However, I will outline why raw numbers cannot close the sale. Low-ebb cyclical stocks create a particular challenge: determining investment viability without the benefit of "the numbers" to support it.
In many such cases, retail investors simply elect to stay away.
For Halliburton, I'll offer why I decided keep the ticker as a core position. Indeed, I actually added to it earlier in the year.
An Investment Thesis For Owning Halliburton Stock
At current prices, Halliburton represents a reasonable, though no longer spectacular, long-term investment opportunity. The failed Baker Hughes (BHI) merger pressured the balance sheet. 2016 earnings and cash flow have been negative; however, I premise 2Q 2016 was most likely the cycle bottom.
Management retained a focused set of strategies. Throughout the downturn, the Company maintained a well-defined strategy: Focus upon the deepwater, mature fields, and unconventional plays. Management made good on its stand to defend North American business interests. These decisions will enable the Company to rebound faster than peers.
In addition, senior leaders reacted to circumstances by swiftly and aggressively slashing expenses and capital expenditures. While tough choices, it allowed the business to retain necessary cash and capital.
The Balance Sheet
A 1-2 punch consisting of energy prices collapsing and the failed Baker Hughes merger took the starch out of a previously outstanding balance sheet. The balance sheet is my single biggest go-forward concern. I plan to monitor it very closely.
Liquidity, as measured by the 2.8x current ratio, remains good. Mid-year cash and equivalents totaled $3.1 billion, or $3.61 per share. This is far below the $10.1 billion pre-BHI acquisition war chest, partly depleted by a $3.5 billion breakup fee. However, current balance sheet cash is actually higher than previous year-end 2011-2014 cash on hand totals.
In conjunction with the ill-fated Baker Hughes deal, total debt blew out. Year-end 2013 and 2014 total debt was ~$7.8 billion. At the end of 2015, it ballooned to $14.7 billion. Through June 30 this year, the Company paid down some of it. 2Q 2016 total debt marked $12.9 billion.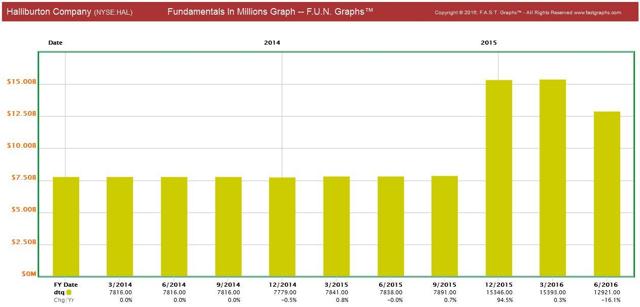 That still left Halliburton with an elevated 132% debt-to-equity ratio, versus just 48% at the end of 2014. Indeed, management noted continued debt paydown is a priority.
1H 2016 as-reported operating earnings or cash flow did not cover associated interest expense. Sans asset impairment charges (non-cash), corporate restructuring, and the Baker Hughes termination fee, adjusted EBIT did cover interest on the debt.
I expect management to discuss debt management front-and-center on the upcoming earnings conference call.
Meanwhile, total shareholder equity fell to $11.37 a share.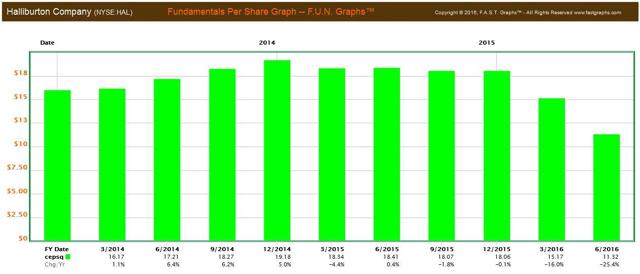 Investors should watch for a trend reversal.
Earnings and Cash Flow
Through the first 6 months of the year, Company earnings and cash flow remained negative. Looking behind the numbers, core operating earnings were positive. This was a green shoot.

Meanwhile, first-half 2016 total operating cash flow was negative $3.8 billion. Management slashed capital expenditures to $447 million, and forecast ~$850 million for the full year. This contrasts sharply versus an average $3 billion per annum capex spent between 2011 and 2015.
Despite all the current red ink, management reined in expenses quickly and aggressively. In 2015 and 2016, Halliburton laid off about a third of its total workforce. Capital was cut to less than a third of the prior run rate. Those are remarkable figures.
Not to be underestimated, Halliburton management earned another chit via its demonstrated ability to "beat the Street." Since 2013, the Company has not missed a quarterly Wall Street earnings estimate, exceeding expectations 9 times out of the last 14 quarters.

Even if Street estimates are negative, management obtains the benefit of the doubt, and a measure of Street credibility.
Everything Red! So Why Has The Stock Gone Up?
Over the past 2 months, some S.A. contributors here and here have written very bearish article about Halliburton. Instead, the stock has rallied. Year-to-date, the stock is up 38%, plus dividends. HAL outpaced the S&P 500 over the last 2 months, rising over 7% excluding a dividend payment.
Why?
First, the Market is a forward-looking mechanism. Backward-looking investors tend to miss big moves in cyclical companies like Halliburton.
"I don't care where a Company has been, I want to know where it's going"
That said, in the case of Halliburton stock, these words don't necessarily make the situation easier to diagnose.
Currently, shares are priced at $47. Long-term trimmed average P/E and P/CF multiples are solid, 15x and 10x, respectively. Two 10-year F.A.S.T. graphs below illustrate this. Please note I used 2006-2015 results in order to highlight the stock through at least one full cycle. In addition, I elected to exclude 2016 part-year figures in an attempt to avoid skewing the historical results.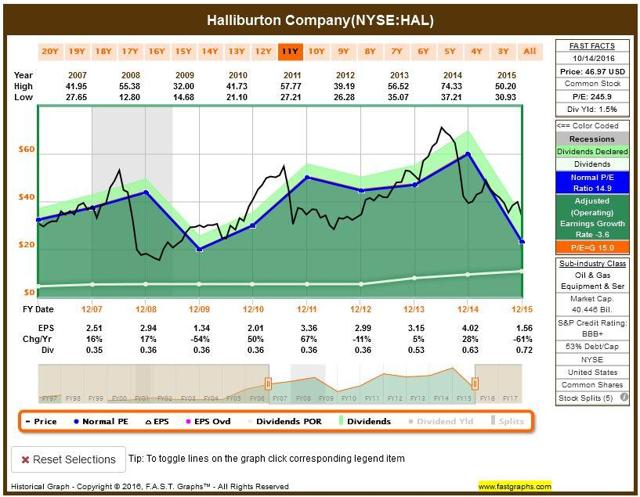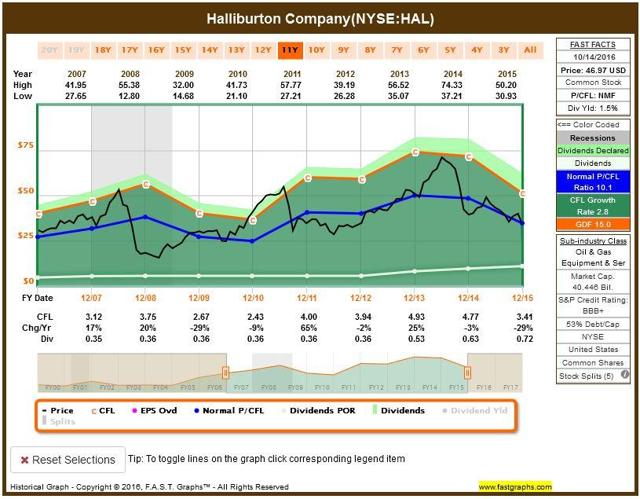 I contend the second reason shares have levitated is sentiment. Investors believe an energy recovery is on the horizon, Energy stocks will recover, and Halliburton will be a significant beneficiary.
Supporting a more optimistic view, CEO David Lesar offered 2Q conference call remarks that caught my eye. Below are several key excerpts. Boldface is mine:
Now, conventional wisdom coming out of the first quarter was that the rig count would continue to drop. We said we saw North America differently and were the first to call a bottom for the rig count. This is precisely what happened.

The psychological factors are getting better. Oil reaching $50 per barrel, even for a brief time, was a critical emotional milestone for our customers as was being able to buy a strip above $50 per barrel.

Now obviously, the last 2 years has been a period of significant under investment, where global CapEx has been reduced by nearly $400 billion. As a result, the industry will have to find a lot of new barrels in the next 5 years. Now, you can choose your own energy supply expert and there are many of them out there, but most agree we will need between 18 and 22 million barrels per day of new production by 2021.

And finally, producers will have to accept the reality of service company economics. Some of the efficiency gains we have made with our customers are in fact sustainable and will continue, but others, including deep uneconomic pricing cuts, are unsustainable and will have to be reversed.
Buttressed by Mr. Lesar's remarks, the technical charts appear to reflect constructive, optimistic sentiment.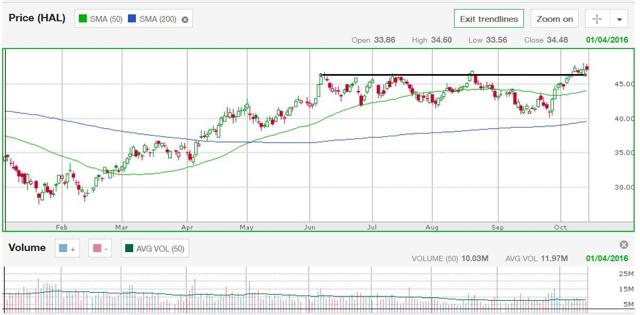 source: ameritrade.com
In April, HAL stock transcended the 200-day simple moving average. This was an important set-up.
In September, the RSI, MACD, and Money Flow Indicator all turned up (positive).
Just this month, the shares broke above the ~$46 resistance level; the stock had tried and failed 3 times previously. This price level may now become a floor.
Volume has remained solid throughout. Good volume tends to confirm trends.
Conclusions
Throughout 2016, Halliburton stock defied calls for swoon despite a weakened balance sheet, negative earnings/cash flow, and no immediate turnaround in sight.
Indeed, shares have risen 38% YTD.
Why?
Mr. Market is forward-looking. Investor sentiment has been positive, and on the upswing. Management remarks have contributed to the optimism. Nonetheless, it is important to recognize the fundamentals must ultimately support the momentum. The upcoming earnings release and conference call will be the next chance to fact-check the narrative.
I believe important items to watch on this week's earnings release and conference call include:
Is the North American situation improving? Linked-quarter revenues must increase even if operating margins do not. Eastern hemisphere results should not deteriorate.
Balance sheet issues should be addressed clearly. Is net debt decreasing? Is shareholder equity increasing? Is the asset utilization ratio (Revenue/Assets) improving?
Are adjusted operating earnings and cash flow hanging around break-even, with positive go-forward implications?
What's the underlying business narrative? Senior management needs to paint an optimistic picture; yet present such in a way that permits a plausible, "cold-eyes" review and concurrence.
Year-to-date, Halliburton investors have enjoyed an excellent run. It's not a time to get greedy: Frankly, I suspect the easy money has been made already.
Nonetheless, long-term investors may still find the shares attractive under these premises: 1) HAL will be one of the energy service industry leaders to enjoy a robust recovery, 2) emphasis on North American unconventionals and mature fields will carry the business farther and faster than peers, and 3) management has the drive and moxie to focus upon and repair the balance sheet.
Please do your own careful due diligence before making any investment decision. This article is not a recommendation to buy or sell any stock. Good luck with all your 2016 investments.
Disclosure: I am/we are long HAL.
I wrote this article myself, and it expresses my own opinions. I am not receiving compensation for it (other than from Seeking Alpha). I have no business relationship with any company whose stock is mentioned in this article.