In this article, I want to show you a few graphs that elaborate on today's industrial production number and give us an insight on where the economy is headed.
I added the ISM Manufacturing Index to every graph to display the economic outlook. The ISM Manufacturing Index is a leading indicator and tells us what is going to happen in terms of economic growth and stock market returns.
In September, the ISM Index beat estimates and hit 51.5. This indicated that coincident indicators like industrial production should pick up.
Industrial production declined 1% on a year-on-year basis. This is 20 basis points better than last month's print. This means that industrial production is contracting and that the ISM Index has been right again. Industrial production is less worse than last month but still extremely 'weak'.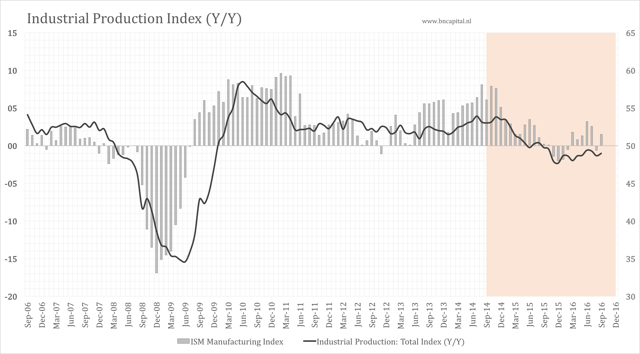 NAICS Manufacturing is up 0.1% versus one year ago. We see the exact same pattern in comparison to the total industrial production index. The biggest difference is that manufacturing is not contracting. There is just no growth at all since the start of growth slowing in 2014. A negative ISM print would push manufacturing into contraction territory. On the other hand, much stronger ISM growth is needed to get manufacturing back at 4-5% growth.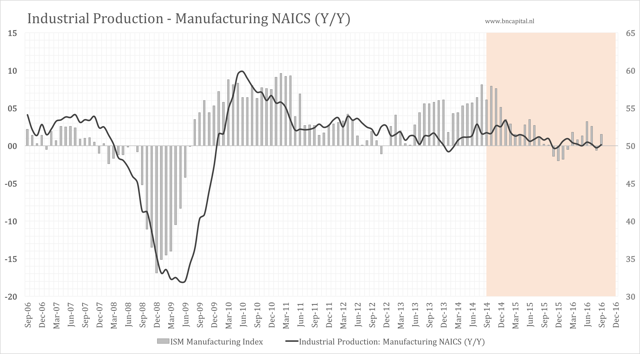 Business equipment is a very good indicator for economic strength since it displays a big stream of capital expenditures. Is slowed down from more than 5% growth in 2014 to more than 2% contraction in 2015. Since then, there has been no month with growth. Even during the ISM 'peak' this year, there has been no growth.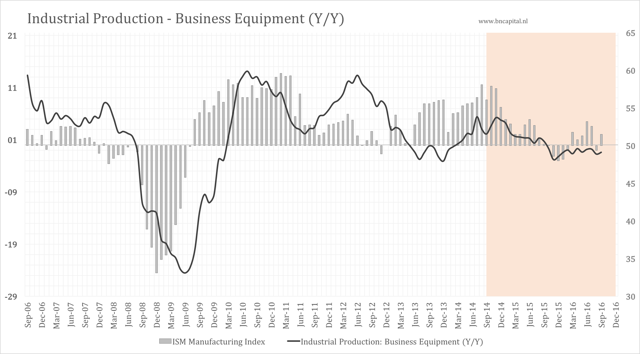 Steel and iron products is a different indicator. If this indicator is growing, you know that the economy is growing very strongly. In rather weak economic times, we see that steel and iron product production is down close to 15%. Therefore, it is interesting to see that steel and iron did quite well once the ISM Index picked up in Q1 of this year. Unfortunately, production is down again and likely to stay low if the ISM Index doesn't increase.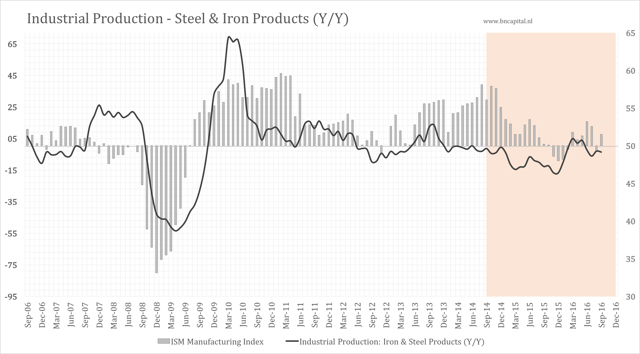 Today's release shows us two things. First of all, the ISM Index keeps leading coincident data. Point two is that the economy is extremely slow and very likely to stay at low levels. My growth slowing, late-cycle economic outlooks keeps getting confirmed (unfortunately).
Thank you for reading my article. Please leave a comment below if you have questions or remarks.
Disclosure: I/we have no positions in any stocks mentioned, and no plans to initiate any positions within the next 72 hours.
I wrote this article myself, and it expresses my own opinions. I am not receiving compensation for it (other than from Seeking Alpha). I have no business relationship with any company whose stock is mentioned in this article.