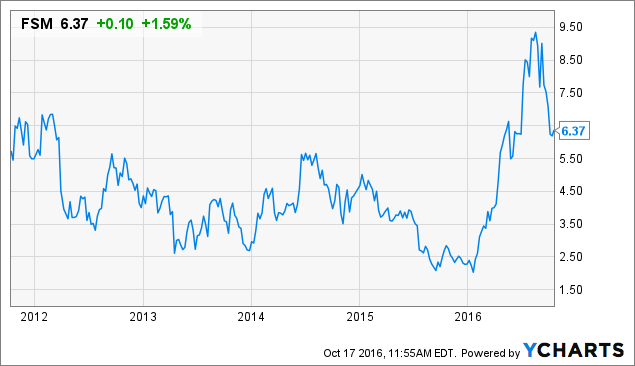 FSM data by YCharts
The story at Fortuna Silver Mines (NYSE:FSM) is getting a bit more interesting following the release of the company's Q3 2016 production results. Readers may remember that when I last covered Fortuna's second quarter earnings, I said that even though the company had an outstanding quarter with strong cash flow, I felt shares were not worth buying given the stock's valuation. At the time, shares traded at $9, and have since sold off sharply to the current price of $6.36 (mainly due to the drop in silver prices).
The strong production results in Q3 and the sell-off in the stock has made shares more attractive, but is the stock currently worth buying? First, I'll dive into the company's production results before giving my updated call on the stock.
Fortuna says it produced 2.1 million ounces of silver and 14,111 ounces of gold in Q3 from its two operating mines: the San Jose mine in Mexico and the Caylloma mine in Peru. This represents a 20% increase over Q3 2015 silver production and a 29% increase over gold production.
What really stands out to me, however, is the significant increase in base metal production. Fortuna says it produced 7.45 million pounds of lead (17% increase) and 10.6 million pounds of zinc (5% increase) over last year. This is pretty important, as additional base metal production should lead to lower all-in sustaining costs per silver equivalent ounce. It's also good news given the recent zinc price rally, due to a shortgage in zinc. Prices now sit just over $1 per pound, the highest level seen in over a year. This adds over $10 million in revenue for Q3.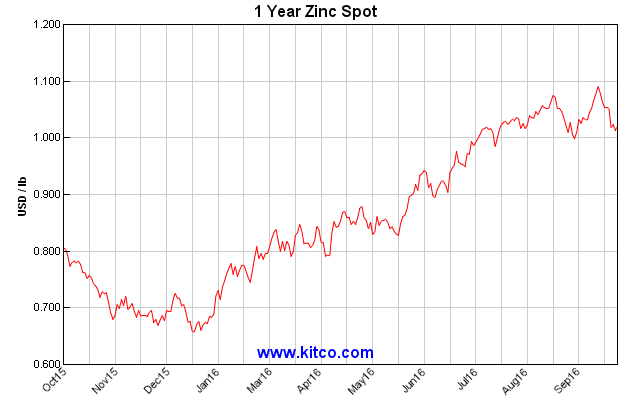 (Credit: Kitco Metals)
For the first 9 months of this year, the company's silver production is 5.3 million ounces (5% above plan), while gold production is 32,739 ounces (9% above plan).
Finally, Fortuna says that preliminary cash costs for the San Jose mine finished at $54.8 per ton, while cash costs for the Caylloma mine is $71.8 per ton. This is pretty good news, as it represents a significant drop from the $60.47 cash cost per ton at San Jose in Q2, and only a slight gain in cash costs at Caylloma, with costs averaging $71.01 in Q2.
Fortuna definitely had a strong quarter production wise, and investors certainly should expect a strong Q3 earnings. The company has a strong cash position of $90.8 million (as of last quarter) and just $40 million in debt, so the balance sheet is strong.
Meanwhile, the acquisition of the Lindero Project in Argentina gives it a low-cost gold asset that should produce 108,000 ounces of gold annually at $715 all-in sustaining costs, according to the company, while production could begin in a few years. The asset is expected to increase Fortuna's silver equivalent production from 14.2 million in 2016 to approximately 25 million by 2019, while also reducing all-in sustaining costs to $10.40 per ounce, according to Fortuna's corporate presentation.
I'm a fan of Fortuna's assets and growth strategy, and I think the company is a strong growth stock. Given the recent dip in the stock price, the valuation is definitely more compelling than it was in my previous article.
With $62.1 million in EBITDA expected for 2016 and an enterprise value of $865 million, Fortuna is trading at an EV/EBITDA of 13.9. With annual cash flow of $49.2 million, it trades at an EV/CashFlow of 17.5, lower than the 22.9 in my previous article. However, it's also important to note that these calculations are based on the assumption of a gold price of $1,150 and silver price of $15, so Fortuna will likely end up producing much more cash flow and earnings.
Here's the bottom line: Fortuna isn't a screaming buy here by any means because of its valuation, but the stock is certainly more attractively valued now compared to a few months ago. I like Fortuna's long-term growth plans, and I think the stock could outperform peers going forward if the company continues to execute.
Disclosure: I am/we are long FSM.
I wrote this article myself, and it expresses my own opinions. I am not receiving compensation for it (other than from Seeking Alpha). I have no business relationship with any company whose stock is mentioned in this article.