Big 5 Sporting Goods (NASDAQ:BGFV) has had an impressive run-up in its share price, but we think this is now exhausting itself and running into resistance. The shares have doubled from the lows as recently as early June.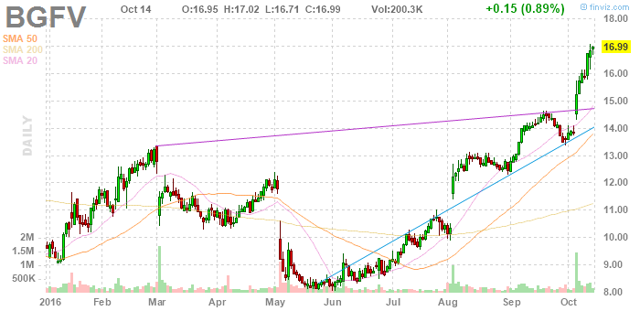 That is quite an achievement; this is a retailer selling a wide variety of sports apparel, shoes and equipment. It has had some considerable tailwinds recently which explains the extraordinary run-up in its share price.
Liquidation of a few competitors like Sports Chalet and The Sports Authority.
Announcement of a $25M share repurchase program.
Quarterly cash dividend of $0.125 per share.
An upgrade by Deutsche Bank to buy on October 6, with a price target of $16.50.
Upwards earnings revisions, the present quarter from $0.28 per share to $0.30 per share, and for the full year from $0.54 per share to $0.57 per share.
Good increases in same-store sales, in the high single digits.
The company expects the increase in the same-store sales to continue in the current quarter (from the Q2 results PR):
Mr. Miller continued, "We are off to a strong start in the third quarter, with same store sales for the quarter to date up in the high mid-single-digit range as we are beginning to benefit from numerous competitive store closures in our markets and customer recognition of the convenience, strong product assortment and value that Big 5 Sporting Goods offers.
On the other hand, it's actually closing more stores (ten) this year than that it's opening new ones (five to eight). This isn't necessarily a negative as the new locations might be better (and/or have lower cost) compared to the old ones, but there is no expansion on this front.
That means that the leverage for an even higher stock price will have to come from a further acceleration in the same-store sales growth and/or margin expansion. Given the retail climate in the US, that doesn't seem overly likely to us.
The balance sheet is relatively clean ($59M in long-term debt and $8M in cash and cash equivalents). There is some secular growth trend in revenues: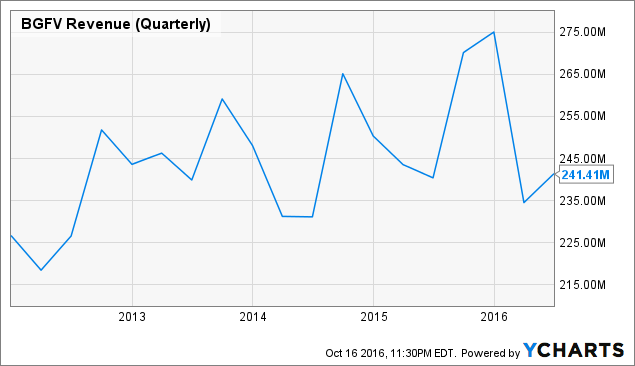 But not really in earnings: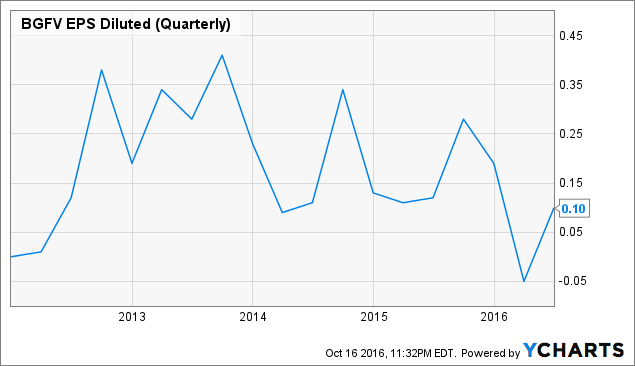 Which brings us to valuation issues. Analysts expect $0.52 per share in profit this year (down from $0.79 per share last year), rising to $0.65-$0.73 per share next year, so it's valued over 25 times next year's earnings. That's a little steep already, although it does have a 3% dividend yield.
But considering the valuation, the steep run-up and deep overbought territory, and few possibilities for leveraging the business model, we think the shares have limited upside for now and need some cooling off. It could be a temporary short, or one could sell out-of-the-money call options.
Disclosure: I/we have no positions in any stocks mentioned, but may initiate a short position in BGFV over the next 72 hours.
I wrote this article myself, and it expresses my own opinions. I am not receiving compensation for it (other than from Seeking Alpha). I have no business relationship with any company whose stock is mentioned in this article.