Introduction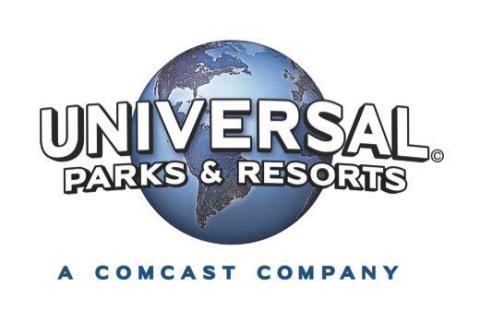 Comcast (NASDAQ:CMCSA) had a great second quarter in its cable communications segment with revenues increasing 6% to $12.4 billion. However, the trend of cord cutting is real. What is barely mentioned in the company's presentation is the net loss of the 4,000 pay-television subscribers. No one believes the cord cutting revenue trend will happen overnight. I prefer to think of the trend like beach erosion, slowly taking the sand away till the beach is no longer.
What could make up for the lost of revenue from it's cable segment is Comcast's theme park division. The theme park division in the company has been slowly growing to be a strong factor in the Comcast business model and its growth is showing in the financials too. Each park in Orlando, Las Angeles and Japan are strategically placed to maximize profits. Not to mention the company will be growing in the future with expansion plans in Orlando and a new park opening in China.
Theme Park Breaking Records
Comcast's theme park business has been on a hot streak ever since they opened their Wizarding World of Harry Potter. Since opening up the new addition in 2013 the park the revenues have been up a total of 49%. In 2015 the theme park business was breaking records in revenue and operating income showing strong growth year over year (YOY). Revenue was up 27.3% YOY and operating income was up 33.58% YOY. Moreover, the theme park revenue CAGR over the last five years is 12.25%.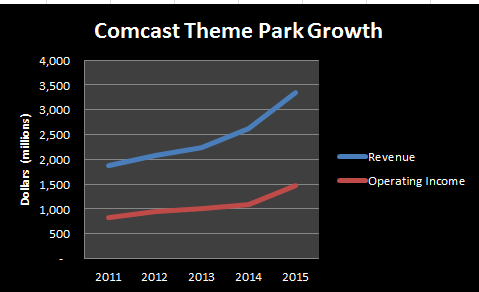 In 2016, the theme park has uncharted growth as well. Frst quarter 2016 attendance was up and higher spending per capita increased as well. I think the most impressive item from the first quarter financials is that theme park revenue is up 57.5% percent compared to the prior year quarter.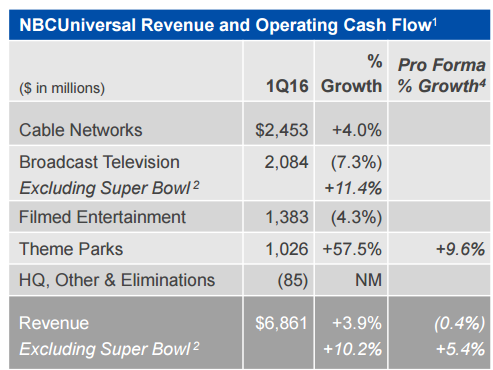 First quarter NBCUniversal Revenue
Source: Comcast.com Investor Relations
The second quarter theme park revenue is equally as impressive and recorded double-digit growth once more. In addition, revenue was up 47% compared to the prior year quarter.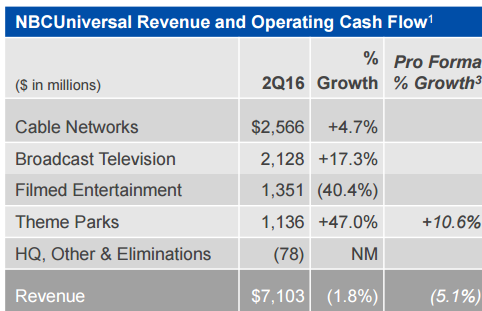 Second quarter NBCUniversal Revenue
Source: Comcast.com Investor Relations
Needless to say, the theme park business is going break records once more in 2016. In addition, based on these two quarters, the theme park business makes up a total of 5% of all revenue in 2016 so far. Based on prior years, I think the next two quarters will show high revenue earnings as well. Third quarter contains the most popular months in July, August and September. The fourth quarter earnings may, however, be affected by Hurricane Matthew with the park closing. However, their Halloween event at Universal parks is gaining traction, and I believe that this event will make up for the loss of income from Hurricane Matthew.
Future Theme Park Segment Growth
Comcast also is planning for the future. In 2016, Comcast completed a $130 million land purchase of 475 acres across from the actual theme park.
Orlando Land Purchase
Source: Orlando Sentinel
Per the Orlando Sentinel, they believe that this park could become an additional future park along with brand new resorts. In the article, Bill Coan, a designer of attractions in the Orlando area, believes that this park will be very different from the traditional theme parks and be very interactive for guests. Another possibility is to add more Harry Potter attractions to their new theme park or perhaps a Harry Potter themed resort. The sky could be the limit on the new land purchase now that Comcast inked a deal with J.K Rowling for the Wizarding World rights including the newest movie Fantastic Beasts and Where to Find Them. While the plans for the new purchase are long term, according to hospitality professor Duncan Dickson, he believes that hotels and entertainment could come first followed by the theme park due to capital costs.
The Comcast theme park segment is growing internationally as well. In 2015, Comcast purchased a majority stake in the already established Universal Studios in Japan. Plus it licenses out its theme park rights to Genting Group in Singapore as well. Last year the company announced plans that they will be building a $3.3 billion park in Beijing. According to the LA times, there is still speculation on what the park will hold, but at best guess the park will include movie-centric rides and attractions based on China's cultural heritage. In addition, the park would include resort style hotels and shopping. This future park has a soft opening date in 2019. While I am a fan of international expansion, I don't particularly think that the park in Beijing will provide the same amount of revenue from its domestic parks. The Walt Disney Company (NYSE:DIS) already has a park in Hong Kong and their park was lagging in 2015 compared to their other magical group of parks. Not to mention, China's Dalian Wanda is already challenging Disney over China by building out his larger than life parks. This could spell trouble for Disney and Universal as they start up their new parks in this country.
Conclusion
The theme park segment is a very small revenue producer for Comcast at only 4% percent of revenue. However, based on actual growth and future parks I think that over time the theme park business could make up for some of the loss cord cutter revenue. Overall, the stock has a great dividend that yields 1.67% and the dividend should be stable with a low payout ratio of 31.91%. The stock is has a fairly priced P/E ratio of 19.84 compared to the current S&P ratio. Moreover, Comcast has a one-year stock target of $75.70, which indicates a 16% gain based its current price. Plus the stock has an average buy rating based on 25 analysts. Based on the dividend yield, target price and analyst buy rating I think that this stock is a solid buy at current levels.
Disclosure: I am/we are long DIS, T.
I wrote this article myself, and it expresses my own opinions. I am not receiving compensation for it (other than from Seeking Alpha). I have no business relationship with any company whose stock is mentioned in this article.