In an article I had penned last month, I highlighted why Bank of America (NYSE:BAC) was poised for outperformance. Today, Bank of America reported its Q3 report which outperformed virtually every expectation. BAC earned $0.42/share this quarter (after adjustments), handily beating the street estimate of $0.34 and its revenue of $21.99B was also ahead of the street by 5.6%. So let's look at what was driving this performance and why I think that there are more good quarters ahead.
1) Consumer Banking Growth
Consumer banking is BAC's backbone. The largest contributor of BAC's income is consumer banking. For this reason, growth in both deposits and loans is important for BAC. In Q3, the consumer banking division posted a 3% YoY increase in income and more importantly also showed a QoQ loan growth of 2%, as well as a QoQ deposit growth of 2%. At the same time, the quality of the consumer loan portfolio has continued to improve sequentially as net charge-offs have continued to trend lower.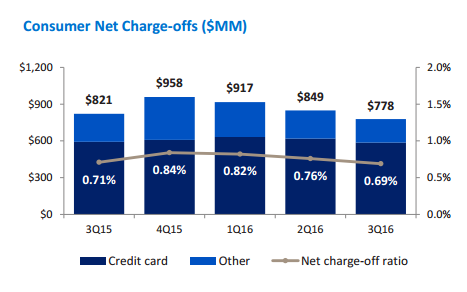 We are in what I consider to be the late stage of an economic expansion. During this time frame, consumers typically see an improvement in their incomes as companies begin to compete with one another for talent. This leads to a stronger consumer with a better bank balance. With the Fed keen on keeping rates lower for longer, we can see this continue for a bit longer than average.
2) Wealth Management and Capital Markets divisions are continuing to hum along
Many of BAC's peers have reported strong trading profits and investment banking income. BAC's IB and trading income did not disappoint either and strong growth on both fronts (save for the weak equity trading) helped propel the upside in BAC's quarterly EPS. BAC's investment management arm has also been quietly outperforming, attracting over $10B in assets while also increasing its YoY income by 10%.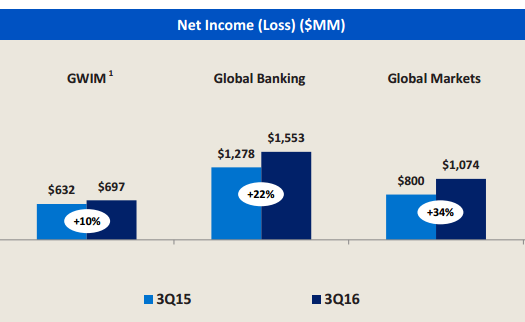 Investment banking and trading are high margin businesses. Debt issuance has been strong as of late as has been fixed income trading. With credit spreads at benign levels, it is easy to see the strength in fixed income carry into the coming quarters.
3) Expenses Are Being Controlled
When revenues increase, expenses increase for most companies. In the case of BAC, it is laser focused on controlling its non-interest related expenses. It is very heartening to see that while income and revenues rose across the board for BAC, its expenses on a YoY basis has continued trending lower.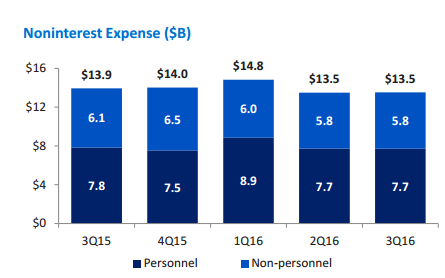 If you recall, items such as litigation expense were becoming a headache for BAC and these expenses have continued to come down. Furthermore, headcount at BAC is down from 215k to 209k on a YoY basis. I think there is more potential for cost cutting as BAC looks to become a leaner operation.
BAC's Q3 report was solid, and looking ahead, I continue to believe in the thesis that this bank will continue to outperform its peers. Looking ahead, I will be keenly interested on management guidance on three factors:
1) Net interest margin updates
2) Outlook for trading income
3) Outlook for its loan book
Disclosure: I/we have no positions in any stocks mentioned, and no plans to initiate any positions within the next 72 hours.
I wrote this article myself, and it expresses my own opinions. I am not receiving compensation for it (other than from Seeking Alpha). I have no business relationship with any company whose stock is mentioned in this article.