Investors don't seem to be able to make up their minds these days. While there are good reasons to be invested in stocks (tightening labor markets, moderate growth in the U.S., pockets of low valuation), there are other reasons to stay on the sidelines for now. For instance, the U.S. Presidential Election (or mudslinging contest) is weighing on stocks, and the Federal Reserve's persistent unwillingness to hike interest rates risks an overheating of the economy... which could lead to a potential downfall of the stock market, too. Risks and opportunities both exist.
General Electric (NYSE:GE) is only one company out of many that has had a more difficult standing with investors lately. Investor optimism with respect to General Electric went through the roof last year when the industrial company announced a major restructuring and billions upon billions of capital returns to shareholders. While investors ate that story up (and rightly so), profit taking has taken a toll on General Electric as of late.
General Electric's shares have cratered ~7 percent since the beginning of the year, and the downfall has only gotten worse in the last three months. Profit taking has had a real negative impact on GE: Shares cost ~13 percent less today than they did on July 20, 2016 when they sold for $33.
See for yourself: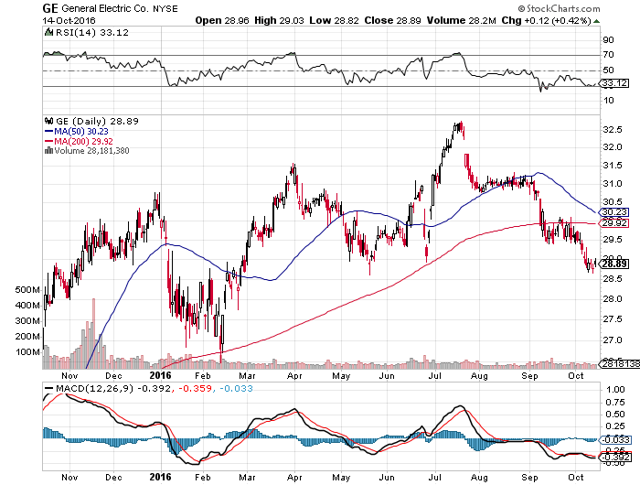 Source: StockCharts.com
Though General Electric is about to complete its asset sales program and will continue to return a boat load of cash to shareholders over the short haul, investors appear to have lost their appetite for General Electric. And that is concerning, at least over the short haul.
In my last piece I penned on the industrial company, entitled "General Electric: Brace For Impact?", I recommended buying General Electric for yield considerations.
I had this to say about the potential for downside in today's stock market:
Weak employment figures don't tend to sit well with investors which is why every investor needs to factor in another drop in market and equity valuations. General Electric, as far as I am concerned, looks appealing at ~$27 (support), or when it starts to get oversold again. Buy for income and capital appreciation.
So, the question is, what could be a catalyst for General Electric to go lower, and complete its current consolidation?
Weak economic data could certainly be a catalyst... And so could General Electric's 3rd quarter earnings which will be reported next Friday, on October 21, 2016. While I am not planning for a market slide on weaker-than-expected 3rd quarter earnings, I surely will have some cash ready should General Electric drop towards $27 any time soon.
Read also: "General Electric: Putting In A Limit Buy Order At $27?".
Your Takeaway
I can't help but like General Electric. The company makes all the right moves, and an investment in GE continues to yield in excess of 3 percent.
General Electric has shrunk dramatically in the last year, and has a heck of a future as one of the world's leading industrial companies.
GE's shares have suffered lately on the back of profit taking after a strong run. I still think GE can drop a little lower on the back of some negative news event, or a weaker-than-expected Q3-16 earnings picture (and shares are not oversold just yet). If anything, I will scramble some cash together to gobble up some more shares at around the $27 price level.
If you like to read more of my articles, and like to be kept up to date with the companies I cover, I kindly ask you that you scroll to the top of this page and click 'follow'. I am largely investing in dividend paying stocks, but also venture out occasionally and cover special situations that offer appealing reward-to-risk ratios and have potential for significant capital appreciation. Above all, my immediate investment goal is to achieve financial independence.
Disclosure: I am/we are long GE.
I wrote this article myself, and it expresses my own opinions. I am not receiving compensation for it (other than from Seeking Alpha). I have no business relationship with any company whose stock is mentioned in this article.