Note 7: Important Lesson in Psychology
Troubles for Samsung (OTC:SSNLF) are just beginning for the Note 7 fiasco. One wonders if there is not a deeper lesson to be learned from this. I believe there is. In fact, it is a psychological trait to which we are all susceptible if not careful.
Background
Samsung has really upped its game in the last few years, creating some excellent hardware in its premium lines. This image, however, has been tarnished by the exploding Galaxy Note 7.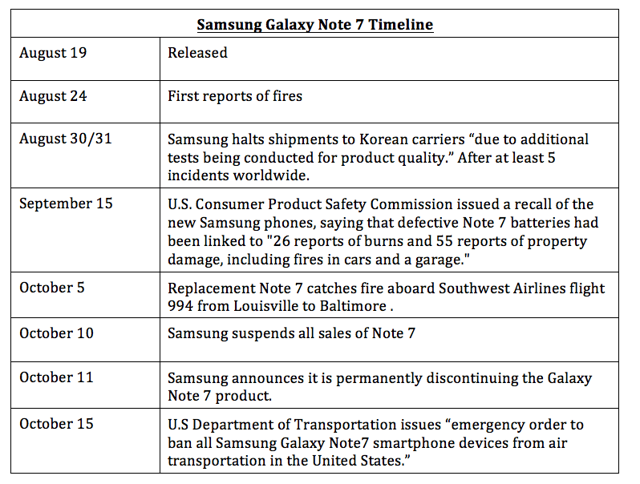 The Physics
Basically, whenever electrical current flows through a conductor, a percentage of the energy is lost to heat. In a toaster you want to maximize this since heat is your objective. In most other devices however, you try to minimize it. This is called Joule Heating.
The Joule Lenz law states that the power of heating (P) generated by an electrical conductor is proportional (∝) to the product of its resistance (R) and the square of the current (I):

Notice how the current is squared. This means that the heat increases much more rapidly as the current increases. Current increases as resistance falls. But as resistance falls linearly, power of heating increases exponentially. If resistance goes to virtually nothing - as in a short circuit - the current becomes enormous and heat becomes extreme.
So this is why a short circuit in, say a toaster, can cause house wires to overheat and start a fire, and why house wiring is protected by circuit breakers.
It is also why your smartphone heats up when you run a video or do some compute intensive operation. To do all that work, more current is flowing through the circuitry, generating more heat.
Add to this fact that the fluid inside the Lithium-ion batteries is itself flammable, and you have a potential bomb, if everything is not properly controlled.
Samsung Note 7 - what happened
So, clearly we have some kind of short circuit in the system. The question was, and remains, where. At the time of the first recall, Samsung was convinced that the problem was batteries from one or two of the many producers. They believed that excess force during the manufacturing process had damaged some of the production run. Batteries from other producers would not have the problem.
Unfortunately, for Samsung, this was not the case. Therefore, either there was a basic flaw in the battery design that was independent of producer, or the issue actually lies elsewhere.
There are other areas that could affect the same result. There is circuitry and logic that control the charging of the battery and the system draw. Either an error in controller logic or the failure of an electronic circuit component could cause a short to occur.
The real cause
But all these are details. The real problem lies in Samsung's development process. This problem was exacerbated by a psychological trait that was triggered by Samsung's systemic problem.
The flaw in Samsung's system was the pressure that it put on itself to produce the new phone before Apple (NASDAQ:AAPL) released the new iPhone 7.
Engineers are typically subjected to pressure to produce and work long hours to meet deadlines. Apple itself fell to this pressure with the release of the Maps app. While it had a lot of good features, in some ways better than Google Maps at the time, the basic failures of the underlying data system meant the whole thing blew up in their face.
The difference here is that the blow up was only figurative. With the Note 7, this was very literal.
Psychological factor
The pressure to release triggered a psychological pattern that is one that exists in most people to one degree or another:
The Wishful Thinking Complex
Here, the very excellent engineers at Samsung designed and tested their battery systems but were unable to do so as thoroughly as they should have. Under the pressure to meet the delivery deadline, reluctantly they submitted the production specifications. I can imagine them thinking:
"We really ought to do more, but hey, this is just like any other battery. Nothing has ever gone really wrong before. So what could happen now?"
I have written before on how psychological traits can lead to disaster with the demise of BlackBerry (NASDAQ:BBRY). Here we have something a bit different, although related.
It is interesting to see how the exact same process played out a second time during the first recall.
Once there were more than a couple of fires, Samsung went into panic mode to find the problem. Nobody wanted to tell management "no, we are not sure of this." They wanted a solution immediately. So, when they found a reason for the fires that seemed plausible, the wishful thinking complex kicked in, and they promoted it as the sure solution.
Wrong.
Again.
Lesson
The lesson here for any organization is this. The simple reality is that engineering deadlines always come too soon, and professionals are always under pressure. But the organization must understand what systems are too critical to rush, where failure is too grave to risk any failure. And these systems must be protected from extreme pressure. In systems such as this, the company itself must have the attitude that we will either delay release or release without this feature when the system in question is this critical.
I really do not believe that any of the engineers consciously took shortcuts. No, they may have had misgivings, but in the end, they sincerely believed "It's OK. It will all be alright."
This has been a terrible lesson for Samsung. One estimate is that it will cost the company $19 billion. The group Branding Brand conducted a survey of 1,000 U.S. Samsung smartphone owners and found that 34% said they would never buy the Samsung brand again. And this was before fires on the replacement sets and the final recall. If this turns out to be true, or even worse given subsequent events, then the long-term damage could be even worse.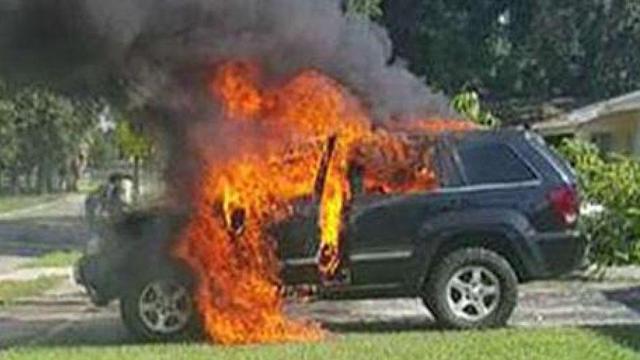 (Source: Fox News)
We can just all be happy that no one has been seriously hurt.
Disclosure: I am/we are long AAPL.
I wrote this article myself, and it expresses my own opinions. I am not receiving compensation for it (other than from Seeking Alpha). I have no business relationship with any company whose stock is mentioned in this article.
Editor's Note: This article discusses one or more securities that do not trade on a major U.S. exchange. Please be aware of the risks associated with these stocks.