Once each month, I take data from several other articles I write in order to write a piece regarding the total oil picture for investors. After making some necessary adjustments to my model to err on the side of conservatism and after incorporating changes made by the EIA (Energy Information Administration) in its monthly Drilling Productivity Report, as well as taking the necessary data from the EIA's Short-Term Energy Outlook, OPEC's monthly report, and the IEA's (International Energy Agency's) monthly report, I was able to arrive at a conclusion of how the oil market's looking right now.
In what follows, I will dig into my results and give my thoughts on what it likely means for investors in companies like Memorial Production Partners (NASDAQ:MEMP), Approach Resources (NASDAQ:AREX), and Legacy Reserves (NASDAQ:LGCY), as well as for the United States Oil ETF (NYSEARCA:USO) and other oil-related ETFs moving forward.
A look at the U.S.
In the table below, you can see my projections for the oil production levels of the seven largest oil and natural gas producing regions covered by the EIA every month for this year. What you can see is that, if my model is correct, total oil production from these regions this year should come out to between 4,168,291 barrels per day and 4,420,470 barrels per day.
If this turns out to be accurate, it will imply a year-over-year drop in December of 2016 of between 717,415 barrels per day and 969,594 barrels per day from the 5,137,885 barrels per day seen in December of last year.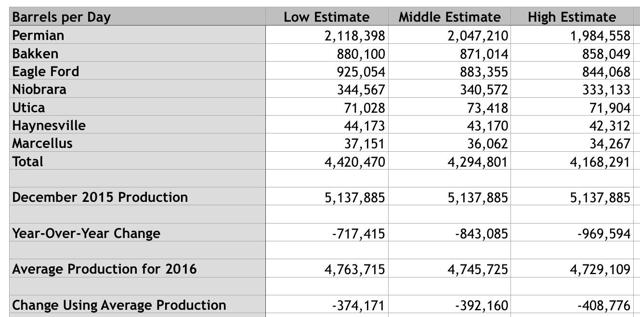 *Table Created by Author Using EIA Data
While this data is great to see and it suggests further falloffs in this category of supply next year, it doesn't give us a very good picture this year. To do that, I created the last line in that table, whereby I looked, using a conservative, a moderate, and a liberal scenario, the average oil production in those regions this year compared to December of 2015. What you can see is that, if the EIA is correct, output should drop, on average, by between 374,171 barrels per day and 408,776 barrels per day.
What about globally?
While the U.S. is one thing, we need to be cognizant of the fact that oil production data from across the globe is important as well. To account for this, I created the following table below, which looks not only at U.S. production but factors like the estimated global glut's size last year (1.5 million barrels per day was my estimate), how much OPEC will increase output by this year, how much the rest of the world will see production change, and OPEC's estimate of the growth in oil demand this year.

*Table Created by Author Using EIA, OPEC, and IEA Data
Incorporating all of this data into my model, I concluded that the glut this year should increase to the tune of between 371,224 barrels per day and 405,829 barrels per day. Throughout the course of a year, this data implies a build of between 150.10 million barrels and 162.73 million barrels and suggests that matters don't look all that great. While this does appear to be the case, however, the data may end up being more appealing if OPEC is wrong on global demand growth for oil this year.
You see, at 1.16 million barrels per day, OPEC's forecasted demand growth is actually the lowest between it, the IEA, and the EIA. Even though the IEA recently lowered its 2016 forecast from 1.40 million barrels per day to 1.20 million barrels per day, this number is still above OPEC's estimate. Meanwhile, the EIA's data is the most bullish, with demand growth expected to rise by a whopping 1.29 million barrels per day.

*Table Created by Author Using EIA, OPEC, and IEA Data
If you look at those two approaches instead of paying attention to OPEC's pessimistic scenario, the picture looks a little better. Based on my calculations, the IEA's model would call for, at most, a build of 148.13 million barrels this year, but if the liberal scenario of the EIA's scenario turns out to be correct, then the build in global inventories may be as small at 102.65 million barrels throughout all of 2016.
It should be mentioned that, though this looks negative (and it is), the fact of the matter is that recent decreases in demand forecasts are due largely to upward revisions in demand for last year. This would actually mean that the excess (the 1.50 million barrels per day in this case) may actually end up being overstated. If, for instance, we used the same 2015 demand assumptions from the EIA but used the new 2016 data, demand growth this year would have averaged 1.45 million barrels per day.
Keeping all else the same, this would mean a decrease from the EIA numbers shown of 58.40 million barrels, suggesting a build this year of as little as 44.25 million barrels. OPEC's data would mean a drop from the numbers shown for it of 47.45 million barrels.
Takeaway
Right now, it's hard to tell exactly what the oil market looks like, but if we use the data provided by OPEC and other parties, we are certainly looking at some sort of worsening, on the whole, for the industry from a supply perspective this year. Having said that, with OPEC willing to cut oil production moving forward and with global demand expected to increase further next year, it's only a matter of time before the market rebalances and this is ultimately positive for long-term oil investors moving forward.
Disclosure: I am/we are long AREX, MEMP, LGCY.
I wrote this article myself, and it expresses my own opinions. I am not receiving compensation for it (other than from Seeking Alpha). I have no business relationship with any company whose stock is mentioned in this article.
Additional disclosure: I own LGCYO, not LGCY
Editor's Note: This article covers one or more stocks trading at less than $1 per share and/or with less than a $100 million market cap. Please be aware of the risks associated with these stocks.