December 2017 Fed Funds futures are trading at just 77 basis points, which suggests the expectation of a mere 1.5 25-bp rate hikes between then and now. Or in other words, the market is expecting just a 50% chance of a 25-bp rate increase in 2017. This pales in comparison to last year when December's 25-bp increase was widely believed by many to presage 3-4 moves in 2016. But a rash of weak GDP and inflation data, combined with an ideologically dovish Fed that perhaps wasn't as well-known as it is now, put the hammer down on the idea.
Based on the Chicago Mercantile Exchange's website, its Fed Funds future contracts price in the likelihood of the overnight rate being within a particular range by certain Fed meeting dates:
November 2016
25-50 bps: 91.7%
50-75 bps: 8.3% (in reality, the probability is effectively zero)
Weighted average rate expectation: 39.6 bps
December 2016
25-50 bps: 30.5%
50-75 bps: 64.0%
75-100 bps: 5.5% (this should also be zero)
Weighted average rate expectation: 56.3 bps
February 2017
25-50 bps: 28.0%
50-75 bps: 61.3%
75-100 bps: 10.2%
100-125 bps: 0.4%
Weighted average rate expectation: 58.2 bps
March 2017
25-50 bps: 25.6%
50-75 bps: 58.4%
75-100 bps: 14.7%
100-125 bps: 1.3%
125-150 bps: 0.0%
Weighted average rate expectation: 60.4 bps
May 2017
25-50 bps: 23.4%
50-75 bps: 55.6%
75-100 bps: 18.5%
100-125 bps: 2.5%
125-150 bps: 0.1%
Weighted average rate expectation: 62.7 bps
June 2017
25-50 bps: 20.1%
50-75 bps: 51.1%
75-100 bps: 23.6%
100-125 bps: 4.7%
125-150 bps: 0.5%
150-175 bps: 0.0%
Weighted average rate expectation: 66.1 bps
July 2017
25-50 bps: 19.1%
50-75 bps: 49.6%
75-100 bps: 25.0%
100-125 bps: 5.6%
125-150 bps: 0.7%
150-175 bps: 0.0%
Weighted average rate expectation: 67.3 bps
September 2017
25-50 bps: 17.1%
50-75 bps: 46.2%
75-100 bps: 27.6%
100-125 bps: 7.7%
125-150 bps: 1.2%
150-175 bps: 0.1%
Weighted average rate expectation: 69.9 bps
A weighted average rate expectation of 62.5 bps would be indicative of exactly one expected rate hike by the given meeting date. By December 2016, there is 75.2% chance of a rate hike. But even by September 2017, just 36.6% of market participants anticipate a rate increase to 75-100 bps.
At the Fed's September meeting, FOMC announced expectations for two hikes in 2017 and three each in 2018 and 2019, which would bring the overnight rate to 2.25%-2.50% by the end of that three-year period. In the long-run the committee expects a terminal rate of 2.75%-3.00%. The Fed normally does a "dot plot" showing a tally of how many FOMC committee members predict a certain overnight rate by a given year-end mark.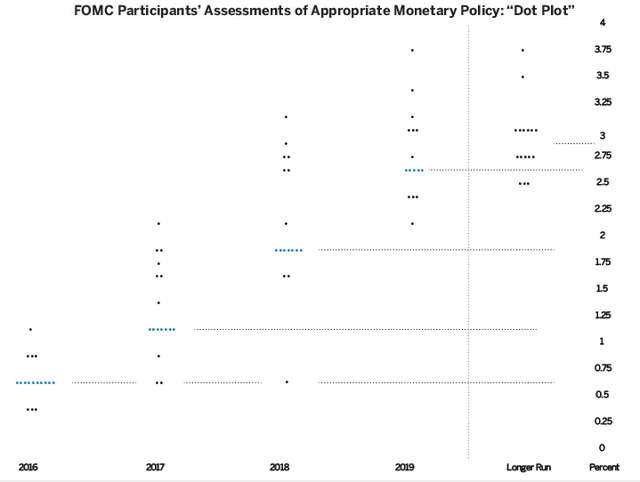 (Source: Federal Reserve; info in HTML format can be found here)
Nonetheless, the market is largely not buying the notion of two quarter-point increases in 2017, based on what has been an ongoing stagnant economy and the Fed's philosophical outlook. We have had the most dovish Fed in history, illustrated by the largest divergence from the Taylor Rule's stipulation of what the overnight rate should be.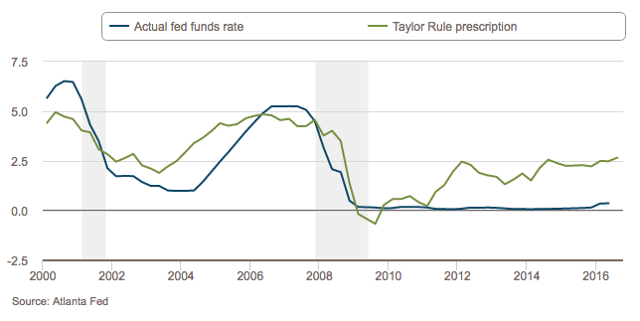 Investors have tended to have a better grasp on the future trajectory of monetary policy than the Fed itself, which has consistently overestimated the pace and extent to which rates will go up. The current market is expecting 2017 to have a half-chance of being a repeat of both 2015 and 2016, which may represent another one-increase year in anticipation of a 25-bp hike in December.
Implications for the Financial Markets
This has implications in various financial markets. For one, market expectations are so heavily skewed toward ongoing Fed inaction (beyond December's expected nominal increase) that the ability for certain asset classes to squeeze further gains out of lowered rate outlooks is virtually gone. Some of the gains in the stock and bond markets in 2016 have been derived from the market's realization that the Fed was not likely to follow through on its expectations. Low rates have the effect of keeping discount rates low, which in turn boosts the present value of cash flows that constitute the price of these assets.
High-yield credit has had an especially good year from February on forward while the market continually discounted the likelihood of the Fed moving any time before the end of the year. Moreover, the poor yield environment in sovereign debt has forced more funds into riskier securities. The more well-known high-yield funds (NYSEARCA:HYG) and (NYSEARCA:JNK) are up ~13% and ~20% YTD.
Bank stocks (NYSEARCA:XLF) would be in slightly better shape with a rate increase, but 25 bps only does so much. Banks are still mired in a low activity, hyper-regulated, and hyper-litigated environment that is bound to continue without structural change. Returns on equity will benefit little and banks are very likely to continue to trade at a discount to book value. With how entangled banks are in the overall macro picture, and little growth and central bank help expected on the horizon, in my estimation, the risks in this sector remain asymmetrically skewed to the downside.
The movement of the U.S. dollar (NYSEARCA:UUP)(NYSEARCA:UDN) is also likely to remain limited. December's rate increase is largely already priced in, with the USD appreciating versus most of the major currencies over the past few weeks. If anything, with weakness throughout the global economy and the European Central Bank and Bank of Japan likely to keep their monetary policy regimes loose for an indefinite period of time, the U.S. dollar will likely range anywhere from sideways to perhaps slightly bullish.
Gold (NYSEARCA:GLD)(NYMEX:GC) likely has slight bullish upside. Growth at the U.S. or global level is not likely to improve. If inflation picks up in the U.S., as it has the chance to, gold could see a strong uptrend. Within the U.S. economy, the combination of lower productivity and lower labor force participation is putting a lid on the supply side of the economy. Productivity averaged 2.34% gains annually from Q1 1990 to Q4 2010. From that point forward, productivity has averaged just 0.34%. Labor force participation rate is around an all-time low and is projected to fall further due to aging demographics. As population growth continues, the economy reaches some ostensible level of full employment, and the demand side begins running into these supply constraints, inflation will have the chance to pick up beyond the rate at which the Fed is willing to tighten. Stagflationary forces, which were experienced to an extreme extent during the late-70's and early-80's, would be directly bullish for gold.
Naturally, if stagflation became a part of the economic landscape in the U.S., this would constitute a lose-lose situation for policymakers. There's the choice of either living with higher inflation or slowing the economy down despite its current stagnancy, which runs with a high risk of recession.
Inflation is an open question, but the market has likely correctly pegged the reality that rate increases in response to better economic growth are unlikely. With lowering labor force participation (one of the primary inputs into the economy), a steady decline in fertility rates, and an uptick in life expectancy, productivity is naturally in decline and is something that is particularly difficult to fight. With a smaller labor force and loose monetary policy expanding the money supply, the capital-to-labor ratio becomes skewed upward. Insufficient demand to soak up this excess liquidity supply as a consequence of limited capital investment opportunities biases the neutral interest rate downward.
Conclusion
All this boils down to the (likely correct) belief that the Fed will struggle to increase rates very much going forward, unless unwanted shocks come into the picture (e.g., stagflation). Low equilibrium interest rates are likely to persist in light of a stagnating economy. In terms of asset class implications, low growth means lower earnings; nevertheless, low rates also support bond and equity valuations. A limited outlook in U.S. monetary policy also limits the upside in the U.S. dollar outside of whatever benefit might be provided from relative weakness and economic shocks in other parts of the world (e.g., Brexit). Although gold has fallen in the past month in anticipation of a Fed rate hike, additional increases beyond that are unlikely. With a lack of bullish forces in play for the U.S. dollar outside of potential safe haven inflows, gold could continue to have upside and especially so if inflation picks up.
One of the more important focuses, from a policy perspective, is that the persistence of low real interest rates indicates that conventional monetary policy is unlikely to have the same stimulatory effects that it formerly had going forward. This could mean that unconventional central bank initiatives will become more popular in response to economic down-cycles in the future. For example, we could see an increasing preponderance of negative real rates, aggressive quantitative easing regimes that include the purchase of individual equities, and money supply expansion by printing and directly placing money into the hands of the consumers.
Disclosure: I am/we are long GC.
I wrote this article myself, and it expresses my own opinions. I am not receiving compensation for it (other than from Seeking Alpha). I have no business relationship with any company whose stock is mentioned in this article.