Oracle Corporation (NYSE:ORCL) is a leading enterprise application provider who also provides hardware designed to optimize the run-time of Oracle's applications.
While Oracle's transition to the as-a-subscription model has received most of the attention, the hardware segment deserves scrutiny. After the FQ1 report, I lowered my estimate for total hardware sales by 10% and hardware product sales by 16%, leading to a 1% decline in the total revenue forecast. Hardware revenue grew in FY11 because FY10 included a partial year of revenue, and in FY14 hardware sales were flat y/y. There hasn't been a year of positive sales growth since FY11 and currently the sales decline is re-accelerating. Oracle spent about$7.3B for Sun Microsystems, Inc., which has been a significant drag on profitability and growth. On the other hand, Sun is an investment that improves Oracle's competitive position in the market.
Gartner named Oracle a leader of Integrated Systems with EMC (EMC) and HPE (NYSE:HPE) being the leaders of the leaders category. Oracle's integrated systems center around Oracle's software, which limits its total addressable market. The Engineered Systems provide differentiated performance of Oracle's application solutions. A couple of key negatives, some customers try to avoid vendor lock-in when selecting an integrated system, preferring to separate hardware and software vendors, and Oracle has ignored the market for generic integrated systems. HPE's strength is its breadth of solutions and its weakness is in its ability to execute. EMC's ability to execute is demonstrated in its compact but comprehensive integrated system portfolio; a negative surrounding EMC is the combination with Dell and how the combination will impact partnerships and the go-to market strategy and execution.
With Oracle issuing $14B of debt at the end of June and the leverage ratios trending higher, it made sense to see how the market is pricing the bonds with the hope that maybe there would be some yield there. The yield-to-maturity on securities going out about 5-years is in the 1.14%-2.11% range, and that kind of yield isn't enough to justify the taking the inflation, re-investment, and default risk. Also, with the FOMC tightening monetary policy, bond investors need to be wary of interest rate risk. Some of the securities going out about five years have high coupon rates that can look attractive to income investors, but the bonds are priced at a substantial premium, maturing at par. Microsoft's (NASDAQ:MSFT) bonds going out about five years provide even less return-on-investment.
I'm reducing my return expectations for Oracle because of the slump in hardware-related sales. With my forecast for revenue and EPS being +1%, I don't see scope for significant upside. Besides the lack of growth, profitability is deteriorating with the operating margin set to decline to 33% from 34% in FY16 and 39% in FY14. With these fundamentals, the 42% discount to the Nasdaq on a P/E basis and the 14% discount to the industry on a P/S basis are justified, in my opinion. If the NetSuite (NYSE:N) acquisition closes, and I think that it will, there could be about 3-5% some upside from the closing of the transition.
The Only Segment Growing is Cloud
Oracle is doing an excellent job of executing on its cloud vision; FY16 cloud sales of $2.85B are set to increase by 62% to $4.63B. That makes Oracle one of the fastest growing cloud service providers. The increase in revenue from the cloud is enough to offset declining new software licenses and the larger category on premise sales. When you factor in that hardware sales are declining and services sales are declining, you easily reach the conclusion that the only segment growing is the cloud segment. The combination of all of these factors leads to flat total sales y/y. The NetSuite acquisition will boost total sales on a GAAP basis, but the underlying problem of Oracle having only one growing operating segment seems likely to persist.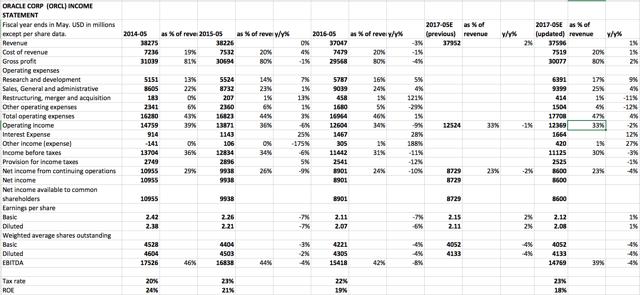 Data courtesy of Morningstar and forecast courtesy of Bottom Up Investing
For FY17, revenue is forecasted to increase 1% to $37.6B with operating income of $12.4B and net income of $8.6B. EPS is expected to come in at $2.12. The share count is expected to decline by 4% and EBITDA is also expected to decline 4% to $14.8B. While Oracle's return on equity is trending lower, ROE remains above the company's cost of equity.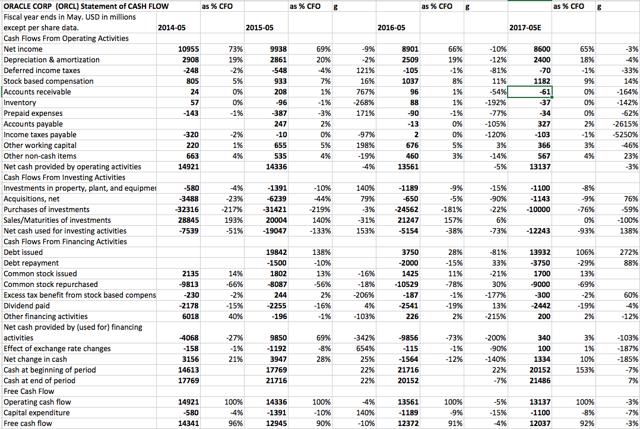 Data courtesy of Morningstar and forecast courtesy of Bottom Up Investing
Cash flow from operations is anticipated to decline by 3% to $13.1B with free cash flow of $12B, a decline of 3%. I expect $9B of share repurchases this year or 69% of operating cash flow. The net debt raised for now is being modeled as going to purchase investments, but will likely be used to purchase NetSuite. Oracle is forecasted to end the FY with $21.5B of cash.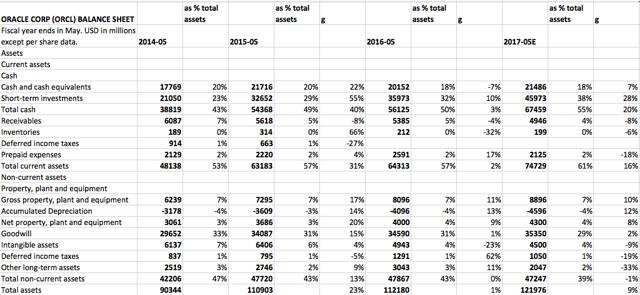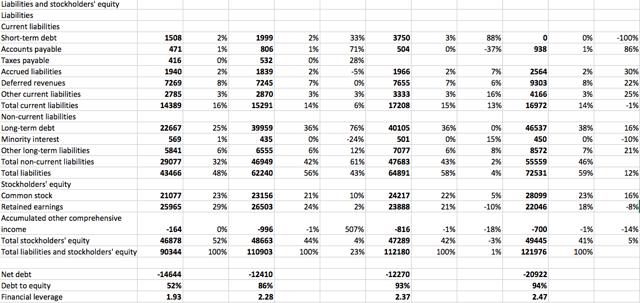 Data courtesy of Morningstar and forecast courtesy of Bottom Up Investing
Oracle's debt to equity ratio is expected to increase from 52% at the end of FY14 to 94% at the end of FY17 as the company issues debt to decrease its weighted average cost of capital. The book value of equity is anticipated to reach $49.4B at the end of the FY, and net debt is forecasted to be -$20.9B.
Bear Market and Deservingly Cheap Shares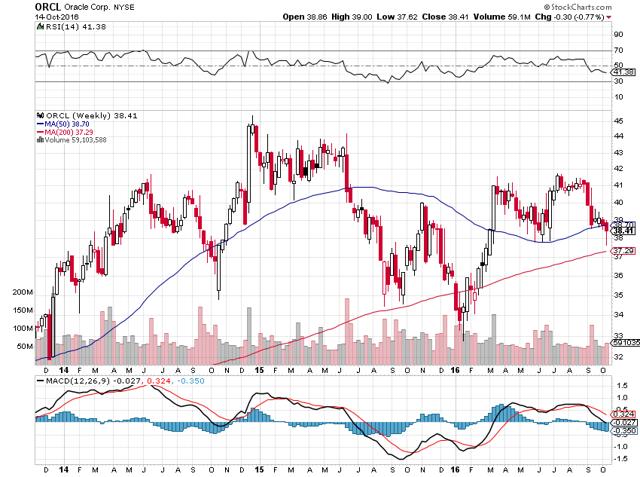 Shares of Oracle are in a bear market of primary degree that started in early 2015. In 2016, the MACD formed a bullish divergence and the shares bounced higher. The bear market should be in the latter innings and from a technicals perspective investors should be accumulating on dips. Granted, given the fundamentals, this could be a prolonged bear market.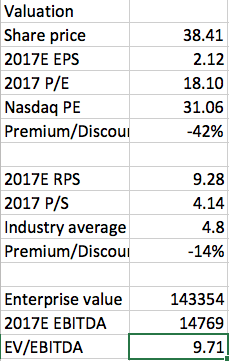 Courtesy of Morningstar, Bloomberg and Bottom Up Investing
Oracle is trading at a 42% discount to the Nasdaq with EPS forecasted to increase 1% in FY17. On a price/sales basis, Oracle is trading at a 14% discount to the industry with sales forecasted to increase by 1% while the industry's 5-year CAGR is 11.6%. Shares of Oracle deserve to trade at a discount because of the sluggish growth and deteriorating profitability.
Disclosure: I/we have no positions in any stocks mentioned, and no plans to initiate any positions within the next 72 hours.
I wrote this article myself, and it expresses my own opinions. I am not receiving compensation for it (other than from Seeking Alpha). I have no business relationship with any company whose stock is mentioned in this article.