Upcoming Earnings Release - Most Recent Developments & Our Conclusion
Dunkin' Brands Group, Inc. (NASDAQ:DNKN) is scheduled to report its 16Q3 earnings Thursday, October 20th before the market opens with a conference call at 8 AM EST. Per Bloomberg LP: Of the 23 sell-side analysts providing estimates, the consensus for revenue, US DD comps and EPS of $215M (range $206-227M), +1.3% (range 1-4%) and $0.58 (range $0.57-0.60), respectively, are substantially unchanged since they were lowered slightly following the Q2 report (except for US DD comps, which were raised about 30bps. Also per Bloomberg LP: Q4 and FY17 estimates are also substantially unchanged. The mean target price is $49 (range $34-57) which is up $0.50 in the last four weeks (+$1.45 since the Q2 report).
Early this month, the company announced its entry into the fast-growing ready-to-drink coffee category, partnering with Coca-Cola (NYSE:KO). Under the agreement, Coke will manufacture, distribute and sell the refrigerated beverage product line to grocery stores, convenience stores and other retail locations. It said it would split half the profits with DD franchisees.
DNKN is a fine company with a very long-term history of success and growth. It is selling an addictive product (coffee, obviously) and lots of customers prefer its brand of coffee to that of Starbucks (NASDAQ:SBUX). Its "asset-light" business model, relying on franchising rather than company-owned stores, is attractive in a difficult consumer spending environment. However, the P/E multiple, as shown in our table below, is 23.2x and 21.1x respectively, more than twice the rate of earnings growth (10.0%), which adequately values DNKN stock. We would therefore wait for a more opportunistic time to own the stock.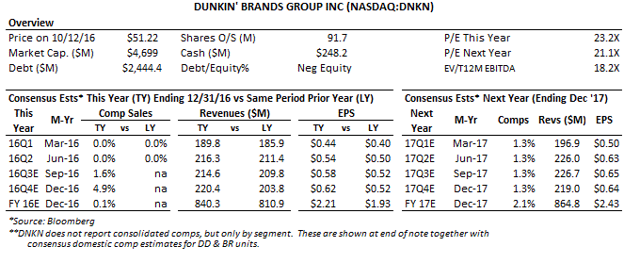 DNKN: Company Overview
Dunkin' Brands Group, Inc. , per its 2015 10-K, oversees one of the world's leading franchisor operations with over $10B in system-wide sales of its Dunkin' Donuts brand (NYSE:DD) coffee, baked goods, and its Baskin-Robbins brand (BR) ice cream. Dunkin' Donuts stores specialize in coffee, donuts, bagels, breakfast sandwiches and related products, while Baskin-Robbins stores specialize in ice cream, frozen beverages and related products. Nearly 85% of TTM revenues of $820M through 16Q2 were derived from royalties; from sales of third party-sourced ice cream products to certain international franchisees; and joint ventures and from licensing agreements. The remaining 15% of revenues were derived from the 1% of system units operated by the company and from rental income of about 900 locations leased or subleased to franchisees. Both brands sell products on-line and in the grocery channel with an estimated retail value of $500M annually. Dunkin' Brands is a highly franchised and asset-light operation. Not only are over 99% of restaurant locations franchised or licensed, but the franchisees are responsible for supply chain functions via third parties (e.g. ice cream, coffee) and for the purchase, production and delivery of fresh bakery products via centralized facilities owned and operated by franchisees or franchisee cooperatives.
Per its FY16 Q2 - 10-Q filing, the company had 19,669 global points of distribution in 41 US States, D.C. and 39 foreign countries. Of this number, 11,941 were DD units (8,573 in the US) and 7,728 were BR units (2,530 in the US). (The company refers to its restaurants as "points of distribution" or "PODs" so the 1,200 or so locations which offer both brands are counted as 2,400 PODs). As disclosed in DNKN's 2015 10-K, link provided above, DD domestic PODs range in size from 1-2.5K square feet, from which we estimate average unit volumes of $908K, or about $535/sqft assuming 1.7Ksqft average size. Similarly, BR domestic PODs are disclosed to range in size from 600-1,200 square feet, from which we estimate AUVs of $219K or about $243/sqft, assuming 900 sqft average size. At its October 2015 Analyst Day management reported the average capex for the DD stand-alone traditional stores opened in 2014 was $462K and projected first year AUVs and cash on cash returns at $905K and 25%+, respectively, implying a cash contribution margin of about 13%. In the same presentation, it estimated the capex for traditional BR-only locations opened in 2014 ranged from $200-225K and projected first year AUVs and cash on cash returns at $365K and 20-25%, respectively, implying a cash contribution margin of around 13% also. It claims these unit economics have attracted strong franchisees and an ample pipeline of unit development.
The company's domestic DD division with 2015 revenues of $591M & 72.7% operating margins is the largest and most profitable by far (DD Intl $23.0M, 55.3% OM; BR domestic $45.2M revs, 63.5% OM; BR Intl $119.0M, 33.4% OM). Management plans to expand to over 30,000 units globally, principally in the US where it expects to nearly double the existing store base to over 19,500 units by spreading out of its legacy market in the Northeast to the rest of country. Long term, the company targets consolidated annual growth of 4-6% in restaurants and MSD-HSD in revenues, while advancing G&A at half the rate of revenues, resulting in growth of operating income of at least 10% and EPS growth of 15% (from leveraging interest expense and stock buybacks). To achieve this growth the company has just embarked on a series of initiatives to re-invigorate operations, particularly comps, which have slowed to LSD in the past two years from its prior MSD pace. It is upgrading its highest margin coffee and sandwich menu with more premium offerings and is encouraging franchisees to speed adoption of product innovation. It also aims to introduce new value offerings and smart pricing techniques, and to expand use of its DD Perks loyalty program, its On-the-Go Ordering mobile app and other digital technology.
DNKN generates impressive free cash flows, a testament to the asset-light nature of the franchise model. TTM to 16Q2 cash flows from operations were $217.9M, which, net of cap ex of $22.7M, yielded free cash flows of $195.273M (or 23.8% of revenues). These cash flows together with increased debt have financed about $400M in dividends and $1,260M of stock buybacks since the company's IPO in 2011. The ratio of total debt to TTM EBITDA of $433.6M is 5.6X, which is high, but not out of line with DNKN's other heavily franchised peers with their stable revenues and high free cash flows.
DNKN: Recent Developments per Q2 Report & Conf. Call
The company's 2016 Q2 missed expectations on the top and bottom lines, though earnings were still up sharply YOY. Total revenues, at $216.3M, were up 2.3% on slightly positive US comps (DD +0.5% comps composed of price/ticket +290bp & traffic -240bp; BR +0.6% comps), 3.0% global POD growth, but negative international comps. The DD US & International segment's revenue at $158.9M, increased 2.4%, while blended operating margins grew to 74.3%, up 288bps YOY. BR US and International segments revenue, at $48.6M, decreased 2.3% , while blended operating margins grew to 44.9%, up 197 bps YOY. However, further down the P&L, sharply lower SGA expense and lower company operated unit expense boosted GAAP operating income growth by 14.6% to $106.1M (EBIT margin 49.1%, up 528bps), though higher income tax rates limited the increase in net income to 17.2% or $49.6M, while EPS was up 22.7% aided by share buybacks.
Per the Q2 earnings report: The company's 2016 guidance was largely unchanged: comp growth of 0-2% (easier in H2) and 1-3% for domestic DD & BR, respectively; net US unit growth of about 5% for DD and ~0.3% for BR and net international unit growth across both brands of about 2%. As such, it expects revenue growth of 3-5% (was 4-6%). It expects adjusted operating earnings growth of 8-10% and adjusted EPS of $2.17-2.19 (not including $0.03 for 53rd week), which represents 13% YOY growth at the midpoint of guidance.
In the conference call, the company said it was urging franchisees to slow price increases, noting franchisee price increases had exceeded 4% to offset expected wage pressures. Management believes it has made some progress in persuading franchisees. Its actions were counterproductive, as they were not only leading to the loss in traffic but they were also reducing the average ticket. Instead the company urges exploiting its ample sales-boosting levers with higher margin products such as premium breakfast sandwiches and new coffee offerings (eg the "GranDD Burrito," bringing back the "Chicken Apple Sausage" and both hot and iced espresso, the introduction of its "Dunkin' Cold Brew," as well as the new technology initiatives). On technology it reported it was accelerating the rollout of its "On-the-go" mobile app and was testing delivery. Importantly to utilize the On-the-go app, users must be DD Perks members which allows for expansion of the scope and sophistication of company's marketing efforts. It reported DD Perks membership had grown to over 4.6M.

Disclosure: I/we have no positions in any stocks mentioned, and no plans to initiate any positions within the next 72 hours.
I wrote this article myself, and it expresses my own opinions. I am not receiving compensation for it (other than from Seeking Alpha). I have no business relationship with any company whose stock is mentioned in this article.
Additional disclosure: Hi: I view DNKN as "fully valued" here, not a long idea, so I listed as a short idea. I consider it a "Buy on Weakness" situation for the long term, so could say that if you think it is more "actionable".