The investment community often sees articles comparing PepsiCo Inc. (NYSE:PEP) stock straight up to Coca-Cola (NYSE:KO). This one from Zacks, for example, or this one by an SA author.
The two companies are also pitted against each other in brand popularity contests, such as the one brand ambassador Jeremy Krier recently posted on LinkedIn.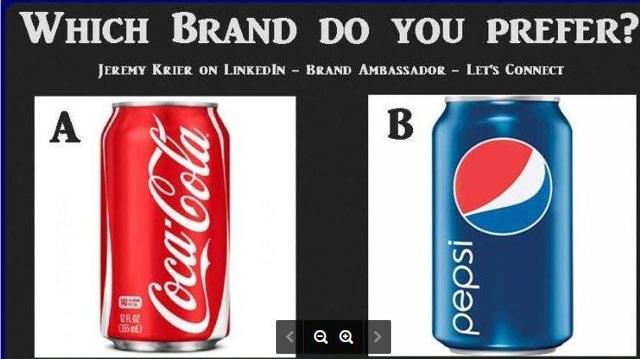 Source: LinkedIn
Guess what? The majority of more than 600 people who commented on the article chose Coke.
Coca-Cola, because of its iconic cultural status for more than a century, is the stronger brand, the fourth most valuable in the world, according to Forbes. By contrast, Pepsi ranks 29th.
The problem with the comparison is there's a lot more to PepsiCo than Pepsi.
In its 2015 annual report, PepsiCo summarizes itself as follows.
We are a leading global food and beverage company with a complementary portfolio of enjoyable brands, including FritoLay, Gatorade, Pepsi-Cola, Quaker and Tropicana."
PepsiCo gets only 47% of revenue from beverages, 53% from snacks, according to the 2015 annual report. On the profit side, the gap is even more pronounced, with Frito-Lay North America contributing 46%, to just 29% for North American Beverages.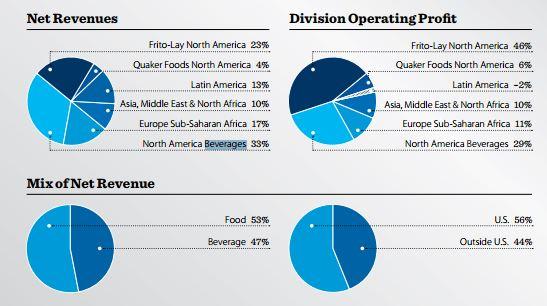 Source: 2015 PepsiCo annual report
By contrast, Coca-Cola defines itself as "the world's largest beverage company." According to its annual report, it gets 85% of its revenue from beverage sales, the rest from investments in bottling plants. If you want a snack, tough luck.
Let's look at some other food companies:
Kraft Heinz (NASDAQ:KHC) calls itself "one of the largest food and beverage companies in the world." Beverages are placed in the refreshment and coffee categories, with brands including Maxwell House and Capri Sun. According to the annual report, these totaled $1.375 billion, or 7.5% of net revenue of $18.3 billion.
Nestlé (OTCPK:NSRGY) defines itself more expansively, as a "health, wellness and nutrition company." Its beverage brands include Nestea, Perrier, and Arrowhead. Water and beverage categories account for 26 billion CHF of the 89 billion CHF revenues, or 30%, according to the annual report. (The Swiss franc is currently worth $1.01).
Dr Pepper Snapple (NYSE:DPS) is purely a beverages company, smaller than the others, heavily concentrated in the United States.
To summarize:
| | | | |
| --- | --- | --- | --- |
| | | Net revenues | % from Beverages |
| Nestlé | | 90B* | 30% |
| PepsiCo | | 63B | 47% |
| Coca-Cola | | 44B | 85% |
| Kraft Heinz | | 18B | 8% |
| Dr Pepper Snapple | | 6.3B | 100% |
*Converted from Swiss francs to dollars
Nestlé is a closer comparison to PepsiCo than Coca-Cola, which has a beverage focus most similar to Dr Pepper Snapple.
Even securities analysts misunderstand PepsiCo. The following exchange took place during the second quarter conference call, when CEO Indra Nooyi got a little testy after an analyst challenged her on the declining sales of Pepsi and Diet Pepsi. (LRB stands for liquid refreshment beverages; CSD for carbonated soft drinks. Boldface added.
Caroline Levy

Okay. So then my question was around Diet Pepsi and the Pepsi franchise overall because, Indra, you gave this stunning number that you drive more growth for retailers than the next five companies, large companies combined. In the case of Pepsi and Diet Pepsi, that has not been the case from what I can see. And so, how do you maintain your shelf space, how do you think about strategically moving those in a different direction? Is it through fragmentation or is there something else you need to do because that seems to be one area where you are really losing share?

Indra Nooyi

Okay. I think, Caroline, and we talked about it in the Q1 earnings call, it is critically important that all of you change your frame of reference in the beverage market from cola to CSDs to LRBs. 30 years ago, it was colas. 25 years ago, it was CSDs. 15 years ago, it was CSDs. It's been LRB for the last decade or so. And I think the sooner we can shift our frame of reference, the better it is because just beating a category that is in secular decline, just beating that all the time is not a game to play, that's not a game that is going to guarantee good results. If we play this rich LRB game, multi-category, placing the bets where the growth is and where the consumer is going, I think we're better off. So my request to you and all of you who are tracking the company in this category, expand your aperture. LRB is the game to play. That's the game we're playing and we watch LRB share very, very carefully. That's the right strategy for any company.
Got that? The CEO says Pepsi is in "secular decline." Is that what she wants for the name of her company?
Nooyi is on record as having called carbonated beverages "a thing of the past." Soft drink sales in the U.S. have declined 11 straight years, and Diet Pepsi has been especially weak as consumers turn away from artificial sweeteners.
Instead, beverage growth comes from bottled teas (Lipton), water (Aquafina) and energy drinks (Gatorade).
PepsiCo fought off an effort by activist investor Nelson Peltz to merge with Mondelez (NASDAQ:MDLZ) and split off the weaker beverages division. Instead, it made cost cuts to improve profitability.
Now that we've established that PepsiCo is the wrong name, what should the new one be? The most logical choice is Frito-PepsiCo Inc.
Frito-Lay has been a part of PepsiCo since a 1965 merger. It is the world's 40th most valuable brand, according to Forbes, somewhat lower than Pepsi, but putting the snack company's name first would send the message the biggest profits come from things that go crunch.
This new name would get the investment community thinking before it blindly matched the company with Coca-Cola. Could it also benefit the stock price?
In a 2015 study, University of Texas at Austin marketing professor Vijay Mahajan and PhD student Saim Kashmiri studied 180 companies that changed their names between 2002 and 2007. On average, stock prices rose 1.2 percent on the day of their name change, with returns growing to 3 percent when the new name highlighted a brand, such as Federated Department Stores' change to Macy's (NYSE:M) and Research in Motion's switch to BlackBerry (BBRY).
The highest average returns - 3.0 percent - went to the 67 firms like Macy's whose new names shifted to strong, existing brands."
A University of Idaho study found name changes were positively associated with stock price changes, listing five functional criteria for a new name - distinctive, relevant, memorable, flexible and positive. In this case, the Frito-PepsiCo name would be more relevant and flexible.
Conclusion: PepsiCo could see a stock price boost of between 1 and 3 percent by changing its name to Frito-PepsiCo. Still, the main reason for the switch would be to highlight the company's difference from Coca-Cola and commitment to rising product categories, the latter of which is already a reason to own the stock.
Disclosure: I am/we are long PEP.
I wrote this article myself, and it expresses my own opinions. I am not receiving compensation for it (other than from Seeking Alpha). I have no business relationship with any company whose stock is mentioned in this article.