Canadian energy giant EnCana Corp. (NYSE:ECA) has been going through quite the transition in recent years. What was primarily a natural gas company has steadily been divesting its core assets in favor of getting into the crude oil production sector. This along with the current devaluation of both natural gas and oil prices have left EnCana in an environment of lower stock prices for the better part of two years. However, the tides appear to be changing for EnCana as its stock price has been steadily recovering and its recent sellout equity offering is showing that the market is coming back around for this company.
Investor day surprise
Just recently EnCana held its annual investor day and made a series of intriguing and optimistic announcements. EnCana has stated that in 2017, it will be setting its capital expenditures budget between $1.4 billion and $1.8 billion with a strong emphasis on its four key producing regions in Alberta and Texas. This capital expenditure budget for 2017 is projecting to be higher than the $1.1 billion to $1.2 billion budgeted for 2016.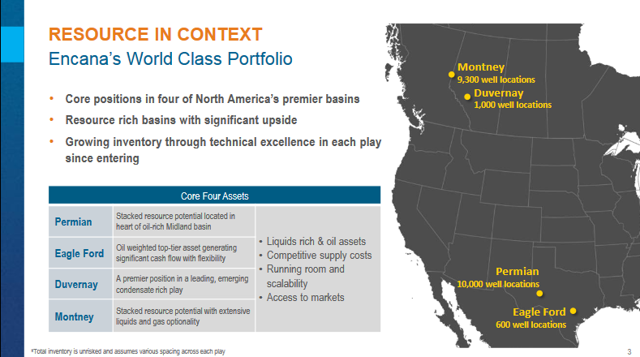 (Source)
Along with the expanded capital expenditure budget EnCana is also setting some lofty goals such as 300% in cash flow growth (grow by four-fold by 2021), a 60% increase in production, a doubling of corporate margins and that EnCana will be able to be able to fully self fund its capital expenditure program by 2018 (conditional on $55.00 WTI crude and $3.00 NYMEX gas prices). These increases to the capital expenditure budget will help EnCana lay the groundwork for it to take advantage of the eventual increase in the price of oil, which has finally spent more than a couple of days above $50.00 (WTI Crude).
The increase in cash flow should help EnCana wean itself off of its dependence on credit for its capital expenditures. If EnCana is able to increase its cash flow by 300% with current (or slightly higher) energy prices, the speculation of an increase to its stripped-down dividend could once again begin to emerge.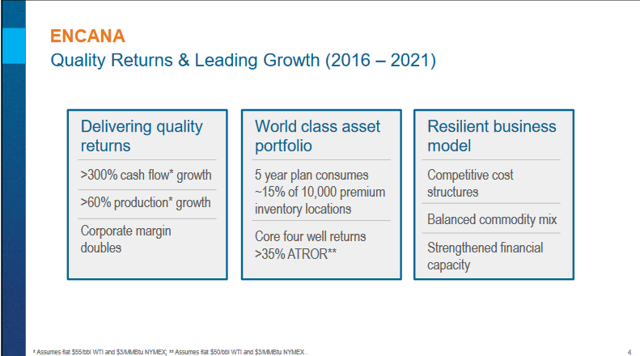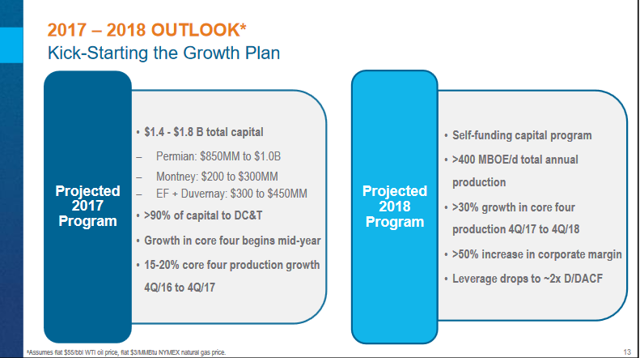 (Source: 2016 Investor Day Presentation)
The price to play
EnCana will be focusing much of its growth in the Permian Basin region of Texas and New Mexico and much of its lofty expectations are based on its success in that region in particular. However, in order to accelerate its capital growth plans, especially in the Permian Basin resource play, EnCana found itself in a position where it had to run a public stock offering. The good news for EnCana and investors was that this stock offering was a complete success as all of the available shares plus all options were picked up bringing in $1.15 billion for EnCana.
During the stock offering, EnCana had set a price of $9.35 per share, and within a couple of days, the NYSE stock price had already climbed up to $11.09. This is an impressive turnaround for a stock that was trading at $3.00 earlier this year. EnCana has stated that it would use half of the public offering for debt repayment and the other half for capital expenditures in the Permian oilfield in order to double its oil well count in the region by the end of the year.
In terms of EnCana's debt, this stock offering has helped the company to push back its next round of debt maturities to 2019 and 2021. This will leave EnCana with the necessary free cash flow to develop its operations in Texas while costs are still discounted.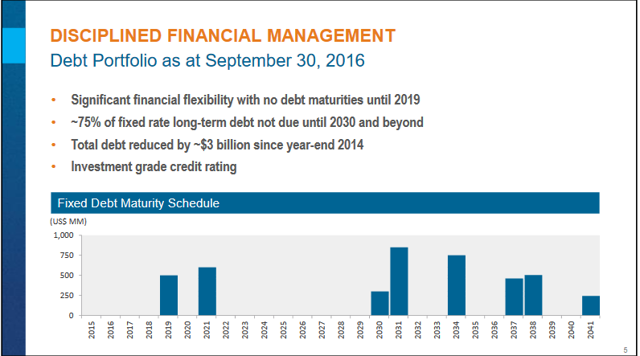 (Source: 2016 Investor Day Presentation)
The stock's resurgence
For long-term investors EnCana may not be back to 2014 stock price levels yet but the stock is now at its highest point since June 2015, and is tracking to continue its upward momentum.
| | | | | | |
| --- | --- | --- | --- | --- | --- |
| | Price | 52-Week Low | 52-Week High | Dividend | Dividend Yield |
| TSX | C$14.61 | C$4.14 | C$14.97 | $0.06 | 0.54% |
| NYSE | $11.09 | $3.00 | $11.31 | $0.06 | 0.54% |
Analysts covering EnCana's shares on the NYSE currently have an average price target of $11.46, but the most recent reports which have come from BMO and Barclays have both set a new price target of $14.00. While on the TSX, the average price target is only C$12.20, as there have been no updates since the investor day and stock offering released yet. Either way, EnCana has finally begun to show signs that its darkest days may be behind it and its experiment to move away from natural gas is finally bearing fruit. What was once one of the dark horses among oil producers is finally showing that it can be a major player both in the oil and gas sector. The near lack of a dividend may deter some long-term investors but its current momentum in term of stock price does offer a lot of potential for returns at the moment.
Author's note: If you enjoyed this article and found it helpful, please "Follow" me on Seeking Alpha to receive notification whenever I publish a new article.
You may also be interested in other recent articles I have written for Seeking Alpha with my Canadian point of view that focus on stocks and stories that I have found compelling. You can also find my previous articles here for further study.
Disclosure: I/we have no positions in any stocks mentioned, and no plans to initiate any positions within the next 72 hours.
I wrote this article myself, and it expresses my own opinions. I am not receiving compensation for it (other than from Seeking Alpha). I have no business relationship with any company whose stock is mentioned in this article.