Peregrine Pharmaceuticals, Inc. (PPHM) is a biopharmaceutical company. The company operates through two segments: Peregrine, which is engaged in the research and development of monoclonal antibodies for the treatment of cancer, and Avid Bioservices Inc., which is engaged in providing contract manufacturing services for third-party customers on a fee-for-service basis while also supporting its internal drug development efforts. The company has license agreements with the University of Texas Southwestern Medical Center at Dallas, Genentech, Inc., Avanir Pharmaceuticals (NASDAQ:AVNR), Inc., Lonza Biologics, Affitech A/S, Merck KGaA (NYSE: MRK), and National Comprehensive Cancer Network, as well as collaboration agreement with AstraZeneca PLC (NYSE: AZN) and Memorial Sloan Kettering Cancer Center.
2016 has been a highly eventful year for Peregrine with significant highs and lows. Judging from the current share price, the market seems to have compounded the negative events, particularly on the clinical front, and is completely dismissing significant positive developments on several other fronts.
Looking at PPHM's chart, it appears that the market has concluded that the clinical end of Peregrine's business is dead after the February 25, 2016 announcement that the company was halting the SUNRISE clinical trials based on the recommendation of the study's Independent Data Monitoring Committee. Most clinical-stage biotechs like Peregrine are valued primarily on the potential of their drug candidates for various illnesses, including cancer, lupus, cardiovascular, and even pain.
Owners of PPHM common stock are completely dismissing the fast growth of the company's biomanufacturing division, Avid Bioservices Inc. Avid's revenues have grown at a CAGR above 40% the last 5 years. The company has forecasted record revenues for the current fiscal 2017 and expects the double-digit growth rate to continue for the foreseeable future.
During the September 8, 2016 fiscal 1Q 2017 conference call, the company maintained its previous guidance for fiscal 2017 of $50 million to $55 million in revenues. The company guided for a record $20 million revenue for fiscal 2Q 2017 to be reported in December. Compare these estimates with $44.7 million and $5.6 million for fiscal 2016 and 2Q 2016, respectively. This is a significant revenue growth, which when coupled with significantly reduced expenses due to SUNRISE's halt, it will help preserve the company's strong balance sheet. During the October 13, 2016 ASM, company management reiterated their forecast of continuing double-digit growth and reaching profitability in about 21 months.
Owners of PPHMP (Peregrines's 10.5% Series E convertible preferred stock) shares are betting that the future of Peregrine is bright judging for the meteoric rise of its stock price in the last few months. Preferred investors usually look at the long-term health of the company whereas common investors usually look at short-term events such as earnings reports, contact news, clinical news, etc.
Negative Events/Developments
By far, the most negative event was the February 25, 2016 announcement of the company's decision to discontinue the Phase III SUNRISE trial of its flagship drug candidate bavituximab (I will refer to it as bavi from time to time) for patients with previously treated locally advanced or metastatic non-squamous non-small cell lung cancer (NSCLC). The press release stated:
"The decision to stop the trial was based on the recommendation of the study's Independent Data Monitoring Committee (IDMC) following a pre-specified interim analysis performed after 33% of targeted overall events (patient deaths) in the study were reached. Results of the analysis demonstrated that the bavituximab plus docetaxel group did not show a sufficient improvement in overall survival as compared to the docetaxel group to warrant continuation of the study."
Steven W. King, President and CEO of Peregrine, commented:
"While we are deeply disappointed by this early outcome from the SUNRISE trial, we plan to take a deliberate and detailed approach in reviewing and verifying all available data from the trial in order to understand what subgroups or other patient characteristics may have impacted the performance of the study. While we perform this analysis, we plan to put our other chemotherapy combination studies on hold until we have a clear understanding of the SUNRISE study results."

"While this is an unexpected and disappointing setback for the bavituximab chemotherapy combination clinical program, we have not seen anything in this trial result that diminishes our enthusiasm for advancing our immuno-oncology (I-O) combination trials. The I-O combination studies are based on different mechanistic synergies that are clearly separate from the chemotherapy combination being evaluated in the SUNRISE study."
The other negative event, in the minds of some investors, was last week's approval of an up to 1/7 reverse split at the Annual Shareholders Meeting. Although this was already a foregone conclusion, it seems to have caused investors to overreact as seen by the 6% slide on Friday, October 14, 2016. This drop followed a 15% haircut from 44c to about 38c following an update of SUNRISE's top-line results on October 10, 2016 at this year's European Society for Medical Oncology (ESMO).
Regarding a potential reverse split, the company received an extension of 180 days on October 11, 2016 to regain the minimum $1 NASDAQ requirement until April 10, 2017. Obviously, the company would have to execute the reverse split between now and April 10, 2017 if the stock price does not reach the required 10-day above $1/share milestone. However, it appears that retail investors believe that Peregrine will execute the R/S sooner rather than later judging by posts that I have read in message boards such as IHUB. Perhaps this is one of the reasons for some of them to sell upon the R/S approval.
Peregrine has many potential positive catalysts ahead that could push the stock above $1/share before the April 2017 deadline. Here are a few of those catalysts that come to mind:
Continued Avid Bioprocessing success as reflected by increasing revenues and reduced losses to preserve cash.
News of a significant clinical partnership with major pharma.
Positive news regarding the company's program to advance its novel exosome-based cancer detection and monitoring technology licensed from UTSW in July 2016.
The fear of a R/S with biotechs is that shorts will drive the stock price down and the company will announce another equity round soon thereafter. I don't believe that will be the case with PPHM since the company has a strong balance sheet with over $40M cash and no debt, its Avid division generates growing revenues, and the company's expenses are down significantly following the halting of the SUNRISE program. The strength of the preferred seem to agree with this conclusion. An eventual R/S might be executed at higher pps levels, and I don't expect a decline afterwards because of the catalysts and reasons I've mentioned above.
Positive Events/Developments On The Clinical Front
Peregrine's clinical potential is far from being dead. Through detailed analysis of thousands of SUNRISE samples, the company has identified a key biomarker as reported at the European Society for Medical Oncology (ESMO) 2016 on October 10, 2016. A cancer biomarker refers to a substance that is indicative of the presence of cancer in the body. A biomarker may be a molecule secreted by a tumor or a specific response of the body to the presence of cancer. Peregrine management has stated that they expect to discover more biomarkers through further analysis of the SUNRISE data. The company has filed a patent to protect its rights over the biomarker known as beta-2 glycoprotein-1 (β2GP1). More on this later in this article.
Also at ESMO, more details were presented about top line SUNRISE results based on a data cut-off after 70% of the targeted overall survival (OS) events. As stated earlier, this data demonstrated that the addition of bavi to docetaxel did not result in improvement of the study's primary endpoint of OS. The median OS for the bavi plus docetaxel group was 10.7 months as compared to 10.8 months for the placebo plus docetaxel control group. Median progression-free survival (PFS) for the bavi-containing group was 4.1 months compared to 3.9 months for the control group. Additionally, the safety profile of the combination of bavi with docetaxel was similar to placebo plus docetaxel. The slide below shows the OS results (source: 2016 ASM meeting slides):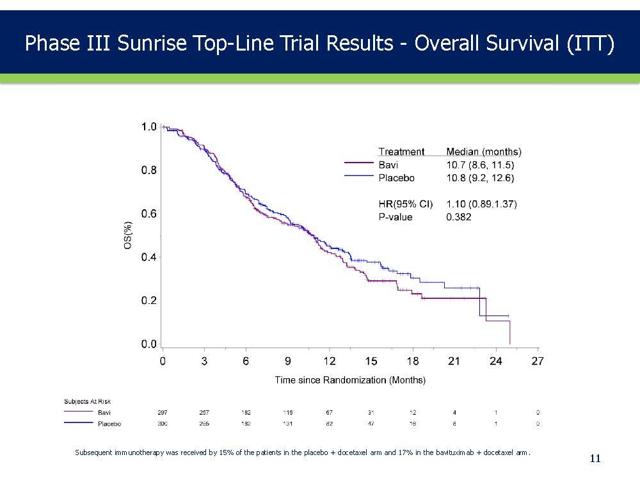 Regarding the β2GP1 biomarker, the data shared at ESMO demonstrated that patients with pre-treatment β2GP1 levels ranging between 200 and 240 µg/mL, representing approximately 30% of randomized patients, achieved a statistically significant, 5.5-month improvement (13.2 months vs. 7.7 months) in median overall survival (OS) as compared to patients in the control group with the same range of β2GP1 levels.
A similar trend was observed with pre-treatment β2GP1 levels of ≥ 200 µg/mL (representing approximately 50% of randomized patients) with 11.9 months vs. 10.1 months median OS in favor of the bavi-containing group.
The significant improvement between the biomarker data and the overall SUNRISE data can be seen in the following slide: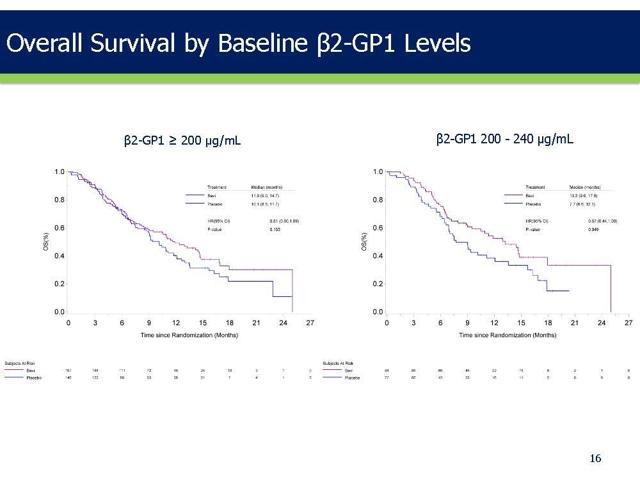 These results suggests that patients with β2GP1 levels in the ranges shown above would be more likely to benefit from a bavi-containing therapeutic regimen. The company is analyzing for numerous biomarkers with the goal of developing a multi-marker matrix that will help identify patients that are likely to receive significant clinical benefit from a bavi-containing therapeutic regimen.
Joseph Shan, Peregrine's VP of Clinical and Regulatory Affairs, commented:
"We would once again like to thank all of the patients, clinical investigators and scientists who participated in the SUNRISE trial and have made it possible for us to continue to collect and analyze a range of key data from the study. While we were disappointed with the trial being discontinued earlier in the year, we are excited by the fact that we are beginning to learn important information from the trial through the ongoing biomarker analysis program that will be critical in helping guide the future clinical development of bavituximab."

"It is encouraging that the initial biomarker analysis has identified an important biomarker early in the process and we are optimistic that additional biomarkers associated with improved outcomes for bavituximab-containing treatments will be identified as the analysis continues. We expect to be able to share the emerging data over the coming months at scientific and medical conferences as the more results become available."
Mr. Shan continued:
"It is not uncommon in the cancer field for therapeutic candidates to suffer clinical trial setbacks as researchers continue to learn more about the most appropriate patient populations for those drugs. In this landscape, biomarkers play an increasingly important role in helping identify specific patient characteristics that may impact responses to a treatment. This has been seen historically with targeted cancer treatments, as well as more recently with checkpoint inhibitors including PD-1 inhibitors. We look forward to identifying the equivalent markers for bavituximab that will help guide its clinical development."
The following slide highlights Peregrine's biomarker strategy: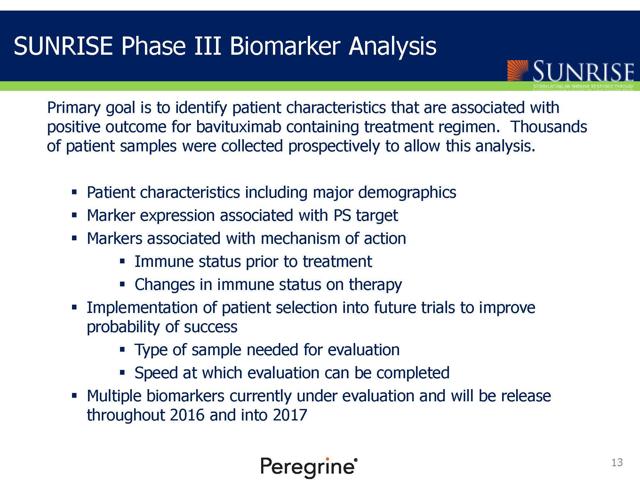 An important part of the immune system is its ability to tell between normal cells in the body and those it sees as foreign or abnormal. This lets the immune system attack the foreign cells while leaving the normal cells alone. To do this, it uses molecules on certain immune cells that need to be activated/inactivated to start an immune response (in this case bavi).
Cancer cells, on the other hand, defend or protect themselves by using certain chemicals such as phosphatidylserine (see below) to divert the attention of the immune system.
According to Peregrine:
"Bavituximab is an investigational monoclonal antibody that targets phosphatidylserine (PS). Signals from PS inhibit the ability of immune cells to recognize and fight tumors. Bavituximab is believed to override PS-mediated immunosuppressive signaling by blocking the engagement of PS with its receptors as well as by sending an alternate immune activating signal. PS-targeting antibodies have been shown to shift the functions of immune cells in tumors, resulting in multiple signs of immune activation and anti-tumor immune responses."
The following slide summarizes Bavituximab's value proposition according to Peregrine: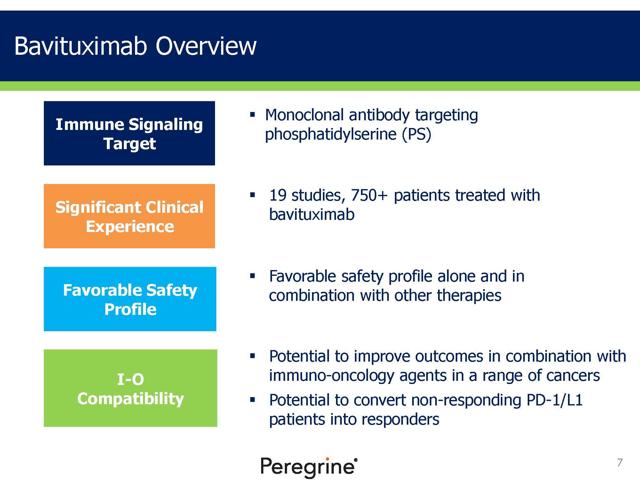 A recent important development on the clinical front was the announcement of a collaboration with the National Comprehensive Cancer Network (NCCN). The NCCN awarded grants to three investigators to support clinical trials of bavituximab in combination with other therapeutics:
Phase I trial of sorafenib and bavituximab plus radiation in hepatocellular carcinoma. This will build on a previously reported investigator-sponsored Phase II trial of bavi and sorafenib in liver cancer.
Phase I/II trial of bavituximab with radiation and temozolomide in newly diagnosed glioblastoma.
Phase II study of pembrolizumab and bavituximab in head and neck cancer. According to Peregrine, this will be the first clinical trial of bavi with a checkpoint inhibitor (PD1 inhibitor).
I expect updates of these investigations in upcoming months. The following slide shows the various Innmuno-Oncology projects where bavi is involved with oncology candidates from AstraZeneca (AZ) and other significant players in the oncology arena: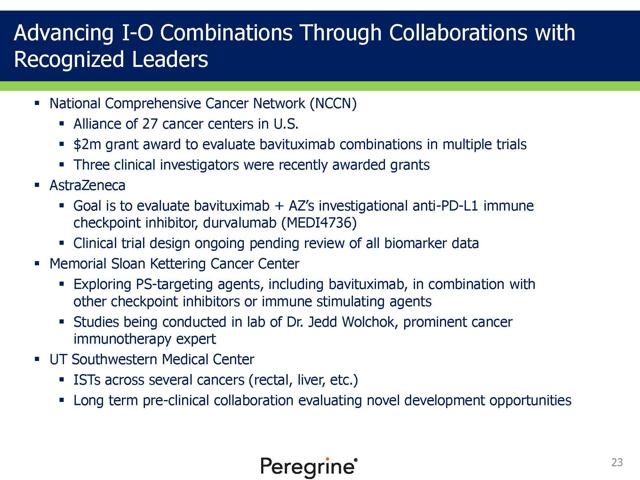 The following slide shows Peregrine's current Oncology pipeline: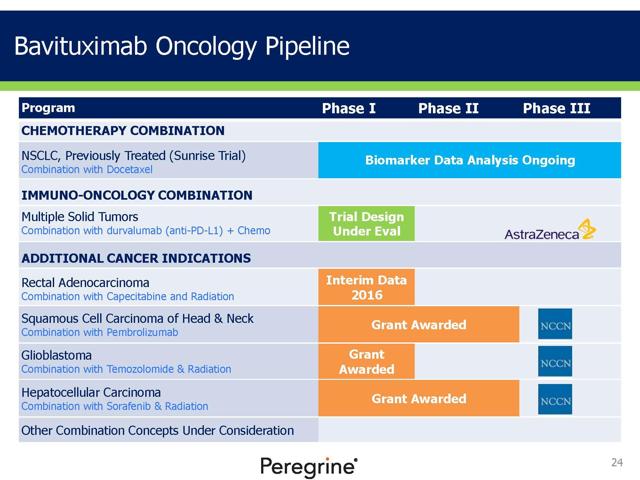 As can be seen in the previous discussion, Peregrine's clinical program is far from dead. In fact, it might be better than ever because the knowledge being gained by analyzing the data from the failed SUNRISE program will provide the company with more leverage to engage in future collaborations. To me, it's like the company tried to run (SUNRISE) before it can crawl (applying the basic science correctly - biomarkers, etc.).
Another Positive - Cancer Detection And Monitoring Technology
On July 14, 2016, Peregrine announced that it has entered into an exclusive licensing agreement with University of Texas Southwestern (UTSW) Medical Center for a novel exosome technology that has potential application as a simple blood test to detect and monitor cancer.
Jeff T. Hutchins, Ph.D., Peregrine's VP of Preclinical Research, commented:
"We are excited to enter into this licensing agreement with our long-term collaborators at UT Southwestern. This technology offers a promising product development opportunity and aligns directly with the company's expertise with our proprietary PS-targeting platform and our longstanding CDMO capabilities around the development, qualification, and validation of in vitro analytical assays. As such, there are significant opportunities to use this technology as both a complementary tool in bavituximab's ongoing development, as well as more broadly as the basis for novel cancer detection and monitoring tests that can be the focus of partnering efforts."

"It is important to note that this development program will require minimal capital investment and has the potential to create significant value over the next 18 months, including potential partnering opportunities. As a result, we feel that today's licensing deal provides yet another important driver in our ongoing efforts to achieve profitability."
According to the following slide, Peregrine's ultimate goal is to secure a partner to develop, market, and sell the commercial test kit.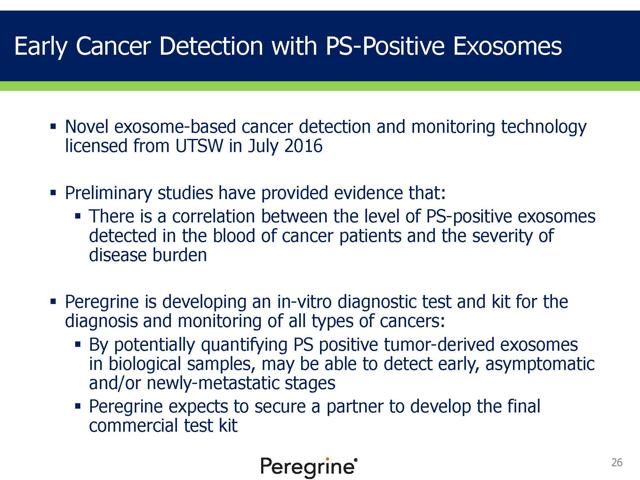 Another Significant Positive - Avid Bioservices
"A picture is worth 1000 words." The following slide shows Avid's accelerated revenue growth: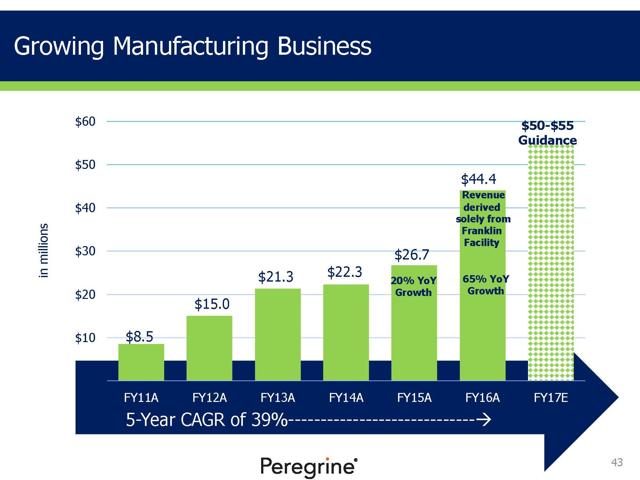 This business has shown consistent revenue growth and has been instrumental in maintaining a strong cash position.
During the September 8, 2016 fiscal 1Q 2017 conference call, the company maintained its previous guidance for fiscal 2017 of $50 million to $55 million in revenues. The company guided for a record $20 million revenue for fiscal 2Q 2017 to be reported in December. Compare these estimates with $44.7 million and $5.6 million for fiscal 2016 and 2Q 2016, respectively. This is a significant revenue growth, which when coupled with significantly reduced expenses due to SUNRISE's halt, it will help preserve the company's strong balance sheet. During the October 13, 2016 ASM, company management reiterated their forecast of continuing double-digit growth and reaching profitability in about 21 months.
Seekingalpha contributor Richard Lejeune stated the following in an article recommending PPHMP on July 31, 2016:
"Avid Bioservices is a great niche business. Gross operating margins are close to 50%. They have a $68 million revenue backlog and revenue growth has been very strong. There are also significant barriers to entry. New manufacturing plants must undergo a rigorous licensing and regulatory process to ensure high quality. Peregrine developed the required expertise through in-house manufacturing of Bavituximab."

"How much is Avid Bioservices worth? The company has projected fiscal 2017 revenues of $50-$55 million. A premium valuation is justified due to the desirable combination of rapid growth, high margins and significant barriers to entry. A 2X revenue multiple is reasonable. The estimated value of Avid Biosciences is therefore $100-$110 million."
I believe Mr. Lejeune's estimate is a bit conservative. I would assign a 3X revenues valuation to Avid, or $150-$165 million. If we consider this, plus the over $40 million cash, and Peregrine's significant clinical value, I come up with a factor of at least 3 over the current $82 million market cap. Using this logic, the stock should be trading at or above $1/share right now. As a reference, the current median analyst price target is $1/share with a high-end of $1.5/share.
During the fiscal 4Q 2016 conference call, Steven W. King, President and CEO of Peregrine commented:
"We believe Avid should be highly valued from a shareholder perspective based on the current year-over-year growth almost 40% compounded annual growth rate over the past 5 years with the remarkable 66% this past year."
According to CEO King, the committed backlog now stands at $71 million. He stated this new figure during last week's ASM.
Risks and Uncertainties
In addition to the risks and uncertainties discussed in the company's most recent 10-K filing with the SEC, I see the following potential investment risks with PPHM:
The company may decide to execute a 1/7 reverse split at or near current share prices even though that would be an ill-advised decision;
Avid may not be able to a add a third processing facility to support growth beyond 2017;
Delays in building additional capacity due to reasons other than financial like permits, weather conditions, etc.;
Production disruptions due to instrumentation or processing equipment problems;
Loss of major clients to the competition;
Loss of talent to the competition;
Labor problems like strikes, etc.; and
Fire, explosions, acts of God (severe weather, etc.)
Conclusions
PPHM common shares offer a significant upside and low risk at current prices even if a R/S is executed in the near future. I expect that the company will wait until the stock price is higher to go ahead with a reverse split. After all, it has until April 10, 2017 to meet the minimum $1/share NASDAQ listing requirement.
Investors should consider that PPHM is not just a clinical-stage biotech, but it's also a fast-growing manufacturing entity with significant barriers to entry. Not many biotechs can claim that they can achieve profitability in less than two years while advancing a strong clinical program.
Based on Avid's forecasted revenue growth, strong balance sheet, and firmer clinical-development position as a result of the findings from SUNRISE data analysis, PPHM should be trading at or near $1/share today.
The failure of the SUNRISE program has provided Peregrine with the opportunity to formulate clinical trials with a higher chance for success by using key biomarkers. This will also attract potential collaboration partners in the hot I-O cancer-fighting arena.
The company's exosome-based cancer detection program could become a game changer and help the company accelerate its path to profitability.
The company will report record fiscal 2Q 2017 in just a few weeks. I also expect updates from the various clinical programs being advanced with various collaborators.
As with any investment in the stock market, there are risks and uncertainties related to an investment with a microcap like PPHM. Investors should review the risks and uncertainties discussed in the company's most recent 10-K filings.
Disclosure: I am/we are long PPHM.
I wrote this article myself, and it expresses my own opinions. I am not receiving compensation for it (other than from Seeking Alpha). I have no business relationship with any company whose stock is mentioned in this article.
Editor's Note: This article covers one or more stocks trading at less than $1 per share and/or with less than a $100 million market cap. Please be aware of the risks associated with these stocks.