Geopolitical risk shouldn't be taken lightly, especially for a country like Libya where political tensions are far from over. Unlike some who take at face value the claims that Libya will produce over 1 million b/d in a few months, HFI Research has condemned the supposed peace agreement reached a month ago that has allowed Libya to resume oil exports.
The biggest issue in Libya continues to be the divided government bodies that hold power in the East and the West. As we detailed in this article: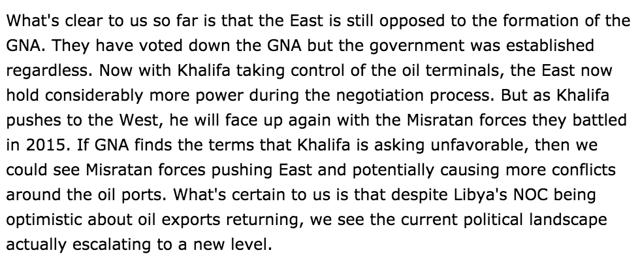 Over the weekend, Reuters reported that tensions once again rose in Libya's capital as factions challenge the UN-backed GNA government body. Last Friday, Khalifa and his troops took over a parliament office that was meant for the State Council, one of the legislative bodies in the GNA.
Continued conflicts in Libya pose several issues for the oil bears. The idea that Libya could bring production back above 1 million b/d is geographically impossible and financially impossible. Libya doesn't have the money or the geopolitical stability to even bring on production that fast. Not to mention the continued conflicts in Libya pose questions about who controls the NOC (National Oil Company). As we said before, Khalifa took control of the oil ports to use as a bargaining tool for better positioning with the new government. If he doesn't get what he wants, then we should expect more fighting.
Some had thought that the resumption of oil exports meant stability in Libya. We highly disagreed and said that "we see the current political landscape actually escalating to a new level." And that is certainly true, with Khalifa taking the parliament office by force.
Oil traders we talked to said that Libya's production has increased by about 200k b/d to 540k b/d, but they think most of the "implied increase" is just from drawing down oil from storage to supply exports. There are currently no signs of a material improvement in Libya oil production, and very few believe that the current volume can be supported.
It's not hard to see that Libya oil production won't be coming back anytime soon. And we definitely do not see Libya's oil production going above 1 million b/d at least for another 24 months. The number of logistical issues and political tensions that need to be resolved before that happens is anyone's guess, but we focus on capex. Without a significant injection of capital, Libya won't have the funds needed to develop new fields as old ones won't be able to even sustain the current decline rates.
In our latest weekly outlook, we highlighted some of the things that we think will be the downfall for oil bears. We see the ingredients in place for higher oil prices ahead and expect oil to finish the year around $60. If you are interested in our reports, please consider signing up here. Thank you for reading our Oil Markets Daily.
Disclosure: I/we have no positions in any stocks mentioned, and no plans to initiate any positions within the next 72 hours.
I wrote this article myself, and it expresses my own opinions. I am not receiving compensation for it (other than from Seeking Alpha). I have no business relationship with any company whose stock is mentioned in this article.