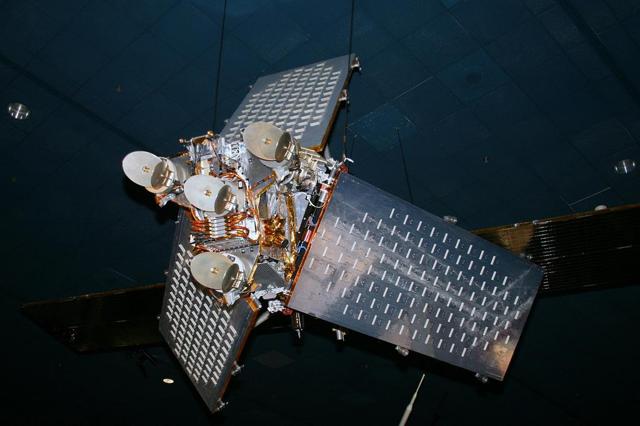 An Iridium satellite on display. This is the kind that's nearing its end of life.
There were already good reasons to doubt Iridium's (NASDAQ:IRDM) prospects. A lengthy short thesis can be read in AC Capital Management's article titled, "Short Iridium Communications: Set To Unravel As Current Constellation Nears End Of Life." Since then, several things have happened, most of them negative:
Neutral. Iridium reported Q2 2016 earnings and growth outside government business continued to be anemic, while government revenue growth - as per existing EMSS contract - stops here.
Positive. Iridium has (in its own words) removed the risk of not being able to produce the Iridium NEXT satellites fast enough.
Negative. A further two satellites of the existing constellation have failed, putting the present constellation already at a deficit. Service impact is non-linear, so right now service impact should be minimal, but things could worsen rapidly with just a few more losses.
Negative. IRDM delayed the first Iridium NEXT launch set for July by two months to September 2016.
Negative. SpaceX then had a rocket explosion delaying the first launch by a further three months (for five months total). This is on top of the short thesis already saying that the schedule was impossible even before it got delayed by these five months.
Negative. As of Q2 2016, the company was talking about getting further flexibility from lenders due to the Aireon payment being delayed. This was before both launch delays amounting to a further five months total delay.
Negative. The SpaceX explosion is sure to increase insurance premiums further.
Amazingly, in spite of these developments, Iridium's stock managed to recover all of its post-SpaceX explosion losses. However, I believe that there's a further event set to take place soon and which the stock might not yet be discounting. That's the event which lends the title to this article.
Iridium Is Set To Stop Paying Dividends On Its Preferred Stock
The event, of course, is that Iridium is set to stop paying dividends. Specifically, it's set to stop paying dividends on its preferred stock (Series A and Series B). One of the two classes of Iridium preferred stock actually trades publicly that would be Iridium Communications Series B Pfd (NASDAQ:IRDMB).
Why is Iridium set to do this? The problem is tied to the delays on Aireon payments, which were already part of the original thesis. These payments (the lack of them) reduce Iridium's financial flexibility and have led Iridium to seek relief from its lenders. To get this relief it needs to make concessions. Among these concessions is stopping the dividends payment on its preferred stock.
This is acknowledged in Iridium's Q2 2016 earnings call transcript (bold is mine):
Andrew Spinola

Fair enough. Tom, on the deal or the potential extension with Telus, what is this going to potentially cost you or what's the give and take from your side on that extension?

Tom Fitzpatrick

Yes, so there is discussion in the queue in the liquidity section of the elements of the deal and I would just say, it's really - there is really three elements, they are payments, deferrals to Telus with - at 10% interest rate to be very reasonable. There are delays in the payments into the debt service reserve account that will be granted if you will by the senior lenders and there is likely would be - the suspension of the preferred dividend for couple of quarters.
It's also acknowledged in the Q2 2016 10-Q (bold is mine):
While the contracted cash flows from our primary hosted payload customer, Aireon, are interest-bearing if not paid on time, there is a potential for delayed receipt of those hosted payload payments. Aireon is working to secure contracts with ANSPs, including the FAA, for the sale of Aireon's space-based ADS-B services. Aireon is currently seeking to raise the capital it will need to fund our hosted payload payments. Its ability to do so in the previously anticipated time frame may be adversely affected by delays in its sales efforts to these ANSPs. If Aireon is unable to make its hosting payments to us in that time frame, or if it is only able to partially pay us amounts owed, we will need to adjust our funding plan. For example, we are in discussions with our Credit Facility lenders to delay or reduce our payment obligations to fund the cash reserve account for debt repayment, or DSRA. We are also in negotiations with Thales to delay some of the construction milestone payments that we otherwise anticipate making in 2017 under our full scale development contract, or FSD, with Thales. We may also consider, or be required to adopt in connection with concessions from our lenders, other cash preservation measures, such as temporary suspension of dividend payments on our Series A Preferred Stock and Series B Preferred Stock. If we are successful in these negotiations, these adjustments to our funding plan, including the cash preservation measures, would allow us to avoid any liquidity shortfall through at least 2017 in the event Aireon is unable to make its hosting payments to us during that time frame. We do not expect to raise capital as part of any such adjustment to our funding plan.
In fact, the only place where it's not referred to is the PR reporting those earnings.
As is disclosed above, the company is already undertaking these negotiations, so it's a matter of time before an announcement is made. These negotiations were already heading toward cutting the dividend even before the SpaceX explosion, so they're now even more likely to produce the outcome where the dividend is canceled.
Conclusion
Within the next few months, and perhaps as early as late October or early November, Iridium will announce it's stopping the dividend payments on its preferred stock. This is a move usually associated with a company in full-blown distress.
While this has been part of the earnings call and 10-Q, the market probably didn't understand how close and likely this is right now. Moreover, this comes at a time where it's now very likely that Iridium won't be able to launch its Iridium NEXT constellation before its existing constellation has to be decommissioned (January 31, 2018).
On top of this, the existing constellation is already falling apart and already includes 1-2 holes which travel the world. Plus, of course, the investment in the existing constellation was never recouped, so what assurances are there that investing in a new one will be any different?
Disclosure: I am/we are short IRDM.
I wrote this article myself, and it expresses my own opinions. I am not receiving compensation for it (other than from Seeking Alpha). I have no business relationship with any company whose stock is mentioned in this article.