Automatic Data Processing (NASDAQ:ADP), for those not familiar with the name, is a long-standing provider of business outsourcing solutions. The company operates through the Employer Services segment which includes services such as payroll, benefits admin, talent management, HR services, etc. It also operates the Professional Organization Service segment that includes services such as HR guidance, 401(k) administration, benefits, etc. The company seeks to be a full service and fully global provider of outsourcing solutions and has been very effective at accomplishing this goal since its beginning in 1949. ADP is one of just 50 dividend aristocrats in the S&P 500 that have paid and increased their dividend for more than 25 years.
ADP has a 41-year history of consecutive dividend growth and during its 2016 Fiscal Year ADP returned $2.1B of cash to shareholders via dividends and buybacks. Given a market cap of about $40B, this is a substantial amount. On the last earnings call, management actually called out the company's aristocrat status and made a point of mentioning that "ADP's leaders and associates are making the investments to lay the foundation for ADP to join the dividend royals in nine years, And that's a list of just 17 companies that have paid and increased their dividend for more than 50 years." This clearly indicates that ADP has no intention of discontinuing dividend growth for another decade, and we think they are in a great position continue this growth.
ADP is looking for a solid year for fiscal 2017, anticipating 7% to 9% in revenue growth (inline with its long-term revenue growth target), margin expansion and 10%-12% of increased EPS. These numbers are very supportive of a solid dividend hike in 2017.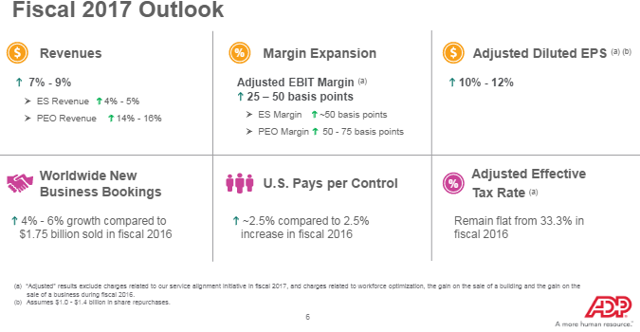 Source: ADP Investor Presentation
Use of Cash: The use of cash test provides a visual overview of the various cash uses that a company has been allocating cash. It shows the relative size of the cash uses versus the outstanding cash balance available to the company. It is a quick and simple way to view how the company has used its cash over the past 10 years and is indicative of what the company may do in the next 10 years with its cash reserves. We examine dividend payments to all shareholders (including payments to preferred dividend holders) as well as net repurchases which include equity issued via stock option plans, etc., as well as interest payments on debt. This offers a more wholesome view of how the company allocates capital.

Source: Here
Not only has ADP increased its dividend every year but it has also completed buybacks. The use of cash profile is remarkable. The very conservative balance sheet means debt service obligations are at a minimum while dividends and buybacks are still a conservative amount of the company's cash flow.
In the last fiscal year alone, ADP paid more than $900M in dividends and returned about $1.2B through buybacks. This is in-line with the ADP's stated longstanding commitment of returning cash to shareholders via dividends and repurchases. When it comes to using its cash, ADP will first reinvest in the business organically, then via tuck-ins the dividend is in third place for capital allocation, and finally ADP will continue repurchases at least at a level to offset the employee benefits dilution.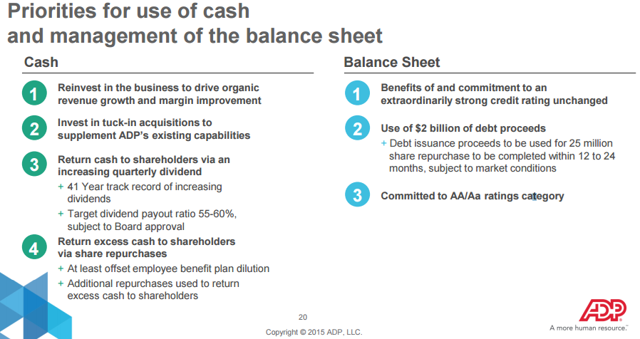 Source: ADP Investor Presentation
10-Year Dividend Yield and Payout Ratios: Higher dividends are great but not if they come at the expense of dividend sustainability. Assessing the payout ratio is a key metric in determining the sustainability of a dividend and is calculated as dividend per share dividend by earnings per share (DPS/EPS).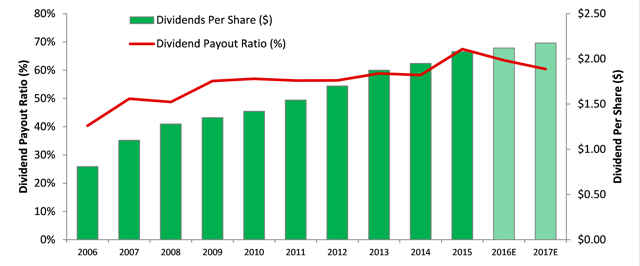 Source: here
Over the past decade ADP has had very healthy dividend growth partially at the expense of a rising payout ratio, which happens when dividends per share rise faster than earnings per share. Over the past 10 years DPS have risen at a 10% CAGR while earnings have only risen at 5%.
While this is a trend that clearly cannot continue forever, we expect ADP will see earnings growth that will help to support the rising dividend. The payout ratio has crept up to 70%, which means most of the income is being allocated to the dividend. This is likely one of the reasons we saw repurchases decline in fiscal year Q4.
Long-Term Dividend Growth: It is important to view dividend sustainability across market cycles. Following the prolonged bull market we have seen in recent years it is necessary to look a bit further out to get a more balanced view of dividend sustainability.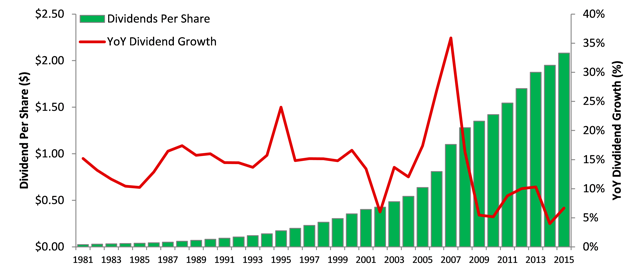 Source: here
As one of the dividend aristocrats ADP clearly has a great history of returning capital to shareholders. In fact, the company has paid rising dividends for 41 consecutive years and has a stated goal of becoming a Dividend Royal, joining just a handful of other companies that have paid consecutively increasing dividends for the past 50 years.

While dividend growth has slowed over the decades, it is still consistently above 5%, and we would expect it to grow in the 7% to 9% region for upcoming years, which is consistent with the company's stated long-term revenue growth objectives. Given the strong margins ADP has they have torque on the revenue line which further supports dividend increases.
Credit risks: One of the largest risks to dividend sustainability is a leveraged company facing large debt payments and/or putting its credit ratings at risk, which would lead to higher interest charges.

Source: here
From a credit perspective ADP has a very clean balance sheet with only $2B of debt outstanding and nothing due before 2020. These tranches both carry low interest rates at 2.3% for 2020 and 3.4% for 2025. Given that ADP carries a net cash position (ie. cash and cash equivalents greater than debt) we see no issue with repayment when it does eventually come due.
In fact, in order to support higher dividend growth in the future we would be happy to see ADP tap its balance sheet and spend more on furthering organic growth and revenue growth via tuck-ins.
Leverage and interest coverage ratios are not worth looking at given how conservative the balance sheet is. We would note the company has an Aa3 credit rating from Moody's which is one of the reasons it can access the capital markets so cheaply, sourcing low coupon bearing debt. ADP will continue to prioritize its credit rating on its balance sheet, but it has some room to work with - we doubt it will be a problem.
Summary: ADP offers businesses the ability to outsource tasks that are not their core competencies and focus on what is important. This is a service that businesses are willing to pay for, and given efficiencies of scale, often should be paying for. Which is exactly why the revenue is so sticky and why ADP should continue to grow in the upper single-digit range. ADP has 41 years of consecutive dividend increases under its belt and will prioritize ongoing increases in coming years. The balance sheet is one of the most conservative we have seen for a company of this size. It has a net cash position. The combination of dividends and buybacks should continue to buoy the stock and offer investors a solid return.
Thanks for reading our article all the way to the bottom! To get these articles as soon as they are published head back to the top of the article, hit the 'follow' button, and select 'real-time alerts'.
Disclosure: I/we have no positions in any stocks mentioned, and no plans to initiate any positions within the next 72 hours.
I wrote this article myself, and it expresses my own opinions. I am not receiving compensation for it (other than from Seeking Alpha). I have no business relationship with any company whose stock is mentioned in this article.