Brookfield High Income Fund (HHY) is a leveraged closed-end bond fund that seeks a high current income along with some capital growth. The fund invests primarily in high yield corporate bonds.
(Data below is sourced from the Brookfield website unless otherwise stated.)
Earlier this year, the Brookfield board approved a plan to merge three existing closed-end funds - HHY, HTR and BOI into a new closed-end fund to be named Brookfield Real Assets Income Fund. The merger requires shareholder approval from each fund.
So far, the HHY and HTR shareholders have approved the merger, but the shareholder meeting on September 15 had to be adjourned to allow for further solicitation of BOI shareholders to meet the requirement that holders of a majority of BOI shares vote in favor of the reorganization. As of September 9, they needed another 5.9% of BOI shareholders to win approval.
Most likely, it is just a matter of time before Brookfield gets the required approval from BOI shareholders. If that occurs, this is a description of the new fund:
1) Investment Strategy: The fund will pursue a multi-asset, multi-portfolio management strategy investing primarily in infrastructure, real estate and natural resources (Real Assets) fixed income securities and other debt instruments, including corporate credit securities (similar to HHY) and securitized mortgage backed securities (similar to BOI and HTR). To a lesser extent, the new combined fund will also invest in Real Asset equity securities.
2) More Investment Flexibility: The new approach will allow management to allocate the fund's investments across multiple industries and sectors across Real Assets, which could result in more stable income and less volatile returns across market cycles.
3) Potential for Greater Income, Income Growth and Capital Appreciation
4) Potential for Improved Secondary Market Trading: Due to larger asset size of the new fund.
5) Potential for Operational Cost Savings: Due to economy of scale and larger asset size.
6) Cost of the Reorganizations Borne By Brookfield.
7) Expense Cap for two Years: Management fees for the new fund will be 1.0% of managed assets. This is equivalent to the management fee of BOI, but is actually higher than the management fees for HHY and HTR.
But Brookfield has agreed to waive a portion of its fees and/or reimburse expenses for two years following the closing date of the merger so that the total annual operating expense of the fund will not exceed 1.03% of net assets. During this two-year expense cap period, the fund's annual operating expense ratio (excluding the cost of leverage) will be approximately the same as HTR's current expense ratio, and will be below the expense ratio of BOI and HHY.
HHY is currently selling at a discount to NAV of -12.73% compared to the 52-week average discount of -10.51%. Over the last year, the discount has ranged between -7.19% and -15.73%.
Source: cefconnect
HHY: Five-Year Discount History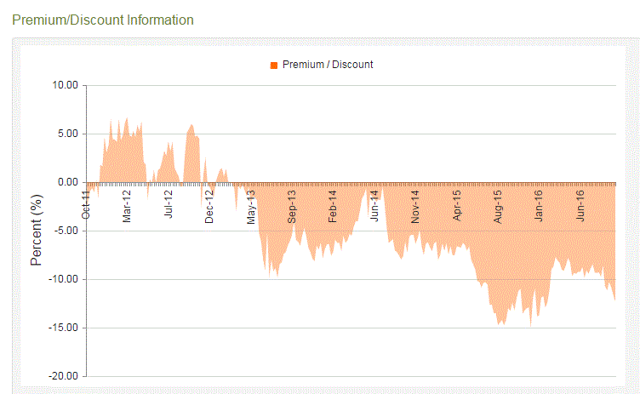 The three-month, six-month and one-year Z-scores are all well into negative territory, which means that HHY is trading at a discount to net asset value that is between one and three standard deviations above average depending on the time period.
3-month Z-score = -2.69 (3-month average discount= -9.95%)
6-month Z-score = -3.50 (6-month average discount = -9.58%)
1-year Z-score = -1.27 (1-year average discount = -10.48%)
Source: cefanalyzer
High Yield Defaults Expected to Decrease Next Year
Moody's recently issued a report where they expect a decrease in the one-year default rate for speculative-grade corporate debt in 2017, largely due to stabilizing oil prices. The rate is currently 5.7%, and they actually expect an increase to 6.4% by January. But then, they expect a drop to 4.5% by August, 2017.
Interest Rate Sensitivity
In their last Fact Sheet, HHY reported a duration of only 3.65 years, so interest rate sensitivity is quite low. Over the last few months, the 10-year bond yield has been increasing, but high yield and senior loan funds have both held up pretty well and have outperformed other fixed income asset classes.
Here is a sample of 3-month correlations for the NAV of HHY compared to various benchmarks. The correlations are scaled between -100% to +100%:
HHY NAV 3-Month Correlation Data
HHY versus 20+ Year Treasury Bond = -6.2%
HHY versus 7-10 Year Treasury Bond = -37.85%
HHY versus 1-3 Year Treasury Bond = -56.29%
HHY versus 1-3 Year Corporate Bond = -50.54%
HHY versus Short-Term High Yield Bond = +77.56%
HHY versus BOI = +45.28%
HHY versus HTR = +46.13%
Source: cefanalyzer
Note that the correlation with long-term Treasuries is slightly negative, with higher negative correlations to shorter-term Treasuries. The NAV of HHY has been very highly correlated with short-term high yield bonds.
Distributions
HHY has been paying $0.06 per month the last few months, but they recently cut the monthly distribution from $0.075 in May. A portion of the recent distributions have been return of capital, but I have no problem with this, since when the discount is -12%, any distributions returned to shareholders generate significant alpha.
Asset Allocation Breakdown (as of 06/30/2016)
| | |
| --- | --- |
| Bond | 93.67% |
| US Stock | 2.37% |
| Other | 1.83% |
| Cash & Equivalent | 2.12% |
Source: Morningstar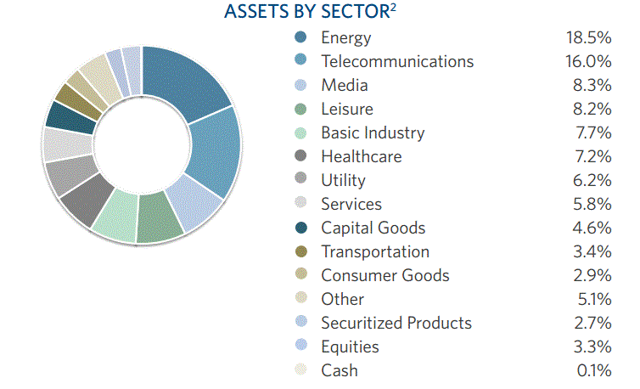 No Foreign Exposure
HHY is 100% invested in US securities.
Dividend Yield Enhancement Opportunity
With dividend yield enhancement, you are not depending on a change in the discount to net asset value, so this method for capturing "alpha" is useful for buy and hold investors with a longer term trading time horizon.
Another useful metric to look at is the adjusted expense ratio which takes into account how much alpha you earn from recovering net asset value from the annual distributions. In some cases, this results in a negative adjusted expense ratio.
Now let's compute the dividend yield enhancement and adjusted expense ratio for HHY.
Baseline expense ratio = 1.41% (Source: Bloomberg)
Distribution yield (market) = 9.99%
Dividend yield enhancement alpha= 9.99% * 14.4%= +1.44%
Adjusted Expense Ratio= 1.41 - 1.44= -0.03%
Ticker: HHY Brookfield High Income Fund
Total Net Assets = 287.2 MM
Total Common Assets = 210.9 MM
Annual Distribution Rate = 9.99%
Dividend Frequency = Monthly
Current Monthly Distribution = $0.06 per share ($0.72 per year)
Baseline Expense ratio = 1.41%
Adjusted Expense Ratio = -0.03%
Discount to NAV = -12.73%
52 week Average Discount = -10.51%
Portfolio Turnover rate = 27% (as of 09/30/2016)
Effective Leverage = 28.12%
Average 3 Mos. Daily Trading Volume = 76,193 shares (about $550,000)
Sources: cefconnect, yahoo finance
HHY looks attractive now for a discount capture swing trade. It is a high income play with fairly low interest rate sensitivity and should hold up reasonably well even if there are higher inflation and interest rates in the future.
HHY has fairly high expenses, but you recover that from the high distributions and discount to NAV. If the three-way fund merger goes through, the expense will be reduced for a two-year period by the expense cap. It is a good diversifier for other fixed income holdings in a tax deferred retirement account.
HHY has moderate liquidity and usually trades around 70,000 shares a day. If the fund merger goes through, liquidity of the new combined fund should be even better. The bid-asked spread is often just one penny, but care must be taken for larger orders.
Disclosure: I am/we are long HHY.
I wrote this article myself, and it expresses my own opinions. I am not receiving compensation for it (other than from Seeking Alpha). I have no business relationship with any company whose stock is mentioned in this article.