Despite a record year in 2015 and several tailwinds for future growth, including the strengthening U.S. economy, low gas prices, and low interest rates, Ford (NYSE:F) stock can't get into high gear. Shares have been stuck in reverse this year, as the stock has lost 15% of its value so far this year.
Investors are concerned that the record performance Ford racked up last year is unsustainable, and that the boom in U.S. auto sales is about to come to an end. Furthermore, the potential for higher interest rates is seen as a negative catalyst for auto sales, because it could raise the cost of borrowing.
Now that Ford stock has dipped below $12, it has crossed the 5% dividend yield mark. Ford's dividend is at a five-year high.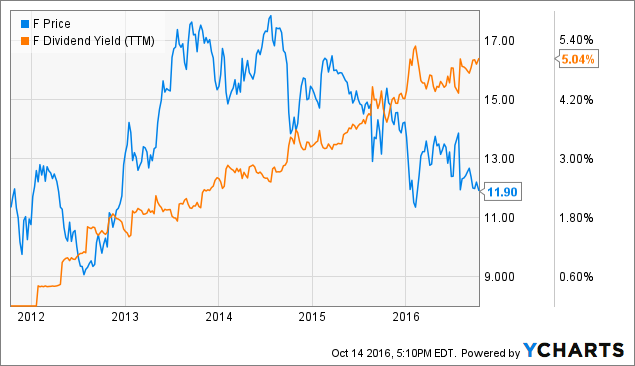 Not only will Ford likely continue to generate enough earnings to sustain its dividend, it has also stated its intention to provide shareholders with a special dividend if its fundamentals justify a special payout, as it did this year. As a result, I believe this is an excellent opportunity for income investors to buy Ford stock.
Ford Shares are Stuck in Neutral
Ford stock continues to steadily drift lower, despite the company's strong results throughout the year. The company racked up $3 billion in adjusted pre-tax profit last quarter alone. While Ford's adjusted earnings per share declined 3.7% year over year, the company still earned $0.52 per share. This is more than enough to cover its quarterly dividend of $0.15 per share.
One reason for Ford's strong earnings is its resilient profit margins. Automotive segment operating margin was 7.7% last quarter, and Ford is rapidly improving its profitability across its geographic segments. Ford also realized record pre-tax profits in North America in the first half of the year.
Overall, Ford's total revenue and net income rose 8% and 33%, respectively, compared with the same six-month period in 2015. These are very strong totals, and even if Ford's momentum cools off somewhat next year, the company will still do well. Plus, Ford has a significant growth catalyst working in its favor, which is overseas expansion.
Growth Catalysts
Even if Ford's future sales in the U.S. decline, there is a good chance the company can offset this with international growth. Ford's overseas growth is very impressive, particularly when it comes to emerging markets like China. Ford's China sales rose 24% in September, and year-to-date sales are up 11% there. Chinese consumers have taken a shine to Ford's lineup of SUVs, which collectively posted 18% sales growth so far this year.
Separately, Ford generated record sales in Europe last month. In its 20 European markets, Ford's year-to-date sales are up 6.7%. Europe is a particularly strong region for Ford, both in terms of sales and profitability, which the company highlighted in its second-quarter earnings presentation.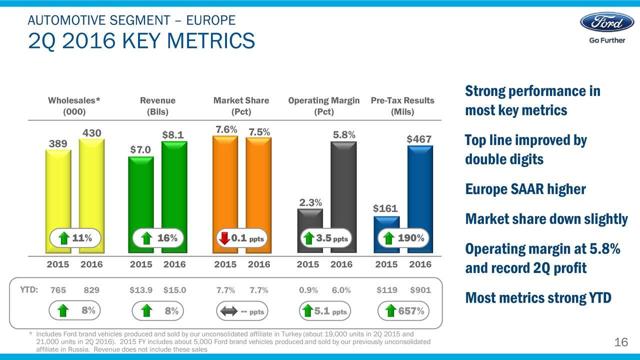 A key part of Ford's international strategy is profitability. It is very important not just for Ford to generate sales growth abroad, but also to prove it can turn a profit in the international markets, which traditionally has been a difficult task for the U.S. automakers. But Ford is making great progress there. For example, Europe delivered $467 million in pre-tax profit last quarter, which was that region's best-ever second quarter profit total.
Ford is investing aggressively to drive even more international growth going forward. Over the first half of the year, Ford invested $3.4 billion in expanding its manufacturing capacity in Mexico and South Africa, which could be additional growth markets of the future.
The Bottom Line
Ford recently declared its fourth-quarter dividend of $0.15 per share, which will be payable Dec. 1 to shareholders of record on Oct. 27. This gives income investors the opportunity to take advantage of Ford's share price dip and buy the stock to lock in a 5% forward yield and still receive the fourth quarter payout.
Ford's share price has not performed well this year, and investors should keep their expectations low from a capital gain perspective. But from an income perspective, Ford is very steady. It is generating high levels of profitability, and has significant catalysts for earnings growth in the international markets.
In this interest rate environment, 5% dividend yields are hard to find outside of REITs and BDCs. Ford stock not only offers a 5% dividend yield, but its special dividend could easily push its total dividend return to 7% or more, similar to this year. As a result, investors looking for a strong income stock should take a closer look at Ford.
Disclaimer: This article represents the opinion of the author, who is not a licensed financial advisor. This article is intended for informational and educational purposes only, and should not be construed as investment advice to any particular individual. Readers should perform their own due diligence before making any investment decisions.
Disclosure: I am/we are long F.
I wrote this article myself, and it expresses my own opinions. I am not receiving compensation for it (other than from Seeking Alpha). I have no business relationship with any company whose stock is mentioned in this article.