Cliffs Natural Resources (NYSE: CLF) has been out of the news recently and its stock mostly traded in a range since the middle of August. This is about to change as the company will report its third-quarter results on October 27.
Two topics dominated the news scene after the company priced its share offering at $6.75 per share. The first one was the topic of sustainability of steel prices in the U.S. The steel price decline would hurt Cliffs' customers and the company's realized prices as they are dependent on realized steel prices of customers.
The second topic was the sustainability of iron ore prices. Together, these two factors - the fear of steel market correction and the fear of iron ore market correction - put pressure on Cliffs' shares and they were unable to show meaningful upside. Let's look at them in the light of the upcoming earnings report.
Let's start with steel.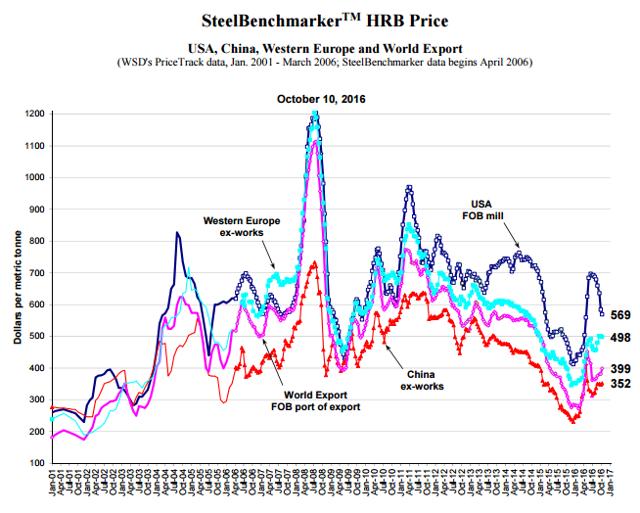 Source: steelbenchmarker.com
Obviously, steel prices corrected from recent highs. However, the correction was fully expected after such a rapid increase. Importantly, prices outside of the U.S. continue to improve, so one cannot argue that tariffs were the only reason for U.S. market improvement. Fundamentals are also improving, albeit slowly.
As for China, prices remain artificially low there. No one really knows how much patience does the Chinese government has and how long it will continue to put money in the industry. The situation in China is not sustainable, but the timing of price increase there is uncertain and remains a wild card rather than a catalyst you can count on.
Recent data from China was disappointing and the market starts turning its eye to perceived Chinese problems. The discussion of China and the perspectives of its economic growth is very interesting when you follow it in the financial media.
Sometimes there's a flurry of negative news from the country and everyone seems to prepare for a hard landing scenario. Such periods are followed by periods when media forgets that China even exists.
I believe that both investors and traders alike will be much better off ignoring the noise and looking at important indicators like the improving steel prices in China. The rate of improvement is slow and the spread between China and other markets is enormous, but the trend goes in the right direction.
Now let's turn to iron ore. Iron ore is this year's analysts darling for bearish calls. I myself expressed concerns tied to the startup of Vale's (NYSE: VALE) S11D project at the beginning of this year. However, market prices continue to mock analysts.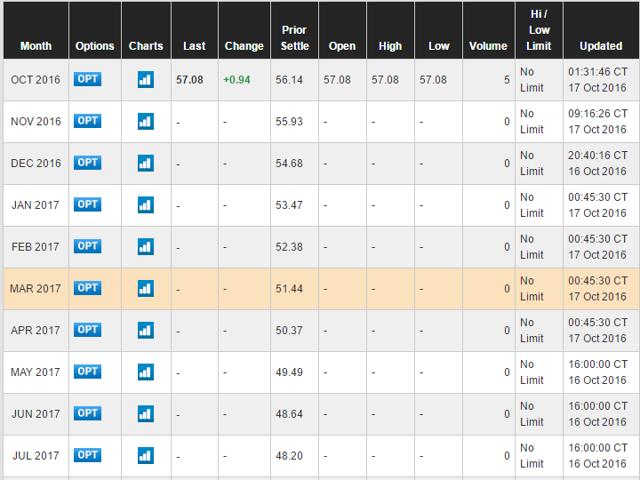 Source: cmegroup.com
Throughout this year, the market has been betting that prices will dive below $50 at the end of 2016. This is not the case anymore. Futures continue to point to a gradual price decline month after month, but when the time comes no decline is realized. I believe it's a decent bet to say that iron ore prices will stay mostly flat unless proved otherwise.
In my view, the reason why many analysts continue to bet on iron ore price decline is the absence of immediate upside catalysts for iron ore, which makes a short look like a good and safe bet.
However, the simple absence of upside catalysts can't move iron ore prices lower. For this to happen, negative catalysts should appear. Currently there are none in the near term and iron ore prices remain flat.
This is great for Cliffs Australian iron ore segment, which is sensitive to iron ore pricing. The situation in the iron ore market allows the company to build cash and to continue repaying debt - the main pillar of the bearish thesis.
Cliffs Natural Resources shares have found strong support near $5.25 - $5.50 for a good reason.
The company's management has previously proved its ability to execute against its plans. Iron ore prices remain stable despite multiple doomsday calls. U.S. steel prices corrected but prices in other parts of the world continue to rise, highlighting improving fundamentals for the market. Earnings estimates continue to improve as analysts realize that higher U.S. steel prices and stable iron ore prices are here to stay, at least for some time.

Source: Yahoo Finance
I believe that current levels are comfortable enough to accumulate Cliffs' shares ahead of the earnings report. The worst fears did not materialize, and the company's shares have found buying interest after the equity offering, which is typically bad for share price in the short term. I remain bullish on Cliffs in the longer term.
Disclosure: I am/we are long CLF.
I wrote this article myself, and it expresses my own opinions. I am not receiving compensation for it (other than from Seeking Alpha). I have no business relationship with any company whose stock is mentioned in this article.