Opening Rant
On Friday, October 14th we got the latest reading for the GDPNow Forecast for the 3Q. It now reads, for 3Q GDP to come in at 1.9%. This reading is down from a reading as high as 3.6%, back at the beginning of August.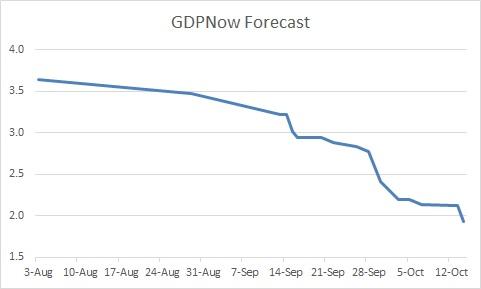 (Source Data From Atlanta Fed)
As for the accuracy of the GDPNow forecast, you can once again judge for yourself, but in my opinion, the GDPNow forecast has been stronger than the actually GDP readings, recently.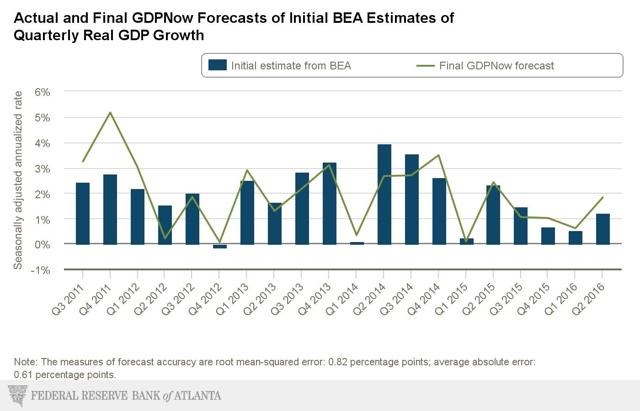 As you can see from the chart below GDP Growth measured Y-O-Y has only been over 3% two times since 2010.


Yes, one can see we are in desperate need of an interest hike before years end. Perhaps all of the investors that want a Fed rate hike also want to send the economy into recession. Perhaps.
Markets & Sectors
Whatever your belief on the pending December rate hike, it does not matter. As the only opinion that matters is the markets. The market seems to believe that a rate hike is coming in 2016 and it would appear that with every day that passes it continues to brace itself. Even though the S&P 500 (NYSEARCA:SPY) is down 15bps today, to 2130. On September 21st, the day of the last FOMC meeting, the S&P 500 closed at 2163.
As for now the different sectors within the market are telling us, Risk is off.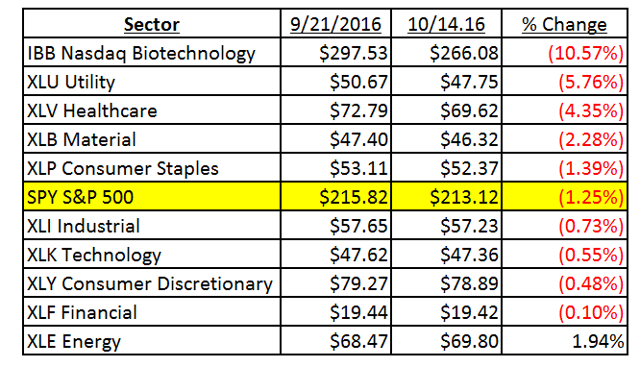 The only sector that is up is the Energy Sector (NYSEARCA:XLE), and that is because of the potential OPEC Oil deal. If were not for this I'd think the XLE would be lower as well. Just look at the pounding the Biotech (NASDAQ:IBB) and Healthcare (NYSEARCA:XLV) sectors have taken, down 10% and 4% respectively. Meanwhile, the higher yielding parts of the market such as the Utilities (NYSEARCA:XLU) are down nearly 6%. The one sector that should be up are the Financials (NYSEARCA:XLF), and they are just barely flat. The equity market seems to be cutting riskier areas, and truthfully, I'm not even sure where it is rotating. It is not rotating back into stocks; that is for sure.
Yield & Currency
In fact when we look at Bonds, Currency and few other select things it becomes quite clear what is happening.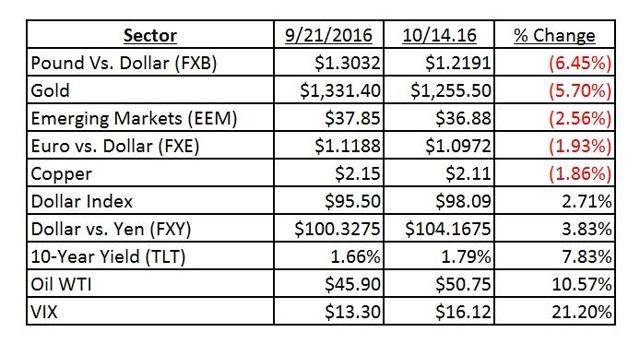 Apparently, the market is preparing for a rate hike to come this December. November no matter what anyone says is off the table. The November meeting is to take place on November 1st & 2nd. The hotly contested Presidential Election is to take place one week later on the 8th. No matter whether you believe the Fed is political or not, I just could not see them making a move a week before an Election.
How Do We Interpret This?
The markets are preparing not only for a rate hike but also a period of likely higher volatility. If we remove Oil (NYSEARCA:OIL) from the equation since there are potentially outside forces here at work. We can conclude all of this by just observing the strengthening Dollar (NYSEARCA:UUP), rising yields (NYSEARCA:TLT), falling commodity prices (NYSEARCA:GLD), and rising VIX (NYSEARCA:VXX).
Summary
Clearly, from looking at the information, the market has a full on shift occurring. The Risk-On mindset of Post Brexit has clearly shifted to a Risk-off mindset, as the market prepares for a December hike. My opinion is that the Fed should not raise rates this year at all. The market has a different view. For now, it would seem that I am heavily outnumbered. However, this will not be the first time nor the last time I have been outnumbered. Remember it was just January when market pundits saw FOUR rate hikes coming and were completely wrong. I disagreed in January, I was right in then, maybe I can get lucky for a second time.
If you'd like to get a full listing of the different items we currently have a rating or view on, you can find a list in our members-only area. Remember, if you like reading these commentaries, make sure you follow us with that little "+" button at the top of the page next to our name. If you really like us, then join us in our members-only area, where we cover even more topics.
Have a great day!
Mike
Disclosure: I/we have no positions in any stocks mentioned, and no plans to initiate any positions within the next 72 hours.
I wrote this article myself, and it expresses my own opinions. I am not receiving compensation for it (other than from Seeking Alpha). I have no business relationship with any company whose stock is mentioned in this article.
Additional disclosure: Mott Capital Management, LLC is a registered investment adviser. Information presented is for educational purposes only and does not intend to make an offer or solicitation for the sale or purchase of any specific securities, investments, or investment strategies. Investments involve risk and unless otherwise stated, are not guaranteed. Be sure to first consult with a qualified financial adviser and/or tax professional before implementing any strategy discussed herein. Past performance is not indicative of future performance.