By Raul de Frutos
Copper prices started the year on a bullish note, amid positive sentiment in the overall industrial metals complex and rising Chinese imports.
Unlike other base metals, we haven't really seen a decline in copper supply. Therefore, copper investors can only keep an eye on copper's demand. China consumes nearly 40% of global copper demand. China isn't self-sufficient when it comes to its copper needs and is the largest importer of the red metal. Rising Chinese imports signal increasing demand for the metal.
Last week, China released its trade data. In September 2016, China imported 340,000 metric tons of unwrought copper and copper products, down 25% from last year. Moreover, this is the sixth consecutive month where imports fell on a monthly basis.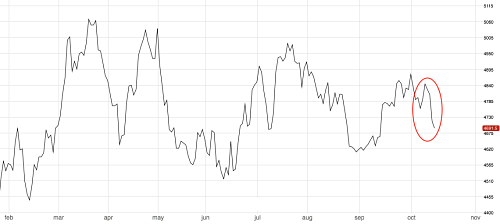 Three-month London Metal Exchange copper falls on weak Chinese imports. Source: MetalMiner analysis of Fastmarkets.com data.
Prices fell sharply following the release of the weak numbers. Investors still lack any good reason to push prices much above $5,000/mt, a level that has proven to be a ceiling for copper this year. So, while we don't see supply cuts and demand appears stagnant, the best copper producers can expect is for prices to remain rangebound.