It became clear that the S&P 500 (NYSEARCA:SPY) is heading into correction territory. Fundamentally, with declining earnings and robust world economy (You can read more about why the SPY will decline in my previous articles, here, here, and here). And technically with breakouts in long term bullish trends on a weekly and daily basis. This article written by an SA contributor can give you an idea about the technical side that can cause a correction in the SPY.
So, how to protect your portfolio? You can use traditional instruments like buying Put options or shorting the SPY. But these instruments will not pay off if I/you were wrong, and the SPY continues its bullish trend. It will also make you lose money in that case. So what's the strategy that will act as a hedge and also provide a minimum return? It's Virtu Financial (NASDAQ:VIRT).
Virtu Financial is a High Frequency Trading firm (HFT) that had a streak of not losing money in a single day since 2009. Well, I know the creepy feeling the HFT name makes you feel, but there are things in life where we should see the facts ourselves rather than depend on the media or a book author to tell us about it.
High Frequency Trading has become a fact we can't deny, their role is increasing day by day. Without them, markets won't be as they are today. We used to wait for more than 10 seconds for an order to be filed, nowadays it's less than a second and voila the order is executed. Of course, all of this comes at a cost and sometimes it outweighs the benefit. But since we can't do anything about it, even regulators can't, let's at least take advantage of their presence.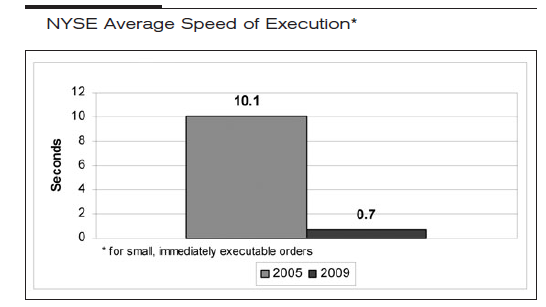 This is an interesting dialogue from a book I read about HFT. To those who don't know how HFT makes money, this will illustrate the idea.
"Customer: How much are these?
Merchant: A buck fifty.
Customer: I'll take some.
Merchant: They're a buck fifty-one.
Customer: Um, you said a buck fifty.
Merchant: That was before I knew you wanted some.
Customer: You can't do that.
Merchant: It's my shop.
Customer: But I need to buy a hundred!
Merchant: A hundred? Then it's a buck fifty-two.
Customer: You're ripping me off.
Merchant: Supply and demand, pal. You want them or not?"
Why Virtu Financial is a hedge against the SPY?
Virtu Financial's stock witnessed a severe decline since its IPO in April 2015. The stock price decreased from a high of $25 to a current price of ~$14.This decline was not caused by company-specific problems. It was caused by a general skeptic view towards HFT firms, which made investors hesitant to pay a high multiple for this sector, and an increasing rate environment which made dividend-paying stocks less attractive.
Virtu Financial, and all HFT firms, makes money when volatility rises. They take advantage of the increasing activity of buying and selling stocks by using their super speed computers to charge a higher price (by pennies) for a stock buyer and a lower price (by pennies also) for a stock seller. They do that hundreds of thousands of times a day, generating millions of dollars. Below is the daily revenue for each of VIRT's segment of operation.

With high profit margins, VIRT makes money all the time. When markets are quiet and boring it makes money, and when markets are volatile and unpredictable they also do. The firm holds no risk wherever the market is heading.

Declining stock prices, presidential elections, possibility of a rate hike, earnings season, the coming tax season, all these factors increase the volatility of the market. By increasing volatility, VIRT makes more money.
In addition, VIRT has a current dividend yield of ~7%. In a low interest rate environment, a dividend yield of 7% for a strong and stable company is like fantasy. By that, buying VIRT shares will provide a hedge for the coming wave of volatility, with a 7% yield.
Can the stock price decline further?
VIRT is a diversified company in terms of asset classes and geographies, unlike many other competitors like FXCM and Knight.


VIRT is trading at a P/E of 13, and a forward P/E of 12.7 matching the industry median. Its Revenue/Employee is at $4.6 million, with industry average of $0.7 million. That shows a high productivity ratio compared to its competitors.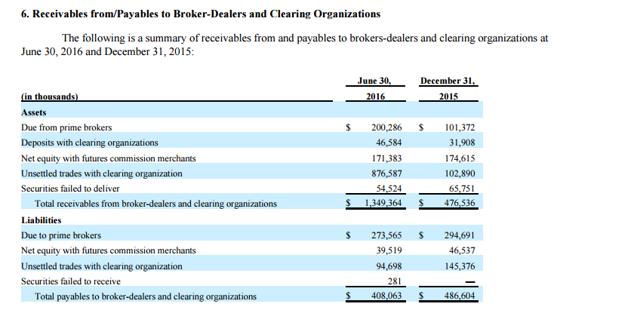 Its debt/assets ratio is just 10%. And its Interest coverage ratio is 8 (EBITDA /Interest Expense), which is a healthy level.
In addition, VIRT funds all of its dividends distributions from its operations. Unlike many firms, it doesn't borrow money to either buy stocks back or pay dividends. Just for the record, the shareholders' equity is only 28% of the company, the rest is held by the founding company Virtu Financial LLC. That's why its net income applicable to shareholders is less than the net income of the company; for simplicity I will use the latter.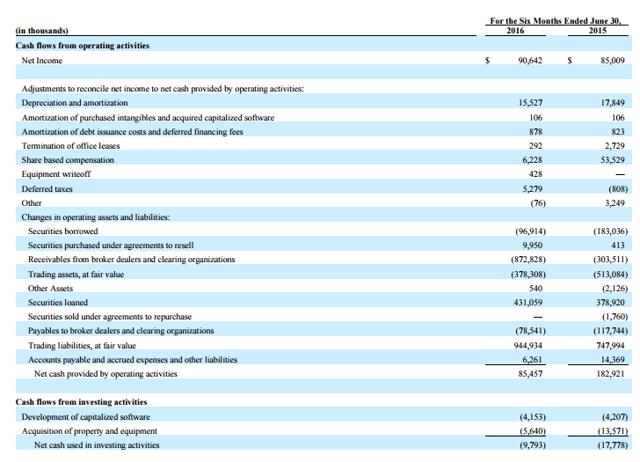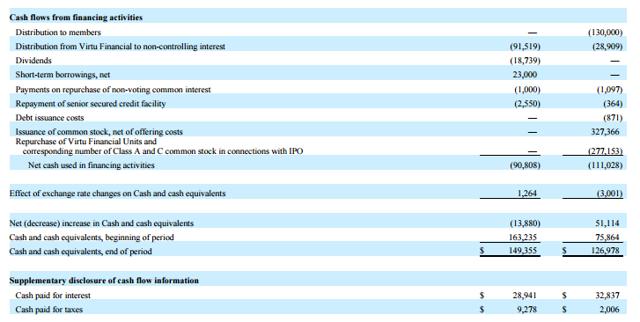 Risks that face Virtu Financial
Like all HFT firms, VIRT faces regulatory risks. The SEC, and other federal agencies, has always been skeptical of these types of companies. But lately, things are improving. The US regulator for derivatives pledged to keep HFT firms' codes secret. The regulator demanded those codes from all HFT firms to know which are responsible for a market crash, in case it happens. This was pressuring HFT stocks downwards, since any leak of these codes can affect the firms' competitive advantage (for VIRT, all of these codes are made by its employees and not purchased).
Another risk for VIRT is the huge debt payment that will become due in November 2019. The Senior Secured Credit Facility has an outstanding amount of $484 million, which is a huge amount compared to the annual free cash flow of ~150 million. I think VIRT shareholders will face a dilution of 10% in 2019 if half of the debt outstanding is paid by issuing new debt.

Since the purpose of my recommendation is to hedge the SPY in the short term and benefit from the attractive dividend until rates return to normal, I don't think that someone should hold VIRT for 3 years.
Conclusion
With high volatility and uncertainty facing the market in the next 4-6 months, I recommend hedging the S&P 500 through untraditional tools. Virtu Financial, a stable company that gives a 7% dividend yield, paid solely from its operations, acts as an effective hedge for the coming months. In addition, the stock is attractive at these low metrics which have a good chance to provide capital appreciation by investing in the stock.
Disclosure: I/we have no positions in any stocks mentioned, but may initiate a long position in VIRT over the next 72 hours.
I wrote this article myself, and it expresses my own opinions. I am not receiving compensation for it (other than from Seeking Alpha). I have no business relationship with any company whose stock is mentioned in this article.