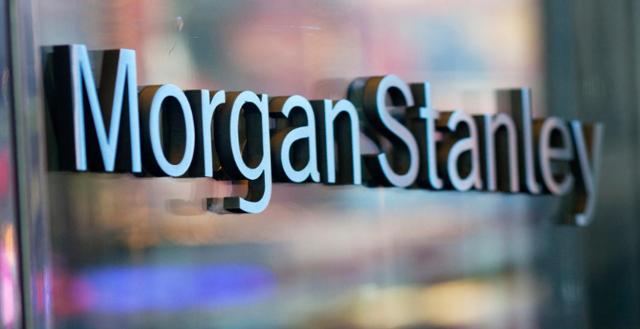 Morgan Stanley (NYSE:MS) is a stock I've been pretty constantly bullish on for a long while. I've like the company's cheap valuation and continuously improving results and of late, that bullishness has paid off. Shares have moved from $21 in February to $32 going into Q3 earnings this week and given the tremendous breakout, one has to wonder if perhaps MS has come too far, too fast. Let's take a look at MS' setup going into the report to see if the prudent course of action is to wait on the sidelines or if we can remain long going in.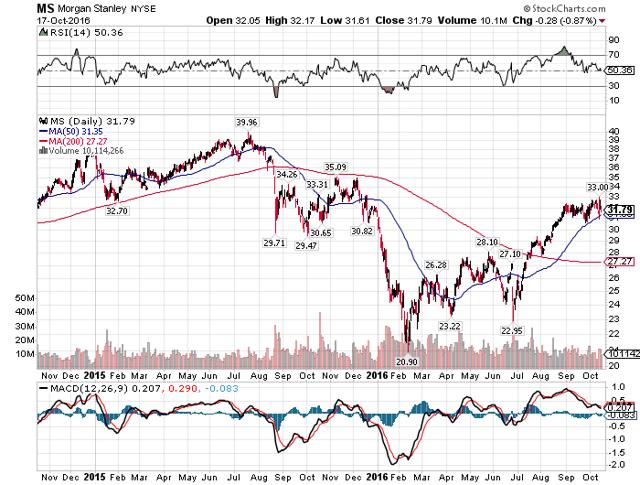 Late last week three of the four megabanks reported and when they did, a common theme was higher markets revenue. That, of course, has a great deal of influence on MS as the markets business is more important to MS than the more traditional money center banks and thus, MS shares initially rose quite sharply on Friday. The problem is that - as is often the case - the excitement out of the gate on bank results fades and so do stock prices. That happened to MS as well but is it really that comparable to the big banks' results or is it more of a valuation issue?
The first thing I'll be looking for in MS' results is its revenue, which is expected to rise by a robust 11%. That is quite the expectation but remember that last year was certainly a down year for MS and comparables for this year are relatively easy. In particular, Q3 was weak from a revenue and earnings perspective last year for MS so I don't find the double digit growth expectation to be unreasonable. But it is going to require a better read than what we saw during the Q2 report, because that was pretty ugly.
I'm feeling better about markets revenue for MS after the big banks reported on Friday so that is a sizable positive. Markets revenue is often very volatile and can sink or float MS' consolidated results but at least when we look at its competitors, MS should be in good shape. The thing is that after the big banks reported, everyone is expecting a good showing so if MS lays an egg, the beating from investors could be severe. That's the issue with high expectations but MS at least looks well positioned to meet them this time around.
Investment Management was a source of weakness in Q2 but again, that business' revenue stream moves around a lot and it really is a bit of a wildcard. MS had a weak Q2 due to carried interest and investment gains but Q3 certainly looked better from a macro perspective. Did it translate for MS? It should have but again, this is an area with lots of risk for MS because we are all expecting a rebound so if it didn't happen, MS could be in trouble given the rally we've seen heading into the report.
MS' formidable wealth management business should have produced a terrific quarter because it always does. This is one of the best segments of any business anywhere and MS does a great job exploiting it to the fullest. WM will continue to be a profit center for MS and nothing about that is going to change in Q3. The one thing that is up for grabs for me is pre-tax margin. MS has been growing it over time at the WM business and it is important for it to continue to grow to smooth out earnings volatility from the other businesses and help it meet those expectations.
On the expense side, we need to see MS make some gains as well. Almost all the big financials have been trying to cut compensation costs as revenue has been tough to come by and MS has been doing a very nice job. I don't expect any surprises here; I just want to see MS make some progress on its compensation expenses as a percentage of revenue. And if it really does come through with an 11% increase on the top line, that shouldn't be difficult.
I've also written at length here on SA about how MS has one of the best capital bases of anyone, anywhere. This company has been earning an enormous amount of money for years but has been unable to use all of it, resulting in gigantic capital builds. MS' CET1 ratio after Q2 was an astounding 16.4% and while I wouldn't be surprised if it builds again in Q3, MS is now making good on its new $3.5B buyback program. That means the share count should have fallen materially during Q3 and that it is entirely possible that MS outspent its earnings. If that happens it would be a positive more than a negative because MS has far more capital than it needs or can use. I want to see MS start to draw down some of its excess capital not only because it means more dividends and buybacks, but because it will help with another very important metric.
That metric is return on equity and of late, MS has been producing sizable increases. As it continues to earn more and more money and spend some of its sizable hoard of capital, ROE should continue to rise. That's great news for the stock as financials are largely valued based upon ROE, meaning that MS should be able to get out of the doghouse with investors and begin to earn a premium valuation over time. That hasn't happened yet and Q3's read on ROE will be of particular interest to me.
So there is going to be a lot to look for in Q3, but how do we position going into the report? After its massive run, MS is now going for 12.8 times this year's earnings and a more pedestrian 10.8 on next year's estimates of about $3. Those aren't cheap multiples for financials these days and given that, coupled with the relatively high expectations going into the report, I'm a bit more cautious than I otherwise would be. I'm still very bullish on MS' fundamentals but I worry that the current rally needs to take a break before it resumes. MS, more so than any other financial I can think of, has earned the right to a lofty valuation and it will continue to do so over time. But again, the recent rally has been huge so we have to take that into account. I still think MS is going to produce a great Q3 and for that reason, I'm not selling going into the report. There may be a bit of downside risk but the likelihood of MS producing a terrible quarter is very low indeed so I'm comfortable with taking that on. We'll see what happens but I'm feeling good going into the report.
Disclosure: I am/we are long MS.
I wrote this article myself, and it expresses my own opinions. I am not receiving compensation for it (other than from Seeking Alpha). I have no business relationship with any company whose stock is mentioned in this article.